When it comes to hockey, Virginia might not be the first place that comes to mind. But tucked away in the heart of the Blue Ridge Mountains is the Roanoke Rail Yard Dawgs, a team that's been making a name for itself in the world of professional ice hockey. 
Part of the Southern Professional Hockey League, the Dawgs are now the fifth professional hockey team to represent the Roanoke Region. On October 21, 2016, the Rail Yard Dawgs debuted in front of a lively, sold-out Berglund Center crowd and haven't looked back since on their quest to dominate minor league hockey.
Extremely popular among the Roanoke community, the energy inside Berglund Center during a Rail Yard Dawgs game is infectious. This popularity is due, in part, to the down-to-earth vibe of the team.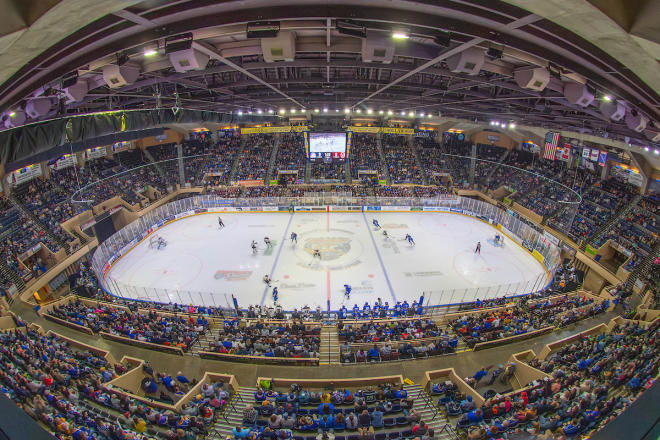 Roanoke has a long and storied history as a major Railroad hub, and the Rail Yard Dawgs name pays tribute to this heritage and the strong work ethic seen throughout the region. These themes continue in the team's mascot, a tenacious dog named Diesel dressed in train conductor gear​.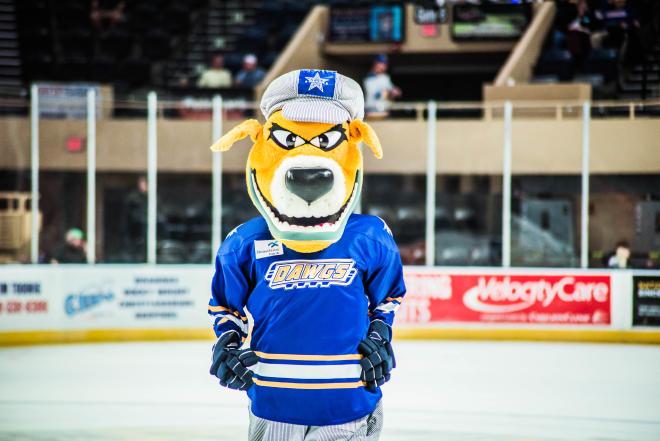 What sets the Rail Yard Dawgs apart is their incredibly dedicated and passionate fan base. Roanoke may not be a traditional hockey town, but the team's supporters are helping to change that perception. The fans, known as the "Dawg Pound," bring their energy and enthusiasm to every home game, creating an electric atmosphere that rivals that of bigger, more established hockey cities. 
In 2022, the Dawgs made it to the President's Cup Final but fell short, losing to the Peoria Rivermen. Still, this loss merely amplified their desire to win, and through the strong Roanoke hockey work ethic, they returned to the President's Cup Final in 2023 to win it all against the Birmingham Bulls.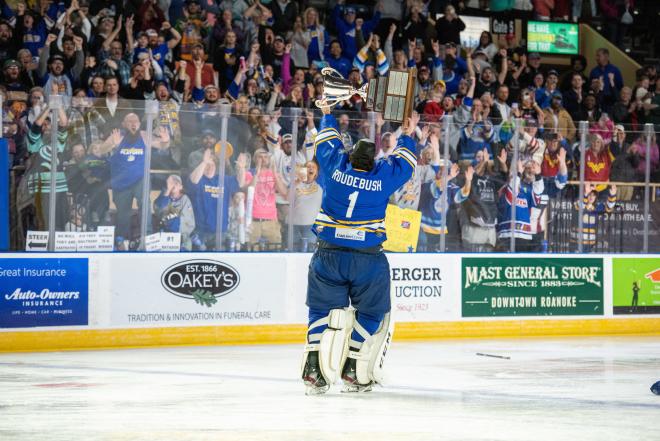 The Southern Professional Hockey League typically runs from late October to early April, with the playoffs taking place through early May. Rail Yard Dawgs Schedule >
Those looking to support this championship team as they hit the ice for the glory of Blue Ridge can purchase Roanoke Rail Yard Dawgs tickets on the team website at highly affordable prices. Single-game, half and full-season, and other ticket packages are available, catering to a wide range of fans.
While you're at the game, don't forget to pick up some Rail Yard Dawg merchandise to show your Roanoke pride. If you want to come prepared, consider ordering merchandise online from the Dawgs website.
Nearby Places to Eat and Drink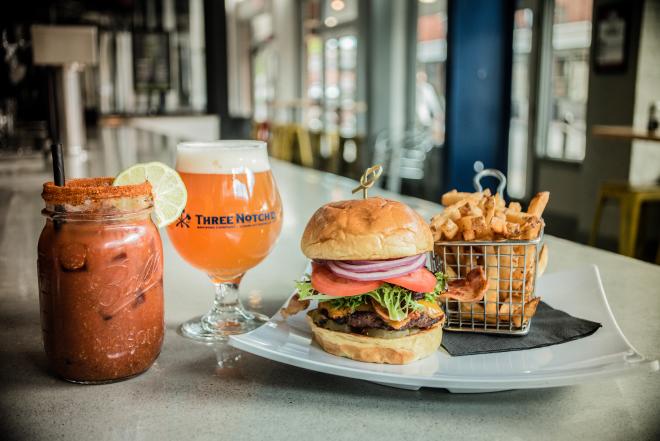 When attending a Rail Yard Dawgs home game, add to the fun by stopping by a nearby spot to grab a drink, bite, or both. 
Jack Brown's Beer & Burger Joint
210 Market St SE
1.0 mile from Berglund Center
Truly the place for burger and craft beer lovers, Jack Brown's serves up an impressive menu of mouthwatering burgers made with 100% American Wagyu beef. Founded by two childhood best friends, one can imagine the passion and attention to detail that goes into everything this savory burger joint touches.
Benny Marconi's
120 Campbell Ave SE
0.8 miles from Berglund Center
If you're craving larger-than-life New York-style pizza, pop into Benny Marconi for a "Virginia Slice." Since opening its doors in 2011, this spot has delighted customers with quick, affordable meals that are out-of-this-world delicious. Benny's serves beer and is open late, making it ideal for an after-game celebration.
Three Notch'd Craft Kitchen & Brewery
24 Campbell Avenue SE
0.9 Miles from Berglund Center
Part of the awesome craft beer scene in Roanoke, Three Notch'd Craft Kitchen and Brewery features award-winning brews, wine and cocktails. The food menu offers various snacks & apps, burgers, sandwiches, salads, and delicious sides.   
Where to Stay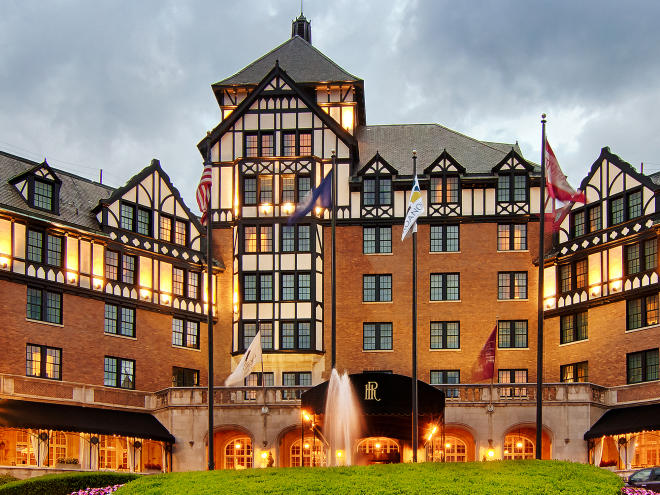 Why not make a night of it by staying at one of these fine, nearby establishments?
The Hotel Roanoke & Conference Center, Curio Collection by Hilton
110 Shenandoah Ave
0.8 miles from Berglund Center
Hampton Inn & Suites Roanoke - Downtown
27 Church Ave SE
1.0 mile from Berglund Center
Liberty Trust Hotel
101 S Jefferson Street
0.5 miles from Berglund Center 
Holiday Inn Express & Suites Roanoke Civic Center 
1303 Williamson Rd NE
0.7 miles from Berglund Center 
---
Looking to keep up with more sports action in Virginia's Blue Ridge? Follow VBR Sports on Instagram and find out about upcoming championships, races, and other sporting events.