Spring and fall are two of the best seasons for camping in Virginia's Blue Ridge. The average temperature is around 70 degrees and the humidity is close to zero.
It's the perfect time to breathe deep, see for miles from mountaintops, and enjoy the wondrous beauty of Virginia's outdoors.
Whether you enjoy pitching a tent for two or driving a luxury motorhome, Virginia's Blue Ridge has a campground for you. Plan now for your next excursion.
---
Before You Go: Please remember to recreate responsibly and familiarize yourself with The Leave No Trace 7 Principles. It's a great set of guidelines to help ensure you protect nature when you spend time outside. 
---
Explore Park | Blue Ridge Parkway - Milepost 115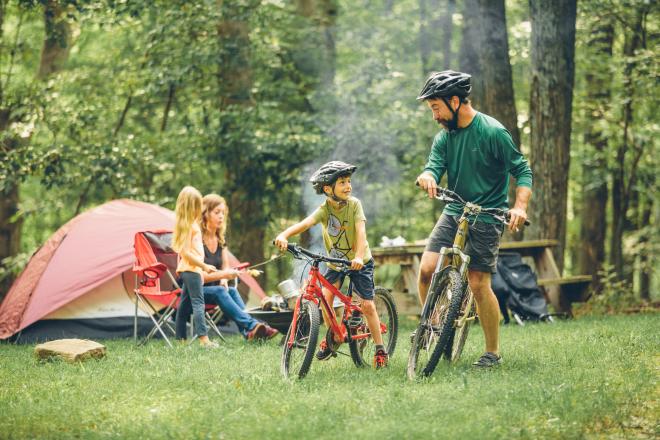 As part of its broad selection of overnight lodging options, Explore Park has made available raised platform sites near the bank of the Roanoke River. There are also yurts and RV sites, and you're welcome to pitch your own tent on a primitive site, too. The park also features cabin rentals.
Book Your Spot: Cabins & Camping at Explore Park >
>> Mountain Biking at Explore Park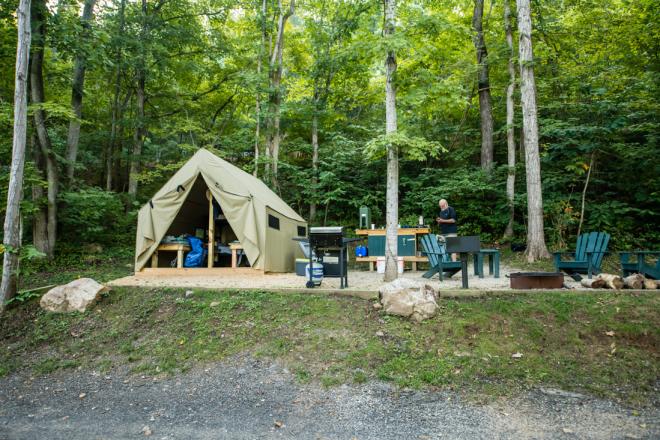 Riverfront tent camping? Found it! Three separate campgrounds – Gala in Eagle Rock, and Horseshoe Bend and Arcadia in Buchanan - are all set with fire rings, tent pads, and picnic tables. There is no potable water, but there are toilets and a dumpster for your refuse. Horseshoe Bend is a paddle-in campground while the other two are accessible by road. The ideal way to experience these campgrounds is to create a multi-day river trip, overnighting at each one.
Note – these are private campgrounds that must be booked through Twin River Outfitters.
Book Your Spot: Camping on the James River with Twin River Outfitters >
Photo by Aaron Black-Schmidt 
Year-round pet-friendly camping for any size camper, motorhome, or tent is available with full hookup at Dixie Caverns Campground. While you're there, be sure to visit the Dixie Caverns. Discovered in 1920 by two boys and their dog, which fell in a hole in the ground, as the story goes. Visit this gem of Virginia for yourself! Call (540) 380-2085 to make a reservation.
Learn More: Dixie Caverns Campsites >
"Dispersed Camping" is a fancy phrase for "camping by yourself in the woods alone." If you're a true wilderness man or woman, you'll probably be okay with no facilities or neighbors. There are, however, rules to abide by when you choose to go it alone in the National Forest. 
-    No more than 10 people and for no longer than 21 consecutive days.
-    Campsites may not be closer than 200' from a water source.
-    Leave No Trace and Be Bear Aware.
-    Inquire about fire or any other restrictions before you pack in, and ensure you're not on private land before setting up your site.
Learn More: Dispersed Camping in the Jefferson National Forest >
Peaks of Otter | Blue Ridge Parkway - Milepost 86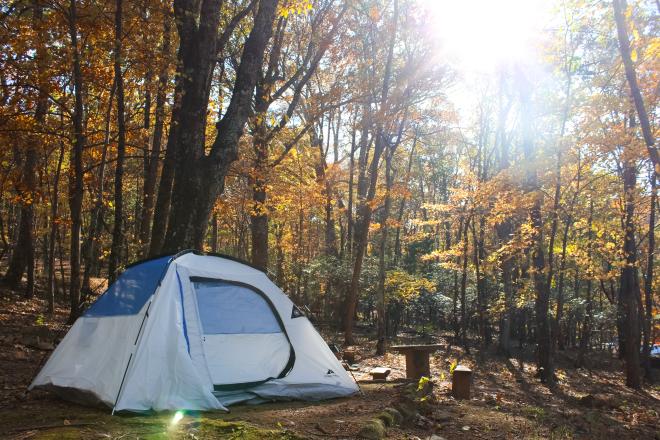 A stay at the Peaks of Otter Campground is the perfect way to have a Blue Ridge Parkway peak fall foliage camping experience. Enjoy nearby hikes like the climb up Sharp Top & Flat Top Mountains, and take in the beautiful views along Abbott Lake. While nearly any size RV or coach can be accommodated, the sites are not full hookup. Flush toilets are available but showers are not.
Book Your Campsite: Peaks of Otter Campground >
>> About Peaks of Otter
>> Peaks of Otter Lodge Lake View Dining Room
Rocky Knob | Blue Ridge Parkway - Milepost 167
Another campground along the Blue Ridge Parkway is Rocky Knob. The views are spectacular at this popular location, including the night sky. Like Peaks of Otter, the sites are not full hookup but flush toilets are available, as is drinking water.
Book Your Campsite: Rocky Knob Campground >
>> Nearby: Mabry Mill | Chateau Morrisette Winery & Restaurant
Whether you're a day hiker or passing through on the long haul, you'll be happy to find the Appalachian Trail shelters in Virginia's Blue Ridge. They're nothing fancy, but when you want to be protected from the elements and off the ground for a night, they're absolutely perfect.
Cove Mountain - Waypoint: CoveMtn1 | 37.51162, -79.65071 | Mile 749
Bobblets Gap - Waypoint: BobbletsG | 37.46712, -79.70121 | Mile 742.5
Wilson Creek - Waypoint: WilsonCrk | 37.41935, -79.78558 | Mile 735.2
Fullhardt Knob - Waypoint: Fullhardt | 37.39852, -79.85366 | Mile 729
Lamberts Meadow - Waypoint: LambertsM | 37.43461, -79.98754 | Mile 714.6
Campbell - Waypoint: Campbell | 37.39082, -80.02921 | Mile 708.6
Catawba Mountain - Waypoint: Catawba | 37.38818, -80.05714 | Mile 706.2
Johns Spring (Formerly known as Boy Scout Shelter) - Waypoint: BoyScout | 37.38537, -80.07402 | Mile 705.2
Pickle Branch - Waypoint: PickleBr | 37.38015, -80.1846 | Mile 691.6
Local Resource: Roanoke Appalachian Trail Club >
>> Appalachian Trail Conservancy
Perhaps one of the coolest camping experiences Virginia's Blue Ridge has to offer is Deer Island, an island in the middle of Philpott Lake that is only accessible by boat. Paddle in your gear and nourishment for a pleasant stay in solitude.
Learn More: Deer Island Park Map >
Full hookups are available at our area Virginia State Parks, all of which feature a lake for those gorgeous reflections of foliage, boating, fishing, hiking, and biking. Consider Smith Mountain Lake State Park in Huddleston, Fairy Stone State Park in Stuart, or Claytor Lake State Park in Dublin.
Book Your Stay: Reservations at Virginia State Parks > 
Chantilly Farm | Floyd
Pop-Ups, RVs, and tents are all welcome at Chantilly Farm, an event venue (and campground) just six miles out of Floyd. Full hookups, partial hookups, and completely dry sites are available. If you'd rather not rough it so hard, there is a tiny house, a couple of cute bunkhouses, and a glamping tent to choose from as well. Open fires are prohibited and pets must remain leashed.
Book Your Site: Camping at Chantilly Farm >
For those who enjoy being nestled between the mountains, Middle Creek Campground is the place for you. Welcoming to everyone – "tents and hammocks to buses" – whatever you wish to sleep in is A-ok with them. A variety of hookups are available as is limited Wi-Fi. Two ponds, a pool, beach area, and dirt bike tracks are just some of the attractions to Middle Creek. Call (540) 254-2550 to make your reservations.
Learn More: Campsites at Middle Creek Campground >
There's always something going on at the Natural Bridge/Lexington KOA. Weekend hayrides are an immediate draw (especially in fall), and their variety of sites appeals to those with big rigs and those without any wheels. Just check out their cabins and choose from a range of sizes, including minimalist one-roomers to a family-friendly lodge with a sleeping loft, bunk room, queen bed, bathroom, and partial kitchen.
Book Your Spot: Camping & Cabins at Natural Bridge/Lexington KOA >
---
Map of Locations
---
For all of your camping needs, Camping World of Roanoke is just off Interstate 81 in Hollins, or visit Walkabout Outfitter at Valley View Mall or in downtown Roanoke, as well as Outdoor Trails in Daleville, for outdoor gear and clothing.