One of the best things about Virginia's Blue Ridge is the ease of finding a great view. Thankfully, you don't have to be a hiking enthusiast to soak it all in! 
From the Blue Ridge Parkway to places right under your nose, these 10 breathtaking views deliver just that and you won't even have to catch your breath to enjoy it.
Perched above Electric Road, Carlos Brazilian International Cuisine has a patio that is perfect for taking in a glorious #BlueRidgeDay sunset. Enjoy dinner and drinks with your bestie or your main squeeze, and bask in the beauty.
>> Top 10 Pies in Virginia's Blue Ridge
When in Virginia's Blue Ridge, hit up the iconic Roanoke Star. As the largest star of its kind in the world and one of Virginia's best tourist attractions, it should rightfully hold a place on your list of things to see. From the Roanoke Star Overlook on Mill Mountain, downtown Roanoke is in full view, and it's pretty awesome any time of day. At night you can appreciate the sunset and the glow of the neon light behind you as well as down below.
>> Check the current view from the Starcam
The Hilton Garden Inn - Roanoke overlooks Electric and Franklin Roads on South Peak Boulevard. Not only do most of the rooms have an excellent mountain view, so does the terrace. Linger in the comfy chairs before dinner at The Garden Grille & Bar, right on site.
Many of the overlooks along America's Favorite Drive don't require you to get out of the car to enjoy the view. Though, we recommend you stretch your neck and your legs to take it all in as best you can. 
Our favorites for an easy scene are Rocky Knob at milepost 167, Abbott Lake at milepost 86, Roanoke Mountain at milepost 120.3, Mills Gap Overlook at milepost 91.8, and Thunder Ridge at milepost 74.7, but we have a few more in our list of 7 Iconic Overlooks on the Blue Ridge Parkway.
>> Where to See Stunning Sunsets in Virginia's Blue Ridge
5. Roanoke River Gorge | Roanoke
NOTE: This location is currently closed due to maintenance work on the Blue Ridge Parkway. It is expected to re-open in Spring 2022.
At milepost 114.9 on the Blue Ridge Parkway, the Roanoke River Gorge requires a short walk from a parking area to see. Look down from the bridge to watch the Roanoke River flow over Niagara Dam. The view in either direction is one worth the stop, and will likely include a river adventurer or two paddling below. Check out more views of the Roanoke River and fun trails nearby at Explore Park.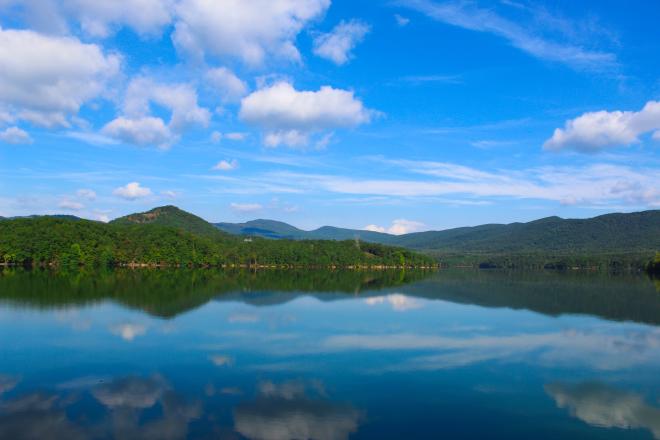 As a municipal park – the second largest in the country – Carvins Cove is easy to access and enjoy. There are plenty of miles of trails, mind you, but simply viewing the reservoir and enjoying all of the beauty doesn't require much effort at all. Access from the Boat Landing side for waterfront views. [Carvins Cove Map] 
>> Best Panoramic Views You Can See in Virginia's Blue Ridge
Swinging over the James River parallel to Route 11 in Buchanan is the Buchanan Swinging Bridge. If you're tolerant of heights (and a little swinging), a walk out onto the bridge offers a great view of a small section of the Upper James River Water Trail. Watch boats launch from Twin River Outfitters above the bridge and hang out to wave as they pass below.
Located on Market Square in the heart of Downtown Roanoke, Center in the Square is a hub of arts & cultural activity and fun things to do, including the rooftop patio and gardens, with a space that provides a gorgeous view of the surrounding city skyline and nearby mountains.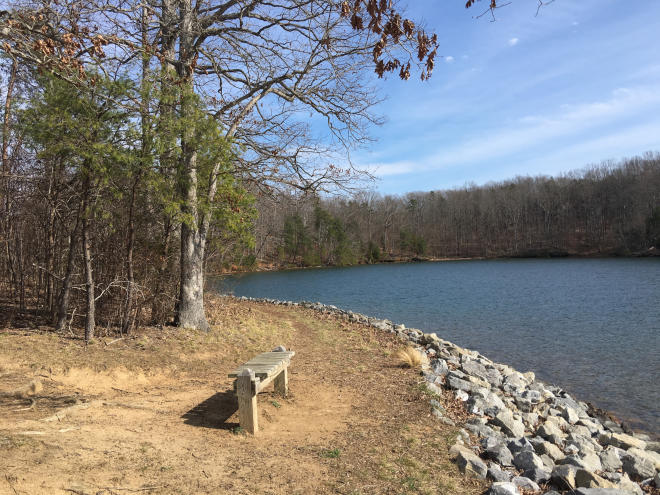 Easy walks along the bank of Smith Mountain Lake offer nice views and reflections of foliage and sunset. Use the trail map to identify the easiest trails for maximum views and minimum effort.
>> 7 Ways to Get on the Water at Smith Mountain Lake
There are a number of steps to descend (and ascend on the way back) to reach what Thomas Jefferson called "the most sublime of Nature's works," but those steps are more than worth it. Stand in awe and get your camera ready for this towering limestone bridge.
---
Map of Locations
---
Wherever you journey in Virginia's Blue Ridge, and whatever beauty you find along the way, we want to see it. Please share your moments with us on social media by tagging #BlueRidgeDay, and we hope it's a great one!