One of the most meaningful stops you can make in Virginia's Blue Ridge is the National D-Day Memorial in Bedford. A somber walk through a larger than life depiction of soldiers landing on Omaha Beach in Normandy on June 6, 1944, the memorial calls attention to the loss endured by the Bedford community, the United States, and the Allied Expeditionary Forces.
From Conception to Reality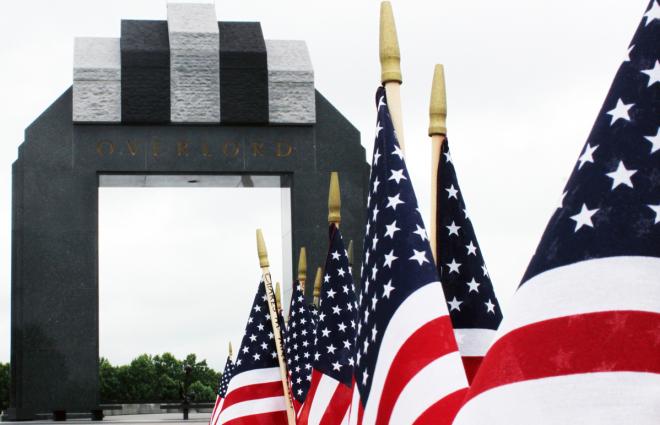 The National D-Day Memorial Foundation was created in 1988 but it wasn't until the 50th anniversary of D-Day in 1994 that real interest in a memorial site stirred. Its creation is in large part thanks to D-Day Veteran John Robert Slaughter, who realized no war memorial for D-Day existed. Slaughter accompanied President William J. Clinton to Omaha Beach on that 50th anniversary of June 6, 1994, and not long after, Slaughter's notion of a memorial gained traction with Senator John Warner of Virginia. In 1996, Senator Warner sponsored SP 4067, an amendment to The National Defense Authorization Act for Fiscal Year 1997, which read in part, 
"The memorial to be constructed by the National D-Day Memorial Foundation in Bedford, Virginia, is hereby designated as a national memorial to be known as the 'National D-Day Memorial'. The memorial shall serve to honor the members of the Armed Forces of the United States who served in the invasion of Normandy, France, in June 1944."
While the memorial was Congressionally approved, it received no federal dollars. Rather, the National D-Day Memorial Foundation, a non-profit, got to work fundraising. World War II veteran and "Peanuts" creator, Charles M. Schulz, gave an initial injection of $1 million and also led the charge to acquire another $11 million. On Veterans Day 1997, work began on the memorial.
An added push from Stephen Spielberg brightened the light on the cause. His 1998 Academy Award winning box office hit starring Tom Hanks – "Saving Private Ryan" – was centered on D-Day, and the storyline hit close to home. IMDB describes it "Following the Normandy Landings, a group of U.S. soldiers go behind enemy lines to retrieve a paratrooper whose brothers have been killed in action." Though the movie loosely portrays the Niland Brothers of Tonawanda, New York, Bedford lost brothers and even a set of twins, yielding compounded devastation for their mothers as well.
The Bedford Boys
Company A, 116th Infantry, 29th Division included 35 young men from Bedford. Comprised of 230 men, Company A had only 18 survivors at the end of "The Longest Day," June 6, 1944. 19 Bedford Boys were among them; all believed lost within the first 15 minutes of landing. In total, Bedford mourned 23 lives lost during the Normandy campaign. Given the populace of 3,200, Bedford suffered the greatest loss per capita on D-Day. Therefore, the National D-Day Memorial is located in Bedford, Virginia. Photos of the Bedford Boys >
The Memorial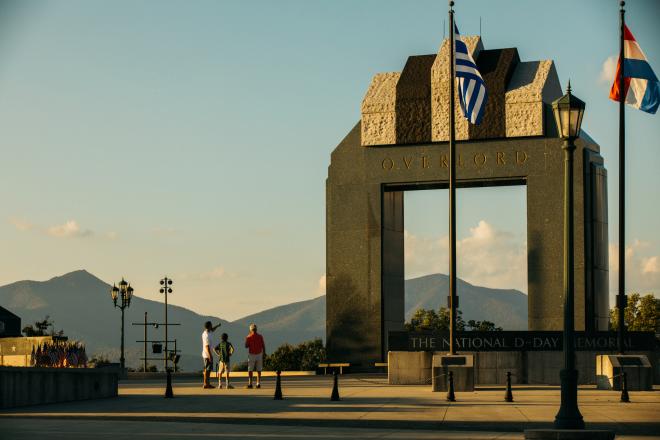 Situated on 88 acres, the National D-Day Memorial was dedicated by President George W. Bush on June 6, 2001. Its most prominent feature is a 44-foot-tall arch inscribed "Overlord," the military name of the D-Day operation. 
The Necrology Wall puts the name of every life lost on D-Day right at your fingertips. Numbering 4,413, 2,499 were American and the remaining 1,914 were Allied Expeditionary Forces from Australia, Belgium, Canada, France, New Zealand, Norway, and the United Kingdom. Indeed, the National D-Day Memorial can also be considered an international war memorial.
The Sculptures are intricately detailed, showing both angst and determination. Larger than life, you'll find yourself in the midst of battle as bullets seem to whiz by and sporadically pierce the pool, just as they did that day in 1944. Examine facial features and even posture as you make your way through the memorial. Some soldiers seem to have a second thought about progressing while others are determined to make it. 
Visiting the Memorial
The National D-Day Memorial is open daily from 10 a.m. to 5 p.m. and each ticket includes a guided walking tour, offered at 10 a.m. and 4 p.m. Allow one hour for the tour. Mobility assistance is available.
Admission is $10 per adult; $8 per Veteran or Active Duty Military; $6 per student; and free for ages 6 and younger. To extend your exploration, purchase a combo ticket for $19 to also visit Thomas Jefferson's Poplar Forest in nearby Forest, Virginia. Ticket sales for the National D-Day Memorial end at 4:30 p.m. daily. The memorial is closed Christmas Eve, Christmas Day, New Year's Day, and Thanksgiving Day. It closes at noon on New Year's Eve.
---
Interested in learning about more history in Virginia's Blue Ridge? Check out our guide to 15 Spots for History Buffs.