If you're looking for adventure, we've created the perfect itinerary for exploring the mountains of Virginia!
Featuring all the winners of the Blue Ridge Outdoors 2020 Top Adventure Towns contest, you can create an epic road trip with a stop in each of the winning towns - Floyd, Roanoke, Bedford, and Charlottesville.
Whether you start in Floyd and make your way north, or begin in Charlottesville and head south, it's about 160 miles and 3 hours of driving to be able to visit all four locations in the itinerary, though we highly recommend spending a couple days in each spot. It's a great way to discover what it means to experience WanderLove in Virginia!
Top Adventure Town Destinations
This Top Adventure Town itinerary is a special collaboration between Visit Virginia's Blue Ridge, Destination Bedford, Floyd County Tourism, and the Charlottesville Albemarle CVB as a celebration of each of the destinations winning their category in the Top Adventure Towns contest hosted by Blue Ridge Outdoors Magazine. Each organization provided info and images related to unique experiences you'll find along the way.
Let's hit the road!
Floyd - Category: Tiny Towns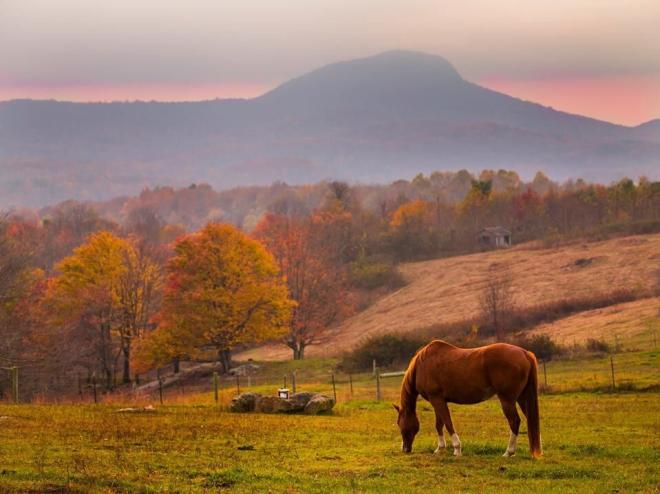 The Town of Floyd & Floyd County is located along the magnificent Blue Ridge Plateau in Virginia. It's a haven for natural beauty and renowned for its hospitality, along with a vibrant culture of music, arts, local food & wine, and outdoor recreation. Floyd County borders almost 35 miles along the Blue Ridge Parkway, offering opportunities for hiking, cycling, camping, and scenic drives.
During your time in Floyd, your adventures can include soaring through the mountains at Buffalo Mountain Ziplines, the longest and highest zipline in Southwest Virginia, getting on the water with kayaking, tubing, and fishing on the Little River, and hiking at Buffalo Mountain Natural Area Preserve.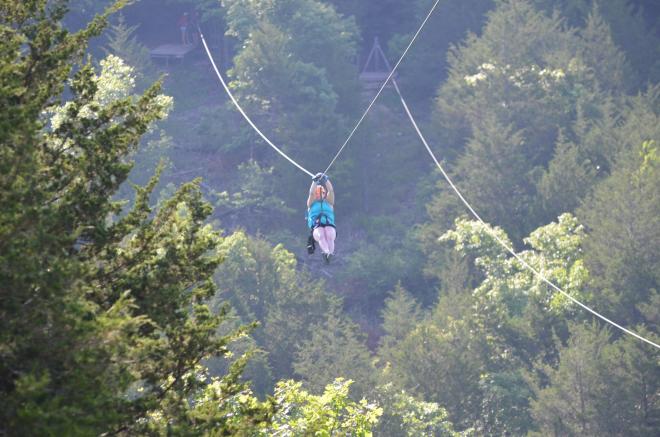 In addition to great outdoor recreation and scenic views, Downtown Floyd boasts over 12 galleries and shops, including the iconic Floyd Country Store. You can also satisfy your cravings for good food & drink at Dogtown Roadhouse, specializing in hand-crafted wood-fired pizzas and a full bar with 14 rotating taps.
As part of your road trip, consider a stay at the historic Pine Tavern Lodge. It's a beautifully renovated hotel that has stayed true to its charm from when it was originally constructed in 1927, while incorporating modern amenities and conveniences to provide a relaxing overnight visit.
Photo Information: Scenic View of Horse Grazing & Buffalo Mountain - Photo by Gene Dalton, Buffalo Mountain Ziplining 
Roanoke - Category: Large Towns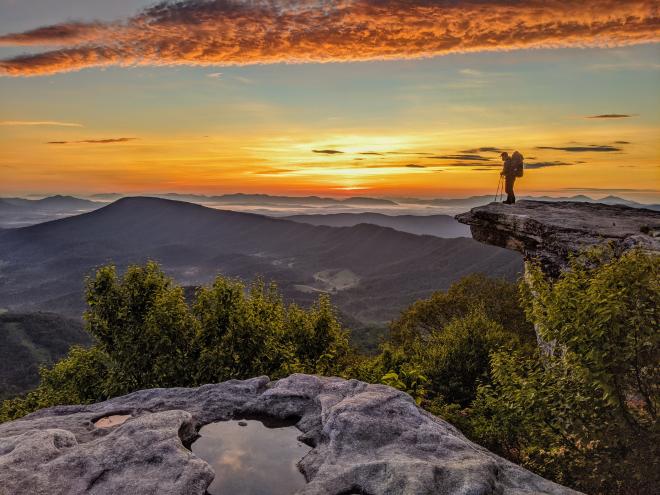 Roanoke in Virginia's Blue Ridge is your next stop for a metro mountain adventure as part of your Top Adventure Town road trip!
As the winner of the Large Towns category of the contest, Roanoke offers a vibrant downtown district and easy access to an incredible variety of outdoor activities. In the Virginia's Blue Ridge region, you'll find over 1,000 miles of trails, including world-class hiking, cycling, mountain biking, and paddling.
Roanoke is the largest city along the Appalachian Trail and home to the popular Virginia Triple Crown - featuring the three hikes of Dragon's Tooth, McAfee Knob, and Tinker Cliffs.
Along with the amazing hiking, the region is also the only IMBA Silver-Level Ride Center on the East Coast and offers over 400 miles of trails for mountain biking. Check out epic riding in spots like Carvins Cove, Mill Mountain Park, and Waid Park.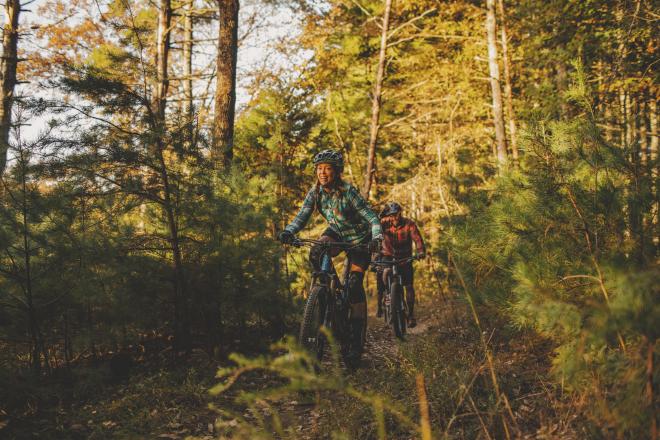 If you're interested in water adventures, you can set out for a paddle or float along the Roanoke River Blueway or Upper James River Water Trail. Roanoke Mountain Adventures and Blue Mountain Adventures offer services for the Roanoke River, while Twin River Outfitters has a shop located along the bank of the James River in Buchanan.
Have a toast to all your adventures in Roanoke by making a stop at a few of the local craft beverage producers along the Virginia's Blue Ridge Cheers Trail, which features breweries, wineries, and distilleries.
An overnight stay in Virginia's Blue Ridge could include a luxurious room at the historic Hotel Roanoke in Downtown Roanoke, reserving a campsite or cabin at Explore Park, or staying at the Roanoke Boutique Hotel, a local B&B designed geared toward outdoor enthusiasts. Book a stay in Virginia's Blue Ridge >
Photo Information: Hiker on McAfee Knob - Photo by Where's Gordo Photography, Mountain Biking at Carvins Cove - Photo by Sam Dean Photography
Bedford - Category: Small Towns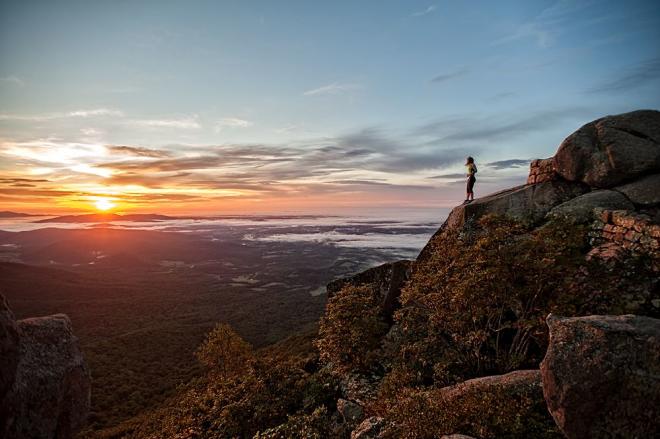 The Town of Bedford & Bedford County offers some adventures you may recognize, such as driving the beautiful Blue Ridge Parkway, hiking at the stunning Peaks of Otter, and relaxing at Smith Mountain Lake, as well as many exciting adventures waiting to be discovered.
If you're looking to mountain bike, you'll love the trail options for riding at the various local parks in Bedford - Falling Creek Park, Moneta Park, Montvale Park, and the New London Tech Trails. Get riding info and trail maps on the Bedford Trails website > 
The parks in Bedford County are also exceptional for disc golf, with more than 90 holes across four courses, including a new 18-hole course at Independence Park, which was co-designed by 5x World Champion Disc Golfer Paul McBeth.
For food & drink, head to Downtown Bedford for great options at locally-owned restaurants featuring a variety of types of cuisine, such as amazing BBQ & craft beer at Beale's, Tex-Mex at Azul, delicious seafood at Clam Diggers, unique sandwich options at Town Kitchen & Provisions, and the famous cheesecake from Liberty Station. You can also have a picnic, take a walk through the orchard, and sample locally-made wine at the Peaks of Otter Winery & Johnson's Orchard.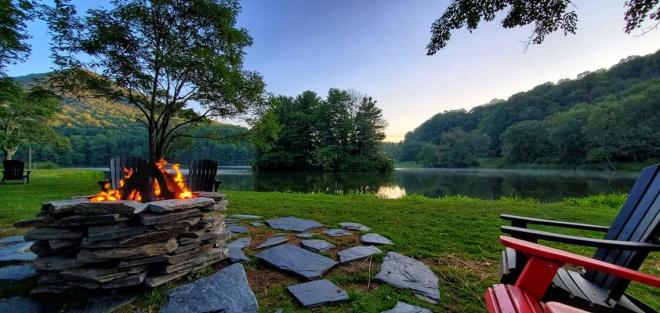 When spending the night in Bedford, consider a stay at the beautiful Peaks of Otter Lodge, the only hotel located on the Blue Ridge Parkway in Virginia. For lakefront lodging, consider Halesford Harbour Inn or Mariners Landing, both located at Smith Mountain Lake. Visit the Destination Bedford website for a complete list of options for lodging & accommodations.
To get more information and resources, don't miss the Bedford Area Welcome Center. There are free maps and travel guides, and it's a great spot to snap a picture in front of their special LOVEworks art.
Photo Information: Hiker on Sharp Top Mountain - Photo by Lee Sandstead, Firepit at Peaks of Otter - Photo by Mark Calhoun 
Charlottesville - Category: Medium Towns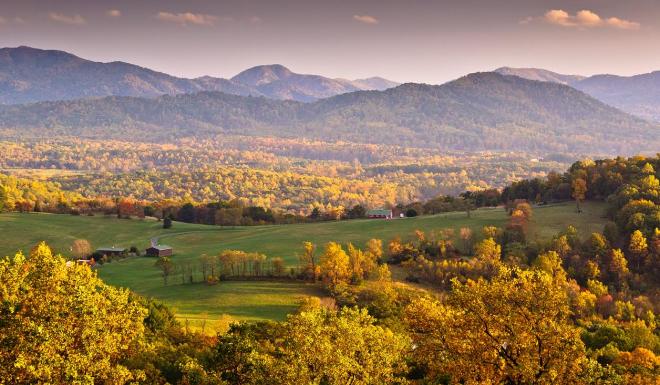 A visit to Charlottesville & Albemarle County will feature all kinds of adventures, ranging from outdoors to history and craft food & drink.
History and outdoor adventure are intertwined with experiences like the Saunders-Monticello Trail at Thomas Jefferson's Monticello and the Highland Rustic Trails at James Monroe's Highland. There's also amazing hiking nearby where the Blue Ridge Parkway connects to Shenandoah National Park - one popular hiking option being Humpback Rocks, known for its breathtaking 360-views of the mountains and surrounding valley.
Consider a water adventure on one, or both, of Charlottesville's two rivers, the Rivanna and the James, which are both open for rafting, canoeing, kayaking, fishing, and more.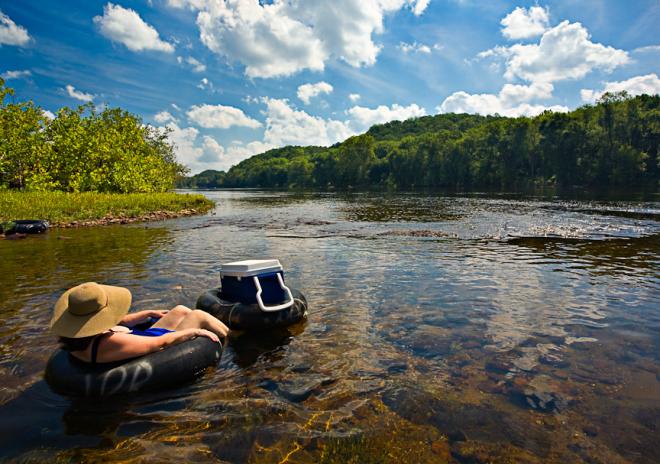 You could even make magical memories with a hot air balloon ride or horseback riding through a local vineyard.
When you work up an appetite, head to Crozet Pizza to try what National Geographic named the best pizza in the world, or pick up a delicious bagel at the legendary Bodo's Bagels. There are also lots of great local dining options (including many with outdoor patios) along the historic pedestrian Downtown Mall. If you'd like a drink, Charlottesville & Albemarle County is home to 35+ wineries and craft breweries.
The area offers a variety of lodging options, including resort-style lodging at the Boar's Head Resort, The Quirk Hotel - a boutique hotel with an art gallery and beautiful rooftop patio & bar, chain hotels, and local bed & breakfasts and inns.
Photo Information: Scenic View of the Mountains - Photo by David Anhold, Floating the River - Photo courtesy of Charlottesville Albemarle CVB
---
We'd like to thank all the local tourism organizations for their partnership in helping create this itinerary and Blue Ridge Outdoors Magazine for organizing and hosting this great competition every year. We hope you feel inspired to find your next adventure in Virginia!
---
Planning Resources