Parkways, greenways, blueways, railways…they all conjure up a mental picture of scenic beauty, adventure, and exploration. There's no time like the present to make that mental picture a reality. 
Come travel all of the 'ways of Virginia's Blue Ridge.
NOTE - This post was updated in June 2019.
Gorgeous Greenways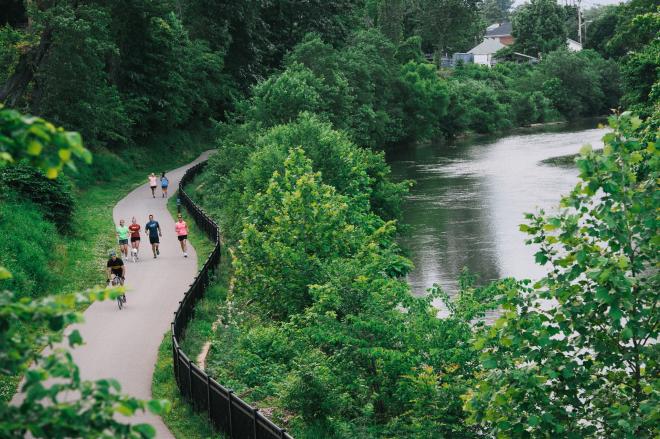 ​

One of the most beautiful ways to explore Roanoke's outdoors is by the series of trails known as the Roanoke Valley Greenways. The 30 miles of paved surface wind through neighborhoods, along parks, streams, and rivers, and offer some of the most stunning and underappreciated views of Roanoke and the Blue Ridge Mountains. 
Walk, cycle, or run from point to point, but be sure to appreciate the scenery and local highlights as you go.
Blue Sky Blueways
Free yourself for relaxation and fun on our rivers, or blueways, if you prefer. Blueways are water trails. Go with the flow to either connect to more streams or discover interesting stops along the way. Kayaks, canoes, paddleboards, and even inner tubes are awesome ways to travel on a hot summer day in Virginia's Blue Ridge.
America's Favorite Drive
An unparalleled scenic drive in Virginia, the Blue Ridge Parkway courses through Virginia's Blue Ridge offering a multitude of overlooks for travelers to stretch and get a view of the Valley below and mountains beyond. Expect to cruise at a peaceful 45 miles per hour on this legendary stretch of road; a good pace that allows time to pull over for views and attractions. Map of the Parkway access points in Virginia's Blue Ridge.
Railway Rollin'
With our new train service on the Amtrak Northeast Regional line, travelers can ride the Amtrak train to Virginia's Blue Ridge from cities like Washington, D.C., Philadelphia, New York, and Boston!
For the smallest rail fans and their families, the Zoo Choo at Mill Mountain Zoo is a must! Go for a spin around the zoo's perimeter in a miniature model G-16 to see the animals from a different perspective.
No rail adventure around the region is complete without a visit to the Virginia Museum of Transportation and the O. Winston Link Museum. Walk through a history of the railroad in Roanoke, climb aboard locomotives, and appreciate the photography of O. Winston Link.
---
Outfitters like Twin River Outfitters and Roanoke Mountain Adventures are available with rentals for the blueways and greenways.
Show us which 'way you go in Virginia's Blue Ridge by being a Trailsetter sharing your photos and experiences on social media and tagging them #Trailsetter!
Get more ideas to help you plan your next getaway by signing up to receive our monthly e-newsletter. You can also enter our Sweepstakes for an opportunity to win a free trip to Virginia's Blue Ridge!