Take in the fresh air of the Blue Ridge Mountains. Virginia's Blue Ridge features over 1,000 miles of trails and an incredible variety of opportunities for outdoor recreation, making it the perfect destination for a relaxing mountain getaway.
When you want to get outside for some rest & relaxation, here are some of the most relaxing outdoor adventures you'll find around Roanoke in Virginia's Blue Ridge. 
Before You Go: Familiarize yourself with The Leave No Trace 7 Principles. These guidelines are a great way recreate responsibly and help protect nature when you spend time outside.
Float a River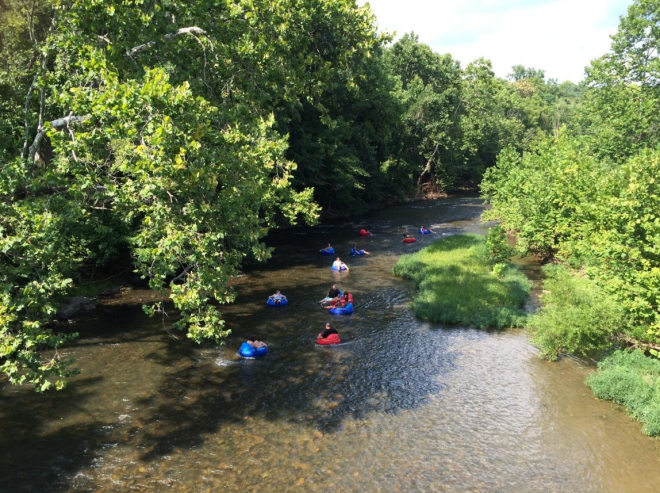 Cares float away as you float down a river. A simple call to Twin River Outfitters in Buchanan will set you on your way to a soothing a day on the Upper James River Water Trail, while a call to Roanoke Mountain Adventures leads you to a refreshing day on the Roanoke River Blueway (pictured above).
In Franklin County, you can take advantage of tubing rentals in Waid Park for a float on the Pigg River.
From the time you wade in with your tube or kayak until the time you land, all is right. It's the pause button you've been searching for. Soak up the sun, smell and hear the environment, and simply drift for a while. Your body and mind will be refreshed.
Scenic Mountain Drives
 
A scenic drive through the Blue Ridge Mountains provides the opportunity to take in the stunning vistas and views of the region while also exploring many of our favorite local towns & communities. 
A few of our favorite scenic drives include Route 311 to Craig County, Route 11 to Botetourt County, and Route 221 to Floyd. Here's why:
Route 311 to Craig County (pictured above) is a mountain adventure as it includes both Catawba and Potts Mountains. You may not realize it as you're driving, but this route takes you past the trailheads for McAfee Knob and Dragon's Tooth, two of the three points in Virginia's Triple Crown. If you're hungry, make your way to The Swinging Bridge in Paint Bank, known for its comfort food and buffalo burgers.
Route 11 to Botetourt County runs through the Town of Troutville, an Appalachian Trail community and includes interesting stops like Kelly's Real Deals Antiques, shopping at Apple Barn II Gifts and KC Collections, and dining at North Star or Foot of the Mountain Cafe. Be sure to stop in the Town of Buchanan to take a walk across the Buchanan Swinging Bridge. 
Route 221 to Floyd parallels the Blue Ridge Parkway and includes scenic Bent Mountain, farm land, and delightful stops such as Bent Mountain Bistro, hiking at nearby Bottom Creek Gorge and wine tasting at AmRhein's Wine Cellars. Once you arrive in Floyd you'll find many avenues of exploration. Don't miss the live music scene and rich history of the iconic Floyd Country Store.
Biking the Roanoke Valley Greenways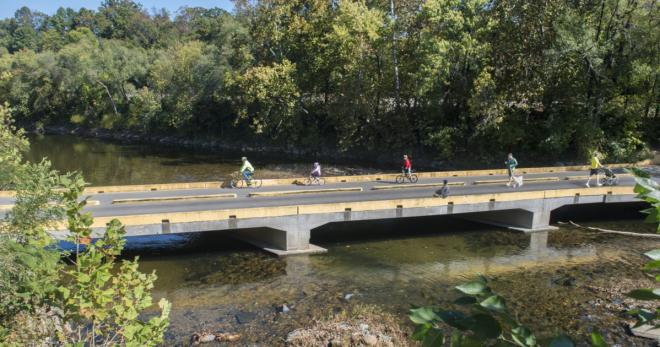 The most family friendly bike rides in Virginia's Blue Ridge are along the Roanoke Valley Greenways. Paved paths meander along rivers and streams, through neighborhoods, past historic points of interest, and often have parks, dining, and shopping nearby.
Among the most popular of the greenways is the Roanoke River Greenway (pictured above), which follows the Roanoke River through Roanoke and Salem.
For a sweet treat, don't miss Blue Cow Ice Cream, a popular local ice cream shop near the Roanoke River Greenway at the base of Mill Mountain. [Greenway Trail Directory >] 
Fishing
 
Secure a Virginia fishing license and then head out to one of our favorite fishing holes. In Arcadia (Botetourt County - pictured above), we love Jennings Creek for trout fishing. It's a James River tributary and is stocked a time or two each year with trout.
In Franklin County, head to the Smith Mountain Lake Community Park to see what you can reel in. An accessible fishing pier ensures everyone has a chance to successfully get their line in the water.
Hit the Roanoke River from the banks of Explore Park, a perfect spot for fly fishing, as well as easy kayak and boat access. 
Easy Hikes
 
Increase your heart rate with an easy hike. Bring a friend or the whole family to explore as you go. Roaring Run (pictured above) in Eagle Rock is a favorite trail for encountering water features and a bit of history, too. Wear clothes you don't mind getting wet as there is a swimming hole near Roaring Run Falls. Check out the 19th century iron ore Roaring Run Furnace along the way. 
Just off the Blue Ridge Parkway and looping both sides of Mill Mountain Parkway is the Chestnut Ridge Trail. Take this trail in its 5.4-mile figure-eight loop or condense it to fit your time or endurance.
Park the car at milepost 169 on the Blue Ridge Parkway to take on the easy Picnic Loop Trail at Rocky Knob. It's a simple mile-long hike with nice views, or you can take on the real challenge of hiking to Rocky Knob itself. That trail – the Rock Castle Gorge Trail - is a moderate to strenuous 10.8 miles with a bit of elevation change. See more Rocky Knob Trails >
Boating at Smith Mountain Lake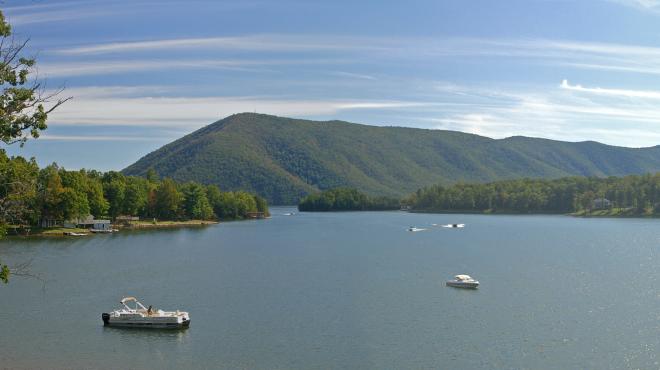 Get on the glistening Jewel of the Blue Ridge even if you don't own a boat. We have a handy guide of where and how to do so. From pontoons for relaxing to speedier vessels with tow ropes and floats, a day on the lake is a fun and carefree way to spend a day.
Have a Picnic
 
Shake out a blanket or spread a tablecloth to enjoy a picnic at one of our favorite local parks. Happy Hollow Gardens Park in Roanoke County is a serene place with a shelter, trails, and shady places to relax.
If you're looking for a water feature to fish or enjoy wildlife while you picnic, head to Lake Spring Park in Salem (pictured above). It's a picturesque location and easily among Salem's most photographed.
In Franklin County, we love Jamison Mill Park for picnics. Located on Philpott Lake, it's a great place for strolling a trail or just enjoying the breeze off the water.
Camping & Cabins at Explore Park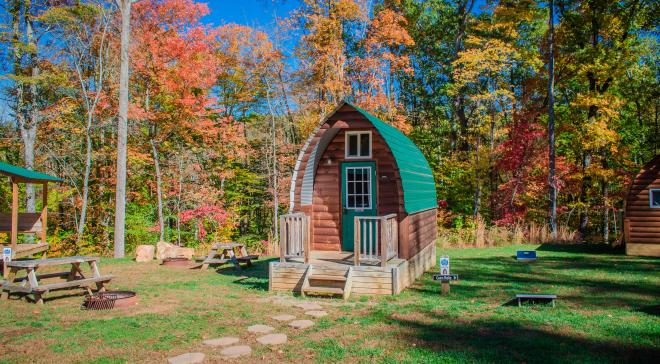 Explore Park features over 1,000 acres of space for relaxing in the outdoors in Virginia's Blue Ridge. Consider an overnight stay at one of the many options for camping and cabin rentals, and make it your base for adventure.
The park also offers access to the Roanoke River Blueway, trails for hiking & mountain biking, food & drink at Twin Creeks Brewpub, and Treetop Quest – an aerial adventure course.
Easy Mountain Biking
 
Virginia's Blue Ridge is a mountain biking destination, but not every biking excursion needs to be an adrenaline fueled, heart pumping experience. Try our easier trails for a more laid back day on the trails. 
We like Morningside Park in Roanoke. There you'll find a new beginner level trail built for youth and conveniently located behind the Boys and Girls Club. Take a turn and perhaps inspire the next generation to do the same.
At our largest mountain biking park, Carvins Cove, not every trail is a fierce fight for greatness. One of the best options for an easy, out-and-back ride at the Cove is to park at the Boat Landing and take the Happy Valley Trail along the edge of the reservoir. If you ride the entire trail, it's about a 13.5 mile ride. Carvins Cove Trail Map >
Waid Park Recreation Area in Rocky Mount has over 10 miles of trails, most multi-use. Pick up the Fitness Trail from the parking area and aim to include River Ramble Loop Trail. Both are easy and you'll encounter river views as you go. You can also check out the Old Buzzard Jumpline, one of the newer trails in the park. It offers fun options for jumps for more experienced riders.
Check out this awesome video showcasing mountain biking at Waid Park!
Visit a Virginia State Park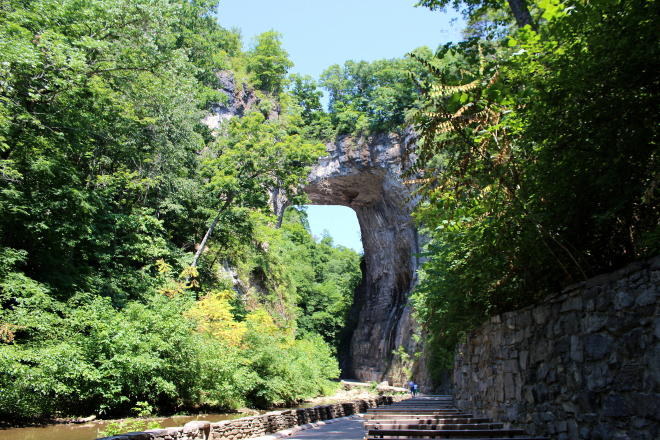 For room to stretch, breathe, exercise, and unwind, you can always choose to visit or stay overnight at a Virginia State Park. The parks in our area include camping and cabins, showcase glistening bodies of water, and host hikers, bikers, fishers, and picnickers.
You can also bask in the awesome wonder of Virginia's famous limestone arch at Natural Bridge (pictured above) or hunt for illusive cross-shaped rocks at Fairy Stone. Discover the art of relaxation at a Virginia State Park. 
---
It's possible to both adventure and relax in the outdoors of Virginia's Blue Ridge. Blow off steam and then nourish your body with the things that heal and help. Outside is a wonderful place to be. See you there.