Let loose at Explore Park, a key outdoor destination in Virginia's Blue Ridge offering far more than you expect. More than a park, these 1,200 acres hold a variety of trails for a variety of uses, fancy camping opportunities, a beautiful river, exciting ways to play on the ground and in the trees, and special events certain to light up days and the nights.
Be a #Trailsetter at Explore Park with your loved ones in every season, as each delivers a brand new view and a brand new way to fall in love with the outdoors.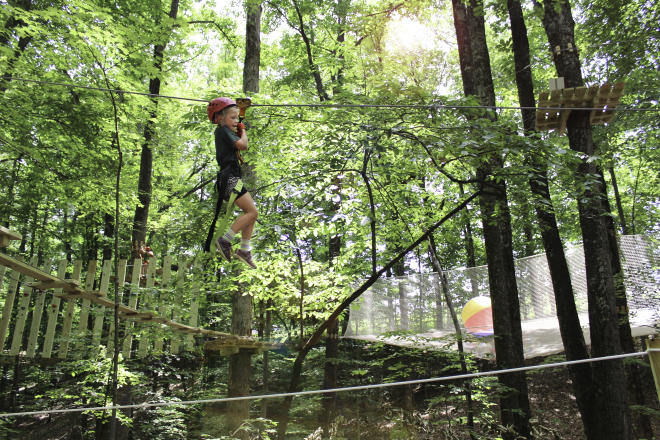 Kids as young as four can swing from the trees – literally - at Treetop Quest, Explore Park's aerial obstacle course. Tarzan swings, tightropes, zip lines, and cargo nets challenge friends, families, and groups to push themselves and conquer something new.
Trails for Hiking & Biking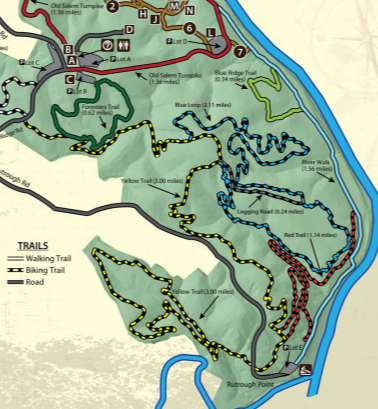 More than 14 miles of trails allow for hiking and biking around and through Explore Park. Meander through the historic area starting from the Blue Ridge Parkway Visitor Center.
Nine of the 14 miles are purpose built for mountain biking, with much more planned in the near future as part of the Park's Adventure Plan.
For hiking, the River Walk is a 1.5 mile trail that offers great views of the Roanoke River. For mountain biking, we recommend the 3-mile Yellow Trail that winds through a large section of the park.
Download: Explore Park Trail Map >
Birding & Wildlife Viewing
With forests and rolling hills, it's quite common to encounter wildlife at Explore Park, but for a guaranteed encounter, plan to visit during a special program where animals are introduced and discussed by staff naturalist. The second Saturday of each month is the Wild Things Series featuring everything from reptiles to deer. This program is free, as are NPS Ranger Programs.
Learn More: Explore Park Nature Education >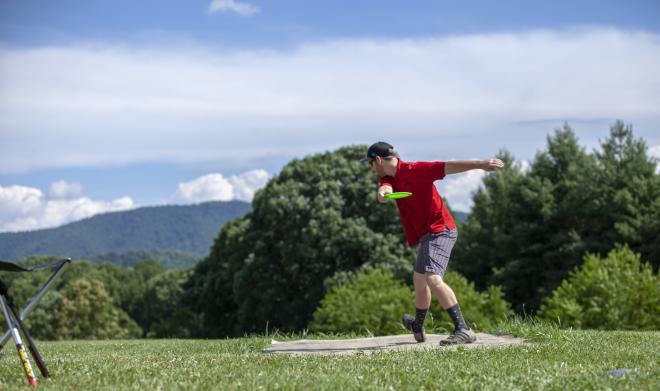 Eighteen holes of disc golf are laid out across the varied terrain of Explore Park. The Mayflower Hills Disc Golf Course is fun for families but can also be challenging enough for a tournament among friends. For families, aim for the "front nine."
An Adventure Pass will allow for year-long play or $3 per player per game is requested at the pay post kiosk, an honor system that helps pay for the upkeep of the course.
Learn More: Mayflower Hills Disc Golf Course Map >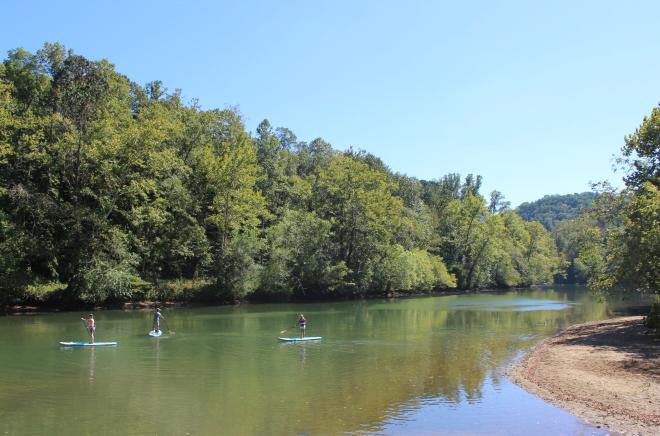 The riverfront at Explore Park is a great place for fishing, getting in and on the water, and photography. There are also paddling trips offered through Roanoke Mountain Adventures. 
Those toting their own boat can launch from the Rutrough Point Boat Launch (Point #16 on the Roanoke River Blueway Map), which is "the furthest navigable point on the Roanoke River before you encounter rapids." Plan to pay $3 at the drop post for parking.
The Roanoke River flows seven miles to Hardy Bridge at Smith Mountain Lake.
Download: Roanoke River Blueway Guide & Map >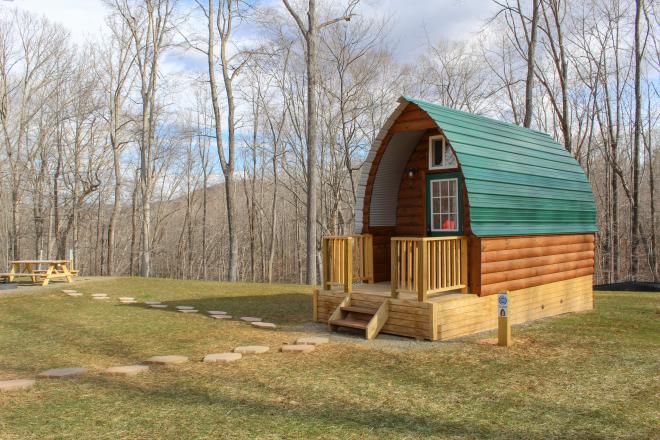 There are two campgrounds for you to choose from at Explore Park, as well as yurts, cabins, and pre-set tents. Pitch your own tent for a primitive experience or feel free to pull in your own tag-along or drive in your RV.
Operated by Don's Cab-Inns Campground, pod cabins are much like a tiny house. They offer a downstairs bed, loft with mattress, refrigerator, microwave, coffee maker, and are climate controlled. The yurts offer the same food related amenities but are not climate controlled. Both the yurts and the pod cabins sleep up to six people. Linens are not included with either option.
Book Your Spot: Camping & Cabins at Explore Park >
Plan now to visit Explore Park during Illuminights, their winter walk among more than 500,000 lights. Stroll through at your own pace to enjoy the twinkles along a half-mile wooded path, then be sure to take part in the marshmallow roasting for a seasonal treat. An artisan Christmas market is a great place to find holiday gifts.
New Year's Eve offers a few more activities for a family fun alternative. Create your own ornament for the Act of Kindness Tree, as well as noisemakers and hats for the Toast at Ten. Toast at Ten is a toast to the upcoming new year complete with sparkling cider in plastic fluted glasses and glow sticks. A photo booth will help to capture the moment for your family.
Learn More: Illuminights Ticket Info >
---
Explore Park - Location Info
56 Roanoke River Parkway
Roanoke, VA 24014
explorepark.org
(540) 427-1800
Facebook | Instagram
---
Explore Park is a great destination in every season, and we hope you will make plans to enjoy it soon. Share your experiences socially and add #Trailsetter to show us what you're up to.