October is one of the most exciting times of the year in Virginia's Blue Ridge!
With the arrival of fall colors and the calendar full of fun events, it's the perfect time to plan a fall getaway to the mountains.
In addition to our list below of special events to check out during the month of October, we also encourage you to take a look at our Guide to 2022 Fall Festivals & Special Events in Virginia's Blue Ridge >
As you make your plans for this month, here is a preview of 25 special events happening this October in Virginia's Blue Ridge.
---
NOTE: All info is subject to change. Please check event websites and social media pages for the most updated information.
---
1. Blue Ridge Nightmares | Through October 31
Center on 9th
Back for its 2nd year, Blue Ridge Nightmares is an exciting haunted attraction experience, presented by Center in the Square.
It's a haunted attraction located in a massive warehouse space at the Roanoke Industrial Center, where they'll be creating a city with a unique story and characters who are exciting, scary, and thrilling, while also incorporating lots of unique elements of local history.
The experience has been planned and created by Anthony Giordano, a Hollywood designer who has worked on multiple Academy Award nominated projects and specializes in makeup, special effects, and costuming.
Blue Ridge Nightmares Tickets >
2. Jeter Farm Fall Festival & Country Store | Through October 30
Jeter Farm
A visit to the Jeter Farm Fall Festival & Country Store in Botetourt County is the perfect way to celebrate the arrival of fall in Virginia's Blue Ridge. 
Open through October 31, the farm is open every Saturday & Sunday and the festival includes a corn maze, hay rides, pumpkin patch, kettle corn, and more.
Jeter Farm Fall Festival Website >
3. Franklin County Scarecrow Trail | October 3 - November 7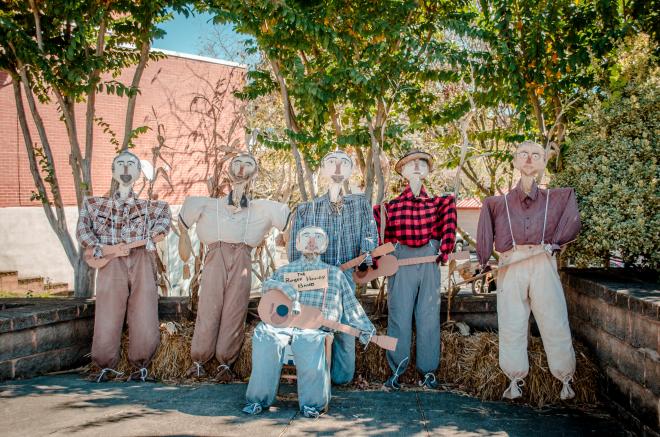 Town of Rocky Mount
Walk through Downtown Rocky Mount in Franklin County and see all the unique designs and decorated scarecrows as part of the town's annual Scarecrow Trail.
It's a family-friendly experience featuring fun, humorous scarecrow designs that are created by local businesses and organizations that participate in the contest.
4. Blues Traveler | October 5
Dr Pepper Park at The Bridges
Blues Traveler kicks off a great lineup of concerts and live music scheduled for Dr Pepper Park at The Bridges during the month of October.
The Grammy Award winning group has produced multiple platinum albums and is known for popular hits such as "Hook" and "Run-Around."
5. Steel Magnolias | October 6-16
Attic Productions
Join the ladies in Truvy's Beauty Salon and enjoy the latest production by Attic Productions in Botetourt County - Steel Magnolias. 
This comedy/drama show will run for two weeks (October 6-9 and 13-16) and is one of many great opportunities to support local community theater in Virginia's Blue Ridge during October.
6. The Secret Garden | October 7-8
Virginia Children's Theatre - Jefferson Center
The Virginia Children's Theatre invites you to unlock your imagination and be transported to The Secret Garden, a magical and enchanting tale for audience members of all ages.
It's the story of a young girl who goes to live with relatives after losing both of her parents and finding a magical, secret garden on the grounds of her new home.
The Secret Garden Details & Tickets >
7. Dracula Rides Again | October 7-16
Showtimers Community Theatre
Dracula Rides Again is a hauntingly hilarious Halloween Western that is perfect to get you in the mood for the upcoming Halloween holiday. 
Head to Showtimers Community Theatre in Roanoke County and see if the Count is able to save the town of Tombstone from the nefarious Doc Frankenstein and his trail of destruction.
Showtimers Community Theatre Website >
Town of Buchanan
The Mountain Magic in Fall Bluegrass, Antiques, & Crafts Festival is regarded as one of Botetourt County's best annual events, and it'll be celebrating its 27th anniversary this year.
Located in the Buchanan Town Park and near Buchanan's charming Main Street, there are over 100 vendors showcasing an amazing assortment of arts, crafts, antiques, and food. 
Guests are also encouraged to bring their own chairs and set up in the park to enjoy a full day of live bluegrass music.
Mountain Magic in Fall Details >
9. Salem Half Marathon, 8K & Kids Fun Run | October 8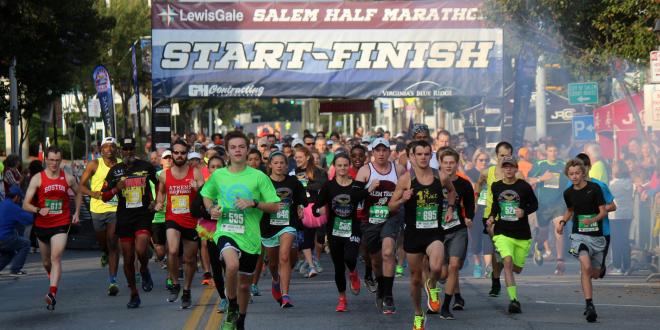 Downtown Salem
Run through Virginia's Championship City and experience the history, scenic beauty, charm, and wonderful hospitality of the City of Salem when you take part in the Salem Half Marathon, 8K and Kids Fun Run.
The race begins and ends at the Salem Farmers Market and the route includes many unique Salem neighborhoods, the Roanoke College campus, and a portion of the Roanoke River Greenway.
Participants in the Half Marathon will also have the opportunity to receive a Virginia's Blue Ridge Triple Crown medal if they complete the Blue Ridge Full or Half Marathon (April) and Star City Half Marathon (November) within the same year.
10. Vinton Fall Festival | October 8
Downtown Vinton
Get a head start on your holiday shopping by browsing from over 80 different vendors who will be participating in the 2022 Vinton Fall Festival.
The festival will also feature an afternoon of live music, a pet costume contest, great local food, petting zoo, Kid Zone, and more.
11. 39th Annual Craig County Fall Festival | October 8
Downtown New Castle
The 39th annual Craig County Fall Festival takes place in Historic New Castle and features over 100 vendors, raffles, and exhibits. 
There will be great food and live music, including jitterbug and flatfoot contests, as well as an antique car show.
Craig County Fall Festival Details >
12. Local Colors Hispanic Heritage Month Celebration | October 8
Wells Fargo Plaza - Downtown Roanoke
September 15 through October 15 is Hispanic Heritage Month, when we celebrate the generations of Hispanic Americans who are integral parts of our society and local community.
As part of this celebration, Local Colors will be hosting a special event in the Wells Fargo Plaza in Downtown Roanoke, which will showcase special performances, food, educational presentations, cultural displays, and local businesses that represent our Hispanic communities in Virginia's Blue Ridge.
Hispanic Heritage Month Celebration Details >
13. VBR Gran Fondo | October 9
Botetourt County
Hosted by Muddy Squirrel, this year's VBR Gran Fondo is part of the Gran Fondo National Series, meaning participants in the Mountain Ride will be eligible to receive points used to calculate the national series winner in each age group.
The VBR Gran Fondo features three different routes - the Valley Ride (33 miles), River Ride (45 miles), and Mountain Ride (75 miles). 
Each route will showcase the scenic beauty and charming small towns of Botetourt County and it's a great opportunity to experience the fun of cycling in the Blue Ridge Mountains!
14. Punch Brothers | October 12
Jefferson Center
The Punch Brothers are widely considered to be one of music's best bluegrass & folk bands, and they received the 2018 Grammy Award for Best Folk Album.
The Washington Post had high praise for the group, saying, "Punch Brothers take bluegrass to its next evolutionary stage, drawing equal inspiration from the brain and the heart."
15. Anthem GO Outside Festival | October 14-16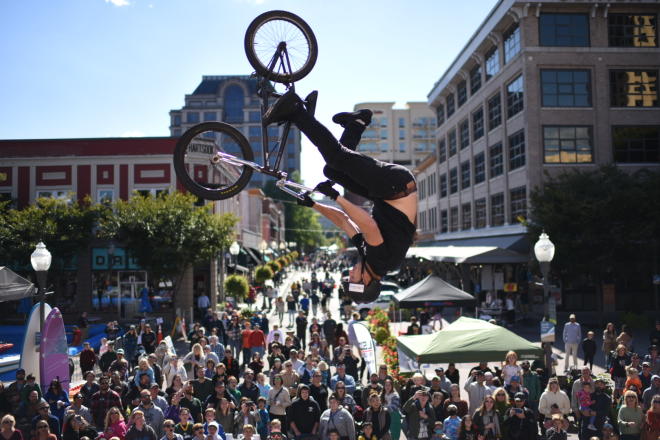 Downtown Roanoke
Get ready for Go Fest - one of the best weekends of the year!
In what has become one of the signature annual events for the region, the GO Outside Festival is an incredible 3-day celebration of our outdoor culture and community in Virginia's Blue Ridge, highlighted by an amazing collection of vendors, stunt shows, outdoor activities & workshops, and more.
With the festival now taking place in Downtown Roanoke, the activities will span from the City Market Building to Elmwood Park, with streets in between blocked off to vehicles, creating an awesome, walkable environment where you can take part in GO Fest and also support our great local downtown businesses.
This year's festival is also headlined by awesome live music, featuring a show by Black Joe Lewis & The Honeybears along with Shemekia Copeland in Elmwood Park on Saturday night.
Photo courtesy of Molly Hagan
16. Titian to Monet: European Paintings from Joslyn Art Museum | October 14 - January 8
Taubman Museum of Art
Titian to Monet: European Paintings from Joslyn Art Museum is an exciting new special exhibition at the Taubman Museum of Art in Downtown Roanoke. The special ticketed exhibition opens to the public on October 14 and will be on display through January 8, and the Taubman Museum is one of only two museums on the East Coast showing the exhibit.
There will be 52 paintings ranging from the 1400s through 1900s representing various art periods and including pieces from many iconic artists, including Rembrandt, Renoir, and Monet. 
There will also be a digital, interactive experience where visitors will be immersed inside six different paintings from the exhibit via high-quality projectors.
Titian to Monet Exhibition Information & Tickets >
17. Roanoke Symphony Orchestra - Opening Night Fireworks | October 15
Berglund Center
The Roanoke Symphony Orchestra hosts opening night of its Masterworks season with a special performance featuring guest violinist Kinga Augustine, who will present an incredible mastery of Tchaikovsky's Violin Concerto.
The show will also feature music from Brahms' Symphony No. 2 in D Major.
RSO Opening Night Fireworks Details & Tickets >
18. Roanoke Rail Yard Dawgs Opening Night | October 21
Berglund Center
The Roanoke Rail Yard Dawgs will look to build from last season's exciting playoff run where they reached the Southern Professional Hockey League Championship Series. The Dawgs open the 2022-23 season on October 21 at the Berglund Center.
There are a variety of ticket options available for this season that can make for a great experience during a visit to Virginia's Blue Ridge, including single game tickets and Family Four Packs that are available for select games.
Roanoke Rail Yard Dawgs Website >
19. Music of the Night: Romantic Broadway | October 21
Salem Civic Center
Broadway stars Gary Mauer and Beth Southard will perform with the Roanoke Symphony Orchestra for a special night of enchanting and romantic Broadway music at the Salem Civic Center.
Music of the Night Details & Tickets >
20. Blue Ridge Folklife Festival | October 22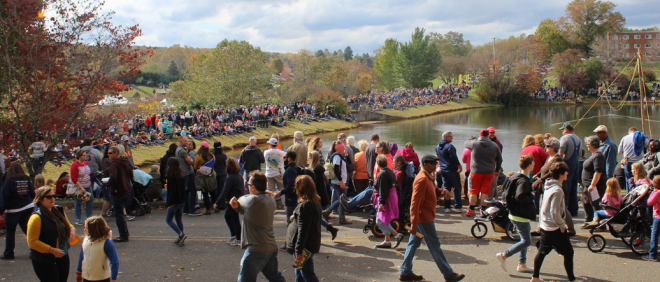 Ferrum College
The Blue Ridge Folklife Festival is an amazing annual celebration of the region's folklife history and heritage, bringing together musicians, moonshiners, craftspeople, farmers, and others who carry on the many unique traditions of the Blue Ridge Mountains that have been passed down for generations.
The event is coordinated by the Blue Ridge Institute & Museum and takes place at Ferrum College, and it's a great family-friendly & handicap accessible festival.
Blue Ridge Folklife Festival Website >
21. Open Studios Botetourt: Art in the Country | October 22-23
Various Studios - Botetourt County
This year is the 12th Anniversary Tour of Open Studios Botetourt - a self-guided driving tour of art studios in Botetourt County. The 2022 tour will feature 16 artists at 9 different locations, which will be a variety of studios, workshops, and residences throughout the county.
Guests will have the opportunity to meet the artists and learn about the inspiration behind their work while also enjoying a beautiful drive through the scenic roads and charming small towns of Botetourt County.
Open Studios Botetourt Website >
Green Hill Park
Top men's and women's cross country runners from the Central Intercollegiate Athletic Association will make their way to Virginia's Blue Ridge to compete in the conference championship meet at Roanoke County's Green Hill Park on October 27.
23. Chayce Beckham | October 28
Harvester Performance Center
Winner of the 19th season of "American Idol" in 2021, 26 year old Chayce Beckham has quickly taken the music world by storm.
Known for offering an authentic voice for the blue collar, working class generation, Beckham recently released his BBR music group debut EP - Doin' It Right.
Chayce Beckham Concert Tickets >
24. Kazim Shrine Circus | October 28-30
Salem Civic Center
The circus is returning to the Salem Civic Center in Virginia's Blue Ridge! The weekend of October 28-30 will feature 6 performances of the Kazim Shrine Circus, which will provide amazing acts, daring stunts, and family fun for all ages.
25. Roanoke Ballet Theatre: Dracula | October 29
Jefferson Center
Roanoke Ballet Theatre will present a contemporary dance production that is a visual performing arts interpretation of Bram Stoker's classic Dracula novel, in what will be a powerful display of passion and ferocity.
---
Save the Dates for November
Smith Mountain Lake Chili Festival - November 5
2022 Stocked Market - November 11-13
CIAA Football Conference Championship - November 12
Thomas Jefferson Wine Festival at Poplar Forest - November 12
The Rescue Mission of Roanoke Drumstick DASH - November 24
---
To find out more about what's going on Virginia's Blue Ridge this month, check our Calendar of Events and take a look at our Fall section for seasonal activities and experiences.
You can also get additional information about fun things to do in the region following us on social media and signing up to receive our monthly e-newsletter.