October is one of the most exciting times of the year in Virginia's Blue Ridge!
With the arrival of fall colors and the calendar full of fun events, it's the perfect time to plan a fall getaway to the mountains.
In addition to our list below of special events to check out during the month of October, we also have specific blog posts to provide more information about other fall events and experiences you can enjoy during the season:
As you make your plans for this month, here is a preview of 25 special events happening this October in Virginia's Blue Ridge.
---
NOTE: All info is subject to change. Please check event websites and social media pages for the most updated information.
---
1. Blue Ridge Nightmares | Through October 31 (Thursday - Sunday)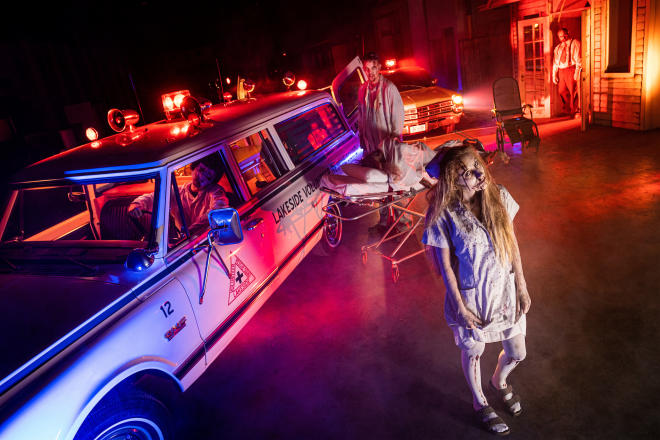 Roanoke Industrial Center
Blue Ridge Nightmares is an exciting new haunted attraction experience that's been created by Center in the Square.
It's a haunted attraction that will be located in a massive warehouse space at the Roanoke Industrial Center, where they'll be creating a city with a unique story and characters who are exciting, scary, and thrilling.
The experience has been planned and created by Anthony Giordano, a Hollywood designer who has worked on multiple Academy Award nominated projects and specializes in makeup, special effects, and costuming.
Blue Ridge Nightmares Tickets >
2. Jeter Farm Fall Festival & Country Store | Through October 31 (Saturday - Sunday)
Jeter Farm
A visit to the Jeter Farm Fall Festival & Country Store (pictured at the top of this post) in Botetourt County is the perfect way to celebrate the arrival of fall in Virginia's Blue Ridge. 
Open through October 31, the farm is open every Saturday & Sunday and the festival includes a corn maze, hay rides, pumpkin patch, kettle corn, and more.
Jeter Farm Fall Festival Website >
3. Sinkland Farms Pumpkin Festival | Through October 31 (Thursday - Sunday)
Sinkland Farms
The annual Pumpkin Festival at Sinkland Farms, which is celebrating its 30th anniversary this year, makes for such a fun part of a fall weekend with the family.
You can find your own great pumpkin in the 10-acre pumpkin patch and enjoy a variety of other activities, including a massive kid's zone, horseback and pony rides, axe throwing, and live entertainment.
Sinkland Farms Pumpkin Festival Website >
4. Local Colors Hispanic Heritage Month Celebration | October 2
Downtown Roanoke
September 15 through October 15 is Hispanic Heritage Month, when we celebrate the generations of Hispanic Americans who are integral parts of our society and local community.
As part of this celebration, Local Colors will be hosting a special event in the Wells Fargo Plaza in Downtown Roanoke, which will showcase special performances, food, educational presentations, cultural displays, and local businesses that represent our Hispanic communities in Virginia's Blue Ridge.
Hispanic Heritage Month Celebration Facebook Event >
5. Vinton Fall Festival & Bluegrass Festival | October 2
Downtown Vinton
Get a head start on your holiday shopping by browsing from over 75 different vendors who will be participating in the 2021 Vinton Fall Festival & Bluegrass Festival.
The festival will also feature an afternoon of live bluegrass music, special performances from local arts groups, a pet costume contest, and great local food, as well as craft beverages in the Twin Creeks beverage garden.
Vinton Fall Festival Facebook Event >
6. Mountain Magic in Fall Bluegrass, Antiques & Crafts Festival | October 2
Buchanan Town Park
The Mountain Magic in Fall Bluegrass, Antiques, & Crafts Festival is regarded as one of Botetourt County's best annual events, and it'll be celebrating its 26th anniversary this year.
Located in the Buchanan Town Park and near Buchanan's charming Main Street, there are over 100 vendors showcasing an amazing assortment of arts, crafts, antiques, and food. 
Guests are also encouraged to bring their own chairs and set up in the park to enjoy a full day of live bluegrass music.
Mountain Magic in Fall Details >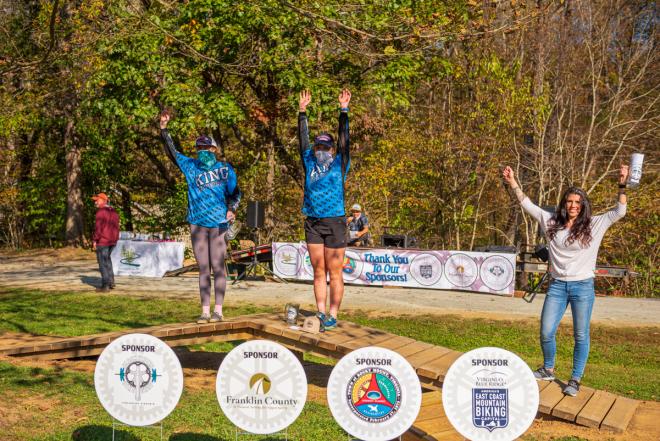 WooHoo at Waid Sprint Enduro | Creatureduro from Carvins Cove
The Virginia's Blue Ridge Enduro Series, presented by Cardinal Bicycle, is an exciting new mountain bike race series in the region, showcasing two of our fantastic local trail systems - Waid Park in Franklin County and Carvins Cove in Roanoke.
The series kicks off at Waid Park in Franklin County on Saturday, October 2 with the WooHoo at Waid Sprint Enduro, and it's followed by the Creatureduro from Carvins Cove at Carvins Cove in Roanoke on Saturday, October 16.
NOTE: You can participate in both events as part of the series or in either one individually.
VBR Enduro Series Details >
8. Yola | October 7
Harvester Performance Center
Yola is a British singer/songwriter who received four nominations at the 2020 Grammy Awards, including one for Best New Artist and Best Americana Album for her debut Walk Through Fire album.
She'll perform at the Harvester Performance Center in Rocky Mount as part of her new tour, showcasing the work of her latest album, Stand for Myself, which is described as "a sophisticated and diverse sonic mix of symphonic soul and classic pop, tracing an expansive musical thread to Yola's most eclectic musical inspirations."
Yola Concert Tickets >
Various Locations - Downtown Roanoke
Enjoy three days of mayhem and laughs at the Roanoke Comedy Festival, which will take place October 8-10 at various venues in Downtown Roanoke, including Twisted Track Brewpub, Golden Cactus Brewing, The Front Row, and Martin's Downtown Bar & Grill.
The festival will include a great lineup of local comedians, as well as national performers with headliners like Tony Deyo and Rob Cantrell.
Roanoke Comedy Fest Tickets >
10. The Addams Family: A New Musical Comedy | October 8-9
Virginia Children's Theatre - Jefferson Center
The Addams Family comes to Virginia's Blue Ridge with this new production by the Virginia Children's Theatre, which will perform at the Jefferson Center.
The story focuses on Gomez and Morticia Addams and a spooky nightmare that all families face - their kids are growing up! Enjoy this crazy, kooky show that will surely get you in the Halloween spirit.
Virginia Children's Theatre Tickets >
11. Botetourt Honey Festival | October 9
Daleville Town Center
Get to know the local beekeepers and bees who live and forage in the mountains of Botetourt County in Virginia's Blue Ridge.
The Botetourt Honey Festival, presented by the Botetourt Farmers Market and Botetourt Beekeeper Association, has a great schedule of activities that will include honey tastings, live music, beekeeping demonstrations, local plants and a pollinators booth, local honey & beeswax products, and an assortment of honey, bee, and flower themed items from local vendors.
Botetourt Honey Festival Facebook Event >
12. Salem Half Marathon, 8K & Kids Fun Run | October 9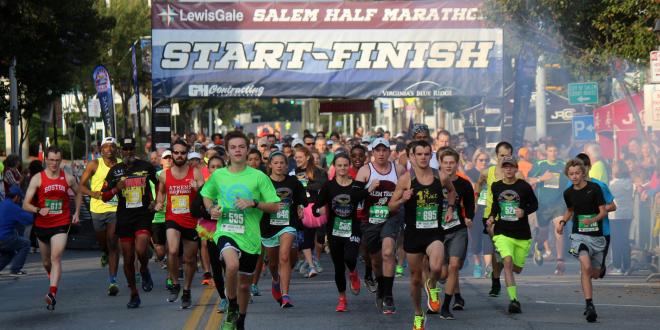 Salem Farmers Market
Run through Virginia's Championship City and experience the history, scenic beauty, charm, and wonderful hospitality of the City of Salem when you take part in the Salem Half Marathon, 8K and Kids Fun Run.
The race begins and ends at the Salem Farmers Market and the route includes many unique Salem neighborhoods, the Roanoke College campus, and a portion of the Roanoke River Greenway.
Participants in the Half Marathon will also have the opportunity to receive a Virginia's Blue Ridge Triple Crown medal if they complete the Blue Ridge Full or Half Marathon (April) and Star City Half Marathon (November) within the same year.
Salem Half Marathon Race Website >
13. Kids Fishing Derby | October 9
Waid Park
Get the kids ready for a fun morning of fishing in Franklin County at the annual Kids Fishing Derby! 
The event is held at Waid Park in Rocky Mount and kids ages 15 & under are invited to fish the Pigg River for over 1,000 trout, which will be stocked by the Virginia Department of Wildlife Resources. Prizes will be awarded to those who catch the heaviest fish.
Kids Fishing Derby Facebook Event >
14. Roanoke Roots & Reggae Fest | October 9
Wasena Park
The Roanoke Reggae Festival embraces cultural diversity by uniting communities through love, humility, food, music, and fun. 
This is an event for all members of Roanoke and surrounding communities to come enjoy the sun and listen to relaxing and vibrant reggae sounds from local and regional bands at Wasena Park.
It's also an opportunity to pick up some new items from The Rewritten Narrative - an awesome new merchandise collection and collaboration between The Humble Hustle Company and Virginia Tourism Corporation that's an homage to Black culture in our state and a celebration of the importance of Black travel.
Roots & Reggae Fest Details >
15. VBR Gran Fondo | October 10
Botetourt County
Hosted by Muddy Squirrel, this year's VBR Gran Fondo is part of the Gran Fondo National Series, meaning participants in the Mountain Ride will be eligible to receive points used to calculate the national series winner in each age group.
The VBR Gran Fondo features three different routes - the Valley Ride (33 miles), River Ride (45 miles), and Mountain Ride (75 miles). 
Each route will showcase the scenic beauty and charming small towns of Botetourt County and it's a great opportunity to experience the fun of cycling in the Blue Ridge Mountains!
VBR Gran Fondo Ride Details >
16. Anthem GO Outside Festival | October 15-17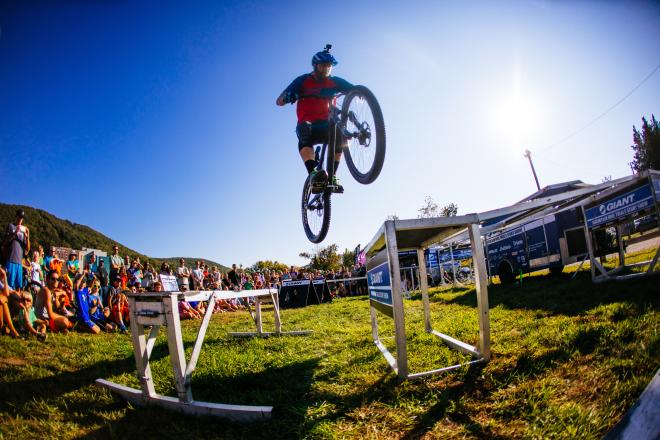 Downtown Roanoke
This year's Anthem GO Outside Festival is making a big move to Downtown Roanoke and celebrating its 10th anniversary!
In what has become one of the signature annual events for the region, the GO Outside Festival is an incredible 3-day celebration of our outdoor culture and community in Virginia's Blue Ridge, highlighted by an amazing collection of vendors, stunt shows, outdoor activities & workshops, and more. The festival also includes a great lineup of live music and delicious food & craft beverages.
With this year's event being held in Downtown Roanoke, the festival will span from the City Market Building to Elmwood Park, with streets in between blocked off to vehicles, creating an awesome, walkable environment where you can take part in GO Fest and also support our great local downtown businesses.
GO Outside Festival Website >
17. Roanoke Rail Yard Dawgs Season Opener | October 15
Berglund Center
We're so excited for the return of Roanoke Rail Yard Dawgs hockey! The Dawgs take the Berglund Center ice for their season opener on Friday, October 15 with a game against the Fayetteville Marksmen.
There are a variety of ticket options available for this season that can make for a great experience during a visit to Virginia's Blue Ridge, including single game tickets and Family Four Packs that are available for select games.
Roanoke Rail Yard Dawgs Tickets >
18. 38 Special | October 15
Dr Pepper Park at The Bridges
Known for its signature Southern Rock sounds, 38 Special has produced numerous Gold and Platinum selling songs & albums and are well-known for hit songs like "Hold On Loosely," "Rockin' Into the Night," and "Caught Up in You."
The group will rock out at Dr Pepper Park at The Bridges on Friday, October 15, as part of the venue's Summer You Deserve Concert Series.
38 Special Concert Tickets >
19. Jurassic Quest | October 15-17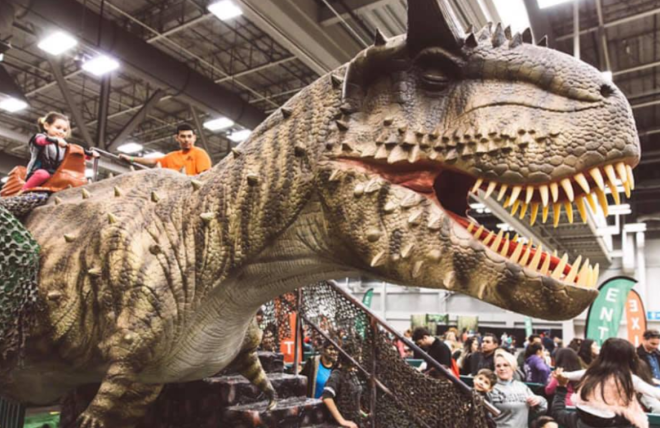 Berglund Center
The largest and most realistic dinosaur exhibit in North America returns to the Berglund Center in Virginia's Blue Ridge!
Jurassic Quest offers more than 100 photorealistic dinosaurs, providing an amazing experience for the entire family with dinosaur themed rides, live shows, science and art activities, and a "Triceratots" play area for the littlest explorers.
Jurassic Quest Website >
20. Explore Park Adventure Saturday | October 16
Explore Park
Take in the beautiful fall colors at Roanoke County's Explore Park and enjoy a great day of activities as part of the park's Adventure Saturday event.
The Adventure Saturday schedule includes twilight ziplining at Treetop Quest, live music by Seph Custer, disc golf demos at the Mayflower Hills Disc Golf Course, nature activities & kids crafts, the Kids Square Mobile Museum, a climbing tower, and more.
The park also features trails for hiking & biking, water access to the Roanoke River Blueway, camping & cabins for overnight lodging, and food & drink from the Twin Creeks Brewpub.
Explore Park Adventure Saturday Details >
21. Kazim Shrine Circus | October 22-24
Salem Civic Center
The circus is coming to the Salem Civic Center in Virginia's Blue Ridge! The weekend of October 22-24 will feature 6 performances of the Kazim Shrine Circus, which will provide amazing acts, daring stunts, and family fun for all ages.
Kazim Shrine Circus Details >
22. Blue Ridge Folklife Festival | October 23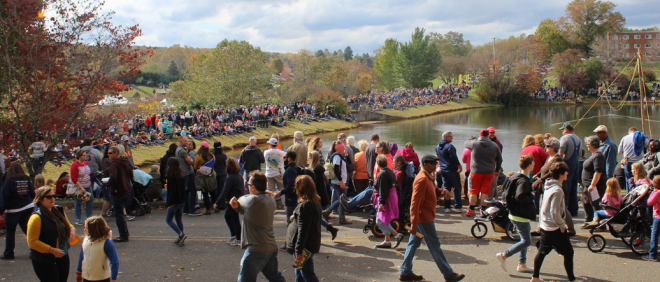 Blue Ridge Institute & Museum at Ferrum College
The Blue Ridge Folklife Festival is an amazing annual celebration of the region's folklife history and heritage, bringing together musicians, moonshiners, craftspeople, farmers, and others who carry on the many unique traditions of the Blue Ridge Mountains that have been passed down for generations.
The event is coordinated by the Blue Ridge Institute & Museum and takes place at Ferrum College, and it's a great family-friendly & handicap accessible festival.
Blue Ridge Folklife Festival Website >
23. Open Studios Botetourt - Art in the Country | October 23-24
Various Studios
This year is the 11th Anniversary Tour of Open Studios Botetourt - a self-guided driving tour of art studios in Botetourt County. The 2021 tour will feature 15 artists at 7 different locations, which will be a variety of studios, workshops, and residences throughout the county.
Guests will have the opportunity to meet the artists and learn about the inspiration behind their work while also enjoying a beautiful drive through the scenic roads and charming small towns of Botetourt County.
Open Studios Botetourt Website >
24. Every Breath You Take: The Music of Sting & The Police | October 29
Roanoke Symphony Orchestra - Salem Civic Center
Don't miss this special performance by the Roanoke Symphony Orchestra at the Salem Civic Center with a concert that will showcase the music of Sting and The Police.
The full symphony will perform with Jeans 'n Classics in a show that presents the unique blend of reggae, jazz, and punk sounds that made Sting and The Police one of the most iconic bands of all time.
Every Breath You Take Concert Details > 
Various Locations
From haunted houses to spooky fun runs and murder mystery events, there are lots of great opportunities to celebrate Halloween in Virginia's Blue Ridge! 
For more information on the different ways you can take part in the festivities, check out our complete guide to 2021 Halloween Events in Virginia's Blue Ridge >
---
To find out more about what's going on Virginia's Blue Ridge this month, check our Calendar of Events.
You can also get additional information about fun things to do in the region and unique ways to be a #Trailsetter by following us on social media and signing up to receive our monthly e-newsletter.