November is a busy time for special events in the Roanoke Valley in Virginia's Blue Ridge Mountains. As we transition from fall into the holiday season, there are various festivals, celebrations, performances and sporting events.
You'll find a variety of great live music and theatre shows throughout the region this month, with many local performing arts organizations offering productions, as well as the schedules being packed at the major music venues in Virginia's Blue Ridge.
Here's a preview of 25 fun events to check out this November in Virginia's Blue Ridge!
---
NOTE: All info is subject to change. Please check event websites and social media pages for the most updated information.
---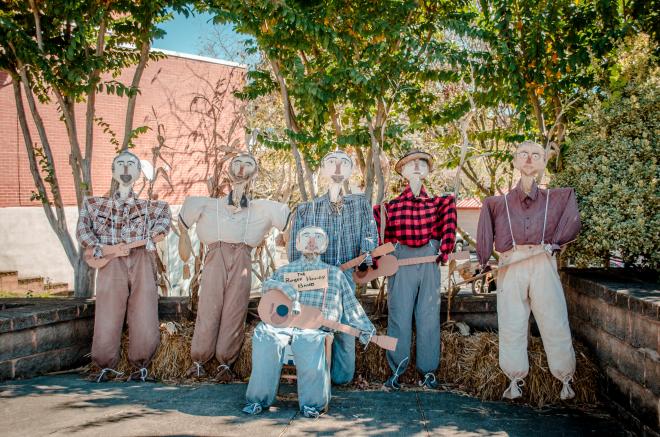 Downtown Rocky Mount
Walk through Downtown Rocky Mount and see all the unique scarecrows as part of the town's special Scarecrow Trail, which will be on display through November 9. It's a family-friendly experience with fun, humorous scarecrow designs that are created by local businesses and organizations who participate in the contest.
WDBJ7 - Scarecrow Trail Returns to Rocky Mount >
2. Opera Roanoke presents Bluebeard's Castle - November 5-7
Jefferson Center
Opera Roanoke presents Bluebeard's Castle in a set of performances at the Jefferson Center in Downtown Roanoke. This dynamic production by Bela Bartok is a psychological thriller with a powerful and cinematic score.
Bluebeard's Castle Performance Info >
3. Run for Donuts 5K and Fun Run - November 6
Sherwood Memorial Park
Running is extra fun when you get the opportunity to enjoy munchkins along the route and chow down on a doughnut at the finish line! Take part in the Run for Donuts 5K and wear your sprinkle colors or anything doughnut themed for the costume contest.
Run for Donuts 5K Info >
4. Black Dog Salvage Holiday Open House - November 6
Black Dog Salvage
Kick off the holiday season with Black Dog Salvage at their Holiday Open House. The schedule includes great live music throughout the day, unique food & drink from local businesses, guest vendors, door prizes, live demonstrations, and shop tours.
Holiday Open House Facebook Event >
5. It's a YarnMuffin Thing - November 6
The Spot on Kirk
Blake Christiana and Rick Bugel of the band Yarn will join with Miki Sivilli of Dangermuffin for this special concert at The Spot on Kirk in Downtown Roanoke. They'll reinterpret some of Yarn's classic songs and provide new takes on some of their own favorite songs in what will be a unique musical experience.
YarnMuffin Thing Concert Info >
6. Smith Mountain Lake Chili Festival - November 6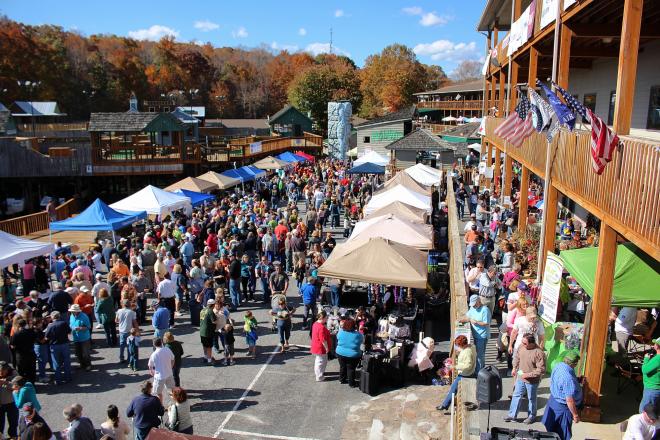 ​
Bridgewater Plaza
The Chili Festival is one of the signature annual events at Smith Mountain Lake in Virginia's Blue Ridge, featuring a combination of fall foliage around Bridgewater Plaza, a competitive chili cook off with opportunities to taste and vote for your favorites, and shopping at a variety of local craft vendors.
SML Chili Festival Info >
AmRhein's Wine Cellars
Savor the flavors of fall at the 20th annual Harvest Soup & Wine Festival at AmRhein's Wine Cellars. The event will include 5 gourmet soups paired with 5 AmRhein's wines that you can enjoy as you listen to live music and take in the beautiful atmosphere at the winery.
Harvest Soup & Wine Festival Info >
Berglund Center
The Roanoke Rail Yard Dawgs have 5 home games on the schedule in November, including some awesome promotional nights:
November 7 - Sunday Funday - Concourse Tickets $7 Each
November 12 - Fall Food Drive - Donate Non-Perishables
November 13 - Jurassic Bark - Bring Your Dog to the Game
November 26 - Roanoke Express Throwback Night
Roanoke Rail Yard Dawgs Tickets >
9. Pink Talking Fish - November 11
5 Points Music Sanctuary
Pink Talking Fish is a hybrid tribute fusion act that combines the music from three of the world's most beloved bands - Pink Floyd, Talking Heads, and Phish. It's a blend of these three styles that will provide for an amazing music experience at the 5 Points Music Sanctuary in Roanoke.
Pink Talking Fish Tickets >
10. Rodney Carrington LIVE - November 12
Salem Civic Center
Rodney Carrington is a multi-talented comedian, actor, singer, and writer who has been playing sold-out shows around the world for the past two decades. He'll bring his comedic talents to the Salem Civic Center for a performance on Friday, November 12 that is for mature audiences only.
Rodney Carrington LIVE Info >
11. The Stocked Market - November 12-14
Berglund Center
The Junior League of Roanoke Valley's annual Stocked Market is one of the best events of the year for holiday shopping. Browse through items from more than 100 different vendors who will be participating in this 3-day show at the Berglund Center.
Stocked Market Info >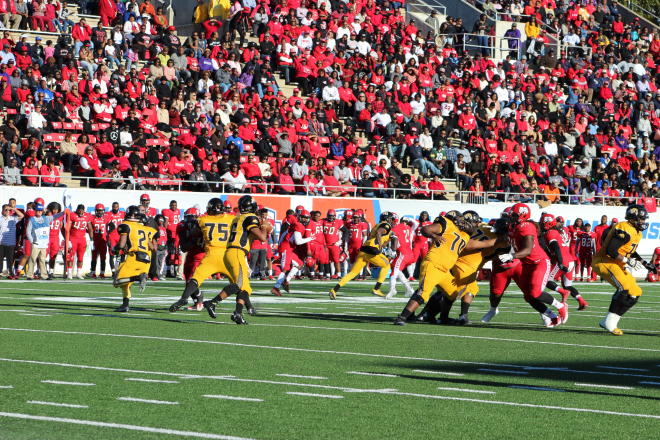 Salem Football Stadium
The City of Salem will crown another champion as it hosts the 2021 CIAA Football Championship in what will be a great day of pre-game tailgating festivities, championship football, and entertaining performances from the marching bands.
CIAA Football Championship Info >
13. Thomas Jefferson Poplar Forest Wine Festival - November 13
Poplar Forest
Celebrate Thomas Jefferson's legacy as the father of Virginia wine and enjoy tastings from more than a dozen regional wineries. The festival will also include live performances by local musicians, foods from local vendors, and tours of the President's private retreat.
Thomas Jefferson Wine Festival Info >
14. Ruth E. Carter: Afrofuturism in Costume Design Exhibit Opening - November 14
Taubman Museum of Art
Ruth E. Carter: Afrofuturism in Costume Design is an exciting new exhibition at the Taubman Museum of Art that opens on November 14 and will be on display through April 3, 2022.
The exhibit features the work of Ruth E. Carter, who has designed costumes for more than 60 film and television projects, including pieces for iconic films like Black Panther, Coming 2 America, Selma, and Do the Right Thing.
It will showcase more than 60 costumes by Carter, as well as sketches and information about the research and design process for her work.
Afrofuturism in Costume Design Exhibit Info >
15. A Magical Cirque Christmas - November 18
Berglund Center
A Magical Cirque Christmas will provide a dazzling show of acrobatics and aerial displays with plenty of holiday spirit in this entertaining holiday production that is one of the highlights of the performing arts season in Virginia's Blue Ridge.
A Magical Cirque Christmas Info >
16. California Guitar Trio with Trace Bundy - November 19
Harvester Performance Center
Don't miss an amazing night of music at the Harvester Performance Center as the California Guitar Trio performs in concert with Trace Bundy. These world-renowned guitar players will present an incredible blend of music genres, ranging from rock to classical with unbelievable skill and art.
California Guitar Trio & Trace Bundy Tickets >
17. Illuminights - November 20 - December 30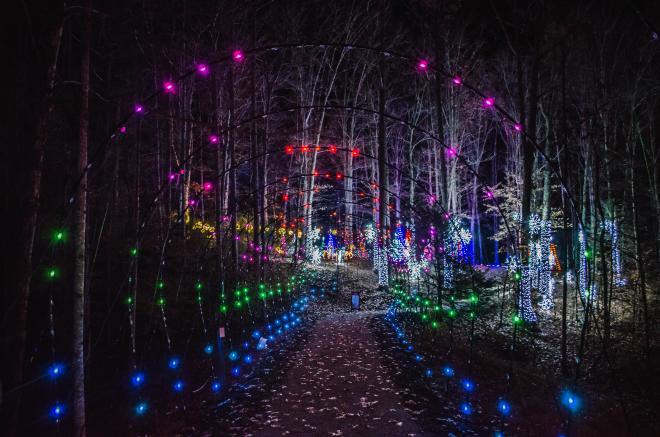 Roanoke County's Explore Park
Illuminights is one of the most magical events of the holiday season in Virginia's Blue Ridge! Located at Roanoke County's Explore Park, it's an incredible scene of over 600,000 lights and unique displays along a half-mile wooded path through the park.
In addition to the trail, there are also artisan crafts, marshmallow roasting around the campfire, and other family-friendly activities.
Illuminights Tickets > 
18. Star City Half Marathon & 10K - November 20
River's Edge Park
The Star City Marathon & 10K is a great run along the Roanoke River Greenway in Roanoke, finishing with a Taste of Roanoke post-race festival and awards ceremonies. For many participants, this race will mark the completion of the Virginia's Blue Ridge Triple Crown Series and we'd like to congratulate all those racers!
Star City Half Marathon Info >
19. Roanoke Ballet Theatre presents Black Box #1 - November 20
Roanoke Ballet Theatre
Presented as an intimate experience in the Roanoke Ballet Theatre studio in Grandin Village, the Black Box Series is a unique set of performances that showcase a sampling of different genres of dance and feature the members of the company, apprentices, and trainees. The series also incorporates works from the classic and choreography from the director.
Black Box #1 Tickets >
20. A Nutcracker Holiday Spectacular with the Roanoke Valley Children's Choir - November 21
Salem Football Stadium
This special performance by the Roanoke Valley Children's Choir, with SWVA Ballet & Roanoke Chamber Brass as special guests, will feature holiday favorites, familiar songs, and selections from The Nutcracker. Ring in the holidays with voices of angles as we celebrate this joyous season together.
Nutcracker Holiday Spectacular Concert Info > 
21. WDBJ7's Elmwood On Ice - November 24 - January 30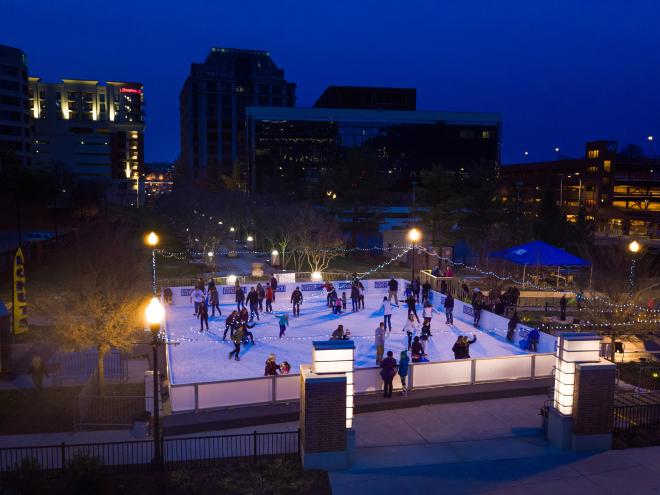 Elmwood Park
We're excited for the return of Elmwood on Ice in Downtown Roanoke, presented by WDBJ7. The popular outdoor ice rink returns for its 6th year of skating in Elmwood Park and this year's event will feature the addition of a new putt putt course as another fun activity for the entire family.
The rink opens for the season on November 24 and will be open Wednesday - Sunday through January 30, 2022.
Elmwood On Ice Info >
22. Atlantic Union Bank Drumstick Dash - November 25
UPDATE: This year's event has been relocated from Downtown Roanoke to River's Edge Park.
Get your holiday off to a fun start by joining the Atlantic Union Bank Drumstick Dash in Roanoke on Thanksgiving morning! The Dash is a 5k run and family walk that benefits the Roanoke Rescue Mission, which helps provide meals and services to those in need in our local community.
Drumstick Dash Info >
23. Fashions for Evergreens - November 25 - January 1
The Hotel Roanoke & Conference Center
Fashions for Evergreens is back at The Hotel Roanoke & Conference Center for an in-person experience in 2021! It's one of our favorite displays of the holiday season in Virginia's Blue Ridge and the perfect spot to take holiday photos with your friends and family as you vote for your favorites among the uniquely decorated trees.
Fashions for Evergreens Info > 
24. WWE Super Show - November 27
Berglund Center
The first ever WWE Super Show comes to Roanoke in Virginia's Blue Ridge as SmackDown and RAW superstars take over the Berglund Center! The night will include Becky Lynch vs. Biana Belair for the SmackDown Women's Championship, Roman Reigns, Bobby Lashley, The Street Profits, and much more.
WWE Super Show Info >
25. Buchanan Festival of Lights - November 27 - January 1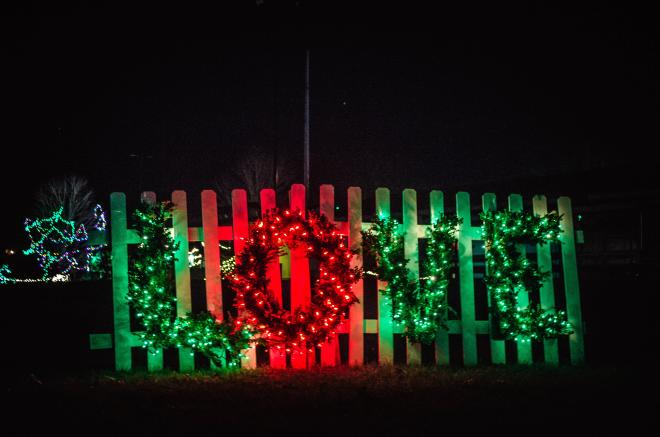 Buchanan Town Park
Thousands of lights will adorn the trees and buildings on the grounds of the Buchanan Town Park in Botetourt County for the Buchanan Festival of Lights. The event is a drive-thru experience on weekends and will be open for walking through the display Monday through Thursday.
The lights will be on display through January 1 and donations are accepted at the entry, which will be used to grow the event and purchase additional lights for next year's display.
Buchanan Festival of Lights Info >
---
To find out more about what's going on Virginia's Blue Ridge this month, check our Calendar of Events.
You can also get additional information about fun things to do in the region and unique ways to be a #Trailsetter by following us on social media and signing up to receive our monthly e-newsletter.