November is a busy time for special events in the Roanoke Valley in Virginia's Blue Ridge Mountains. As we transition from fall into the holiday season, there are various festivals, celebrations, performances and sporting events.
You'll find a variety of great live music and theatre shows throughout the region this month, as well as delicious food & drink festivals, holiday open houses & markets, live sports, and more.
Here's a preview of 25 fun events to check out this November in Virginia's Blue Ridge!
Related: Holiday Events in VBR >
---
NOTE: All info is subject to change. Please check event websites and social media pages for the most updated information.
---
1. Titian to Monet: European Paintings from Joslyn Art Museum | Through January 8
Taubman Museum of Art
Titian to Monet: European Paintings from Joslyn Art Museum is an exciting new special exhibition at the Taubman Museum of Art in Downtown Roanoke. The special ticketed exhibition will be on display through January 8, and the Taubman Museum is one of only two museums on the East Coast showing the exhibit.
There will be 52 paintings ranging from the 1400s through 1900s representing various art periods and including pieces from many iconic artists, including Rembrandt, Renoir, and Monet. 
There is also a digital, interactive experience where visitors will be immersed inside six different paintings from the exhibit via high-quality projectors.
Titian to Monet: Exhibit Information & Tickets >
2. World Ride Movie Night | November 3
Grandin Theatre
Hosted by Muddy Squirrel, the World Ride Movie Night at the Grandin Theatre will feature short mountain bike adventure films from all over the world that celebrate women and mountain biking!
There will also be raffles with awesome prizes from local bike outfitters and shops.
World Ride Movie Night Tickets >
3. Disney Junior Live on Tour: Costume Palooza | November 4
Berglund Center
Put the kids in their favorite costumes and join the party for the Disney Junior Live on Tour: Costume Palooza show at the Berglund Center! There will be appearances from classic characters like Mickey, Minnie, and Goofy, as well as other favorites from Marvel's Spidey and his Amazing Friends, Puppy Dog Pals, and Alice's Wonderland Bakery.
Disney Junior Live Info & Tickets >
4. Fall Frenzy 2022 | November 4-6
Camp Bethel
Fall Frenzy is a fun, family-friendly, outdoor scavenger hunt style event where you'll use a map and compass to find up to 20 different control points placed in the woods and fields around Camp Bethel in Botetourt County. It's a unique, free activity (donations are encouraged) where you can go at your own pace and take on as much of the course as you want.
Fall Frenzy Details & Registration >
5. Peter & Wendy | November 4-13
Mill Mountain Theatre
Take a journey to Neverland with Peter Pan and Wendy Darling in this new production at Mill Mountain Theatre in Downtown Roanoke. Local student performers will take the audience to a magical world of mermaids, fairies, and pirates in a show that will be entertaining for all ages.
Berglund Center
There are multiple opportunities to cheer on the Roanoke Rail Yard Dawgs professional ice hockey team during the month of November. The Dawgs play their home games at the Berglund Center and have lots of fun activities and themed promotional nights planned for the month, including:
November 11: Roanoke Express Tribute Night
November 23: Friendsgiving & Fall Food Drive
November 25: Star Wars Night
7. Run for Donuts 5K & Fun Run | November 5
Sherwood Memorial Park
Running is extra fun when you get the opportunity to enjoy munchkins along the route and chow down on a doughnut at the finish line! Take part in the Run for Donuts 5K and wear your sprinkle colors or anything doughnut themed for the costume contest.
8. Smith Mountain Lake Chili Festival | November 5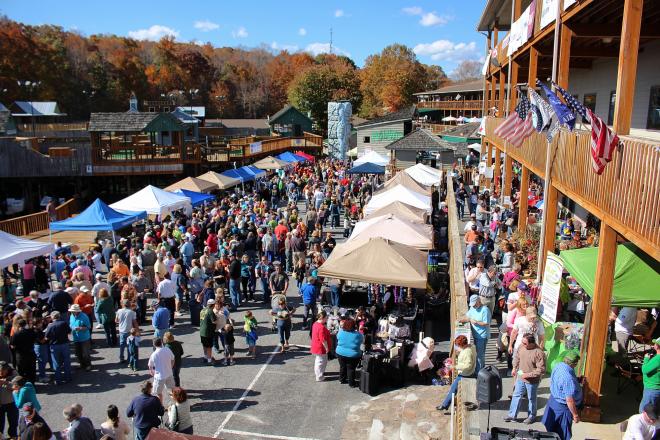 Bridgewater Plaza
The Chili Festival is one of the signature annual events at Smith Mountain Lake in Virginia's Blue Ridge, featuring a combination of fall foliage around Bridgewater Plaza, a competitive chili cook off with opportunities to taste and vote for your favorites, and shopping at a variety of local craft vendors.
9. The Blue Ridge Jamboree: Doc Watson at 100 | November 5
Jefferson Center
FRIENDS of the Blue Ridge is excited to host the first ever Blue Ridge Jamboree at the Jefferson Center, showcasing a Doc Watson at 100 Tribute Concert by music scholar Dr. Ted Olson and multiple performers. The show will celebrate the life and legacy of Doc Watson, a multi-time Grammy winner and icon of bluegrass, folk, and Americana music.
10. Black Dog Salvage Holiday Open House | November 5
Black Dog Salvage
Kick off the holiday season with Black Dog Salvage at their Holiday Open House. The schedule includes great live music, unique food & drink from local businesses, guest vendors, door prizes, live demonstrations, and shop tours.
Holiday Open House Facebook Event >
11. 21st Annual Harvest Soup & Wine Festival | November 5-6
AmRhein Wine Cellars
Savor the flavors of fall at the 21st annual Harvest Soup & Wine Festival at AmRhein's Wine Cellars. The event will include 5 gourmet soups paired with 5 AmRhein's wines that you can enjoy as you listen to live music and take in the beautiful atmosphere at the winery.
Harvest Soup & Wine Festival Details >
12. 2022 Stocked Market | November 11-13
Berglund Center
The Junior League of Roanoke Valley's annual Stocked Market is one of the best events of the year for holiday shopping. Browse through items from more than 100 different vendors who will be participating in this 3-day show at the Berglund Center.
Stocked Market Times & Tickets > 
13. Thomas Jefferson Wine Festival | November 12
Poplar Forest
Celebrate Thomas Jefferson's legacy as the father of Virginia wine and enjoy tastings from more than a dozen regional wineries. The festival will also include live performances by local musicians, foods from local vendors, and tours of the President's private retreat.
Thomas Jefferson Wine Festival Website >
14. Virginia's Veterans Parade | November 12
Downtown Roanoke
Take part in the annual Virginia's Veterans Parade and honor our nation's veterans and military service personnel. The parade makes its way through Downtown Roanoke and is a great, family-friendly atmosphere that is full of patriotism.
Virginia's Veterans Parade Website >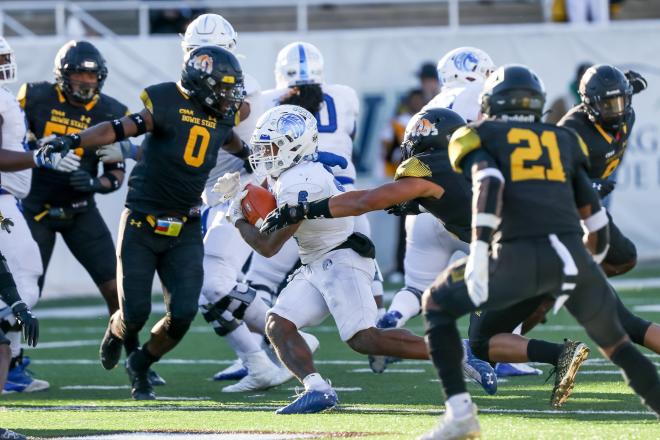 Salem Football Stadium
It's time to crown another champion in the City of Salem - Virginia's Championship City - as the 2022 CIAA Football Championship takes place at Salem Football Stadium. It'll be an exciting day of pre-game tailgating activities, championship football, and enthusiastic support from the fans of both teams.
CIAA Football Championship Details >
16. Roanoke Symphony Orchestra: Virtuoso Strings | November 12
Jefferson Center
Virtuoso Strings is a special performance by the Roanoke Symphony Orchestra, featuring guest conductor Sarah Ioannides and guest performer William P. Parrish on the oboe. The concert will include works from Bach, Elgar, Bartok, and others.
17. VHSL State Cross Country Championship | November 13
Green Hill Park
We look forward to welcoming many of the top cross country competitors from around the Commonwealth to Virginia's Blue Ridge to compete in the 2022 VHSL State Cross Country Championship at Green Hill Park. The meet in Roanoke County will be for Class I through Class III athletes and schools.
18. Alton Brown: LIVE | November 17
Berglund Center
Known for his incredible knowledge and unique perspective on all things food, Alton Brown is hitting the road with his live culinary variety show titled "Alton Brown Live: Beyond the Eats - The Holiday Variant." 
Brown's show has been described as a mix of science, music, food, and festive fun for two hours of pure entertainment.
19. Soweto Gospel Choir | November 17
Moss Arts Center at Virginia Tech
The multi-time Grammy winning Soweto Gospel Choir will perform "Hope: It's Been a Long Time Coming" in concert at the Moss Arts Center at Virginia Tech. The show celebrates American and South African artists associated with struggles for civil rights and social justice throughout their countries' complex histories.
20. Chris Knight | November 18
Harvester Performance Center
Whether you know Chris Knight for his own albums or for his gifted songwriting that has led to his work being recorded by artists like Blake Shelton, Randy Travis, and Montgomery Gentry, his lyrics and music resonate with a loyal audience. Knight is known for providing raw, heartfelt stories and a stripped down variant of country-rock sounds.
21. Illuminights | November 19 - December 30
Explore Park
Illuminights is one of the most magical events of the holiday season in Virginia's Blue Ridge! Located at Roanoke County's Explore Park, it's an incredible scene of over 600,000 lights and unique displays along a half-mile wooded path through the park.
In addition to the trail, there is also an Artisan Christmas Market in the Blue Ridge Parkway Visitor Center, marshmallow roasting around the campfire, and other family-friendly activities.
Illuminights Dates & Tickets >
22. Star City Half Marathon & 10K | November 19
River's Edge Park
The Star City Marathon & 10K is a great run along the Roanoke River Greenway in Roanoke, finishing with a Taste of Roanoke post-race festival and awards ceremonies. For many participants, this race will mark the completion of the Virginia's Blue Ridge Triple Crown Series and we'd like to congratulate all those racers!
Star City Half Marathon Registration >
23. The Rescue Mission of Roanoke Drumstick DASH | November 24
River's Edge Park
Get your holiday off to a fun start by joining the Atlantic Union Bank Drumstick Dash in Roanoke on Thanksgiving morning! The Dash is a 5k run and family walk that benefits the Roanoke Rescue Mission, which helps provide meals and services to those in need in our local community.
24. Land of Lights | November 24 - December 25
Franklin County Recreation Park
Land of Lights is an amazing drive-thru light experience at the Franklin County Recreation Park. You can drive the 1/2 mile loop and enjoy over 50,000 Christmas lights and unique displays with your entire family.
The event is free to attend, but cash donations are accepted.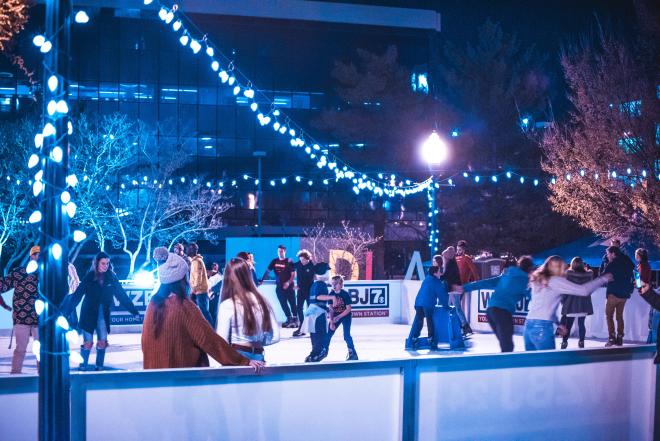 Elmwood Park
We're excited for the return of Elmwood on Ice in Downtown Roanoke, presented by WDBJ7. The popular outdoor ice rink returns for its 7th year of skating in Elmwood Park.
The rink opens for the season on November 23 and will be open Thursday - Sunday (and other select dates) through January 29, 2022.
---
Save the Dates for December
Come Home to a Franklin County Christmas - December 2
NCAA Men's & Women's DIII Soccer Championship - December 2-3
Dickens of a Christmas - December 2, 9, 16
SWVA Ballet presents The Nutcracker - December 10-11
Buchanan Christmas Eve Luminaries - December 24
---
To find out more about what's going on Virginia's Blue Ridge this month, check our Calendar of Events and visit our Holidays section.
You can also get additional information about fun things to do in the region and unique ways to be a #Trailsetter by following us on social media and signing up to receive our monthly e-newsletter.