Whether you find yourself in Virginia's Blue Ridge as a visitor or a resident, you need ideas for dinner and a show. Date night or just traveling through, these are excellent options that beat a night at home or laying low in a hotel room all evening.
Splurge with some of our favorite food and entertainment pairings…
A non-profit focused on music therapy, music education, and hearing loss advocacy, 5 Points Music Sanctuary (pictured above) offers live entertainment multiple nights of the week. The best part of 5 Points is their dedication to making sure those who are deaf or suffer from hearing loss can experience all of the entertainment in a variety of ways. 
They strive to have American Sign Language interpreters at each show and save the best seats for those who can best enjoy them. Multiple Subpac Tactile Bass Systems are available to such guests as well. A Subpac is a worn device that delivers low frequencies that your body can feel. It gives "a new physical dimension to the music experience."
Before the show at 5 Points, consider great food at Athens Corner Grill, an authentic Greek and Mediterranean restaurant offering a full menu of homemade deliciousness guided by generations' old recipes. Or, cozy up with a sub, pizza, pasta, or salad at Lews Restaurant. It's a laid-back place to hang out.
More Info: 5 Points Music Sanctuary Events > | Athens Corner Grill Menu > | Lews Restaurant Menu >

Attic Productions – Pomegranate Restaurant & Gathering Place | Botetourt County
"Dinner and a show" doesn't have to be a couples only event. Choose a night at Attic Productions for a "presentation of family entertainment that reinforces and upholds…community values."
Pomegranate is nearby for dinner with or without children. Their menu is flexible, offering chicken tenders, burgers, and chicken sandwiches that can easily accommodate a younger eater. For us older folks, beautiful options like crab cakes, salmon, risotto, and a filet will delight the palate.
More Info: Attic Productions Events > | Pomegranate Menu >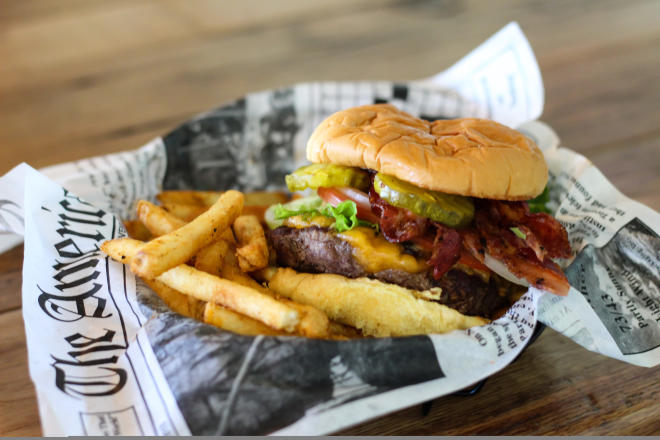 The Harvester Performance Center brings nationally known performing artists to Virginia's Blue Ridge and gives fans one of the most intimate concert experiences around. Fall and winter performances from Michael Franti & Spearhead, Old Crow Medicine Show, The Embers, Ricky Skaggs and Kentucky Thunder, and Trampled by Turtles, to name just a few.
Rocky Mount Burger Co. is the perfect choice for dinner before or after a show at The Harvester, because it's also about great music paired with delicious food & drinks. As the name suggests, you'll also find some of the best burgers in Virginia's Blue Ridge. And it's also right across the street from the venue!
Add to the fun with pre-dinner drinks at the nearby Twin Creeks Distillery, carrying on Franklin County's legacy of being The Moonshine Capital.
More Info: Harvester Performance Center Events > | Rocky Mount Burger Company Menu > | Twin Creeks Distillery Spirits > 
There are a variety of events at Jefferson Center with performances weekly across the Jefferson Center Presents, Star City Series, Jazz Series, Family Series, and Jazz Club. Through the fall and winter season guests will be treated to performances by The Wood Brothers with Nicole Atkins, Ruben Studdard, The Del McCoury Band, The Steeldrivers, Squirrel Nut Zippers and The Dirty Dozen Brass Band, and Bela Fleck & The Flecktones, for starters. 
Pre- or post-show dinner ideas are easy. Choose your favorite food region and go from there. We like Food Fanatics Kitchen "serving Rustic Italian Cuisine" for their wood-oven pizza and house-made pastas. 
For Latin flare, Tuco's Taqueria Garaje is the place to be. House tacos and salads share the menu with an impressive array of tequila and agave. Flights of both are available. Burger and beer? Beamer's 25 has fast become a tradition for both.
More Info: Jefferson Center Events > | Food Fanatics Menu > | Tuco's Menu > | Beamer's Menu >

Weekly performances are available for the picking at Salem Civic Center. Seasonal shows by the Roanoke Symphony Orchestra are calendared alongside Slayer, Primus, Chris Jansen, Mandolin Orange, and Brantley Gilbert. It's a great place to see your favorite radio artists as well as regional favorites. 
Lydia's Italian Kitchen (formerly Pizza Pasta Pit) is a casual restaurant with an attention to scratch-made menu items. Bite off a piece of heaven when you try a wood-fired pizza or dive into a beautiful baked ziti or Stromboli.
More Info: Salem Civic Center Events > | Lydia's Menu >
One of Roanoke's local community theaters is Showtimers, a 1950s mainstay. The season is comprised of shows given a two-week run every other month.
Lovers of Memphis style barbeque will be right at home at Wildwood Smokehouse. Whether your BBQ love comes on a bun, a platter, or by way of a rack of ribs, Wildwood can fix you up.
Green and Italian is at hand at Remini's Café. Start with a savory spanakopita or light bruschetta before your main course. Sandwiches, salads, soups, and wraps are perfect for light dining or there's "Remini's Family Room" of favorites like chicken parm, spaghetti and meatballs, and cheese ravioli.
More Info: Showtimers Events > | Wildwood Smokehouse Menu > | Remini's Menu >

The Spot on Kirk is an intimate venue where you can experience everything from local album releases to full-blown concerts from the genres of rock and rap to blues and Americana.
You'll feel like you've been transported to an elegant European eatery when you step into Sidecar, which offers classic European dishes such as handmade sausages, Belgian hand-cut fries, mussels, steak frites, pierogies, and fresh seafood. Wonderfully, authentically Italian is Fortunato. Spoil yourself with calamari, olives, sweet Italian sausage, and salumi and formaggi plates. Both spots also feature some of the best cocktails in the region.
More Info: Spot on Kirk Events > | Sidecar Menu > | Fortunato Menu > 
Berglund Center - Downtown Restaurants, New Yorker Deli | Roanoke
When you couple the Salem Civic Center's calendar with that of the Berglund Center, you can easily fill a calendar with nationally known acts. This season features Cirque du Soleil, John Prine, REO Speedwagon, Alice Cooper, and Manheim Steamroller.
Given its convenient location, you have all of downtown Roanoke at your disposal when it comes to dinner arrangements, as well as the variety of great restaurants on Roanoke's historic Williamson Road. For years, frequent guests of the Berglund Center have made it a priority to eat at The New Yorker Delicatessen before a show. Their sandwiches are easily shareable.
More Info: Berglund Center Events > | New Yorker Menu > 

Restaurants with Live Music 
Sometimes "dinner and a show" happens all in the same place. We like that option, too. In downtown Roanoke, try Martin's for scrumptious signature offerings like the fried chicken mac and cheese, Big Kahuna tacos and lobster crab cakes. Free live entertainment can be found at Martin's nearly every night of the week. 
Corned Beef & Co. Bar and Grill offers weekly dinner specials as well as a robust menu of salads, sandwiches, burgers, and more. Their entertainment is less frequent than that of Martin's and Blue 5, but their range includes comedy acts and full-fledged parties.
Depending on where you are, you can enjoy Awful Arthur's seafood in either Roanoke or Salem. They describe themselves as "beach vibes meets Sports Bar atmosphere," so check out their raw bar and join in the fun of karaoke, trivia, or Bingo, or shake what ya mama gave ya when the DJ spins his rad beats.
Who's ready to git up? Sidewinders Steak House and Saloon features country music for its live entertainment and the man behind the "git up challenge" is coming for the fun on October 23. Other acts for this season are Rodney Atkins and various regional performers. As for the food, load up on potato skins, wings, chopped steak, Alaskan snow crabs, a variety of burgers, or a very fine sirloin.
Out on the water of Smith Mountain Lake in Moneta is Mango's Bar & Grill where you can easily find yourself in "a tropical state of mind," as they like to say. DJs and live local bands bring the entertainment every weekend. All you need to bring is your appetite. A variety of seafood is available, of course, but you'll also find hearty treats like smothered chicken and grilled meatloaf.
Menus: Martin's > | Corned Beef & Co. > | Awful Arthur's > | Sidewinders > | Mango's >
---
Map of Locations
---
So, when is the date? Make it a fun night on the town when you decide to splurge on your dinner and a show in Virginia's Blue Ridge.
If you want, share your experiences on social media. You know, make us jealous with your food, your fun, and the beautiful people with whom you surround yourself. Be sure to add #Trailsetter and we'll keep an eye out.