The 2023-24 season of the Broadway in Roanoke series at the Berglund Center will feature four exciting shows, including numerous Tony Award winning productions, plus a holiday add-on performance for those who purchase season tickets.
The 2023-24 Broadway in Roanoke season, presented by George's, includes the following performances:
Mean Girls - December 3, 2023
Stomp - February 4, 2024
Johnny Cash - The Official Concert Experience - March 5, 2024
The Book of Mormon - May 9, 2024
Cirque Dreams Holidaze - December 20, 2023 (add on special)
Season tickets are on sale now and can be purchased online at BroadwayInRoanoke.com or by contacting the Berglund Center box office - (540) 853-5374. Season tickets for the four shows start at $175 - dates for when the public can purchase individual show tickets will be announced closer to each specific show.
2023-24 Broadway in Roanoke - Show Descriptions
Here are show descriptions from the 2023-24 season announcement by Nederlander National Markets in partnership with Berglund Center:
MEAN GIRLS | December 3, 2023
Direct from Broadway, MEAN GIRLS is the hilarious hit musical from book writer TINA FEY ("30 Rock"), composer JEFF RICHMOND ("Unbreakable Kimmy Schmidt"), lyricist NELL BENJAMIN (Legally Blonde) and director CASEY NICHOLAW (The Book of Mormon). The story of a naïve newbie who falls prey to a trio of lionized frenemies, MEAN GIRLS "delivers with immense energy, a wicked sense of humor and joyful inside-jokery." USA Today says, "We'll let you in on a little secret, because we're such good friends: GET YOUR TICKETS NOW!"
STOMP | February 4, 2024
STOMP is explosive, provocative, sophisticated, sexy, utterly unique and appeals to audiences of all ages. The international percussion sensation has garnered an armful of awards and rave reviews and has appeared on numerous national television shows. The eight-member troupe uses everything but conventional percussion instruments – matchboxes, wooden poles, brooms, garbage cans, Zippo lighters, hubcaps – to fill the stage with magnificent rhythms. The return of the percussive hit also brings some new surprises, with some sections of the show now updated and restructured and the addition of two new full-scale routines, utilizing props like tractor tire inner tubes and paint cans. As USA Today says, "STOMP finds beautiful noises in the strangest places." STOMP. See what all the noise is about.
JOHNNY CASH - THE OFFICIAL CONCERT EXPERIENCE | March 5, 2024
The music never stops in JOHNNY CASH – The Official Concert Experience. Produced in collaboration with the Estate of Johnny Cash, this multi-media celebration is like nothing you've seen before. Using state-of-the-art technology, Johnny Cash's rich, iconic baritone has been lifted from archival concert footage and recordings, enabling the "Man in Black" to perform his biggest hits – "I Walk the Line," "Ring of Fire" – with a live band again! In addition to never-before-seen footage and on-screen narration by Cash's only son, John Carter Cash, male and female vocalists will split singing duties to perform even more Cash hits, as well as tunes by artists of the time including The Statler Brothers, Carl Perkins and June Carter Cash.
THE BOOK OF MORMON | May 9, 2024
The New York Times calls it "the best musical of this century." The Washington Post says, "It is the kind of evening that restores your faith in musicals." And Entertainment Weekly says, "Grade A: the funniest musical of all time." Jimmy Fallon of The Tonight Show calls it "Genius. Brilliant. Phenomenal." It's THE BOOK OF MORMON, the nine-time Tony Award®-winning Best Musical. Contains explicit language. For more information, visit TheBookOfMormonTour.com.
CIRQUE DREAMS HOLIDAZE *add on special* | December 20, 2023
CIRQUE DREAMS HOLIDAZE dazzles with a brilliant and whimsical family holiday spectacular. This annual tradition wraps a Broadway-style production around an infusion of contemporary circus arts. As lights dim and the music swells, audiences will have visions of sugarplums dancing in their heads as a fantastical cast of holiday storybook characters come to life on stage. With an original musical score, twists on holiday classics sung live, and with new sets, scenery, and storylines, this ultimate holiday gift for the entire family is sure to put a twinkle in your eye!
Learn More & Purchase Tickets: Broadway in Roanoke website >
Berglund Center - Nearby Things to Do & Places to Stay in Downtown Roanoke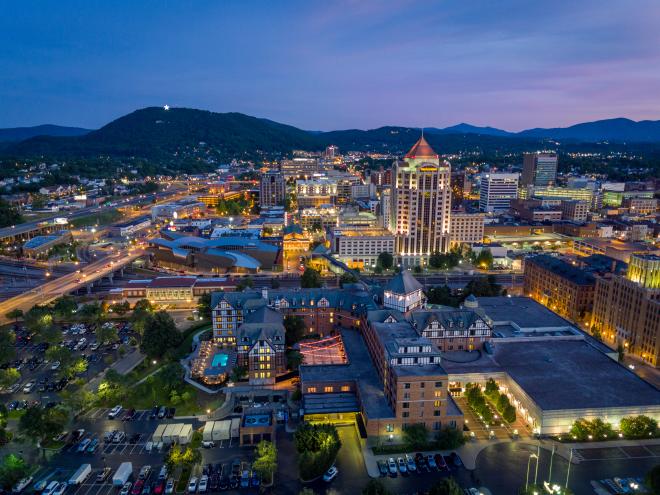 The Berglund Center is located near Downtown Roanoke and many unique local restaurants, places to stay, and things to do. Center in the Square in Downtown Roanoke is home to Mill Mountain Theatre, an award-winning community theater that hosts performances throughout the year.
In addition to seeing a Broadway in Roanoke performance at the Berglund Center, you could enjoy an overnight stay in one of Downtown Roanoke hotels or lodging options, such as the Historic Hotel Roanoke & Conference Center or Liberty Trust Hotel.
You can find a variety of great local bars & restaurants in the Downtown area for grabbing dinner & drinks before and after the show.
Learn more about visiting Downtown Roanoke >