There's something classic about hot dogs.
Eating a great hot dog brings back memories of summer cookouts with friends and family, having a fun night at the ballpark, or a late night on the town.
There are many local restaurants that can satisfy your hot dog craving in the Roanoke Valley in Virginia's Blue Ridge.
Here are the best local spots to find a delicious hot dog for your next meal.
Note: Restaurants are listed in alphabetical order and not in a ranking. Click on any restaurant name listed below to learn more, including location and contact information.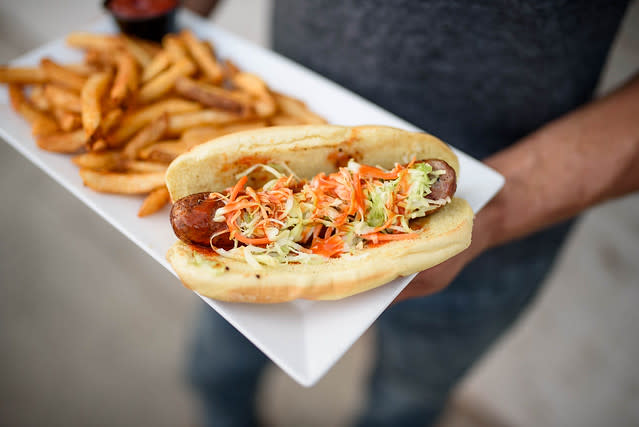 This upscale sports bar in Downtown Roanoke is well-known for its burgers, pizzas, and craft beer, but don't forget about the brats & dogs section of the menu! You can build your own hot dog or opt for the Porky - a grilled bratwurst topped with coleslaw and hot sauce.
Locals at Bob's Restaurant know it as one of Vinton's best hidden gems, but the secret is getting out! In addition to tasty burgers and ice cold beer, you can also enjoy a hot dog that's topped with mustard, onions, slaw, and chili that's house-made from a family recipe.
Bowling's Place is legendary among Franklin County residents, and a meal of a couple great hot dogs is likely to include a unique story or two. The family-owned restaurant opened in 1950 and has developed a reputation as one of Virginia's best hot dog joints. Be sure to try the Everything Dog with mayo, mustard, chili, onions and cheese.
Bowling's Place Facebook Page >
Hot dogs, ice cream and arcade games? The kids will be in heaven with a visit to Bratcher's Ice Cream Parlor! This fun-filled spot is located in the Market Square East Shopping Center on Route 460 and serves Nathan's hot dogs, which of course, should be topped with mustard, chili, and onions. Don't forget to leave room for some Hershey's hand-dipped ice cream!
Bratcher's Ice Cream Parlor Facebook Page >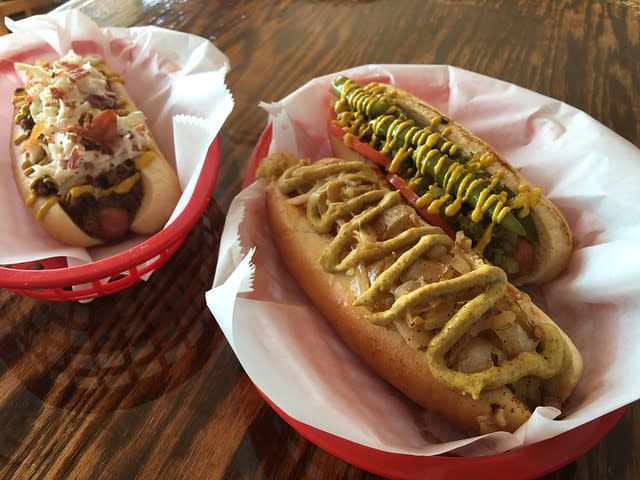 There's no need to go to Chicago or New York for hot dogs when you can just go to Burger in the Square instead! The restaurant's Chicago Style Hot Dog features a Nathan's hot dog topped with tomato, sweet relish, mustard, peppers, celery salt and pickle spear, providing all the great flavor of a dog from the Windy City. The New York Style dog is a Nathan's hot dog with spicy mustard, sauteed sauerkraut and onions. There's also the Super Dog, a Nathan's hot dog with mustard, chili, onions, slaw, cheese, and bacon. Try one of each!
This spot on Williamson Road recently changed its name from Jones Hot Dogs to Dillons Hot Dogs & More, but it still stands as one of the best places in town for a hot dog! Order a couple hot dogs with mustard, chili, and onions, and you can also add other toppings like slaw, cheese, bacon, and jalapenos for some extra spice.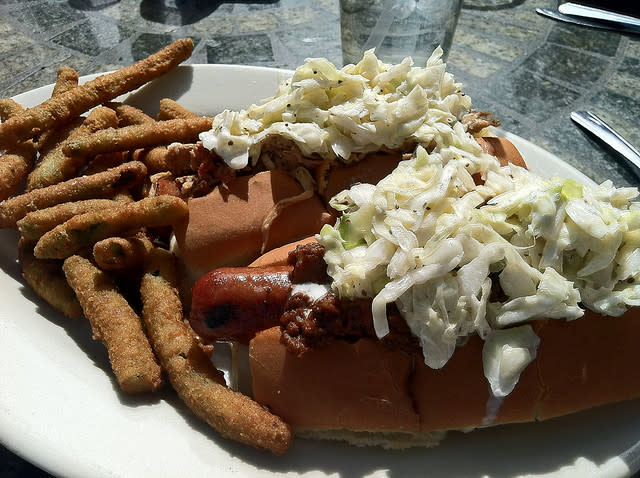 Between Fork in the Alley in Roanoke's Crystal Spring neighborhood and Fork in the Market in downtown's City Market Building, you have two great options for delicious fork-fare hot dogs! You can select from a variety of specialty dogs, which include beef hot dogs, half-smokes, Italian sausage, and bratwursts. Try the Astro Dog - a half smoke with dijon mustard, olive relish and cheese slaw, a local favorite.
Fork in the Alley Menu > | Fork in the Market Menu >
Why order a regular hot dog at Richee Freeze when you can order a Footlong?! This iconic spot on Roanoke's Williamson Road is extremely popular with locals, and don't be surprised if there's a line out the door when you arrive during the busy lunch hour. The Footlong plate with a footlong hot dog topped with chili and served with fries and a drink is one of Richee Freeze's most popular lunch specials.
In addition to serving some of the best burgers in Virginia's Blue Ridge, The River Rock Restaurant in Salem also makes a tasty hot dog. The Rock Dog is topped with chili, cheese, slaw, mustard and onions. The chili and slaw are both made from scratch and the slaw provides a nice crunch and additional texture to every bite.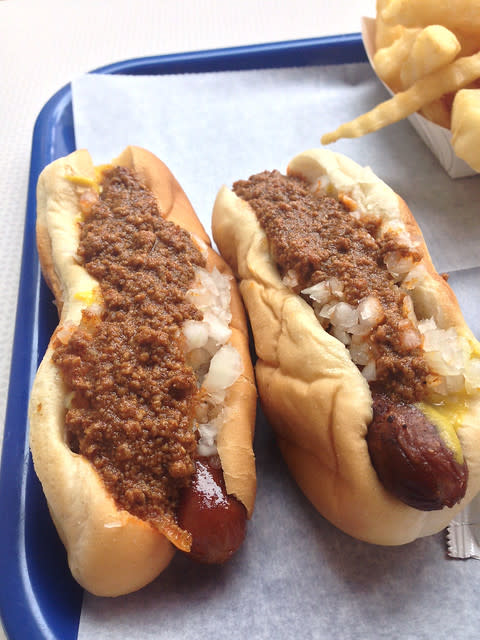 A "hot dog all the way" is one of those classic foods that you can name and many locals will know exactly which restaurant you're talking about. The Roanoke Weiner Stand has served as an institution for over 100 years and remains one of the most popular restaurants in Downtown Roanoke. Just so you know what deliciousness you're in for - a hot dog "all the way" means you're getting a dog topped with mustard, chili, and onions.
Visitors, locals, and celebrities will often be spotted at Texas Tavern during all hours of the day and night. The hot dogs can hit the spot for a mid-morning snack, working lunch, budget-friendly dinner, or late night snack after a hard night on the town. Don't forget to order them with the restaurant's famous "chile."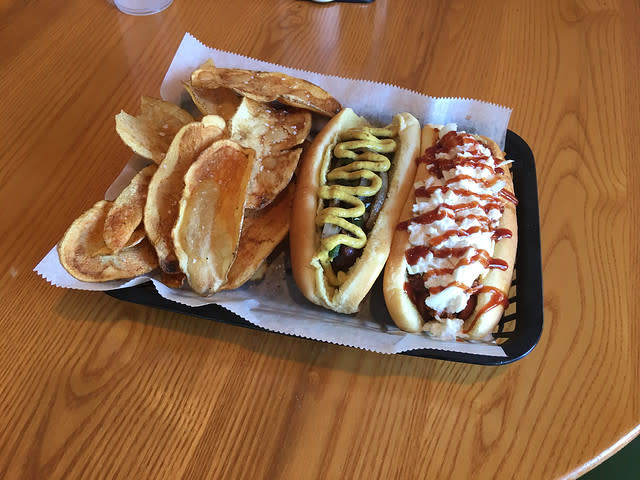 Top Dawgs Pub & Deli in Botetourt County offers some of the most creative hot dog combinations in Virginia's Blue Ridge. Each specialty "dawg" is made with an all beef hot dog and then features a variety of unique toppings. Options include the Hawaiian Dawg with melted pepper-jack cheese & mango salsa, as well as the Mutt Dawg, which features a hot dog that's slow simmered in beer and then deep-fried and topped with grilled onions, peppers and spicy mustard.
Easy access to the Roanoke River Greenway, over 30 beers on tap, and a great hot dog? Wasena City Tap Room and Grill hits the spot! Ted's Hot Dog is a char-grilled dog served with your choice of ketchup, mustard, onions, salsa, pickles, jalapenos, cheese sauce, jalapeno slaw or homemade chili. Sounds like you're going to need a knife and fork!
---
Map of Locations
---
Get more food ideas for Virginia's Blue Ridge by visiting our Restaurants section. You can also check out this Foodie Itinerary for additional restaurant recommendations.
Don't forget to tag your food pics on social media with our #Trailsetter hashtag!