Join the fun of 4th of July fireworks and related Independence Day special events and celebrations throughout the Roanoke Valley in Virginia's Blue Ridge Mountains.
With July 4th being on a Sunday this year, you can make it a full weekend of Independence Day fun in Virginia's Blue Ridge. There are multiple days of fireworks shows, patriotic events, and family-friendly festivals, carnivals, and fairs that are great for a summer vacation.
The following is a guide to 4th of July fireworks events and other celebrations for 2021 in Virginia's Blue Ridge.
NOTE: All times and events are subject to change, particularly as it relates to cancellations or postponements due to weather. We will try to keep this list as up-to-date as possible, but we recommend checking the event websites and social media pages for the most current info.
Fireworks Displays
Rotary Club of Rocky Mount's Independence Festival
July 2 - Franklin County High School
The Rotary Club of Rocky Mount brings its popular Independence Festival back for a full, in-person event at Franklin County High's Cy Dillon Stadium on July 2. 
The event will begin at 5:00 p.m. and it will feature live music by the local Harwell Grice Band. Attendees will be allowed to bring coolers and food to the event.
The fireworks are scheduled to start at dusk.
Rocky Mount Independence Festival Details >
Buchanan Independence Day Parade & Fireworks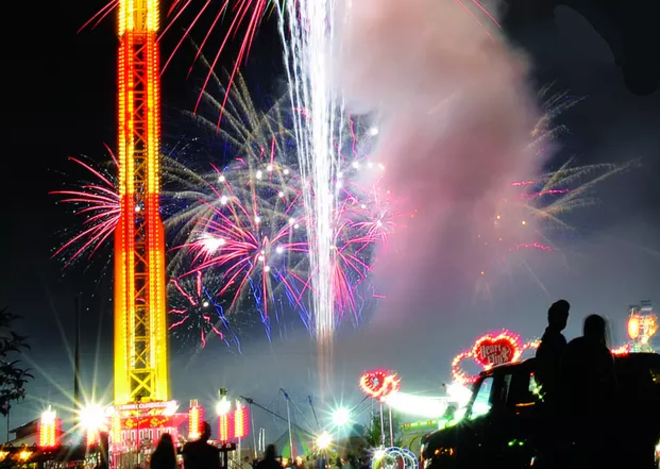 July 3 - Town of Buchanan
Take part in the patriotic celebrations in the Town of Buchanan in Botetourt County, which will host its annual Buchanan Parade and fireworks display on July 3. Grab a spot along Buchanan's charming Main Street for the perfect view of the parade, which begins at 5:00 p.m. and then stick around for the fireworks show at 10:00 p.m.
It's an extra fun scene as the fireworks light up the sky over the neon lights of the Buchanan Community Carnival, which will be at the Town's Riverfront Park.
Buchanan Community Carnival & Independence Celebrations >
July 3 - River's Edge Park North
The City of Roanoke's fireworks show will be held on Saturday, July 3 at 9:00 p.m. The fireworks will launch from River's Edge Park North but there will not be a centralized viewing area or event. It'll be a 15-minute firework show to celebrate Independence Day weekend.
Town of Vinton Fireworks
July 4 - Vinton War Memorial
The Town of Vinton in Roanoke County will host its free annual 4th of July fireworks celebration on the lawn of the Vinton War Memorial. While you're there, be sure to snap a selfie in front of the Vinton LOVEworks art sign, which is also located in front of the War Memorial.
Salem Fair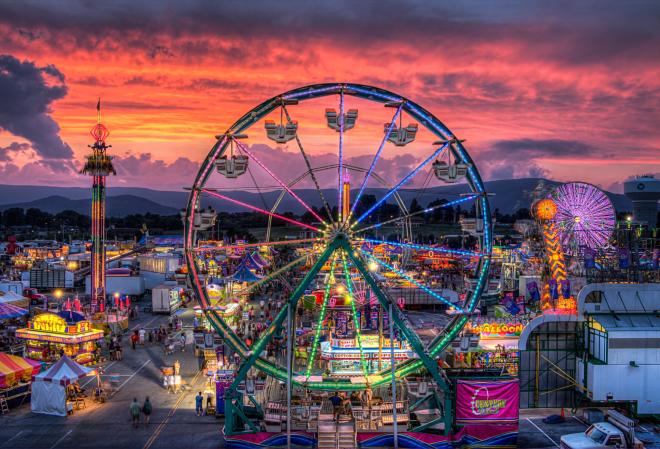 July 4 - Salem Civic Center
As Virginia's largest fair and an event that has been named one of the top 100 fairs and expositions in the country, the Salem Fair is a great spot to watch fireworks on the 4th of July. On Sunday, July 4, the gates open at noon and the fireworks begin at approximately 9:30.
The Salem Fair is open from June 30 through July 11.
July 4 - Breckinridge Elementary School
Guests are invited to bring a lawn chair and snacks to celebrate Independence Day with the local community at the 2021 Fincastle Fireworks show at Breckinridge Elementary School in Botetourt County. The event will be hosted and presented by the Town of Fincastle in partnership with Master Displays LTD.
Fincastle Fireworks Information >
Independence Celebrations & Special Events
4th of July Picnic in the Park Social
July 2 - Waid Park
Franklin County Parks & Recreation will host a special, socially-distanced 4th of July themed picnic at Waid Park on July 2. This event is for people age 50 & over and advance registration by June 24 is required. Call (540) 483-9238 to reserve your spot.
4th of July Picnic in the Park Facebook Event >
USA Stars and Stripes Roanoke Valley Tournament
July 3-4 - Various Locations
The City of Salem will host the USA Stars and Stripes Roanoke Valley Tournament, a USA Softball Girls Fast Pitch Tournament showcasing two days of softball on July 3 & 4. 
Games will be held at the Moyer Sports Complex, Oakey's Field on Main Street, and Ted Weber Field on Holstein Street.
Stars & Stripes Tournament Details >
4th of July Lake Party
July 3 - Gills Creek Marina & Lodge
Gills Creek Marina & Lodge will host a free boat-in concert to celebrate Independence Day Weekend, featuring live music by Five Shades of Gray. The concert will begin at 4:00 p.m. and guests are invited to come enjoy the tunes from their boats. 
Land goers are also welcome for the party and can bring a chair, grab a spot on the dock, or go for a swim.
4th of July Lake Party Facebook Event >
American National Bank's Four on the Fourth Presented by Fleet Feet
July 4 - Downtown Roanoke
Put on your red, white, and blue and begin the 4th of July by taking part in this patriotic 4 mile run around Downtown Roanoke. There are running and walking options, as well as a kids fun run.
Proceeds from the race benefit the Boys & Girls Clubs of Southwest Virginia, helping fund summer camps and after-school programs for disadvantaged youth in the local community.
Four on the 4th Race Registration >
Summer Celebration Concert
July 4 - Green Memorial United Methodist Church
Spend your Independence Day enjoying an incredible assortment of live music and performances by various local organizations at this special outdoor concert at Greene Memorial United Methodist Church in Roanoke.
The lineup includes performances by the Opera Roanoke Chorus, Roanoke Ballet Theatre, Virginia Children's Theatre, Alma Ensemble, and Soul Sessions.
Summer Celebration Concert Details >
Independence Day Celebration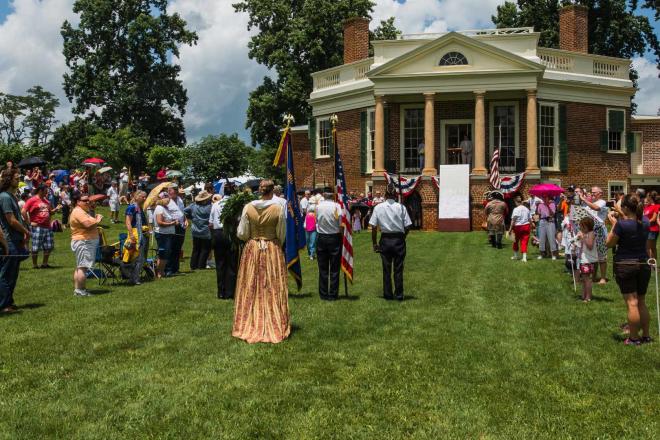 July 4 - Thomas Jefferson's Poplar Forest
Thomas Jefferson's Poplar Forest is a wonderful location to celebrate the anniversary of the signing of the Declaration of Independence, which was originally penned by Jefferson in 1776.
The festivities at Jefferson's Bedford County retreat property will include colonial-style entertainment and demonstrations, old-fashioned games, pony rides, a reading of the Declaration of Independence, and more.
Poplar Forest Independence Day Celebration Details > 
---
For a complete list of upcoming events in Virginia's Blue Ridge, visit our main Calendar of Events.
You can also learn more about fun things to do in the region by following us on social media and signing up to receive our free e-newsletter.