Ask any kid what summer means and you'll get a variety of answers: vacation, boring days, ice cream, and pool days may be among them. 
Here in the Roanoke Valley in Virginia's Blue Ridge, we have a variety of answers, too: things to do when it's hot, when it's raining, when it's cloudy, and when you think you've already done it all. Get busy with summer by getting on with these 10 summer activities for the kids.
NOTE: This post was updated in August 2019.
A water park in the mountains? You bet! This pool on steroids features two 34-foot water slides called the Flume and the Bowl, an eight-foot water slide, a current river, a sprayground for little ones to splash around, and of course, the pool, complete with umbrellas interspersed for shade and fun aquatic features. The pool also includes a beach entry for shallow play.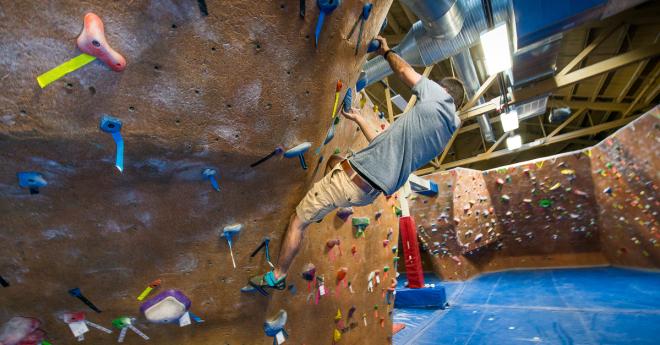 Indoor rock climbing is a great activity for hot or rainy days, and River Rock Climbing Gym is a kid-friendly facility; reading through the First Visit Guide is advised. Kids are welcome to try their hand at top-roping, traditional climbing, bouldering, and more. If they love it and want more, lessons, birthday parties, camps, and special programs are available.
Center in the Square is a full day multi-museum, event venue, and aquarium experience all under one roof. The Living Coral Reef Aquarium is the largest of its kind in the Mid-Atlantic at 8,000 gallons. Keep an eye out for Nemo! You can also catch a performance by Mill Mountain Theatre!
Museums in the Square include the Harrison Museum of African American Culture, the exciting and interactive Roanoke Pinball Museum, Kids Square Children's Museum, Roanoke STARCADE, and the Science Museum of Western Virginia.
Pet an alpaca at Smith Mountain Lake Farm in Hardy. Call ahead to request a 90 minute tour to meet the sweet alpacas, learn how they are raised, where they came from, and what their fiber is used for. You'll have the chance to feed them from your hand and cuddle them around the neck.
Alpacas are gentle, loving animals, and it's easy to imagine that you may want one of your very own.
The kids will love this adventure in the woods at Treetop Quest in Roanoke County's Explore Park! It's for ages 4 and up and everyone will get to soar through the forest on Tarzan swings, traverse cargo nets, balance on tightropes, and fly across zip-lines!
Big kids who loved Thomas the Tank Engine and little ones who are newly introduced to Thomas will want to check out the real trains in the railyard at the Virginia Museum of Transportation. Planes, classic cars, trucks, and space are covered with spotlights on NASCAR, the Jupiter Rocket, and ships named Roanoke.
More than 130 animals are at home at Mill Mountain Zoo, including six vulnerable or endangered species. Come early in the day to beat the summer heat and enjoy the animals before their afternoon naps. 
In fact, the third Saturday of each month is Breakfast with the Animals, your chance to meet and learn about an animal while enjoying a light buffet breakfast. No zoo visit is complete without a ride on the Zoo Choo, a miniature train your little one will love.
If your kids are bouncing off the wall, the Launching Pad Trampoline Park & Family Center in Salem is the perfect place to spend some time and literally bounce off the wall. Bumper cars, basketball, arcade games, and a launch tower will keep them occupied while you chill out with an ICEE and hot pretzel from the snack bar. You deserve a break and a treat.
If you love miniature golf, arcade fun, and batting cages, this is a destination to visit again and again. Ten Buck Tuesday is a bargain with all-you-can-play mini golf All. Day. Long. Plus 20 tokens for the arcade! 
If the whole family wants to putter around, come Thursday evenings and get the $26 family pack, which allows four people to play a round of mini golf and 40 arcade tokens. More than four of you? Add more at $2 each.
Crafty little hands will love this paint-your-own-pottery studio with more than 300 pieces to choose from. Tuesday and Friday mornings at 11 a.m. through August 5 are story time, a special opportunity for kids to hear a story and then paint a related ceramic.
---
Looking for more summertime ideas? Check out our article of Free Things to Do and make every day a fantastic #BlueRidgeDay.