There's no Roanoke holiday tradition like Dickens of a Christmas. The event reflects its name well with carolers and other street performers, roasted chestnuts, and horse-drawn carriages. 
Residents and visitors alike revel in the atmosphere and special events that span three December weekends in Virginia's Blue Ridge.
Let's take a look back at the history of Dickens of a Christmas.
History
It was 1982…
According to Roanoke Valley Family (formerly Growing Up in the Valley) in a 2012 article, Dickens of a Christmas began as a single-day retail initiative to draw shoppers into downtown for special deals, as well as some of the things that still go on today, like the hot cocoa and period performers. 
Since '82, Dickens has grown from one day to three consecutive Friday nights with one major event anchoring each night. Much remains the same – the parade, the SPCA pet costume contest, the tree lighting…but often there is something a little different to keep the event fresh. 
For example, Wall Street was once snow-packed for kids to sled. Now that was a memorable time. 
As much as we love new and glitzy, there's an air of romantic nostalgia when things remain the same. For example, the family-friendly, warm, fuzzy atmosphere...the smells that waft on the air…we simply love Dickens of a Christmas. 
What to Expect
You never know when or where you'll encounter St. Nicholas, so keep an eye peeled. We're told he roams the Market to see who's being naughty or nice. You'll also want to watch for Carolers of Christmas Past and seek out roasting chestnuts by following your nose.
Hop aboard a carriage to see the event from a slightly higher elevation and then head to the Taubman Museum of Art to make letterpress cards and take a photo with Frosty. [Taubman Museum of Art: Dickens of a Christmas Happenings >]
The Living Nativity can be found at the Penn Forest Christian Church on Campbell Avenue; a special sight to behold.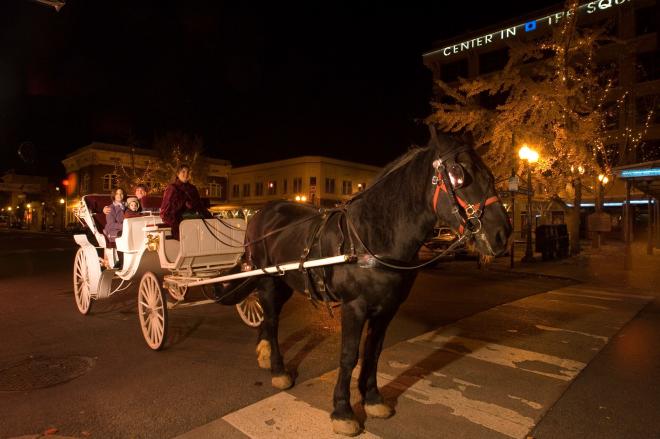 Visit Santa's Workshop in the lobby of the City Market Building to write a letter to Santa or make a gift. Then get crafty at 16 West Marketplace on Church Avenue with more DIY make-and-takes, holiday music, themed drinks, and a fire pit to cozy up to and warm yourself.
Speaking of crafty, kids will have a blast at Center in the Square this Dickens of a Christmas. Friday, December 6 features make-and-take SNOW in the Winter Wonderland of Kids Square. A Christmas sing-a-long and hot cocoa highlight December 13, and Santa's Elf Shop is a place for kids to become a member of Santa's toy team as they help assemble toys for Santa's sleigh on December 20.
Featured entertainers include Southwest Virginia Ballet performing excerpts from "The Nutcracker" on the Community Stage, the sword swallower Tyler Fleet, fire performer Kate Guntermann-Sensoriel, area dance companies and troupes, and vocal ensembles from Hidden Valley High and William Byrd High, to name a few. 
Shuttle through the event aboard Cactus Joe Choo Choo until 9:00 p.m. each night. Stops include Elmwood Park, Franklin Road, Church Avenue, and the Kids Zone.
Now in its second year of Dickens, the Coca-Cola Mini Carnival will continue to be a favorite activity with free carousel rides and turns on the Magic Carpet Slide.
Ninety, yes 90 store and restaurants will offer extended dining and shopping hours during Dickens of a Christmas. Shop downtown retailers to find the perfect gift for someone special on your list.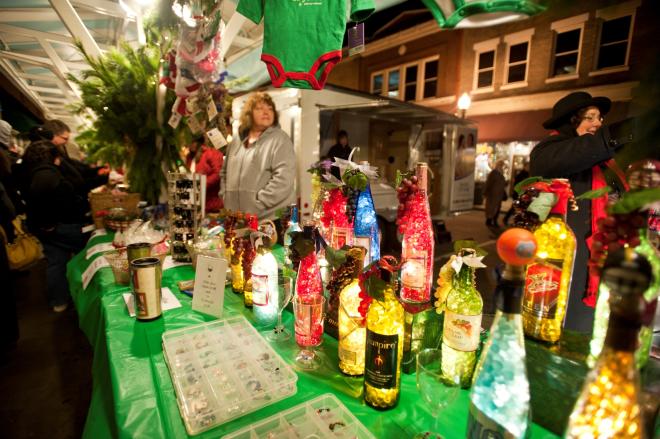 Dickens of a Christmas Schedule
•    Friday, December 6, 5:30 to 10 p.m. 
o    6:15 - Christmas Tree Lighting
o    Thru 9:30 – Carriage Rides
•    Friday, December 13, 6 to 10 p.m.
o    6:30 - Christmas Parade
•    Friday, December 20, 6 to 10 p.m.
o    6:30 - Coca-Cola Mini Carnival and RVSPCA Pet Costume Contest
o    Thru 9:30 – Carriage Rides
---
Dickens of a Christmas is free to attend though some activities are fee-based. For example, carriage rides are $5 per person (ages 4 and up).
Add to the fun of Dickens of a Christmas by catching a holiday performance or hitting Elmwood on Ice for a lively session of ice skating. You can also make the short walk over to The Hotel Roanoke & Conference Center to see the Fashions for Evergreens tree competition.
Whatever you do, do it with someone you love. Happy Holidays!