Spring is in full bloom in Virginia's Blue Ridge.
It's the perfect time of year to be a #trailsetter and check out all the fun things to do around the Roanoke Valley, which includes great festivals and special events.
Save the dates and take part in some of these events happening this April in Virginia's Blue Ridge!
1. Mamma Mia!
Mill Mountain Theatre
Through April 14
Sing along with all your favorite ABBA tunes as Mill Mountain Theatre presents this hit musical that's been entertaining audiences around the world for the past 20 years.
2. Taps, Tunes, & Tapas!
Ballast Point Brewing Company
April 5 & 19
Snack on Spanish-style tapas, have a few pints of Ballast Point beer, take in the gorgeous views, and listen to live music from Seph Custer (April 5) and Forry & Arnett (April 19).
3. 7 to 70 - Real Stories in Equine Adventure
Explore Park
April 6
The equestrian program is one of many fantastic new recreational opportunities at Explore Park and this event will help kick off a season full of fun horse riding activities.
4. Virginia State Science & Engineering Fair
Berglund Center
April 6
See more than 250 exhibits and displays from students throughout the Commonwealth who will be competing to take home the top prize of winning the official state science & engineering fair.
5. Mill Mountain Mayhem 10K
Mill Mountain Star Trail
April 6
This popular annual event is part-trail run and part-road race as you'll conquer the climb up Roanoke's iconic Mill Mountain.
6. Twin Creeks Distillery - Grand Opening
Twin Creeks Distillery - New Rocky Mount Tasting Room
April 6
With April being "Moonshine Heritage Month," it's the perfect time for Twin Creeks Distillery to celebrate the grand opening of its new tasting room in Downtown Rocky Mount. 
7. A Little Spring Music
Roanoke Valley Children's Choir - Jefferson Center
April 7
You'll be amazed at the talent of the young singers in the Roanoke Valley Children's Choir as they present their "A Little Spring Music" concert at the Jefferson Center.
8. Kinky Boots
Berglund Center
April 8
As part of the hugely successful Broadway in Roanoke series, Kinky Boots is the latest Tony Award winning musical to hit the Berglund Center stage. 
9. Down by Downtown Music Festival
Various Venues - Downtown Roanoke
April 11-14
Down by Downtown is an awesome celebration of live music in Downtown Roanoke, with this year's event being expanded to four days! This year's festival features a headline show by Spafford, Tank & The Bangas, and Rubblebucket on April 13 in Elmwood Park.
10. Living Proof Live with Beth Moore
Berglund Center
April 12-13
Best-selling author Beth Moore will be in Virginia's Blue Ridge for two days of speaking, teaching and a unique message for women in this special event at Berglund Center.
11. Sounds of the Mountains Storytelling & Music Festival
Camp Bethel
April 12-13
Camp Bethel offers a beautiful setting as visitors enjoy two days of storytelling, music, and a great atmosphere for the entire family.
12. Foot Levelers Blue Ridge Marathon, Half Marathon, & Anthem Star 10K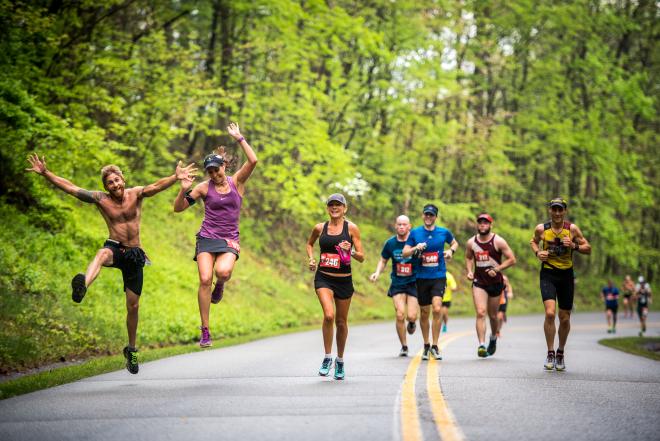 Elmwood Park
April 13
Runners from around the country will be in Virginia's Blue Ridge in an attempt to complete the 26.2 miles and 7,430 feet of elevation change that makes the Blue Ridge Marathon "America's Toughest Road Marathon!"
13. Roanoke Pride Festival 29
Downtown Roanoke
April 13-14
The Roanoke Pride Festival is one of Virginia's signature pride festivals and celebrations of the LGBTQ community and includes two days of live music, great entertainment, and vendors.
14. Salem Riverfest
Roanoke College
April 14
The Salem Riverfest benefits local river conservation and there will be kid-friendly activities, live music, food trucks, a climbing wall, a mechanical bull, and more!
15. Newsboys United
Salem Civic Center
April 14
Newsboys has been one of Christian music's most popular rock bands for over 35 years and their concert at the Salem Civic Center will also include special appearances by Zealand and Adam Agee.
16. Moonshine Express
Franklin County Historical Society
April 14
Hop aboard the Moonshine Express vintage bus in Rocky Mount as you meet the characters and learn the stories of how Franklin County became the Moonshine Capital of the World.
17. Kelsea Ballerini
Salem Civic Center
April 17
With hit songs like "This Feeling" and "Peter Pan," Kelsea Ballerini is a quickly rising star in country music and gaining even more fans with her "Miss Me More" tour with Brett Young at the Salem Civic Center. 
18. Spring SWVA Antique Flea Market
Franklin County Recreation Park
April 19
There will be an incredible selection of farm, auto, truck, and household antiques at this annual spring flea market and swap meet in Franklin County.
19. National Paddling Film Festival
Hollins University
April 19
Enjoy a night of epic whitewater canoeing and kayaking videos from amateur and professional videographers in the 9th annual paddling film festival at Hollins University.
20. Earth Day Roanoke 2019
Grandin Village
April 20
This year marks the 30th anniversary of Grandin Village's celebration of Earth Day and they'll have a variety of special vendors and unique displays about ideas for how you can live a more eco-friendly life.
21. Tyler Perry's Madea's Farewell Play Tour
Berglund Center
April 24
Tyler Perry's iconic Madea character makes her way to Virginia's Blue Ridge to take the stage at Berglund Center as part of "Madea's Farewell Play Tour."
22. Vinton Dogwood Festival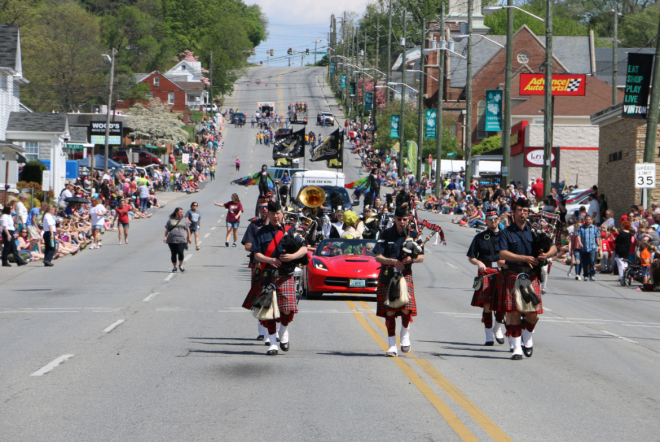 Downtown Vinton
April 25-28
The Vinton Dogwood Festival is now in its 64th year and is one of the region's best annual spring festivals. The 4 day event includes a parade, antique car show, kids activities, and all your favorite festival foods.
23. Roanoke Symphony Orchestra - The Music of Fleetwood Mac
Salem Civic Center
April 26
Jam out to iconic Fleetwood Mac songs at the Salem Civic Center as the Roanoke Symphony Orchestra presents its Jeans 'N Classics concert.
24. Buchanan Civil War History Weekend
Downtown Buchanan
April 26-28
History comes to life in Downtown Buchanan with a reenactment of General McCausland and his troops fighting to defend the bridge against General Hunter on his fiery raid through the Shenandoah Valley.
25. Gala for the Arts
Mill Mountain Theatre
April 26-27
These special performances will showcase many of the region's fantastic performing arts organizations, including the Roanoke City Ballet, Roanoke Children's Theatre, Roanoke Symphony Orchestra, Opera Roanoke, and more.
26. Star City Cornhole Tournament
Dr Pepper Park @ The Bridges
April 27
Did you know this event in 2017 broke the Guinness world record for largest cornhole tournament in the world?! Put a squad together and show off your bag tossing skills at Dr Pepper Park at The Bridges.
27. Artisan Saturday
Explore Park
April 27
This annual event series at Explore Park showcases the unique works of artisans from throughout the region, including jewelry making, painting, fiber art, woodworking and other mediums.
28. 68th Annual Ernest "Pig" Robertson Fishing Rodeo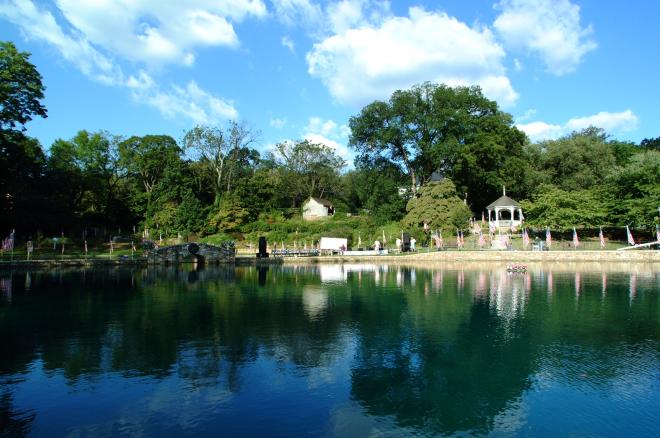 Lake Spring Park
April 27 & 29, May 1 & 4
Kids and nursing home residents will cast a line at Lake Spring Park in Downtown Salem and see who can win in the prize-winning trout! 
29. Open Studios Tour Roanoke 2019
Various Studios
April 27-28
This year's Open Studios Tour of Roanoke will feature 22 artists at various studios and galleries around the city who present their works and explain the inspiration and design process behind the pieces.
30. NEEDTOBREATHE
Berglund Center
April 30
NEEDTOBREATHE is a Grammy-award winning and Billboard chart topping band that became a well-known name with its hit song "Brother" with Gavin DeGraw and saw huge success from its HARDLOVE album in 2016.
---
Visit our Calendar for a complete list of upcoming events in Virginia's Blue Ridge. You can also take a look at our Spring section for more ideas on fun things to do in the region.