With so many fun events, festivals, and things to do on the calendar, April is an exciting time of year in Virginia's Blue Ridge!
The following list is only a sampling of the many things happening in the region this month, and we encourage you to check out our complete Calendar of Events to learn more about upcoming events.
You can also view our special guide to Easter Weekend in Virginia's Blue Ridge >
Whether you're taking on the Blue Ridge Marathon - America's Toughest Marathon, listening to great live music at the Harvester Performance Center, zip-lining at Explore Park, cheering on the Salem Red Sox, or touring beautiful homes in Botetourt County for Historic Garden Week, it's going to be a great month in Virginia's Blue Ridge.
Here's a preview of what's happening this April.
---
NOTE: All info is subject to change. Please check event websites and social media pages for the most updated information regarding capacity restrictions, scheduling, weather cancellations, and vaccination requirements.
---
1. The Wizard of Oz | April 1-3
Sale Theatre at Ferrum College
You'll be off to travel somewhere over the rainbow and on your way to meet the wonderful Wizard of Oz as this timeless story is presented by the Ferrum College Theatre Arts Department. Guests are encouraged to bring a chair or blanket as seating will be limited.
2. Botetourt Restaurant Week | April 2-10
Various Restaurants - Botetourt County
Sample the delicious flavors and dishes of Botetourt County by taking part in Botetourt Restaurant Week! Many local restaurants will be participating with a variety of specials, including tasty options for breakfast, lunch, and dinner.
As part of the fun, you're encouraged to play #BoCoEats Bingo and share pics of your food on social media and tagging @ShopBotetourt in your posts.
Botetourt Restaurant Week Specials >   
3. In The Heights | April 6-24
NOTE: Performance dates have been changed to April 13-24.
Mill Mountain Theatre
Mill Mountain Theatre's latest production will feature In The Heights, the incredible award-winning musical by Lin Manuel Miranda that focuses on life in the Washington Heights neighborhood of New York City.
4. The Bachelor Live on Stage | April 7
Berglund Center
The Bachelor Live On Stage serves as a Bachelor fan party with a flirtatious and interactive evening featuring men from recent seasons of The Bachelor. It's a fun night of laughter and games where a handful of ladies will be picked from the audience to experience what life at the mansion is really like.
The Bachelor Live on Stage Tickets >
5. Salem Red Sox Opening Night | April 8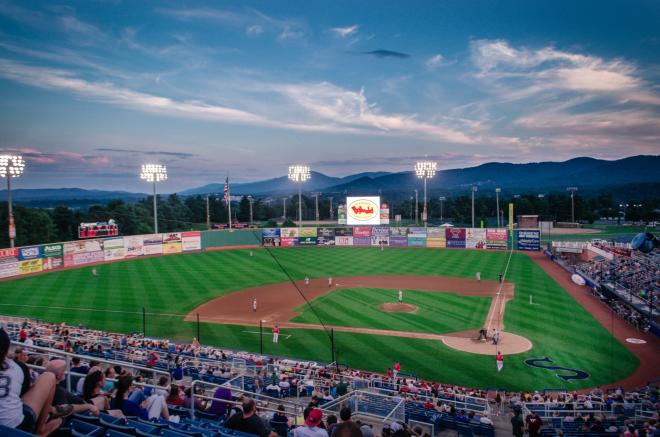 Salem Memorial Ballpark
Baseball is back in Virginia's Blue Ridge! April 8 is opening night for the Salem Red Sox, which will take the field against the rival Lynchburg Hillcats to begin the season.
There are many opportunities to catch the Sox in action this month, with the team hosting a 3-game series against the Hillcats to open the season and then also featuring a 6-game home series against the Charleston RiverDogs from April 19 through April 24.
6. Star City Street Performer Expo | April 9-10
Elmwood Park
Don't miss the first ever Street Performer Expo in Downtown Roanoke, which will showcase all kinds of amazing street performances, including jugglers, breakdancing, magicians, and more. The expo is free to attend but patrons are encouraged to bring cash to tip their favorite performances, which is customary in the world of street theatre.
Star City Street Performer Expo Website >
7. Adventure Saturday | April 9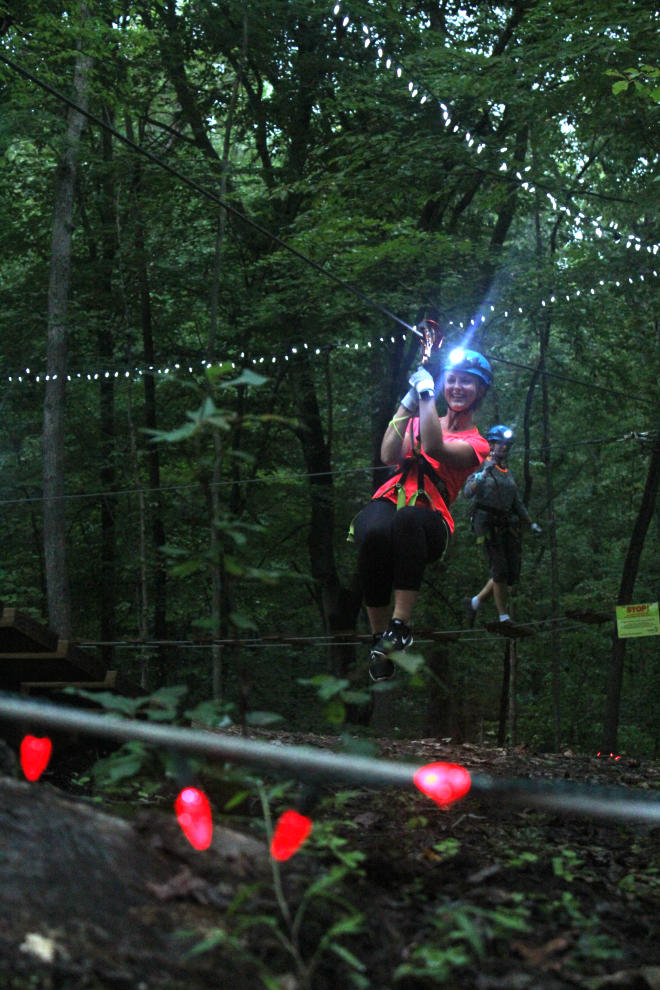 Explore Park
Adventure Saturday is the perfect opportunity to experience the fun outdoor recreation options at Explore Park. You can check out twilight ziplining at Treetop Quest, enjoy nature activities and kids crafts, make your way up the climbing tower, and show off your disc golf skills. There will also be live music and delicious food & drinks at the Twin Creeks Brewpub.
8. Moonshine Express | April 10
Benjamin Franklin Middle School - Franklin County
In celebration of April being Moonshine Heritage Month, hop aboard the Moonshine Express and learn the history of how Franklin County became known as The Moonshine Capital of the World. This year's express will be a festival-style event that showcases moonshine-themed goodies, classic stories, local distillers, and vintage vehicles like the ones once used to haul moonshine.
Moonshine Express Facebook Event >
9. The Price is Right Live! | April 13
Berglund Center
Come on down to the Berglund Center on April 13 to take part in The Price is Right Live! This interactive stage show gives eligible individuals the opportunity to play the classic games from television's longest running game show and win amazing prizes, such as appliances, vacations, and possibly a new car.
10. Freedom First Down by Downtown Music Festival | April 14-17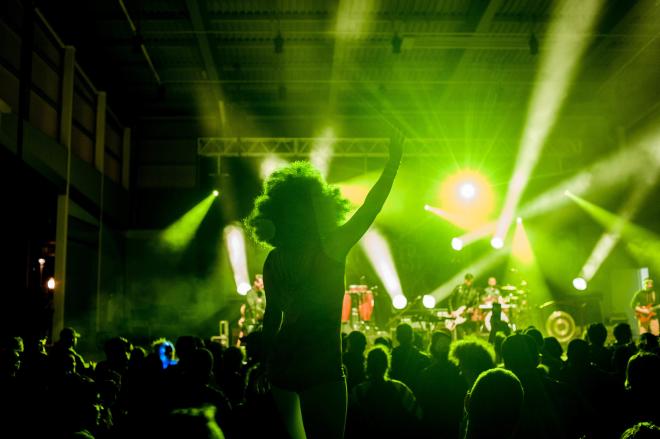 Various Venues - Downtown Roanoke
This multi-day music festival in Downtown Roanoke coincides with Blue Ridge Marathon weekend and features a great lineup of bands and performances at 11 different local venues. This year's festival will be headlined by The Wallflowers, who will perform in Elmwood Park on April 16.
Down by Downtown Music Festival Website >
11. Broadway in Roanoke: Cats | April 14
Berglund Center
Cats is an iconic, award-winning musical by Andrew Lloyd Webber that has captivated audiences in over 30 countries. It's the story of a magical night when a tribe of cats gather for its annual ball to rejoice and decide which cat will be reborn.
Broadway in Roanoke: Cats - Tickets >
12. Virginia Children's Theatre: Peter Pan Jr. | April 15-16
North Cross School
Virginia Children's Theatre presents the magical story of Peter Pan Jr. as you join Peter, Tinkerbell, Wendy, and her two brothers on a journey to Neverland. The performances will take place in the Fishburn Auditorium at North Cross School.
Virginia Children's Theatre Website >
13. Virginia Tech Spring Football Game | April 16
Lane Stadium
It's always fun to see the Hokies in action in Lane Stadium and this year's spring game will be held on Saturday, April 16 at 4:00 p.m. Tickets are $5.
14. Foot Levelers Blue Ridge Marathon, Half Marathon, and Anthem StarK 10K | April 16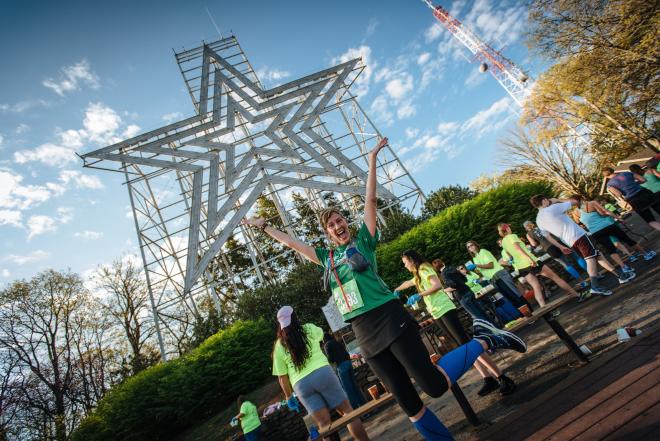 Downtown Roanoke
Head to Elmwood Park in Downtown Roanoke to cheer on the racers in America's Toughest Road Marathon! The finish line features an exciting, family-friendly atmosphere that's great for spectators. 
The event also offers multiple options for participating, including the full marathon, half marathon, 10K, family 1-miler, relay, Sunday Slow-K, and more.
15. Tedeschi Trucks - Fireside Live with Raye Zaragoza | April 21
Harvester Performance Center
The Tedeschi Trucks are returning to the stage with a special tour in the style of The Fireside Sessions, presenting lineups of four to eight band members. This show at the Harvester Performance Center in Rocky Mount will also feature a performance by Raye Zaragoza.
16. Roanoke Symphony Orchestra: Sweet Caroline - The Music of Neil Diamond | April 22
Salem Civic Center
This show at the Salem Civic Center by the Roanoke Symphony Orchestra presents Sweet Caroline - The Music of Neil Diamond. The symphony will perform with Jay White, who has performed more than 10,000 concerts around the world reflecting the stage persona and music of Diamond.
17. Baby Shark Live! | April 22
Berglund Center
The live show is based on the viral YouTube sensation from Pinkfong as you join Baby Shark on an adventure into the sea with lots of singing, dancing, and fun. You're welcome for Baby Shark now being stuck in your head for the rest of the day!
18. Shemekia Copeland with Sugaray Rayford | April 22
Jefferson Center
Crowd favorites from previous visits, blues artists Shemekia Copeland and Sugaray Rayford return to Virginia's Blue Ridge for a concert at the Jefferson Center. Copeland will showcase music from her latest record, Uncivil War, while Rayford will present his musical talents that have earned him a Grammy nomination.
Shemekia Copeland & Sugaray Rayford Tickets >
19. Chance Crawford Softball Benefit Tournament | April 22-24
Various Locations
The Chance Crawford Softball Benefit Tournament began 42 years ago to help a local high school student who'd suffered a spinal cord injury during a football game. What started as an event to help cover his medical expenses and needs, the tournament carries on to raise money for worthy causes and support several college scholarships.
Chance Crawford Softball Benefit Tournament Website >
20. First Annual BBQ Cookoff | April 23
Early Inn at The Grove
The Early Inn at The Grove will host its first annual BBQ Cookoff, partnering with Ippy's Restaurant, Rocky Mount Burger Company, and Buddy's BBQ for a delicious smoke master event! Four local chefs will be competing for the smoke master title and you'll have the opportunity to enjoy tastings and select your favorite.
21. Gravel Curious Camp | April 23-24
Camp Bethel
VBR Adventures will host a special camp for those interested in an introduction to gravel cycling. You'll receive guidance and perspective from a professional cyclist who will lead group rides and field questions on how to get started in this discipline of riding.
22. International Street Fair | April 24
Virginia Tech
Virginia Tech student organizations will showcase cultures from around the world at the free International Street Fair. The fair will feature musical and dance performances, activities and crafts for children, and food trucks serving international cuisine.
International Street Fair Details >
23. 67th Annual Vinton Dogwood Festival | April 28 - May 1
Town of Vinton
The 67th annual Vinton Dogwood Festival is one of the signature events of spring in Virginia's Blue Ridge. The four-day celebration includes a carnival, annual parade, live music & entertainment, crowning of the Miss Vinton Dogwood Festival, lots of activities and fun for kids, and over 90 vendors showcasing handmade arts & crafts.
Vinton Dogwood Festival Website >
24. Historic Garden Week Roanoke - Fincastle Tour | April 30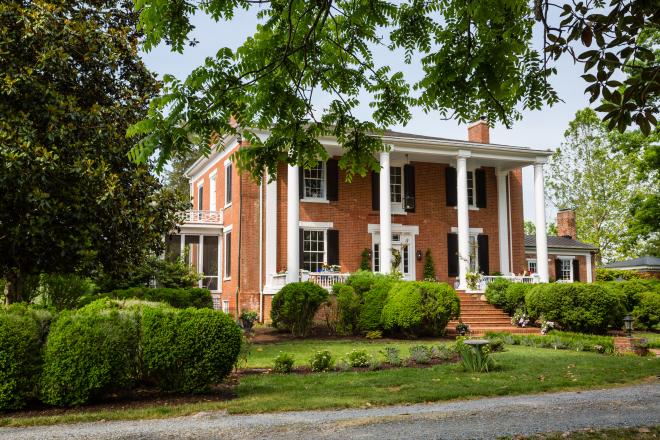 Historic Fincastle - Botetourt County
Experience the beauty of Historic Garden Week in Virginia by taking part in the tour in Botetourt County. The driving tour features five private homes in the historic community of Fincastle, including Santillane, which is on the National Register of Historic Places and is known for its connection to the Lewis & Clark Expedition.
The tour will showcase beautiful home interiors, creative floral arrangements, spring gardens, and panoramic mountain views.
Historic Garden Week Fincastle Tour - Details & Tickets >
Photo courtesy of Donna Moulton
25. Open Studios Tour Roanoke 2022 | April 30 - May 1
Various Studios - Roanoke City & Roanoke County
The 22nd annual Open Studios Tour is a free, family-friendly, self-guided driving tour that features over 15 professional artists at different studios and galleries throughout Roanoke City and Roanoke County.
Artwork will be displayed in artists' homes, studios, and public parks, offering visitors the opportunity to experience the art in unique, inspiring settings.
Open Studios Tour Roanoke Website >
---
To learn more about upcoming events and things to do in Virginia's Blue Ridge, we encourage you to subscribe to our monthly e-newsletter and give us a follow on social media.
You can also request a free copy of our Virginia's Blue Ridge Visitor's Guide.