The Roanoke Valley in Virginia's Blue Ridge is the ideal destination for a beercation! The craft beer scene in the region continues to grow, with local breweries regularly popping up and national brewing companies establishing roots in the area.
To make sure great beer is part of your next getaway, we've created this weekend itinerary for beer lovers!
It features many of the unique craft beer experiences, as well as other fun things to do that will help you work up a thirst.
Here's your guide to a fun weekend in Virginia's Blue Ridge Mountains!
BEFORE YOU GO: Download our Virginia's Blue Ridge Cheers Trail Passport! When you download the passport and check in at locations, you can receive exclusive offers & discounts. When you check in at 5 different locations, we'll send you a free Cheers Trail t-shirt! You can also download the program by texting 'Cheers' to (540) 253-4311. Get your passport >
NOTE: This post was updated in August 2019
Friday Evening
Hang Out at a Local Brewery
Kick off the weekend by checking out the Friday night scene at one of the great local breweries in Virginia's Blue Ridge. Chaos Mountain Brewing Company and Parkway Brewing Company are two options for Friday night fun, as both feature a variety of craft beers and patio space, in addition to regularly hosting live music and food trucks.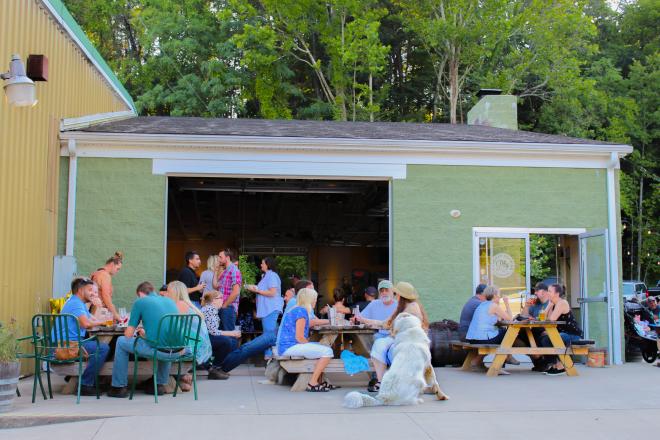 Visit the Roanoke Star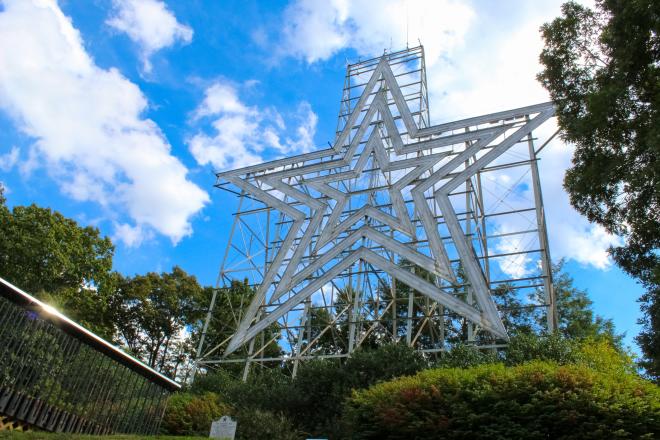 Any visit to Virginia's Blue Ridge has to include a trip to the iconic Roanoke Star atop Mill Mountain! Illuminated every night, this 90-foot tall structure stands as a unique symbol of the region and the overlook provides one of the best views of the Downtown Roanoke skyline and surrounding valley.
Saturday
Historic Roanoke City Market
The Historic Roanoke City Market is the place to be on Saturday morning. With local vendors who have been selling their goods for over 100 years, it's a rich part of the history and character of Virginia's Blue Ridge. You'll find a good selection of local craft beer at the Roanoke Natural Foods Co-Op on Market Street.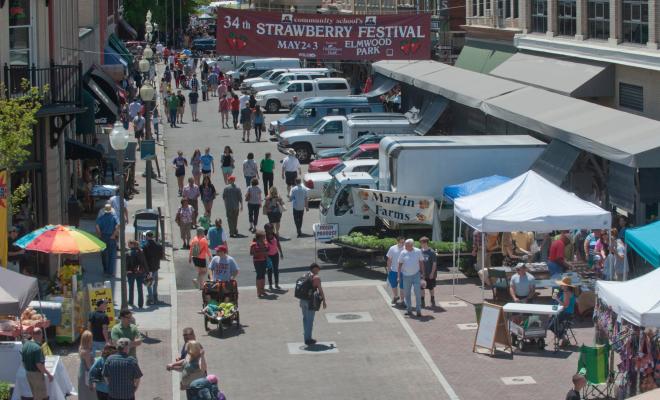 Center in the Square
Located in the heart of Downtown Roanoke, Center in the Square is home to four museums, coral reef aquariums, and a stunning rooftop garden.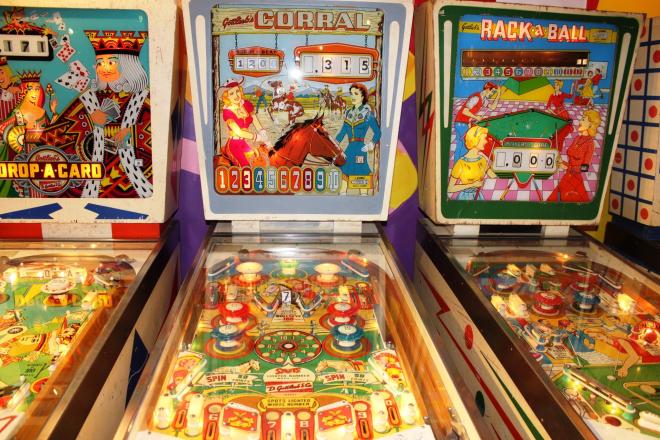 It's the perfect spot to get yourself energized for the day by playing a few games at the Roanoke Pinball Museum or checking out some interesting exhibits at the Science Museum of Western Virginia. 
Lunch: Three Notch'd Brewing Company
Grab a table on the patio at Three Notch'd Brewing Company enjoy the bustling scene of Downtown Roanoke on a Saturday afternoon. They feature a great menu with a variety of dishes and beer recommendations that pair perfectly with whatever you're eating.
Take a Beer Tour
Saturday afternoon is all about local beer with Virginia's Blue Ridge Brewery Tour! This hop-on hop-off brewery tour includes stops at 3 local breweries, and while you're traveling between locations on "Half Pint," the aptly named tour bus, there will be a knowledgeable guide and opportunities to win fun, beer-related swag. Tours begin at 4:00 p.m and advanced tickets are required.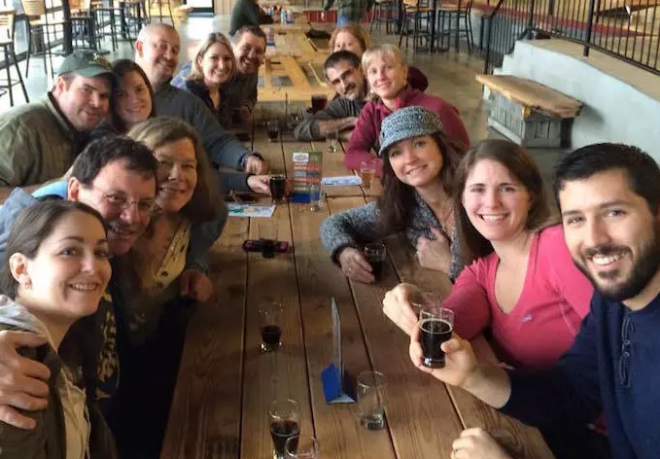 Dinner & Late Night at Martin's Downtown Bar & Grill
If you're still up for it, there's always a party on Saturday nights at Martin's Downtown Bar & Grill. This popular downtown restaurant is one of the best places in Virginia's Blue Ridge to enjoy live music and hosts an eclectic mix of blues, funk, and rock bands from throughout the mid-Atlantic.
Live Music Schedule at Martin's > 
Sunday
Breakfast at Donnie D's Bagels & Deli
You may need a late wake up call, but grabbing a bagel sandwich and coffee at Donnie D's Bagels & Deli in Daleville will help you get your Blue Ridge Day started. This locally-owned bagel shop serves delicious sandwiches on freshly baked bagels, perfect fuel for being a #Trailsetter in Virginia's Blue Ridge.
Try not to Drool: Donnie D's Instagram Feed >
Float the James River with Twin River Outfitters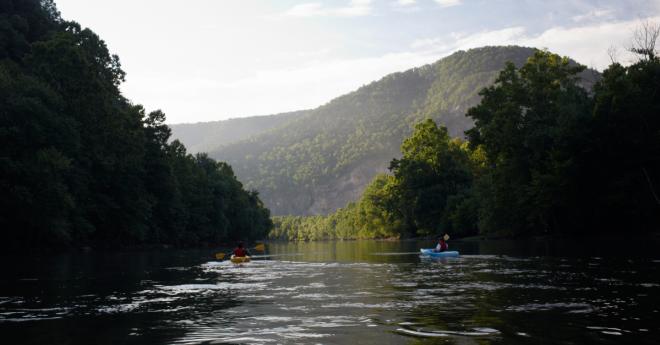 Ready for a day on the beautiful Upper James River Water Trail? The pros at Twin River Outfitters offer a variety of options for tubing and paddling, and you can look forward to a relaxing time enjoying the scenic, peaceful views of Virginia's Blue Ridge along the water. A tubing float typically takes 1 to 1.5 hours depending on water levels, while paddling trips can be designed to match the experience you'd be interested in, from a lazy river to a whitewater paddle.
Book a Trip with Twin River Outfitters >
You'll love the variety of burgers and craft beer available at Town Center Tap House in Botetourt County. It's also a great location for some Sunday afternoon sports with 21 big screen TVs! Burger patty options include a regular beef patty, local grass-fed Angus beef from a Botetourt County farm, garden burger, and beyond burger. As for beers, the Tap House features 40 beers on tap and more than 40 bottles and cans!
Town Center Tap House Beer Menu >
---
Visit our Sample Itineraries section for more ideas on planning a trip to Virginia's Blue Ridge and learn more about craft beer in the area by visiting our Breweries page.
During your next trip to Virginia's Blue Ridge, remember to share your experiences on social media by using our #VBRCheers hashtag!