Traditional Christmas and holiday experiences are abundant in Virginia's Blue Ridge, but there are new things to explore, too. Get a jump on all things merry with an upcoming parade, performance, or stroll through beautiful lights. It's going to be a holly jolly holiday!
Here are some of the best holiday experiences you'll find during your next metro mountain adventure in Virginia's Blue Ridge.
Parades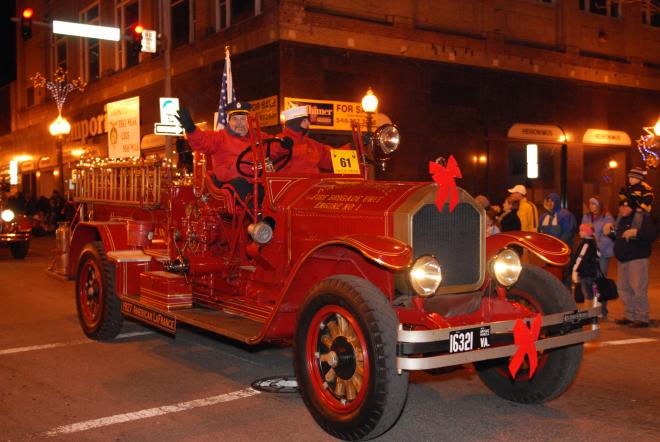 Saint Nick and his elves are sure to make a variety of appearances across Virginia's Blue Ridge this season. Plan to attend a parade to catch a peek, and perhaps light a community Christmas tree while you're at it.
November 23 – 41st Grandin Village Holiday Children's Parade & Mini Float Contest
December 5 – Vinton Christmas Parade and Tree Lighting
December 6 – Annual Lighting of the Salem Christmas Tree and Christmas Parade
December 6 – Come Home to a Franklin County Christmas "Biggest Little Parade"
December 7 – Fincastle Christmas Parade
December 8 – Franklin County Christmas Parade
December 13 – City of Roanoke Christmas Parade
December 14 – Buchanan Christmas Parade (includes selfies with Santa!)
Fashions for Evergreens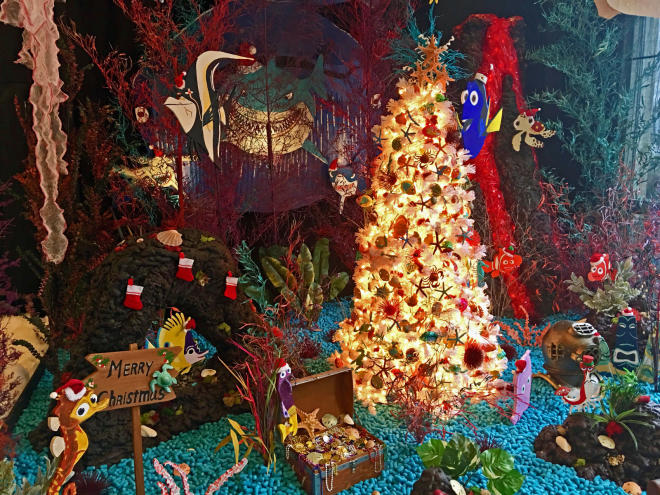 If some of your holiday joy is wrapped up enjoying decorations, Fashions for Evergreens is an annual event you can't miss. Each year community organizations sponsor a tree for professional decoration at The Hotel Roanoke & Conference Center, Curio Collection by Hilton. Spectators are encouraged to "vote" for their favorite tree monetarily. All money raised benefits the United Way of the Roanoke Valley and the tree with the most donations will be declared the winner of the People's Choice Award.
Fashions for Evegreens is free to enjoy and is open daily from Thanksgiving Day (November 28) to New Year's Day (January 1).
Learn More: Fashions for Evergreens Website > 
Dickens of a Christmas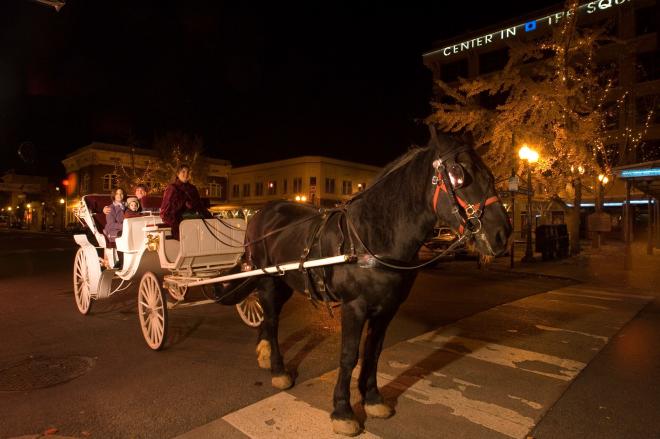 A beloved holiday tradition for many, The Roanoke Times Dickens of a Christmas is a three-weekend event that begins with the Christmas Tree Lighting on December 6 and culminates with the Coca-Cola Mini Carnival and RVSPCA Pet Costume Contest on December 20. Experience very Dickens-esque merriment like roasted chestnuts and carriage rides. If it's not already your family tradition, there's a great chance it will become one.
Learn More: Dickens of a Christmas Website >
Fantasyland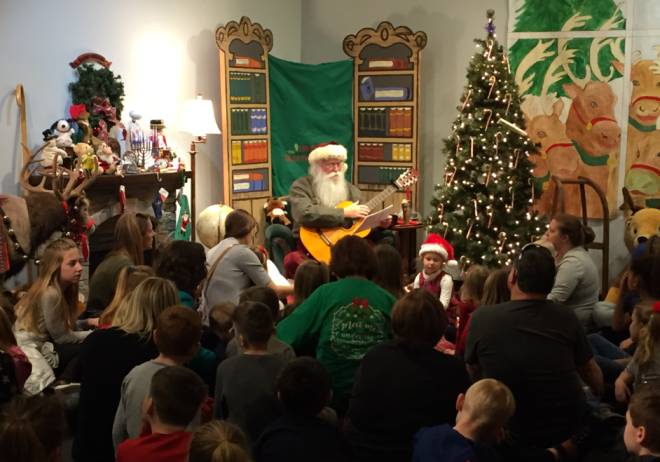 Saturdays November 30 to December 21, Fantasyland offers memorable moments with Santa as he tells stories and strums his guitar for children and adults alike. 2019 is the 25th anniversary of Fantasyland at The Historical Society of Western Virginia in Roanoke.
Learn More: Fantasyland Ticket Info >
Ice Skating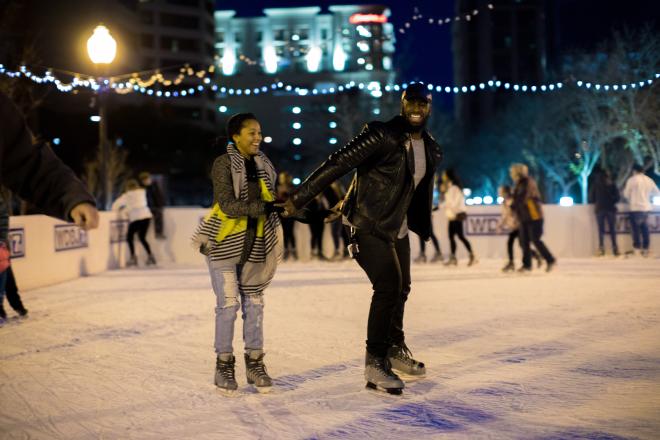 Elmwood on Ice presented by Valley Star Credit Union kicks off November 27 and is offered every Wednesday through Sunday until February 2. Elmwood on Ice is unlimited ice skating and sliding complete with skate rentals, and it's affordable for families. Both daytime and evening hours allow for flexible planning.
Learn More: Elmwood on Ice Website >
Special Performances
 
Is it really Christmas if there aren't classic holiday performances nearby? We're suckers for traditional works of art like The Nutcracker and Miracle on 34th Street, as well as concert mainstays like Holiday Pops. If that's you, too, here's where and when to catch them and other special performances this season:
November 27 – Moscow Ballet presents Great Russian Nutcracker at Jefferson Center
Thursday through Saturday, December 5 to 14 – Miracle on 34th Street at Attic Productions in Fincastle
December 6 – Holiday Pops Spectacular at Salem Civic Center
December 7 – Roanoke Symphony Orchestra Holiday Pops Concert at Moss Arts Center at Virginia Tech
December 8 – Sharing the Light: A Holiday Tradition in Story and Song at Hollins University
December 12 – The Illusionists: Magic of the Holidays at Salem Civic Center
December 13 – Holiday Brass featuring Roanoke Symphony Orchestra Brass Virtuosi at Cave Spring United Methodist Church
December 13 and 14 – Roanoke Ballet Theatre presents The Nutcracker at Jefferson Center
December 14 and 15 – Southwest Virginia Ballet presents The Nutcracker at Berglund Center
Learn More: See a Full List of Holiday Performances & Concerts >
Holiday Flavors
Get your fat pants ready because the holidays are meant for eating and drinking all the great things with the greatest people with whom you can surround yourself. Here are a few of our favorites…
Homestead Creamery Eggnog can often be purchased at your local Kroger, but we love it fresh from the farm. Visit Homestead Creamery in Rocky Mount to get your own quart or half gallon. [Homestead Creamery Products >]
At Blue Cow Ice Cream, peppermint ice cream is all the rage. Yes, rejoice, all you peppermint lovers! Our season is finally here! [Blue Cow Ice Cream Flavors >]
Ultimate holiday cocktails are being shaken, stirred, and gently poured all over Virginia's Blue Ridge. Some we go back to again and again are the Mistletoe at Fortunato and The Griswold at The River and Rail. While not served in a moose punch glass, The Griswold is a lovely eggnog with house-made bourbon and vanilla ice cream.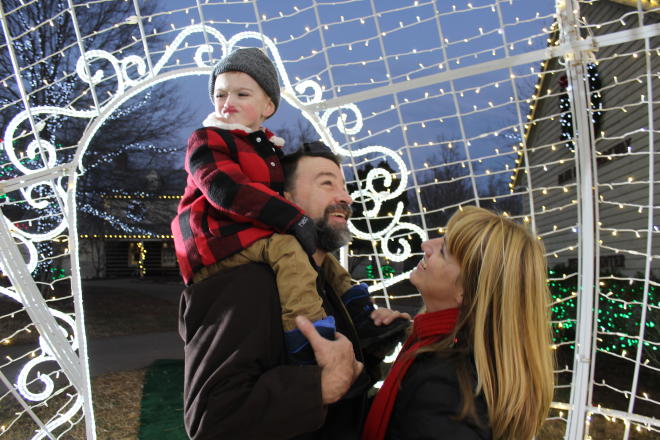 You'll be walking in a winter wonderland in no time – literally – at Explore Park. New for this year is Illuminights, and we personally can't wait. Open 26 select days during the holiday season, a trail in Explore Park will twinkle and sparkle with more than 500,000 lights. Sights, sounds, and smells of the season await as you proceed at your own pace.
Don't miss the artisan Christmas market for a thoughtful gift. Check the calendar for special activity and rate nights.
Get Your Tickets for Illuminights >
Holiday Home Tours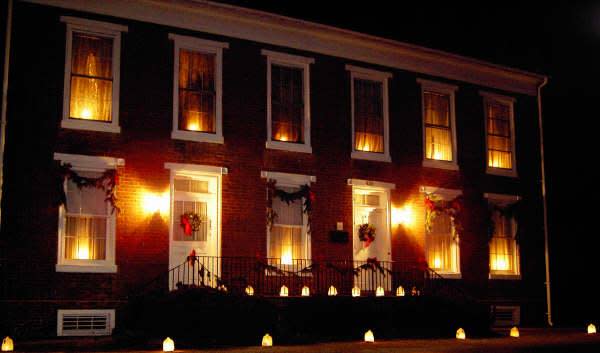 If you've ever been curious about how others decorate for the holiday or what some of the most beautiful old homes look like inside, a holiday home tour is your chance to be nosey by invitation. Dress nice and wander on through. You can also join the fun of a non-traditional home tour with group bike rides and runs to see houses with wild holiday light displays.
Thursdays and Fridays, December 5 to 21 – Holiday Candlelight Tours at Thomas Jefferson's Poplar Forest
December 7 and 8 – 40th Anniversary Old Southwest Historic District Parlor Tour – Eight homes plus the Alexander Gish House
December 11 - Holiday Lights Tour Bicycle Ride through Grandin Village with Ride Solutions
December 14 – Historic Fincastle Holiday Home Tour and Marketplace – Five homes (circa 1823 to 2011) and the Botetourt County Historical Museum; Marketplace at Fincastle Baptist Church
December 18 - Holiday Lights Run/Walk Tour in Grandin Village with RunAbout Sports
Tree Lighting Celebrations
There's nothing like a downtown community dressed for the holidays, and part of that décor includes a lighted tree. Some tree lighting ceremonies or celebrations coincide with the annual parade, but not all. And some tree lightings don't even occur in town. 
November 29 – Holiday Spirits Tree Lighting & Cocktail Party at Roanoke City Market Building – a 21+ event with cocktails and live music
November 30 – Buchanan Tree Lighting – carriage rides, caroling, downtown open house, Santa and Mrs. Claus, and "White Christmas" on the big screen at the Buchanan Theatre
November 30 – Christmas Tree Lighting at Chateau Morrisette Winery – hot drinks, live music, courtyard campfire, and a "tiny" Nutcracker performance
December 2 – Roanoke County Tree Lighting at South County Library – caroling, marshmallow roasting, refreshments, and Santa by firetruck
December 5 – Smith Mountain Lake Christmas Celebration & Tree Lighting at Westlake Towne Center – live music, crafts and activities, face painting, live nativity, refreshments, and giveaways
December 5 – Vinton Tree Lighting at Vinton Municipal Building ahead of the Christmas parade
December 6 – Roanoke Times Dickens of a Christmas City of Roanoke Christmas Tree Lighting – kids zone, carriage rides, roasted marshmallows, street performers, and more
December 6 – Annual Lighting of the Salem Christmas Tree at Salem Farmers Market – caroling and tree lighting ahead of the Christmas parade
Holiday Festivals & Markets
 
More merriment awaits at our area festivals and holiday markets. You'll be able to shop, taste, and encounter moments of magic as you go.
Thursdays through Sundays, November 29 – December 15 – Illuminights at Explore Park features a Holiday Village and Christmas Market 
December 6 – Come Home to Franklin County Christmas in Rocky Mount – craft vendors, live music, food, and horse-drawn carriage rides
December 7 – Gingerbread Festival at Salem Public Library – free annual event with a Gingerbread House competition, children's fun, Santa, inflatables, craft vendors, and more
---
From our family to yours, happy holidays and Merry Christmas! Enjoy your adventures and explorations in Virginia's Blue Ridge as you become a #trailsetter of all things bright and joyful.