Sunflowers have always been showstoppers. Synonymous with happiness, their yellow faces are a delightfully cheery presence to those who gaze upon them.
And fields full of them? Well that's akin to heaven, and we happen to have a sunflower destination all our own in Virginia's Blue Ridge.
Beaver Dam Farm is a 1920s farm in Buchanan, Virginia. Since 2016 the farmers have graciously opened their 20-acre black oil sunflower fields at the end of each summer for Sunflower Festival weekends.
A stunning focal point for landscape photographers and a breathtaking backdrop for portrait photographers, a sunflower field seems to bring out the shutterbug in us all. But don't stop at just the click of your camera app; there's much to see, do, and experience at the Beaver Dam Sunflower Festival.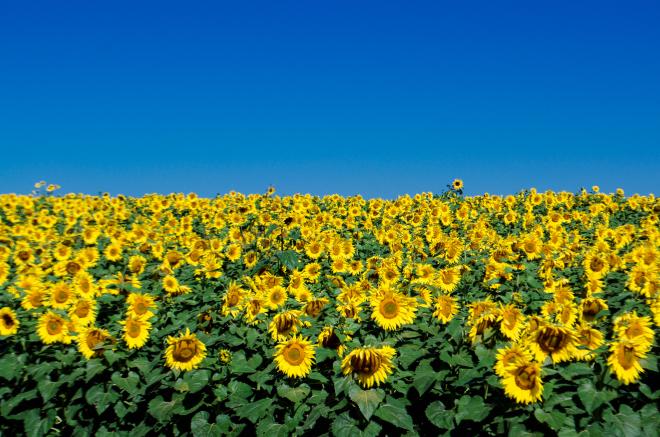 Festival Details
2021 Beaver Dam Farm Sunflower Festival
Date: September 10-19
Location: Beaver Dam Farm
170 Wheatland Road
Buchanan, VA 24066
Beaver Dam Farm Website
Facebook | Instagram
What to Expect
Beaver Dam Farm will host the Sunflower Festival from September 10-19 with a variety of activities and special events, with September 11-12 & 18-19 being the days to enjoy the standard festival experience.
People come from hundreds of miles around to mingle with these beauties, but there are also special events and activities during the non-festival days (the weekdays) to better accommodate some folks.
Take a look at the schedule below and check out the links for information about each event and the opportunity to purchase tickets.
2021 Beaver Dam Farm Sunflower Festival Schedule & Tickets
There are no refunds for the festival. Only leashed service dogs with a distinguished vest or card may enter.
Please be respectful of the property owners and only visit the farm during designated festival hours. If you go past the gates during non-festival hours, you are trespassing.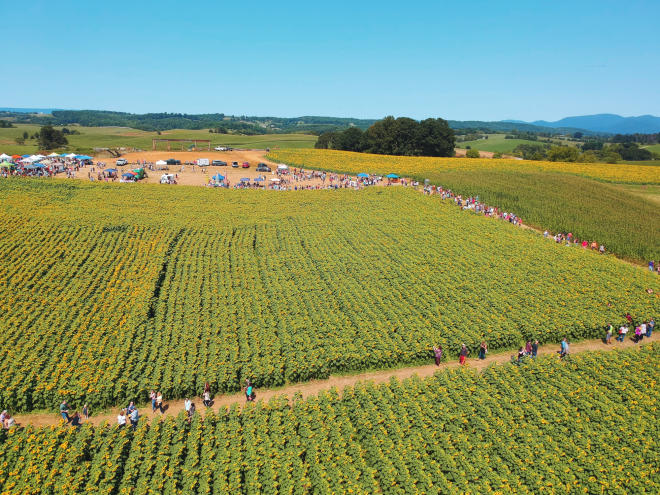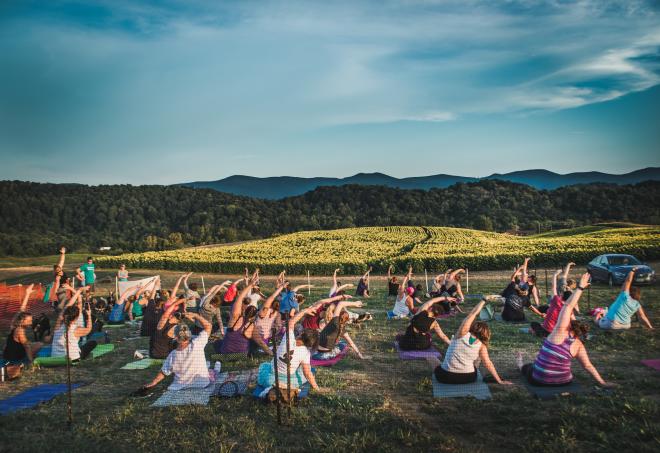 ---
More than 90 arts, crafts, and food vendors bring their wares to the field each year, including many from all over Virginia and some from out of state! You'll find so many sunflower themed items and artisan wares available for purchase, from jewelry and paintings to handmade wooden toys and furniture. 
You'll also love the options provided by the food vendors in attendance. With old-fashioned ice cream, wood-fired pizza, wonderful BBQ, donuts, kettle corn, and even Chick-fil-A, you won't go hungry.  
Betcha Didn't Know
You can plant your own plot of Beaver Dam Farm sunflowers or buy a bag of Beaver Dam Farm sunflower seeds, which can be found at nearby Northwest Hardware locations and The Best Place Antique Store.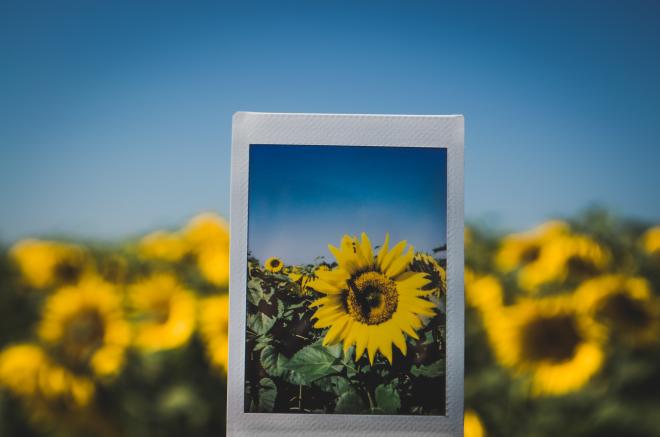 Photography
As mentioned above, sunflowers beg to be photographed and many people want to be photographed among them. However, spending too much time or setting up a styled shoot may detract from the experiences of others who attend the festival. Photographers who would like to host a photo shoot in the sunflower field should email Candace Monaghan at BeaverDamSunflowers@gmail.com for additional details and to book a spot. There are half and full day options available.
Also, don't forget to take a photo with the #Lovework and share it via your preferred social media platform. Tagging @visitvbr is also highly encouraged. :)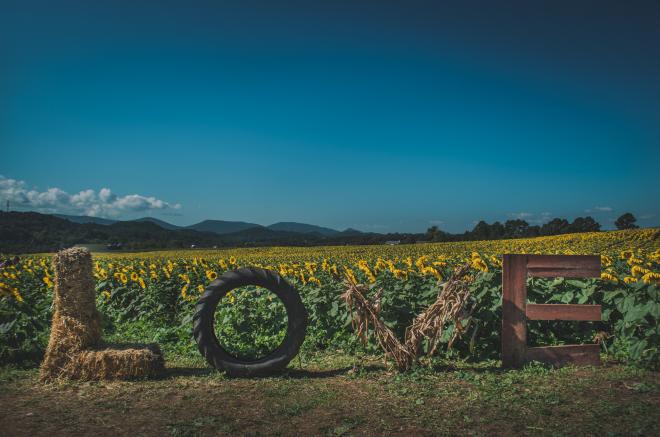 Quick Tips
Tickets are required to enter and are sold online in advance for many of the activities & events. Purchase tickets >
Leashed service dogs are permitted; all others are not.
The farm is forced to close if there is heavy rain. It will remain open with light showers.
This is a working farm. There is no natural shade and the paths are gravel, dirt, or grass. There will be bugs so insect repellent is strongly recommended.
Parking is free; a limited number of handicap spaces are available so let the attendant know if one is needed.
Port-a-johns are available around the festival area and parking lot.
Please do not pick your own sunflowers. Flower stems are available to cut from a selected patch and can be purchased for $2 each.
Nearby Fun
Turn your visit to the Beaver Dam Farm Sunflower Festival into an entire fun weekend in Botetourt County in Virginia's Blue Ridge! Don't miss the Freedom Fest 2021, which will be held at New Freedom Farm on September 11-12, 18-19, and 25-26. It's only 5 miles from Beaver Dam Farm and will feature a variety of vendors, live music and raffle items. The event will help New Freedom Farm continue in its mission of raising awareness about veteran suicide and "healing heroes through horses."
Located in the nearby Town of Buchanan is an adorable main street, with a classic soda fountain (Buchanan Fountain & Grille), amazing sweet treats at The Witt Stop, charming Buchanan Theatre, Twin River Outfitters to help you get on the Upper James River Water Trail, great local shops, and its iconic Swinging Bridge.
Check out our Botetourt County section to learn more about ways you can enjoy this unique part of Virginia's Blue Ridge.
Special thanks to Jenny Marie's Photographie for providing many of the photos in this post.