Winter is one of the best seasons to be in the great outdoors of Virginia's Blue Ridge. The trees are barren, exposing scenic beauty that goes unappreciated during the greener seasons, and some days offer unseasonably warm weather, too.
And we're always ready for a ride in America's East Coast Mountain Biking Capital!
​Before You Ride: Familiarize yourself with the Leave No Trace Outdoor Ethics for Mountain Biking - a set of guidelines to help you enjoy the trails responsibly and minimize your impact on the natural environment.
Roll out your bike and layer up to take on these five awesome winter biking adventures in Virginia's Blue Ridge before spring buds steal the show. 
​NOTE - During winter months, it's especially important to be mindful of trail conditions and the damage that can be done when riding during the freeze-thaw cycle. This post from Roanoke Outside is a helpful resource on tips for riding during the winter season. Learn more >
There are 10 miles of single track, multi-use trails within the 568-acre mountaintop destination of Mill Mountain Park. You'll want to avoid the Watchtower and Star Trails as they're for pedestrians only. At less than three miles from downtown Roanoke, Mill Mountain Park is an easily accessible place to ride and you know there's warm food and drinks nearby when you've conquered it.
Download: Mill Mountain Park Trail Map >
Group Ride: Cardinal Bicycle will be hosting a weekly Mullet Ride every Wednesday night (January 6 - March 31, 2021) at 6:00 p.m for mountain biking on Mill Mountain. The ride starts and ends at Starr Hill Pilot Brewery. Mullet Ride Info >
Glistening Philpott Lake is the focal point of any outdoor activity at Jamison Mill Park. Traverse more than six miles of moderate to strenuous trails to discover various views of just one cove of the 3,000-acre reservoir. There should be plenty of wildlife to see, and terrific views from a variety of points along the way.
Download: Jamison Mill Park Trail Map >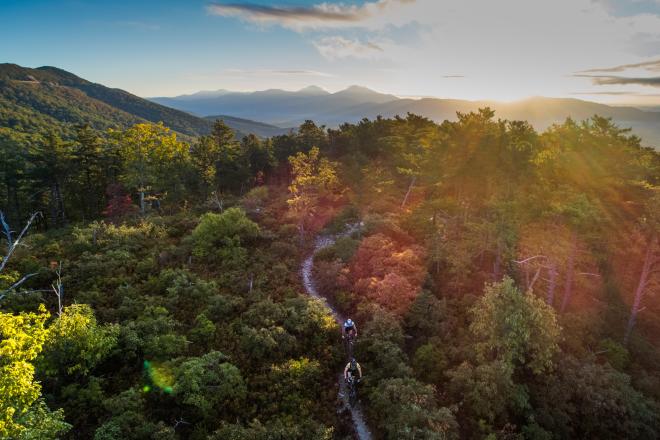 If wild mountain trails excite you, you'll want to try these loops in Jefferson National Forest near Arcadia. The four-mile beginner trail starts and ends at 1662 McFalls Creek. The 11.8-mile intermediate trail rides along North Creek, climbs Thomas Mountain, and rides along Pine Ridge. The beginning and ending point for both this trail and the next is 462 Jennings Creek. The expert trail traces the intermediate trail, dances along Cove Mountain, and rides the ridge of Little Cove Mountain before skirting along Jennings Creek for a total of 21.4 miles.
MTB Project: Arcadia Loop Ride Info >
The rocky ridgeline of North Mountain appears jagged, much like the back of a dragon, and so the name Dragon's Back has stuck with the locals. The views are as awesome as the trails on Dragon's Back; advanced riders best complete the near 14-mile challenge. [Singletracks Article by Greg Heil]
MTB Project: North Mountain Trail System Info >
5. Roanoke River Greenway | Salem to Roanoke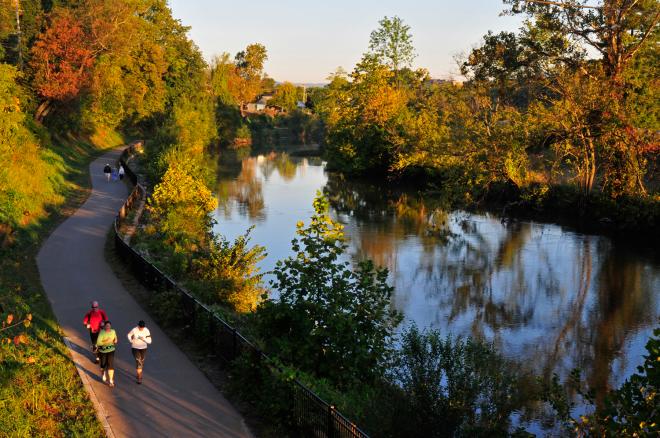 The Roanoke River Greenway isn't as challenging as the aforementioned trails, but it's a fantastic alternative for those who aren't in the mood to tackle muddy, snowy, or icy trails. From Riverside Park in Salem to Tinker Creek in Roanoke, this greenway of the greater Roanoke Valley Greenways collection sticks to the Roanoke River and travels through multiple parks along the way. The Greenway is not complete from Salem to Roanoke, but you can connect the route on city streets to get from Point A to Point B or ride one segment or the other as you wish.
Map: Interactive Greenway Map >
---
Winter's not so bad. Get out and enjoy the crisp air in Virginia's Blue Ridge and take your GoPro with you. We want to see what you see. Tag your social media #Trailsetter to showcase your ride. Check out Mountain Biking in Virginia's Blue Ridge for more inspiration.