Delicious comfort food is a staple in the Roanoke Valley in Virginia's Blue Ridge. It's part of the region's rich heritage, and you get a sense of the love and hospitality of locals when you can enjoy a meal that reminds you of Grandma's cooking.
We love our comfort food in Virginia's Blue Ridge! From blue-collar to blue ribbon, there's something about traditional Southern classics like biscuits, fried chicken, and mac & cheese that brings everyone together.
It's perfect for warming you up on a crisp, fall day, or it can serve as the ideal meal after a full day of hiking or biking on the incredible trails in the region.
For your next feast, here are some local restaurants in Virginia's Blue Ridge that hit the spot for great comfort food.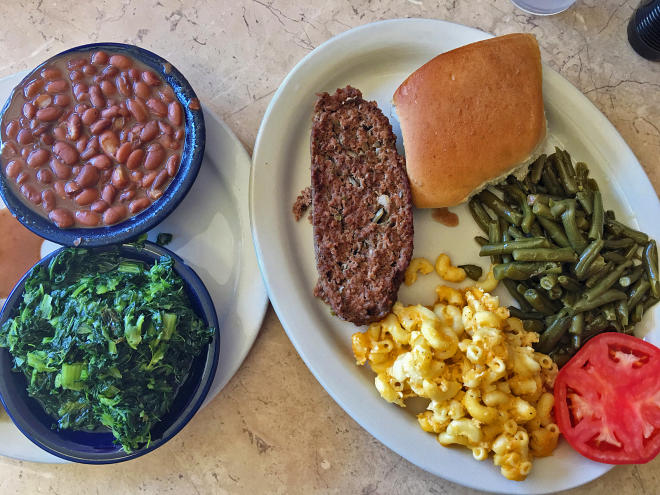 Located in the heart of the Town of Vinton, Dogwood Restaurant offers daily specials throughout the week that feature all the comfort food classics.
From meatloaf to chicken & dumplings and country fried steak, or even a vegetable plate with items such as mac & cheese, turnip greens, and stewed cabbage, it's a delicious meal at a great price.
Dogwood Restaurant Facebook Page >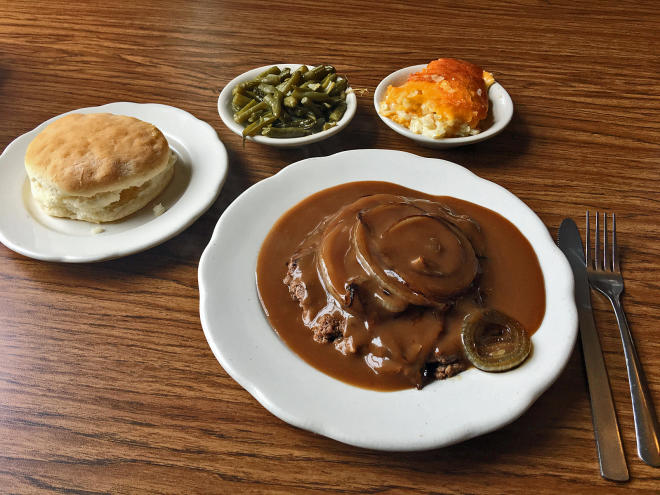 While Maw & Paw's might be known for having one of the best burgers in Virginia's Blue Ridge, it's also a great spot for comfort food.
Of course, you could have the best of both worlds by ordering Ralph's Special - a hamburger steak covered in gravy and onions!
Your eye might also be drawn to other things on the menu such as liver & onions, country ham, and frog legs. You read that right. Frog. Legs.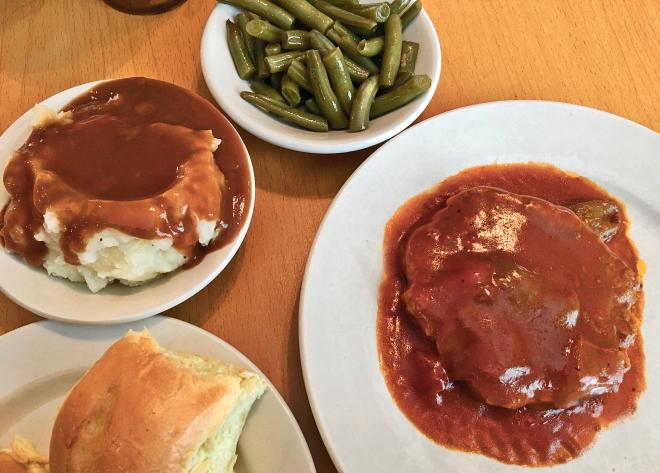 The daily specials at Franklin Restaurant will hit the spot as you're traveling through Franklin County on Route 220. The menu regularly features pepper steak, meatloaf, fried chicken, country ham steak, and fried fish.
The Franklin Restaurant also is open daily at 6:00 a.m. and is a great option for a hearty breakfast.
Franklin Restaurant Facebook Page >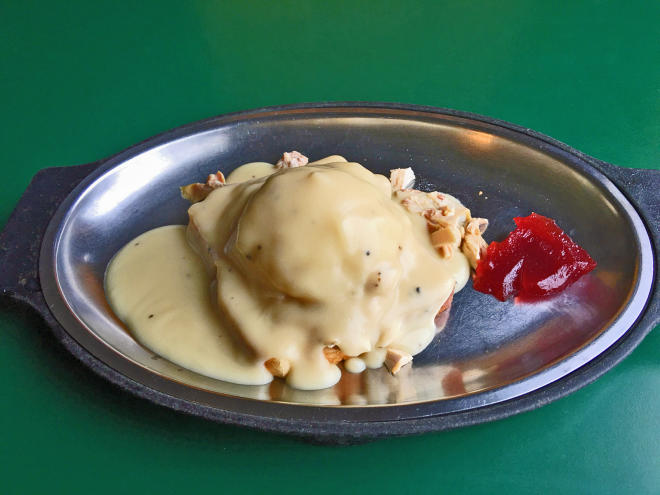 Who says it has to be Thanksgiving to enjoy turkey, mashed potatoes, gravy and cranberry sauce? You can get it all on an open-faced sandwich at Greenwood Restaurant off Route 11 in Troutville!
This restaurant has specialized in homestyle cooking since 1952 and is a spot where you're sure to hear some unique local stories when you find a seat at the counter.
Take a scenic drive out Route 311 from Roanoke to Craig County and then have a delicious meal at The Swinging Bridge Restaurant in Paint Bank.
The dining room is beautifully decorated as a rustic lodge and the menu features a variety of locally-sourced buffalo dishes, smothered & covered chicken, BBQ that is smoked on location, and homemade desserts.
There are also Blue Plate Specials on Friday, Prime Rib on Saturday, and Pan Fried Chicken on Sunday.
Swinging Bridge Restaurant Menu >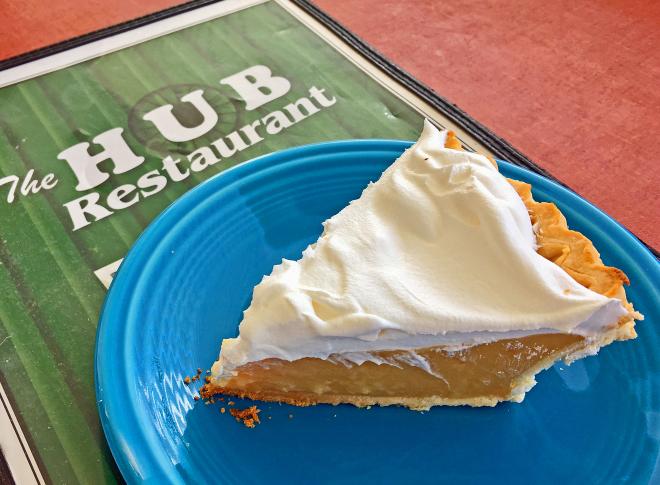 With breakfast served all day and entree options such as pork chops, flat iron steak, and country ham, it's no surprise The Hub Restaurant is regularly voted one of the top restaurants in Rocky Mount.
It's also a spot where no one judges you if you can't decide and order multiple things off the dessert menu.
Signature pies like Coconut, Butterscotch, Chocolate, Apple and Pecan are made from scratch daily by Miss Tammy, but arrive early to make sure they don't sell out of your favorite flavor!
The Hub Restaurant Facebook Page >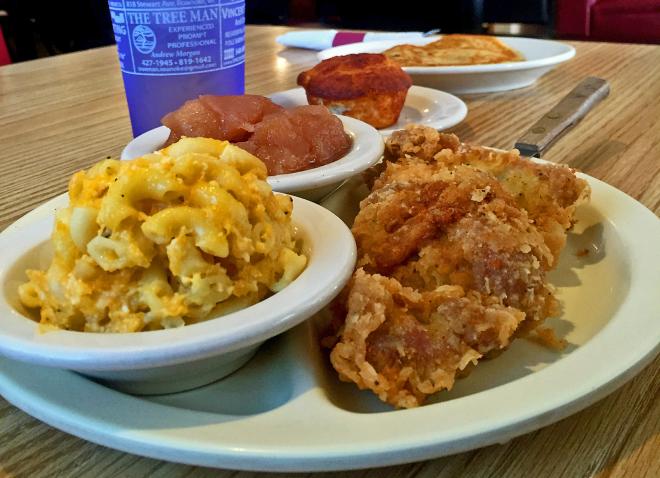 A meal that features a meat and three sides for a reasonable price?! Jerry's Family Restaurant has you covered!
Pan fried pork chops, meatloaf, fried chicken, and hamburger steak are regular favorites, which you can have with sides like mac & cheese, cinnamon apples, mixed greens, and stewed tomatoes.
On Sundays, diners also have the opportunity to order all-you-can-eat family-style meals.
Jerry's Family Restaurant Menu >
If you're traveling along Interstate 81, Foot of the Mountain Cafe is located just off the highway at Exit 168 in Botetourt County and is definitely worthy of a stop.
They feature upscale comfort food, as well as a variety of delicious burgers and sandwiches. Comfort food favorites include pan-seared salmon, sirloin steak, pork chops, buttermilk fried chicken, and shrimp & grits.
Foot of the Mountain Cafe Menu > 
Located on West Main Street in Salem, Gina's Food with Flavor is located in a historic home that is the perfect setting for a restaurant featuring comfort food.
The menu includes Southern classics like fried chicken, catfish, pork chops, salisbury steak and other daily specials. You'll also love the tasty sides dishes like collard greens, mac & cheese, green beans, mashed potatoes, and assorted cobblers for dessert.
Gina's Food with Flavor Menu >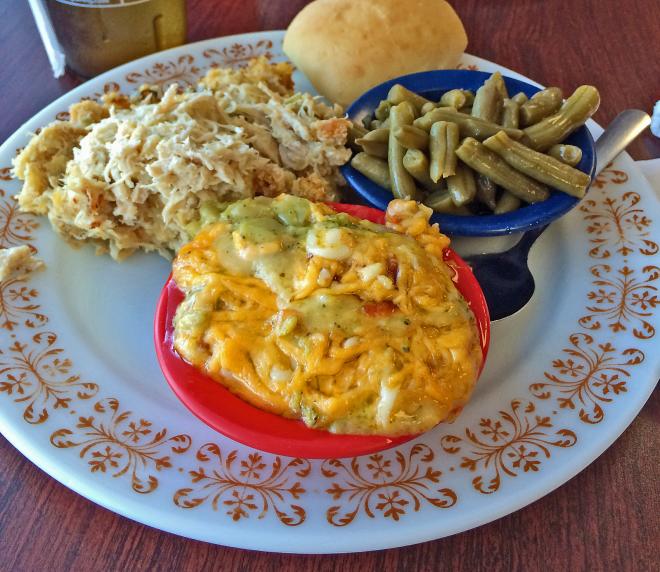 Ruth's Place features an impressive rotation of daily specials that regularly make appearances on the menu.
Examples of the daily specials include pork chops, chicken casserole, salisbury steak, baked ham, and chicken fried steak, and Ruth's Place also has a variety of sides that change daily, which even includes cobbler, sweet potato casserole, and banana pudding!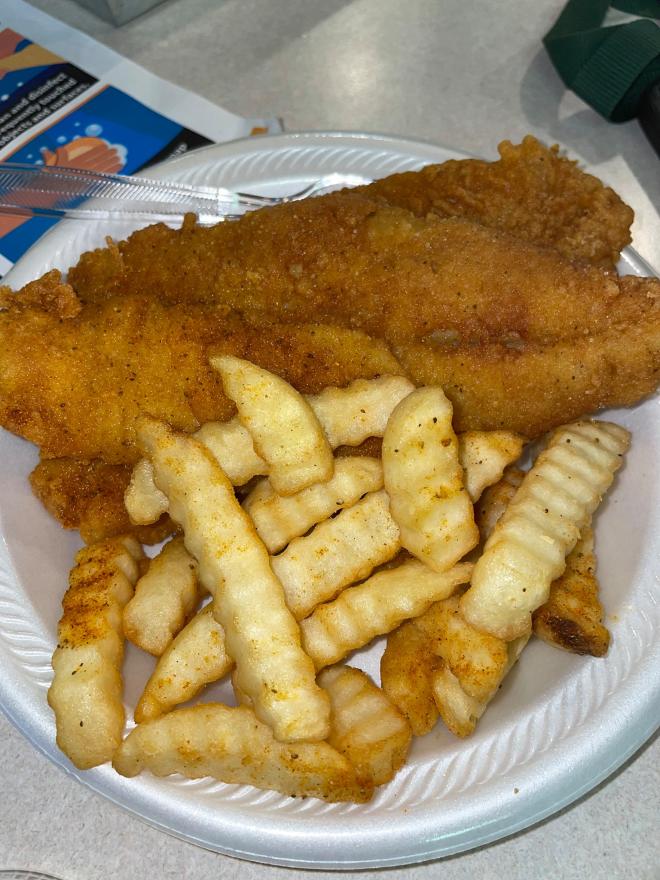 CrossRoads is a family-owned restaurant that specializes in made-from-scratch soul food and desserts.
They feature delicious specials like chicken & waffles, shrimp & grits, fried catfish, and lemon pepper wings. And don't forget to leave room for some banana pudding & snickers cupcakes for dessert.
CrossRoads Soul Food Facebook Page >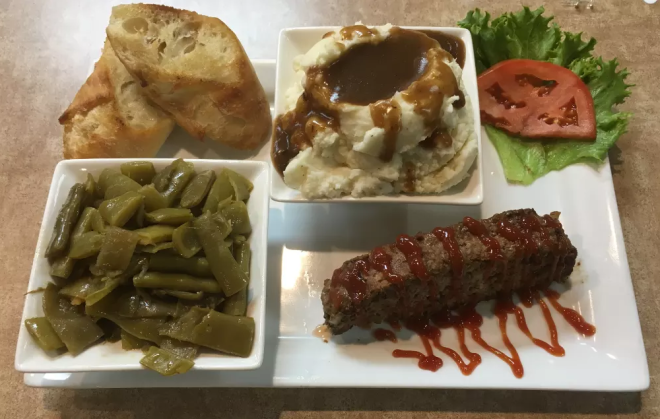 Whether it's Meatloaf Monday, Pig Pickin' Thursday, or breakfast options like the Southern Smothered Buttermilk Biscuit Skillet and Country Boy Omelet, you'll have no trouble finding something delicious during a visit to Angelle's Diner.
The restaurant has convenient locations off Interstate 81, at Exit 150 in Botetourt County and Exit 137 in Salem, for those looking for a place to stop while driving through the region.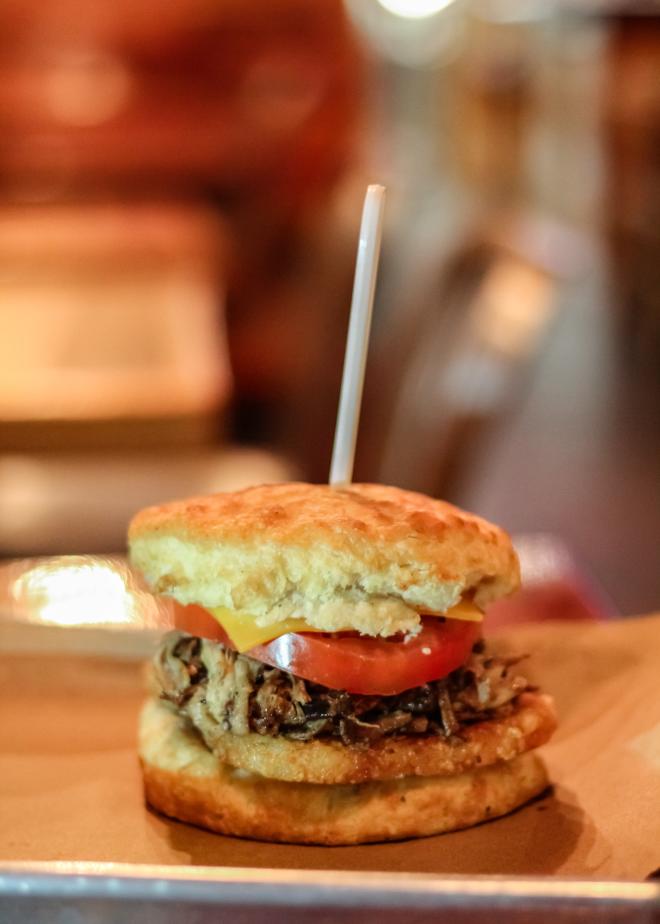 Scratch Biscuit Company in Grandin Village quickly earned a great reputation and loyal following for its made-from-scratch biscuits and unique sandwich offerings.
Open for breakfast and lunch, you can top your biscuit with meats such as smoked brisket, fried catfish, country ham, and Nashville hot chicken.
If you want a biscuit that will serve as your meal for the day, try The Cowboy Crippler - a biscuit with brisket, country fried sausage, pulled pork, hash browns and cheese.
---
For more ideas on dining in Virginia's Blue Ridge, visit our Restaurants section. If you have questions about where you should eat, feel free to reach out to us on our social media accounts at @visitvbr.