Carvins Cove is the second largest municipal park in the country at a little over 12,000 acres. In that 12,000 acres you'll find around 60 miles of trail from scenic fire road to black diamond singletrack and everything in between. With most of those trail miles being open to mountain bikers, just about every rider can find a a trail to love at the Cove.
The Tour of Carvins Cove Lowers takes in some of the less mountainous terrain on offer. This ride is a little over 13 miles and includes one mile of pavement. Virtually everything else is high-quality singletrack.
 
Know Before You Go/Getting There
The ride starts at the Bennett Springs parking area where there is a restroom and a changing area. You need a pass to ride at the Cove and they are available at the parking area. If you buy one there, bring cash. Passes are $7 daily and $50 yearly. You can also purchase them online at westernvawater.org/i-am-a/recreationalist/reservations-passes-permits.
Keep in mind that there is no cell service to speak of at the Cove.
The website for the Cove has a great map of the Cove. It's a good idea to have a copy of the map with you whether saved on your phone or printed and in your pack. Bear sightings are common at Carvins Cove so be bear aware. (The National Park Service offers some great info on being bear aware here.)  You'll also see lots of other wildlife including some bald eagles if you're lucky!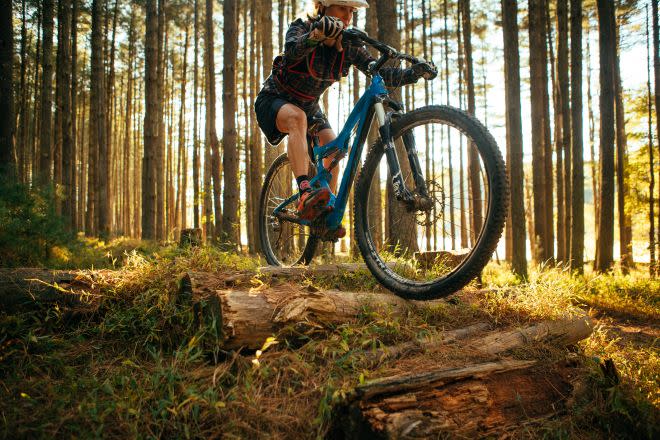 On the Route
You'll start with a climb from the parking lot up a short stretch of the Hi De Ho trail. You might start to think about the part earlier in this blog where I said "less mountainous" but have no fear, you'll be turning off the climb soon onto the Four Gorges trail. This and its sister trail--Four Gorges Extension, which you'll also ride--are some of this writer's favorites. They have a really nice flow overall and it's a great chance to settle into a groove. You can really enjoy yourself here. (Side note: the name Four Gorges is a double entendre: the trails are named not only for the gorges you'll cross but also for Bill Gordge, one of the Cove's most prolific trail builders.)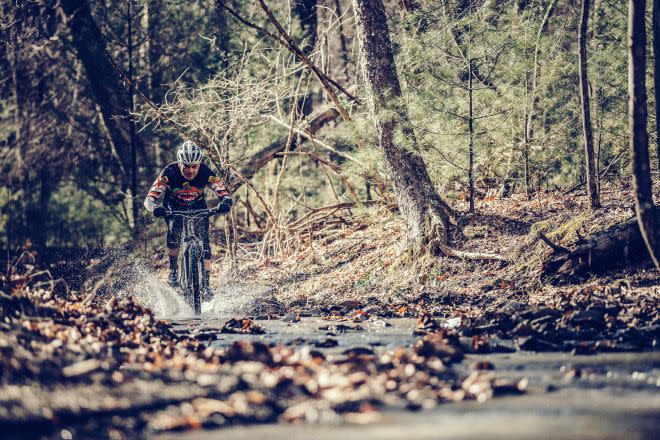 You'll drop off these two (but really kinda one) trails onto a short, fun descent on Tuck-a-way (named after an amusement park that existed in the community of Carvins Cove in the early 20th century) that leads to Enchanted Forest where you'll be rolling through a dense pine forest with incredible views of the reservoir. Wildlife abounds here.
The next trail of note is Rock-n-roll, a work of art still in progress. When it's finished this will be one of the longest (if not the longest) trails at Carvins Cove. Another thing about this one: most people tend to ride it the opposite direction of this loop. Your writer happens to think this way is more fun. You have a bit of a climb at the beginning, and yes, it's a little heartbreaking to climb past the series of fun little jumps you'll see that you'd be having fun on if you were going the other direction, but the payoff--IMHO--is worth it for the better flow the rest of the trail has in this direction.
Arrowhead, with its fun little tech-y sections and punchy climbs comes up next followed by Songbird, a great way to finish out the singletrack. 
You'll pop out on the pavement and have an easy spin back to the parking lot where you can reminisce about the ride.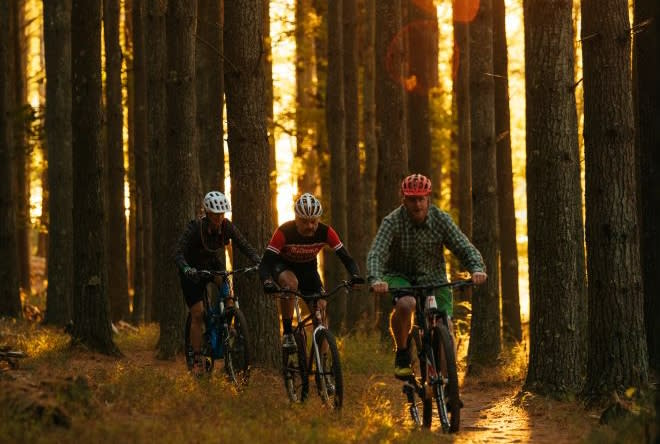 After Your Ride
Post ride refueling and refreshments are easy to find at Parkway Brewing on Kessler Mill Road just a few minutes outside the Cove. The beers are tasty and and you can grab a bite from the food truck on site. It's a popular place for mountain bikers and other outdoor lovers and it has a really great vibe. Most evenings and on weekend days there's live music on tap as well.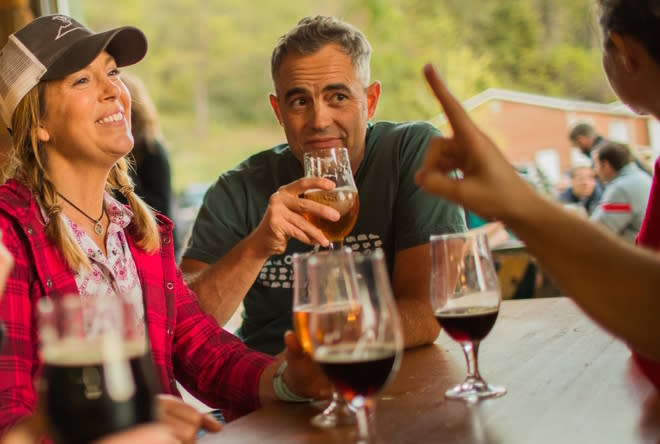 Check out the route profile and download the GPX file on our Ride with GPS account. 
Be sure to tag us on Instagram @bikeVBR and @visitVBR if you head out to explore this ride!