Everyone who comes into the Roanoke area knows Poor Mountain even if they don't know they know it: At a little over 3900 feet, it's the tallest mountain in the area and the row of radio and television antennae across the top serve to make it unmistakable.
Cyclists know it because it's one of the tougher climbs around at over 5 miles and more than 2000 feet of elevation gained, with the difficulty increased by the fact that the last 3+ miles are on gravel. For ten years the Poor Mountain Hill Climb drew racers from around the region to tackle the challenge. While the route was a little different than what this ride uses (it started closer to the actual beginning of Poor Mountain Road and therefore was a little longer) you can mull over the course record of 37'16" set by pro mountain biker Jeremiah Bishop. 
This 38ish mile route takes you through Roanoke and into Salem to tackle Poor Mountain and then across the top of Bent Mountain onto more gravel before you enjoy a spectacular descent down Sugar Camp Creek Road. 
 
Know Before You Go
Gearing. Most riders will want some low ones. The climb is long and steep and quite rough in spots. 
Tires. You're on gravel for a good part of this ride and some of it is pretty chunky. We'd recommend at least 35mm tires and 40mm or larger is going to be more comfortable for most folks. You'll be well served to take a moment to lower your tire pressure once you turn onto Poor Mountain Road.  
On the Route
The ride starts in Grandin Village. We like starting from Scratch Biscuit where you can fuel up with a hearty breakfast. Scratch is also right next to Cardinal Bicycle for any last minute bike needs. Cardinal also has a cafe and coffee bar so you can grab your eats there if you prefer.
The route leaves from Grandin and takes Brandon Avenue towards Salem. Brandon is a pretty busy road but it has a bike lane most of the way out. Once you're in Salem you'll be accessing the Roanoke River Greenway on what we would argue is one of the prettiest sections. Enjoy it: it's scenic...and flat. You'll be leaving the flats behind soon enough.
A few turns off the Greenway and you'll hit Harborwood Road just past Green Hill Park. Harborwood will t into Poor Mountain road. 
The bottom part of the climb starts out paved and the grade is gentle. That changes pretty quickly as the road turns to dirt and the steepness slaps you in the face. It's a gorgeous climb so just keep telling yourself it's all worth it.
You'll gain around 2400 feet of elevation with an average grade of just under 8%. Save some gas because the turn at the top onto Honeysuckle Road is over 10%. It's totally worth it to say you've truly reached the peak and to take in the view.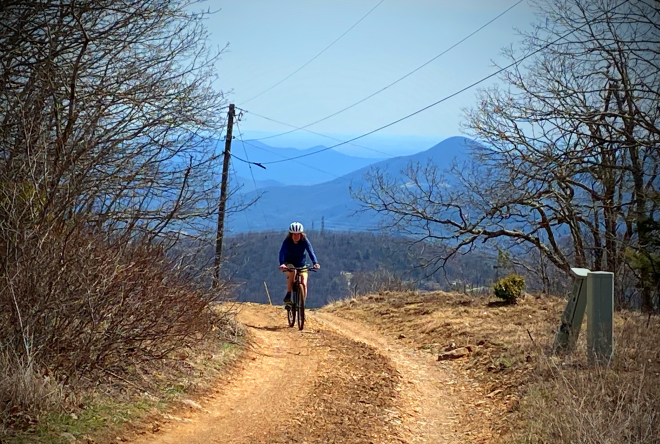 It's a short but sweet descent on the paved Bent Mountain side of Poor Mountain Road. You'll cross over Route 221 as you pass through the outskirts of the Bent Mountain Community on the edge of Roanoke County. There's a lot of great riding on top of Bent Mountain and you'll get to experience a little of it on this ride as you head out Slings Gap to access the big descent of the day: Sugar Camp Creek Road.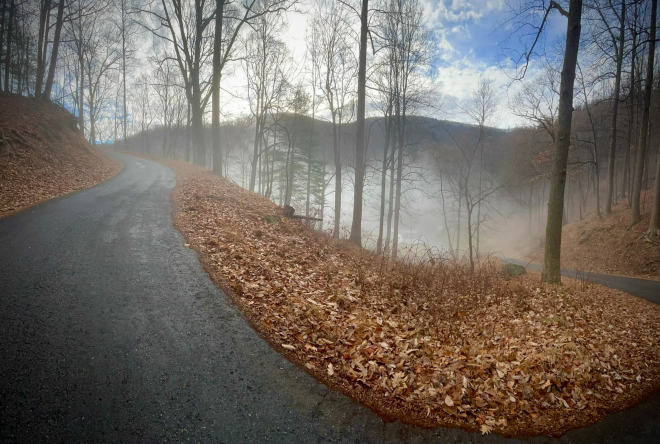 Sugar Camp Creek is revered as possibly the hardest climb in the Roanoke Valley but you'll be heading down it on this route. The top section is dirt and it rolls across the ridge before things head steeply downhill with some sections at a grade of over 18%. You'll definitely want to keep things under control and you might be thankful that the dirt turns to pavement before the steepest parts.
The last switchback is just before Marie Drive off to the right. Once you pass Marie Drive you'll know you're done with the most technically-demanding part of the descent. The rest of the downhill is fast and fun. After that it's just a few miles back to the start with no more climbs to speak of. 
A good part of the ride back to Grandin is on Route 221/Brambleton Avenue. It's a busy road with little shoulder until you cross Electric Road where a bike lane begins. Be aware and be sure to have your daytime running lights on. You can let your legs spin out a bit as you ponder on where to refuel.   
After Your Ride
If you're like us you started the ride at Scratch Biscuit and enjoyed one of their incredible biscuit sandwiches before heading out.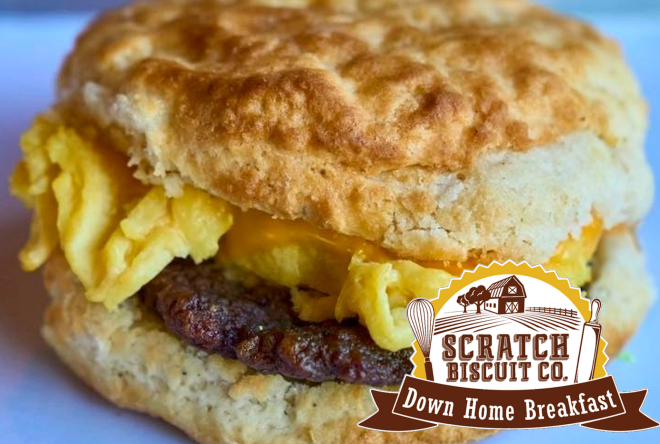 Now that you're back you have a lot of great options right in the Grandin area. We won't list them all here but we'd suggest you check out the Grandin Village website, and also just to walk around the area a bit as you decide what strikes your fancy. The Village is listed on the National Register of Historic Places and has been noted as one of Roanoke's best examples of a mixed-use urban village.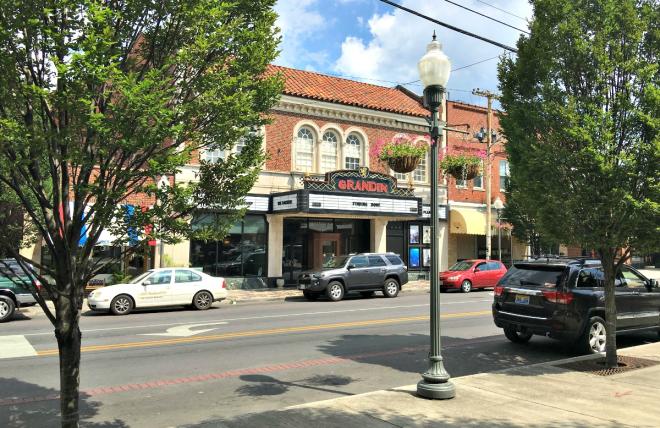 Check out the route profile and download the GPX file on our Ride with GPS account. 
Be sure to tag us on Instagram @bikeVBR and @visitVBR if you head out to explore this ride!