Arcadia. Just the name sounds fun, doesn't it? If you're a lover of beautiful and often tough bike rides, Arcadia, Virginia has a lot more to offer then just a name.
We've blogged about Arcadia before but that was about the mountain biking (which is also pretty spectacular). This writeup is all about the gravel for there is lots and lots of it to be explored.
Know Before You Go
Our 30 mile loop starts at a parking area along Jennings Creek Road a few miles off Interstate 81 and just inside the entrance to the Jefferson National Forest. You'll ride along the James River to Natural Bridge Station and then back towards Arcadia.
The ride is a mix of paved and dirt roads with generally very low traffic. Ride with GPS is off quite a bit in their breakdown of paved versus unpaved mileage, mostly due to Gillmers Mill Road which they list as paved but is mostly unpaved.  
The condition of the gravel sections can vary based on when grading has been done but it's largely pretty well-packed. You won't need the super-wide tires with low pressure for this one: 35mm-40mm tires and 40-50 psi is a good starting point so you can enjoy the mix of pavement and dirt.   
With just over 2800 feet of climbing in the 30 miles this isn't really a flat ride but compared to a lot of others in the area and especially to others in Arcadia, it's not a monster by any means.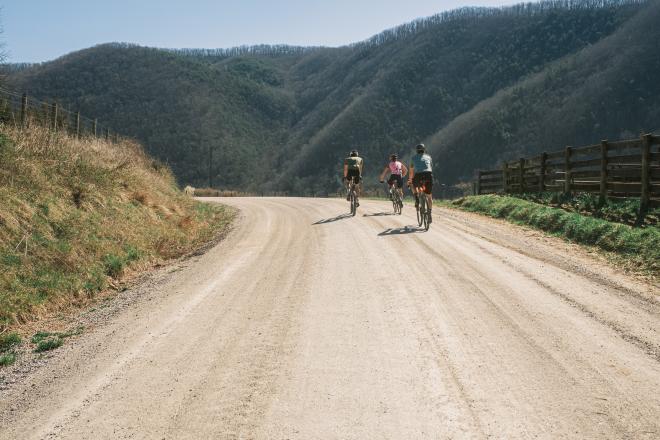 On the Route
 
There are really only two climbs to speak of on this route and the first is right at the start as you head back towards the Interstate. You'll ride along the frontage road for almost two miles. Don't despair: you'll soon turn away from the Interstate and you'll be into the fun part of the ride. The highlight of this ride--at least in this writer's opinion-is Gillmers Mill Road. Almost 7 miles long, It's flat and fast and the views of the Blue Ridge range towering over the James River as you head towards Natural Bridge Station are pretty jaw-dropping. It's the kind of road that you can't stop thinking about when you lay down to sleep that night. (Oddly enough the name also changes from Gilmers Mill to Gilmores Mill road partway through.)
You'll pop out into Natural Bridge Station as you make the turn to begin the ride back towards Arcadia. You'll also soon begin your ascent of the second climb on this ride. This one takes you up Thomas Mountain as you ascend around 1200 feet over 6 miles.
The descent of Thomas Mountain takes you past North Creek Campground, one of the many campgrounds in the area. You've done all the real work on this ride by now so just enjoy the pedaling.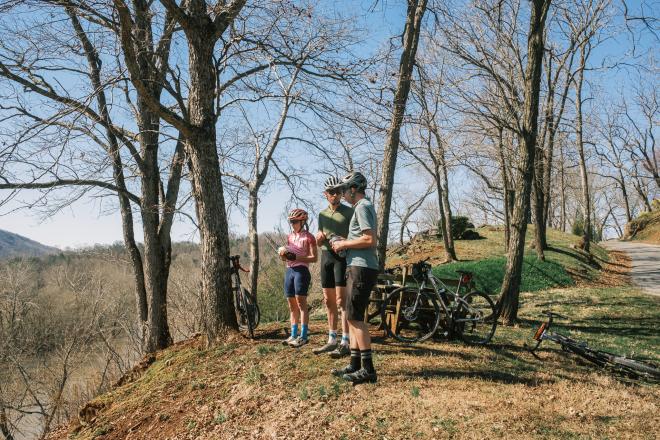 After Your Ride
When you're ready to refuel, take a short detour off the highway into the Buchanan and grab an ice cream or milkshake the Buchanan Fountain and Grille.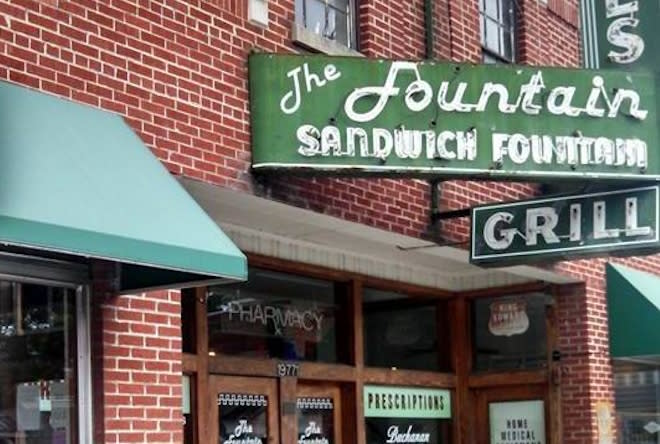 Check out the route profile and download the GPX file on our Ride with GPS account.
Be sure to tag us on Instagram @bikeVBR and @visitVBR if you head out to explore this ride!