Some of the best gravel around our area is found on the top of Bent Mountain on the Roanoke County/Floyd County line. The great part about that is that it's only a short drive from many areas of Roanoke: we're talking about fifteen minutes-ish from Cave Spring, making this pretty darn accessible. 
This particular loop is about 20 miles but it's easy to tweak it and add on as you wish. The back roads on top of Bent Mountain are generally very low traffic and they're all scenic. 
Even cooler is that the drive up and then back down Bent Mountain is gorgeous.
Know Before You Go
This particular ride starts from a little pull-off at the entrance to the Blue Ridge Parkway. It's a mix of pavement and gravel with about 7 miles of high-quality gravel. These gravel roads are generally in great shape but they can take a beating after weather events and they do get graded sometimes. Just be aware.
You could do this ride on 32mm road tires, but it's a lot more fun on something wider with some tread. The sweet spot is probably around 38mm-40mm with pressures in the lower-mid range. (Your writer is about 155 pounds and runs 40 psi up there.)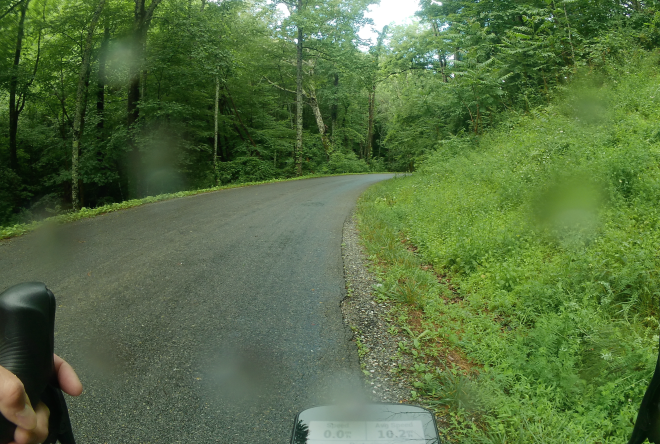 On the Route
You'll start out by crossing Route 221 onto Rocky Road. The fun pretty much begins here. It's paved but it's a really quiet road and it's pretty scenic. The first several miles are all paved but you probably won't really notice. The riding is so good you'll just be having a grand old time.  
From Rocky Road, it's a left on Bottom Creek Road, a right on Patterson and a left onto King Brothers Road to get to the gravel. The top of King Brothers road is the entrance to Floyd County and where the road turns into gravel and into Sugar Run Road, a classic stretch of dirt. It's a super fun descent with great twists and turns and the flora surrounding the road is top-notch.
Be aware that this is one of those stretches that can get sketchy after a hard rain so watch for ruts...and even downed trees sometimes.
Sugar Run descends  for a while before you climb up away from the gorge and it begins to flatten out. This is one of my favorite parts where if you want to push it, you can really fly, but if you just feel like cruising it's easy to do that, too.
Eventually you'll come to an confluence of roads where Pine Forest turns left off of Sugar Run but it also turns to Pine Forest if you basically stay straight. That's what you want to do.  Pine Forest will turn to pavement after a couple of miles  and shortly after that you'll turn left onto Copper Hill Road for a very short stretch before you hang another left onto Twin Falls Road. Twin Falls is another blast of a dirt road and it's surrounded by rhododendron, one of my favorite plants. On this particular day it had just rained making the rhodos flush with that awesome scent that only they give off. Really great stuff.
Twin Falls turns to pavement and soon after exits onto Route 221. This is a fairly busy 2 lane, 55mph highway. There's pretty much no shoulder. The good news is that you're only on this for half a mile. A left onto Countyline Road and you're back on those backroads. After just over a mile on Countyline you'll bear right on Patterson which you were on earlier in the ride.
Patterson takes you to Bottom Creek Road and you'll head back the way you came.
After Your Ride
Right on top of Bent Mountain only a few minutes from where you parked  there are a couple of great choices for food: Treehouse Tavern is a restaurant serving pizza, sandwiches and other delicious fare, and the Grateful Mountain Market sells really great prepared foods as well as produce and other local goods. 
Check out the route profile and download the GPX file on our Ride with GPS account. 
Be sure to tag us on Instagram @bikeVBR and @visitVBR if you head out to explore this ride!