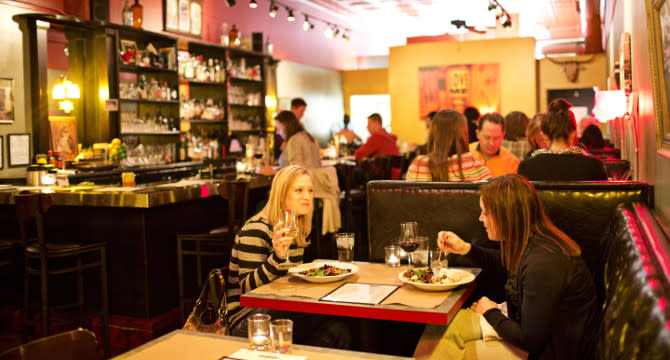 Lucky Restaurant in Downtown Roanoke is part of the innovative transformation that's taken place in the culinary scene of Virginia's Blue Ridge over the past few years.
Known for its unique atmosphere, creative cuisine and incredible cocktails, Lucky offers an experience that is helping put the region on the map as a dining destination.
The restaurant is owned and operated by Hunter Johnson, J.P. Powell and Head Chef Jeff Farmer. All three are from the area and are excited about being part of the local food culture.
Lucky opened in 2009 and has been part of the renaissance of Kirk Avenue in Downtown Roanoke over the past five years. The restaurant is located in a space that previously served as an art gallery, and it still has a unique vibe that is inviting to guests.
The Roanoke Valley CVB had the opportunity to talk with Hunter, Jeff and J.P. about what's happening at Lucky and how it fits into the overall dining landscape of Virginia's Blue Ridge.
Here is our conversation with them.
---
When you knew you wanted to open a restaurant, was a Downtown location important?
Jeff: In the beginning we looked at a lot of different places, but we kept coming back to this place, mainly because it was away from the [Historic Roanoke City] Market so you can set yourself apart there. It was a little risky but we saw Downtown expanding at the time. We knew it was going to grow outward from the Market."
Hunter: There was something about Kirk Avenue that had a lot of appeal to it. At the time, the Kirk Avenue Music Hall had opened and we had friends who owned a vinyl record shop on this street previous to us being here. There's just something nice about it.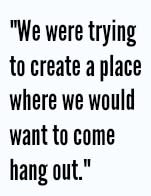 J.P.: It's just quieter. I know it sounds weird and you hear the typical restaurant person say they want to be in a high traffic area, but we had the opposite. We wanted people to come here because they wanted to come for something different. We wanted to be off the beaten path, so to speak. This little street has always had great energy. It just feels right.
Is the unique location part of helping create the different culture that exists at Lucky?
Hunter: We were trying to create a place where we would want to come hang out. We've been to a number of restaurants in New York and L.A. that we had really enjoyed being in and we thought this could work in Roanoke.
We were able to make it look the way we wanted it - the way it looked in our minds.
Jeff: We wanted it to be comfortable, more than anything.
How would you describe the food and cuisine at Lucky?
Jeff: It's a mix between French, which I first learned how to cook when I worked with a French chef, and Southern because I'm from the Deep South and grew up in the South. I like to combine those two things. It's about comfort food, mainly. Just really, flavorful, rich seasonal comfort food - whether it be from Northern France or Mississippi, which is where my family is from.
It's loosely around those two elements. French technique and Southern food and I go from there.
Hunter: We also put an emphasis on the idea of food and drink working together. If you have a food experience and drink experience on the same level, your experience is going to be much better.
And our service is important. Our servers have been here for a long time. They're friendly. You come in and they know your name. This is what they do for their career.
J.P.: Outside of the food and drink experience, you walk in here and it's warm, it's got a glow, it's inviting. There are no TVs - that's something that was a conscious decision we did that will never change. People converse. They have a good time. They connect. That's the atmosphere side.
Hunter: I always love when someone comes in and says, "I love that restaurant but I can't pinpoint exactly what it is I love about it," because you're hitting them with so many different elements.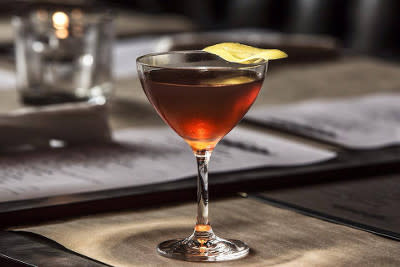 Lucky has become a place that's known for cocktails and a creative drink experience. What are you doing that makes it special?
Hunter: First, we all really like to drink.
Jeff: From day one, the focal point of the restaurant was the bar. At most restaurants, your bar is hidden in a corner or it's hidden in another room.
Hunter: We intentionally built our bar a little lower so that people are comfortable sitting and eating. We wanted it to be a dining bar.
We spend a lot of time thinking about our cocktails that we're doing. Because of this place, I've had the opportunity to go and drink in what are considered to be the best cocktail bars in America, and that's a great way to see how you're doing.
In the bar, I try to do things at the same level he [Jeff] is doing in the kitchen. Across the country, bartenders don't have the same training that chefs have, but we're trying to look at it from that same perspective. When Jeff creates a dish or we create a cocktail, it's not about just throwing some stuff together.
J.P.: We try to hold ourselves to a standard of - when we think about a restaurant experience - the food, drink - we're measuring it against some of our favorite places.
On the bar side, part of the experience is that we won't do certain things. We don't sell Red Bull here. There's no Jager Bombs or Red Bull & vodka. We don't have any issue with that, but we're trying to give a certain kind of experience and certain quality of cocktail.
You're here to enjoy cocktails and enjoy the experience. It's not because we're up-tight - we're trying to respect the whole experience of food and drink. When you do that, you're saying, "This is what we do and we only do it this way," instead of trying to be all things to all people.
How would you say Roanoke has evolved as a food destination?
J.P.: I think the food scene has changed and it's continuing to change and grow. I would challenge anyone to go to a city our size, especially for a Downtown area, to find as much variety and as many things as we have here in Roanoke.
I think people come here that travel love our place, but they're also surprised at how much there is to do, whether it's food, art, music, museums. I think we're really unique in that way.
I feel very positive about Roanoke's potential to be a restaurant destination as well as a tourist destination.
Hunter: I didn't realize we had so many great farmers and producers around our area that were getting recognition all up-and-down the East Coast that were in our backyard. No one from our area was really using their product. But now you're starting to see their products in multiple restaurants throughout the area. I think that's fantastic.
Jeff: The state as a whole is changing a lot. Virginia was just named by Esquire Magazine as the No. 1 food state in the nation for this year. I think it's a big change happening statewide. People now travel for food and they're going to cities specifically for food.
If you're going to out to eat in the area, where are you going for your guilty pleasures?
Jeff: I eat a lot of Chinese and tacos. I spend a lot of time on Melrose Avenue. And Popeye's Fried Chicken.
That's another great thing that's happened in Roanoke over the past couple years. When I first moved back here, you couldn't get a taco in town. Now, you can throw a rock and hit a little taqueria. I've got a gas station down the street from me where I can get tacos.
We've got a Banh Mi place on Williamson.
I eat a lot of ethnic, dive food.
Hunter: I love going to The River Rock in Salem. It's a good burger and onion ring joint. It's family owned and it's been there for 25 years.
What's your ideal way to spend a day in the area?
Hunter: I spend a lot of time at the Transportation Museum [Virginia Museum of Transportation] with my son. I also really enjoy taking my son to look at the fish in the aquariums at Center in the Square.
And the fact that we have the Harvester Performance Center now within 25 miles. That's a nice addition to our area. There's always a lot of live music going on in our area.
Jeff: Every other weekend with my kids, we go to the Taubman [Museum of Art] or Center in the Square. It's great and I think the Taubman is pretty underutilized by most people in town because I can spend four hours in there with the kids. With the discovery center they have for the kids and the galleries constantly changing, it's one of the best things to happen Downtown.
We're really lucky to have this much art in such a small town. We've got Mill Mountain Theatre, Center in the Square, the Science Museum [Science Museum of Western Virginia], Taubman Museum, Transportation Museum and all the galleries around.
---
The Roanoke Valley CVB would like to thank Hunter, J.P. and Jeff for their time. Learn more about Lucky at their website and check out the restaurant at 18 Kirk Avenue SW, Roanoke, VA 24011. Recommendations are encouraged - 540.982.1249.