Local, regional, national, and international art is on display indoors and out in Virginia's Blue Ridge. Small museums and large showcase art appealing to students, those with a new appreciation for craft, and history buffs, too. 
There's an art destination for everyone, and this is an art lover's guide to Virginia's Blue Ridge.
Museums
Taubman Museum of Art | Roanoke
A permanent collection of 19th and 20th century art is at home at the Taubman Museum of Art in downtown Roanoke. Ten galleries exhibit portions of the collection as well as traveling exhibits from around the world. One of the most interesting exhibit spaces is the soaring atrium, which features 77 feet of glass. Vibrant, intricate installations have included those by Dale Chihuly and Rachel B. Hayes, but Charlie Brouwer's "Rise Up Roanoke," a representation of the Roanoke Star crafted with 286 ladders, was perhaps one of the more interesting and impending. The latest in the space is the site-specific Flower Bomber by Paul Villinski, which will be on display until July 12, 2020. 
Eleanor D. Wilson Museum at Hollins University | Roanoke
Emerging, renowned, and regional artists' work occupy space alongside pieces from the permanent collection at the 4,000 square foot Eleanor D. Wilson Museum at Hollins University. A full calendar of programming and special events, including artist talks and symposiums, ensures there's something fresh to experience and learn often at the Wilson Museum.
O. Winston Link Museum & History Museum of Western Virginia | Roanoke
Housed together, the O. Winston Link Museum and the History Museum of Western Virginia are a perfect pair. The Link Museum showcases the artist's acclaimed black and white photography of trains and railroad heritage while the History Museum brings in local history, which includes the impact the railroad had on the development of Roanoke and Virginia's Blue Ridge. Also, in the History Museum visitors will learn about the culture of Western Virginia, as the destination holds the largest collection devoted to human history in the area.
Harrison Museum of African American Culture | Roanoke
African American art and culture is celebrated at the Harrison Museum of African American Culture, an organization devoted to capturing and sharing oral histories, photographs, and objects relevant to African American life experiences in Roanoke and around the world. 
Blue Ridge Institute & Museum | Ferrum
The official state center for Blue Ridge folklore, the Blue Ridge Institute & Museum captures Blue Ridge Mountain history in the forms of music, art, crafts, and even a living history farm. The sounds of The Crooked Road: Virginia's Heritage Music Trail ring out at the Crooked Road Royalty & Musical Styles exhibit while 1800s farmstead life is demonstrated at the Blue Ridge Farm Museum. An heirloom garden and heritage animal breeds bring the past to life.
>> Virginia's Blue Ridge featured in Art Times
Studios & Galleries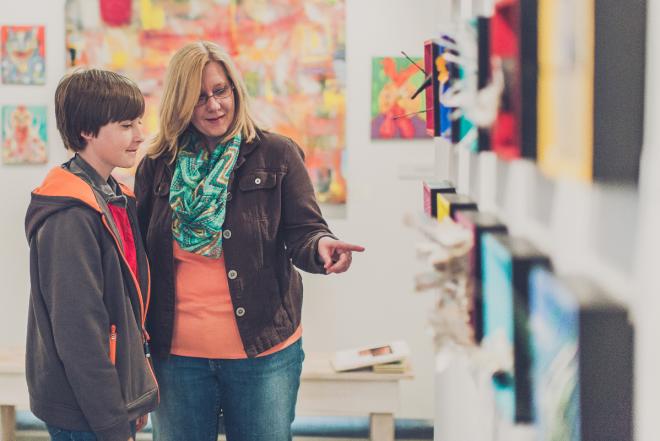 Olin Hall Galleries at Roanoke College | Salem
The permanent collection of Olin Hall Galleries at Roanoke College rotates through the gallery alongside invited contemporary exhibitions. Nine exhibits by local, national, and international artists are offered each academic year along with corresponding educational opportunities. Among the permanent pieces are Boheme Porcelain, Andy Warhol, and the only chronological collection of art depicting the life of Mary Queen of Scots.
Moss Arts Center at Virginia Tech | Blacksburg
Art that taps into culture to raise awareness or give a better understanding are often the choice for exhibition at the Moss Arts Center at Virginia Tech. The concert hall at the Moss Arts Center is also one of the most stunning performing arts venues in the region.
The Little Gallery | Roanoke
Works by more than 200 artists you may have heard of and more you haven't are available at The Little Gallery. Pottery, blown glass, fine art photography, and sculptures are only some of what you'll find.
The Market Gallery | Roanoke
Original contemporary fine art pieces by 26 regional artists decorate the space at The Market Gallery. Turned wood, pottery, collages, and a variety of other artistry are all within walking distance of the Taubman Museum of Art.
WILSON HUGHES gallery | Roanoke
This downtown Roanoke space overflows into the alley with spray painted art on the west wall of the brick building. Inside you'll find furnishings, paintings, and interesting sculptures to consider for your home, office, or gift.
Public Art
Elmwood Art Walk | Roanoke
Nine temporary art installations show a "City in Motion" along the Elmwood Art Walk in Roanoke's Elmwood Park. See pieces comprised of steel, aluminum, bronze, marble, fiberglass, foam, and more.
LOVEworks
As a way to spread the word that Virginia is for Lovers, Virginia Tourism Corporation rolled out the LOVEworks campaign to place unique-to-location "LOVE" art installations in various parts of the Commonwealth. In Virginia's Blue Ridge there are such LOVEworks at Peaks of Otter Winery in Bedford, in Downtown Roanoke, at Smith Mountain Lake, and in Vinton. Each sculpture showcases the vibe of its location. When you stop at one, take a pic and share it socially with #LoveVA and #BlueRidgeDay!
Wall Murals
Free-to-see art in public spaces are a delight, and our wall murals are no exception. You'll want to take a quick route through Roanoke to see some of our favorites, like the Toobz-designed mural on Dale Avenue that was painted by neighbors in the community. In downtown Roanoke, look for the "Greetings from Roanoke" vintage postcard-style mural across from Elmwood Park at Virginia Western Community College. In historic Grandin Village, you can't miss "The World is a Village" by Toobz.
Martin Luther King, Jr. Memorial | Roanoke
Dedicated 10 years ago, Virginia's only life-size statue of Dr. Martin Luther King, Jr. stands on the Martin Luther King, Jr. Bridge, which connects the once segregated community of Gainsboro to downtown Roanoke. The plaque below the statue reads, "Say I was a drum major for justice. Say I was a drum major for peace." The statue was created by Jeffery and Anna Varilla.
>> 10 Public Art Pieces to See in Virginia's Blue Ridge
Events
Art by Night | Roanoke
On the first Friday of each month the galleries and studios of downtown Roanoke come alive with artist and visitor interaction. Live music and demonstrations keep things hopping until 9 p.m.
Sidewalk Art Show | Roanoke
The annual summer Sidewalk Art Show hosted by the Taubman Museum of Art is one of the premier art events in Virginia. It's a full weekend that usually showcases over 100 artists and is a one-stop-shop for art buyers and enthusiasts.
Festival in the Park | Roanoke
Held annually over Memorial Day Weekend, Festival in the Park is a three-day celebration of art, music, and culture. Kids activities ensure that it's a fun event for families, too.
Open Studios Botetourt
Open Studios Botetourt is a self-guided, two-day art tour that occurs annually in the fall. Pick up a passport at the first stop and visit each artist studio at your leisure. A completed, returned passport enters you into a prize drawing.
---
Map of Locations
---
If you have a love of art like we do, you'll want to visit all of these locations and attend all of the events. As you go, don't forget to capture your moments with artist meetings, LOVEworks sculptures, and cool finds along the way. If you share your "art" socially, include the hashtag #BlueRidgeDay to show off your adventure.