Winter in Virginia's Blue Ridge is a bit on the chilly side, but we know a few great places to warm up with fantastic beverages. Their food is top-notch, too. 
These are the places you'll want to seek out after a day of sledding, shopping, or museum hopping. Actually, we don't even need an excuse to go. Won't you join us?
Here are five warm drinks to try this winter in the Roanoke Valley in Virginia's Blue Ridge.
Have you ever taken the time to really taste coffee? At Sweet Donkey, you're encouraged to savor it like a fine wine. Let your palette pick out distinct flavors of citrus, chocolate, raspberry, or vanilla that is evident in certain coffee beans. Ask for the Orange Silk Latte, a signature drink featuring their house-made caramel syrup and a hint of orange essence. You won't be disappointed in this one! Ask about the quiche of the day and settle in to enjoy the environment.
Single-origin and fair-trade organic coffees makes up the coffee menu at Little Green Hive's two locations - Downtown Roanoke & Grandin Village. The local favorite Red Rooster Coffee is available here, as are coffees from Sumatra, Guatemala, Colombia, Mexico, Nicaragua, Ethiopia, and Peru. 
A favorite hot drink at Little Green Hive is the Mexican Mocha featuring dark chocolate, cayenne and cinnamon, for a fun sweet & spicy combination. If you're looking for a nice tea, however, try the Honeybush. It's imported from the Cape of Good Hope, and it's a sweet, fruity delight!
See the Little Green Hive Menu >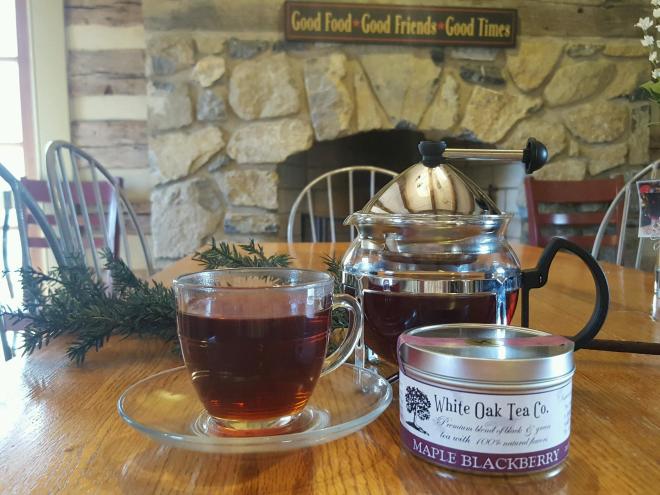 What could be better than a hot cup of tea on a cold day? Not much, but if you add a small pot of Maple Blackberry to your White Oak Tea Tavern experience, you're guaranteed to turn up the charm a notch or two. The Maple Blackberry tea is a perfectly balanced blend of maple, blackberry, and green tea often described as "heavenly."
If you're hungry, the baked spinach and artichoke chicken salad served in a piping hot Italian bread bowl will hit the spot.
See the White Oak Tea Tavern Menu > 
Coffee is an art at Mill Mountain Coffee & Tea. An art to be shared, as it turns out. If you're trying to replicate that coffeehouse flavor at home, the baristas at Mill Mountain are more than happy to give you some tips. Enough about home. A visit to the flagship location in downtown Roanoke is best enjoyed with a Double Almond Chai Latte, a sweet and spicy beverage most will love, even the lactose intolerant.
Visit Mill Mountain's other locations in Salem and Daleville, as well as additional Roanoke locations: Starkey Road and South County Library.
See the Speciality Drink Menu for Mill Mountain Coffee & Tea >
5. Downshift Hand Crafted Bikes & Brews | Roanoke
Peanut butter is the magic ingredient you didn't know your coffee was missing, but Downshift has led us all to the promised land! The peanut butter is blended into the delicious Lexington Coffee Roasters coffee and it creates a sweet, smooth, rich cup of coffee that will make you feel all warm & fuzzy.
Follow Downshift on Instagram >
---
Bundle up between drink stops and we'll watch for your progress on social media. Tag us on Instagram (@VisitVBR) and use the hashtag #BlueRidgeDay to show us what you're drinkin'. 
Cheers!
NOTE - This post was updated in January 2020.