What began as a gigantic Christmas decoration has never been taken down and packed away. Rather, it shines brightly each night and has for most nights since its initial lighting on November 23, 1949, Thanksgiving Eve. 
It's the Roanoke Star, also called the Mill Mountain Star, and it's the most iconic landmark in Roanoke, Virginia. In fact, some have called it the Hollywood sign of the East Coast.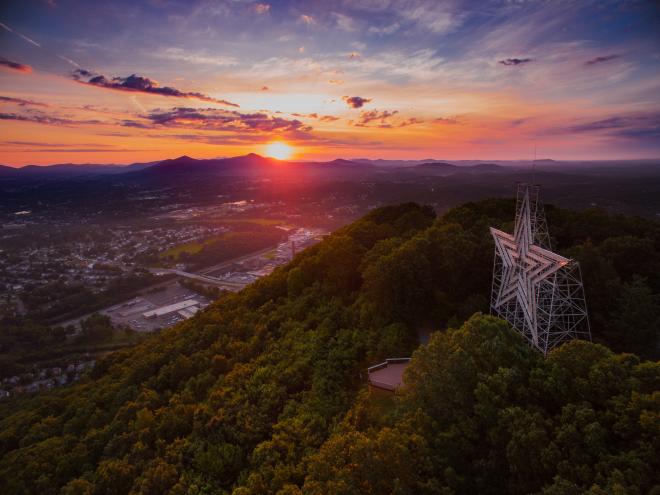 Quick Facts about the Roanoke Star
88.5 feet tall
10,000 lbs.of star; 60,000 lbs. of support structure; 500,000 lbs of concrete base
1,847 feet above sea level
2,000 feet of neon tubing
$28,000 to construct
17,500 watts of power consumed
Visible for 60 miles from the air
Can be lit red, white, and/or blue
Commissioned to draw attention to the holiday shopping season, the Roanoke Star was sponsored by the Roanoke Merchants Association and was constructed by Roy C. Kinsey of Kinsey Sign Co.
According to the Roanoke Star page on the Roanoke Parks & Recreation website, the star was lit for the first time at 8:22 p.m. on November 23, 1949 by Roanoke Mayor A.R. Hinton and John Payne, a Roanoke native and Hollywood star, during a formal lighting ceremony. Due to the cold weather, there were less than 100 people on hand. 
While it was always intended to stay atop Mill Mountain, it was not necessarily meant to remain lit. The popularity of the bright beacon won its way and has remained a permanent, glowing fixture in all seasons.
Watch this short video for the story of how the Roanoke Star became an accidental icon.
The 2,000 feet of neon tubing form three nested glowing stars to create one large structure that shines from atop Mill Mountain overlooking the City of Roanoke. 
The Roanoke Star is the largest free-standing man-made illuminated star in the world and can be lit solid white, red, white, and blue, or any variation thereof, and have also been known to blink or pulse.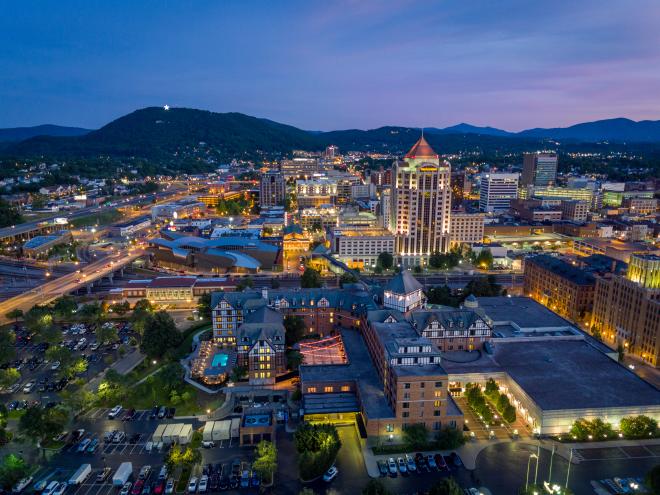 A History of Light Changes
Illuminated all white on November 23, 1949
Solid red to indicate a traffic fatality on any given day
Red, white, and blue for the Bicentennial Celebration in 1976
Red, white, and blue from September 11, 2001 (the terror attacks of 9/11) to April 2007 (the Virginia Tech massacre)
Dark for eight days beginning August 12, 2006 to undergo electrical upgrades
Dark April 17, 2007 due to a downed power line
Solid white on April 22, 2007 "as a symbol of hope" after the Virginia Tech massacre on April 16
Red, white, and blue on May 24, 2007 through September 11, 2011
Dark on April 16, 2008 to commemorate the one-year anniversary of the Virginia Tech massacre
Solid white September 11, 2011 through present day with changes to red, white, and blue as a show of patriotism on national holidays (Memorial Day, Flag Day, Independence Day, Patriot Day, and Veteran's Day).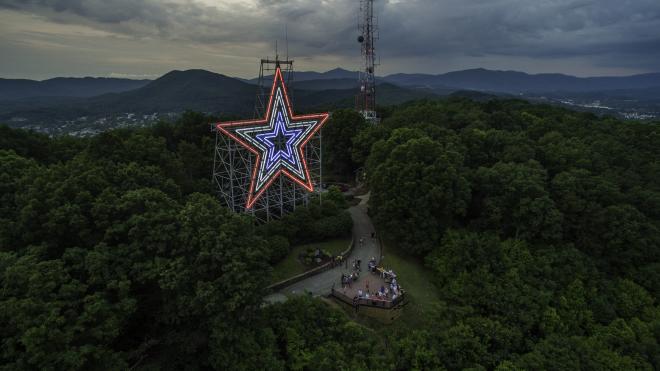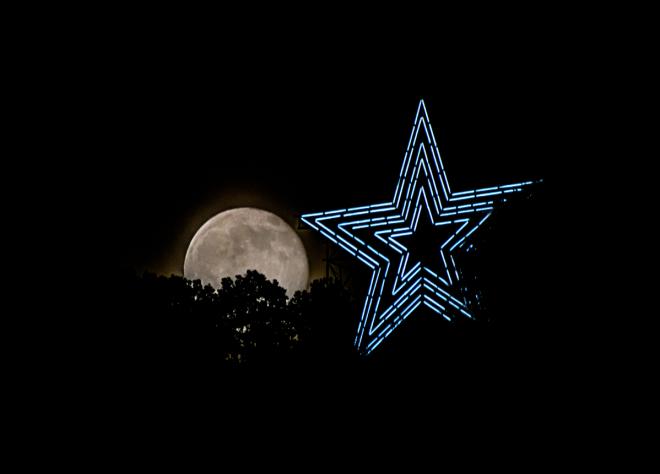 The Roanoke Star is recognized on both the National Register for Historic Places and the Virginia Landmarks Register. See the Historical Marker >>
One special treat to visiting the Roanoke Star is to wave to the live Starcam. See what's happening at the star right now. Live Starcam >>
Visiting the Roanoke Star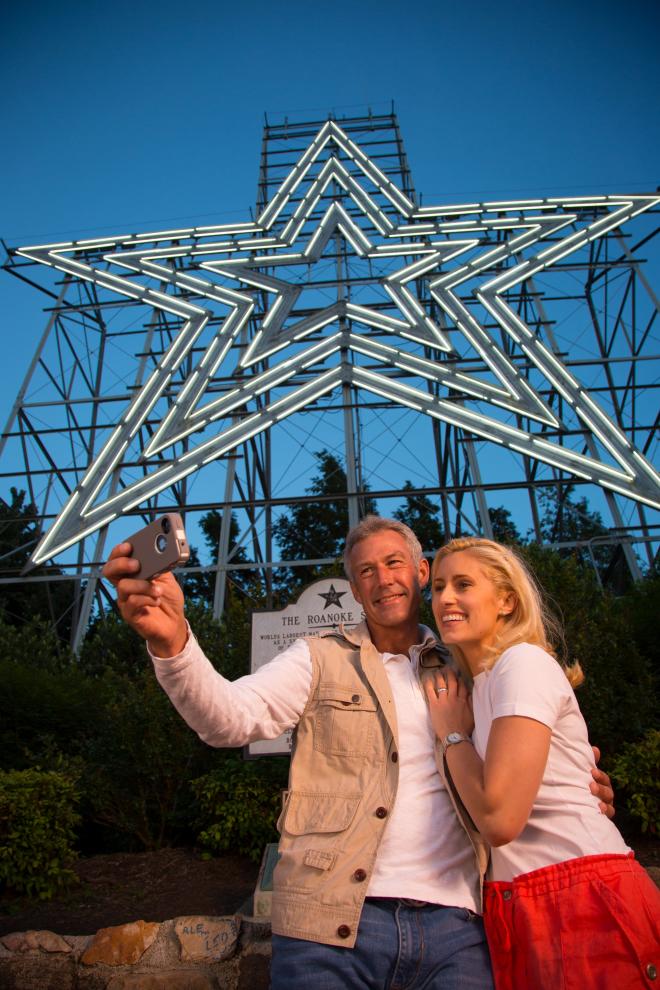 Approach the Roanoke Star from Mill Mountain Parkway off the Blue Ridge Parkway or via Walnut Avenue from downtown Roanoke.
Mill Mountain Park offers the star, a scenic overlook with an incredible view of the Roanoke Valley and surrounding mountains, wildflower garden, many trails for hiking & mountain biking, Mill Mountain Zoo, and the Mill Mountain Discovery Center.
Roanoke Star - Location & Map
2000 JB Fishburn Parkway
Roanoke, VA 24014
---
Roanoke recently celebrated the 70th anniversary of the lighting of the Roanoke Star on November 23, 2019. 
This Roanoke Times article from the 65th anniversary in 2014 includes interviews from those who were a part of its initial illumination as well as a recap of the local debate about whether to erect a cross, a tree, or a star. Read the article >>