For many years mountain biking at Carvins Cove wasn't strictly allowed. Everyone did it but it was all very underground and not sanctioned by the City of Roanoke. 

In those days you either parked at the dead end of Timberview Road (which is now an official parking lot with a changing room) or you parked along the shoulder of Carvins Cove road on the other side of the Cove.
The Timberview side was easy access to the tougher trails so that's often where people would go to ride.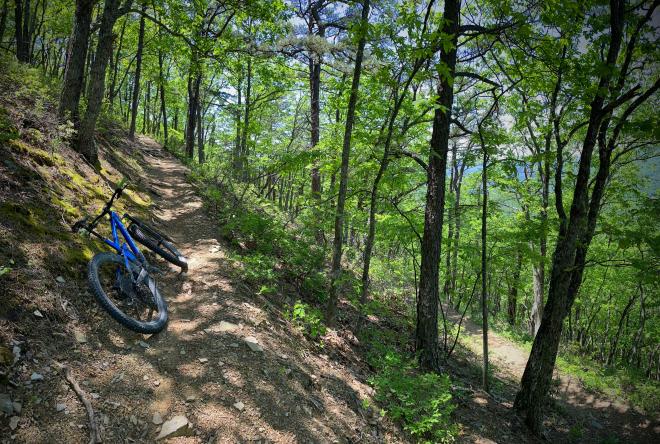 This ride was sort of the standard Cove ride "back in the day" before the Bennett Springs parking area existed: Climb up Trough from the parking area, left on the fire road atop Brushy Mountain, right turn down Buck's Rut. Take a right off Buck onto the Hoe trail then a right onto the climb of Hi De Ho. A left turn at the top of the climb led you to the descent of the Gauntlet. Dump out of the descent onto the doubletrack at the bottom and a right turn takes you back to the parking area.  
It's only a little different now: Buck's Rut is now Buck, Hoe is now Hotel and instead of taking a left at the top of Hi De Ho you ride straight across onto Gauntlet (although if you take a left now you'll head to the top of OG which is now a series of fun jumps and whoops if you're so inclined...or "declined" as the case may be.)
Additionally, now riding at Carvins Cove is one of the lynchpins of the outdoor experience in Roanoke and the City and the other surrounding areas are big supporters of it. 
Know Before You Go
This ride is a great way to get in a rewarding ride in just 8 1/2 miles. Tough climbs and killer downhills guarantee a great time.
This is an intermediate and up ride: it's physically demanding and there are some technical sections on both the ups and the downs. 
Most trail intersections are well marked. Carry a map anyway just in case. That way you can alter plans as needed: playroanoke.com/wp-content/uploads/2017/07/Carvins-Cove-Map.pdf
You also need a pass to ride at the Cove. Daily and yearly passes are available here: westernvawater.org/i-am-a/recreationalist/reservations-passes-permits#!
Need supplies on the way? Just the Right Gear bike shop is located right on route 311 just before the turn towards Bennett Springs. justtherightgear.com
 
On the Route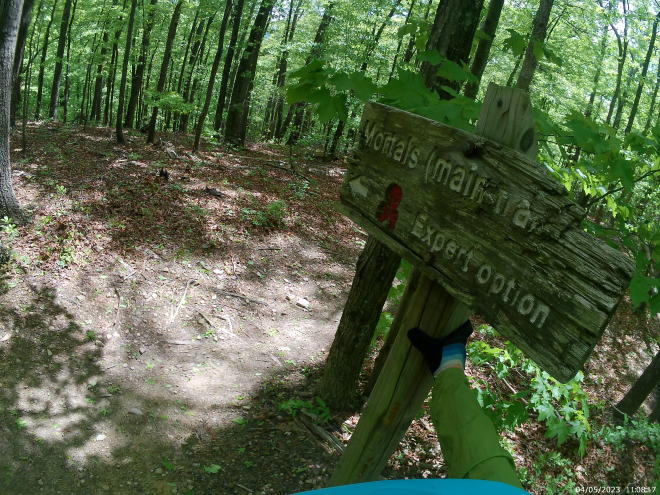 Parking is at the end of Timberview Road. From there it's down Horsepen for a short bit to the left turn onto the Trough climb. The Trough is a two way trail so stay aware: there's often downhill traffic coming through. When you come to the sign halfway(ish) up, take the "mortals" route. The other way is where a lot of the features are for the downhill traffic.
The Trough is a tough singletrack climb but it's not too long. Moderate technical challenge.
You'll pop out on the Brushy Mountain fire road where you'll turn left and have a chance to recover on the fire road descent to the top of Buck trail.
A right turn onto Buck and you'll be enjoying a classic Cove descent: some challenging switchbacks, fun drops and multiple technical features will leave you grinning.
A little over a mile down you'll turn right onto Hotel where multiple ups and downs and fun features will take you to the climb up Hi De Ho.
Hi De Ho is tough. You'll be climbing for about 1 1/2 miles and lots of it is steep. There are some technical sections and some tough switchbacks. And it's steep.  It's a great Appalachian singletrack climb.  Did we mention lots of it is steep?
The payoff is The Gauntlet descent which will be right across from the top of Hi De Ho across the Brushy Mountain fire road.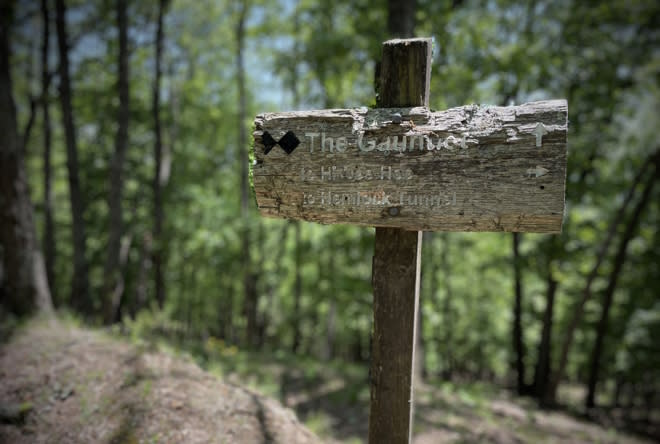 The Gauntlet is rugged and rough: it has drops, roots, rocks, high speed sections and more and it's a BLAST. Right at 2 miles of descending will have you grinning ear to ear. Keep your wits about you and your eyes looking down the trail. Things get interesting fast.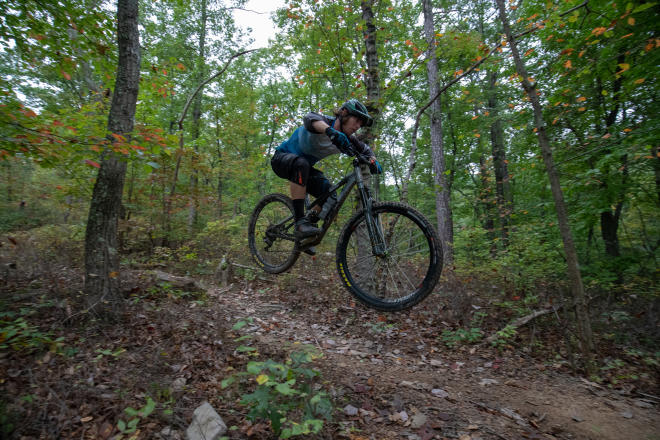 At the bottom of the Gauntlet, take a right onto Horsepen and enjoy the easy mile-ish ride back to the parking lot on this doubletrack cruise. 
After Your Ride
You have some great options for relaxing and refueling after your ride: Parkway Brewing on Kessler Mill Road just a few miles outside the Cove has great beer and there's usually a food truck on site. In the evenings and on weekends they also have live music and it's a great kid and dog friendly place to hang out.
Just down the road from Parkway is downtown Salem, home to Roanoke College. You'll find lots of food and beverage options here including the can't miss Olde Salem Brewery. Mac and Bob's on Main Street in Salem is another local institution.
Check out the route profile and download the GPX file on our Ride with GPS account. 
Be sure to tag us on Instagram @bikeVBR and @visitVBR if you head out to explore this ride!