At 12,000 acres, Carvins Cove offers a lot of trail and a lot of variety from the open and flat-ish fire road of Happy Valley and the easy singletrack of Enchanted Forest to the tougher stuff like Hi De Ho and Buck.
Years ago, one thing local riders clamored for was more truly technical terrain. Terrain like what's found in the backcountry riding around the area in places like Arcadia and North Mountain.
Two trails came from that desire and they came about it very different ways.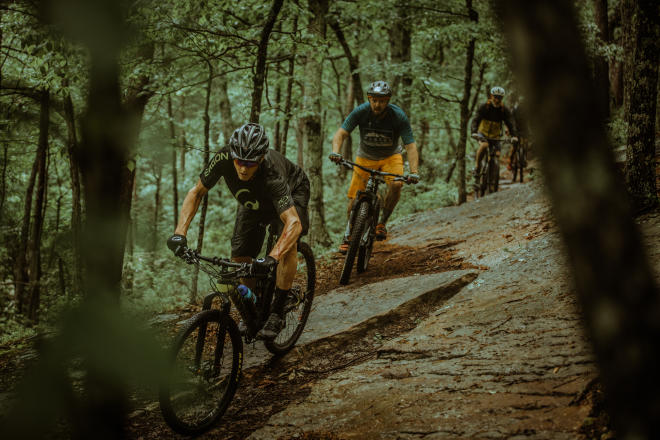 On one side of the coin, local trail organization Pathfinders for Greenways took heed and one of the hardest trails in the area was born. Rattlin Run is a 3ish mile trail that is without a doubt the toughest trail at the Cove and maybe one of the hardest in Virginia's Blue Ridge.
Built mostly by the Pathfinders for Greenways work crews and spearheaded by trail builder extraordinaire Brian Batteiger, Rattlin Run is a tough one even for advanced riders with most walking quite a few sections.
This trail is an exercise in navigating every kind of rock you can imagine with large slabs at angles that don't seem possible in nature. Like the saying goes: "if you ain't hikin', you ain't bikin'."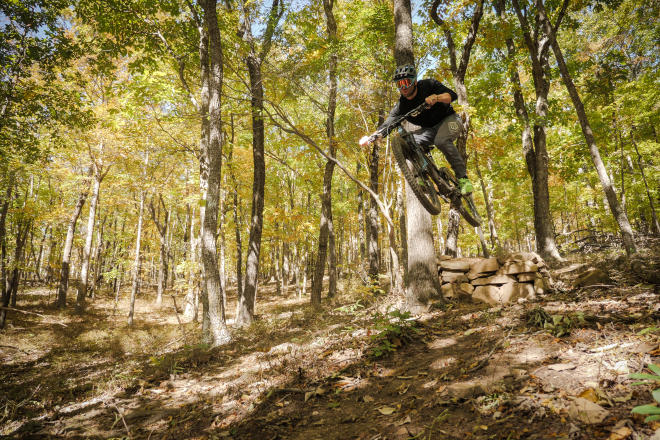 On the other side of the coin is Royalty. Royalty started as a rogue trail built by folks who won't be named here. It's a totally different type of trail than Rattlin Run, largely due to the fact that it's all downhill. It comes off the ridge of Brushy Mountain between The Trough and The Gauntlet so it loses a lot of elevation and it does it quickly: Royalty drops almost 700 feet in under 3/4 of a mile.
Royalty is rough and rugged and just a real beast of a trail. It was pretty well built considering it was a rogue trail, so the great folks at Roanoke Parks and Recreation decided to make some improvements to it and bring it into the official trail system. Fans of technical trail riding are awfully happy they did. This is old school. It uses a lot of fall line trail so it gets washed out particularly right after a big rain so be ready. Groomed, this isn't.
Know Before You Go
This ride starts and finishes at the main Cove trail parking at Bennett Springs. You'll need a pass to park and ride which you can get there at the self-service kiosk or you can purchase online here.
Safety note: this ride is one that's best done with a riding partner. If you can't do that be sure to let someone know where you're headed. The Cove is 12,000 acres and there's very little to no cell coverage.
I think it goes without saying but this is the territory for tubeless tires at low pressures without a doubt, and full suspension is your friend even though that crazy guy you know with a ti hardtail single speed says otherwise.
On the Route
    
Our route takes in both Royalty and Rattlin Run but this whole loop is kind of awesome. Four Gorge is a rollercoaster ride through the woods that's a perfect way to start this ride out on the right foot.
Coming off Royalty you'll soon be on Lakeside which offers-as you might have guessed-great views of the reservoir and some of what many might call the most pure-fun singletrack at the Cove.
Lakeside will turn into Hemlock Tunnel. Hemlock is what you writer often considers his favorite trail at the Cove. The trail itself is a hoot with lots of fun little techy sections but it's as much about the ambiance of the woods around you: this trail feels as primordial as any trail at Carvins Cove and if you catch it at the right time, like right after a rain, the scent is really something.
Shortly after that comes Comet. Comet is a two-section trail: upper and lower. Lower Comet gets ridden a lot as part of many loops of the lower trails at the Cove but upper Comet doesn't get as much love as the other downhills at the Cove and I'm not sure why. It's pretty short, but it's rugged and wild and a lot of fun.
Finally you'll use Songbird to access Rattlin' Run. This route only has you on Songbird for a short time but you'll get a great feel for what it's all about. It's the kind of singletrack that's perfect for beginners to take on a little more challenge and that makes it fun for everyone.

Rattlin Run finishes things off with a bang. If you want any chance of "riding" Rattlin Run well- or at all- leave some gas in the tank.
After Your Ride
After your ride you'll need refueling for sure. The classic post-Cove spot is Parkway Brewing, just a few miles away. There's a great vibe and great beer and there's almost always a food truck so you absolutely can't go wrong.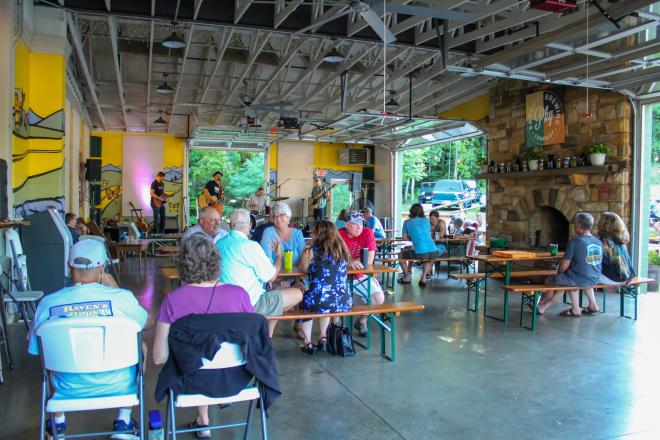 I'll argue that after this ride it might be worth heading a little farther back towards Roanoke and hitting the Tacos Rojas location in Keagy Village. Tacos Rojas started as a side hustle in a convenience store. They've grown from that to several locations locally due to some really well-done Mexican/Mexi-american fare and it's a great post-ride spot.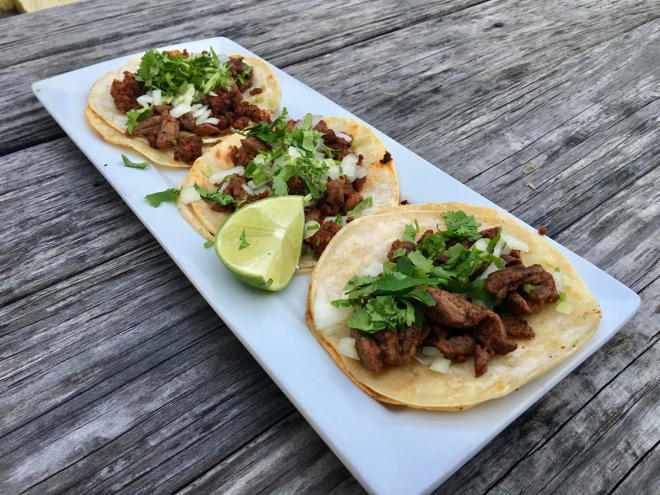 Check out the route profile and download the GPX file on our Ride with GPS account. 
Be sure to tag us on Instagram @bikeVBR and @visitVBR if you head out to explore this ride!