Did you know that Roanoke's existence as a city is directly attributed to its railroad activity?
Among Roanoke's many monikers is "Magic City," thanks to the quick – perhaps magical? – growth of the city after the Shenandoah Valley Railroad arrived to junction with Norfolk & Western (previously known as the Virginia and Tennessee Railroad).
Head to Roanoke and other parts of Virginia's Blue Ridge to experience our railroad history with this special itinerary.
DAY ONE
The best place to receive an introduction to Roanoke is the Virginia's Blue Ridge Information Center, the space of the former passenger train station which also happens to be your first train stop. Ask for a map and be on your way to a fun-filled few days.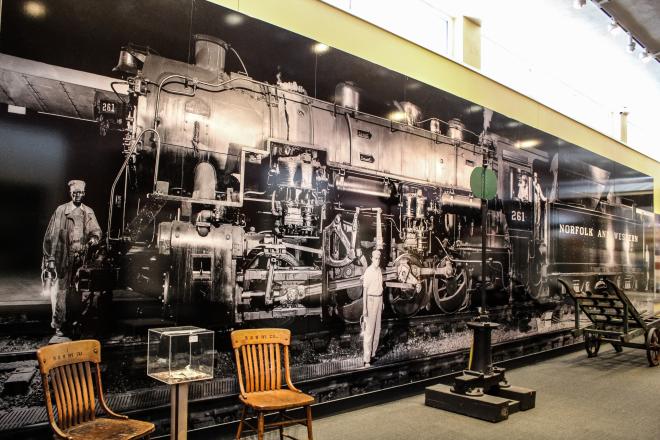 Ogle Winston Link was best known for his steam rail photography, specifically his precision in low-light, moderate speed environments and the nostalgia he was able to capture in each image. When you visit, take time to really study the photos and consider the technical advances since their creation. Notice the steam from the engine and the people looking on. Link's images are magical in their own right.
The best place to receive an introduction to the rail history of Virginia's Blue Ridge is the Virginia Museum of Transportation in the heart of downtown Roanoke. Located in Roanoke's old freight station, the museum is home to diesel, electric, and steam locomotives and more. Climb aboard and imagine the thrill of chugging between the mountains of the Blue Ridge.
Stick to the theme and dine with the N&W Class J 611 in mind. The Great 611 Steak Company looks and feels like a spacious depot with open rafters and plenty of seating. Hand cut steaks are the main game along with a seemingly endless salad and potato bar. Those who'd rather have chicken, ribs, seafood, or perhaps a gourmet hamburger will find plenty on the menu as well. Don't forget to order "The Great 611," a whiskey sour.
Ask for a room with a view … of the rails, that is. Overlooking the Virginia Museum of Transportation and the tracks is The Hotel Roanoke & Conference Center, a Tudor-style historic hotel under the care of Hilton as part of the brand's Curio collection. 
Built in 1882, Hotel Roanoke has always been known for its southern elegance and excellent service. "The Grand Old Lady" came to be so grand because of early consistent railroad contributions for expansions and improvements.
PRO TIP: Book "The Train Lover's Package" ahead of your visit to get that room with a view, breakfast for two in the renowned Regency Room, and tickets for the aforementioned O. Winston Link Museum and Virginia Museum of Transportation.
---
DAY TWO
If you booked the package, breakfast is included at The Hotel Roanoke. If you didn't book the package, you should still enjoy breakfast at The Hotel Roanoke.
If you're introducing a little one to your love of trains, perhaps he or she will enjoy a ride aboard the Zoo Choo at Mill Mountain Zoo. Open during warm seasons, the Zoo Choo is a mini G-16 train that departs the station every 30 minutes. Two laps around the track affords a different vantage point of the animals, of which there are more than 130.
While it's not rail themed, you can't be on Mill Mountain without visiting the famed Roanoke Star. A nighttime landmark, the 100-foot star was built in 1949 and features 2,000 feet of neon tubing. It's one of our favorite selfie stops!
Make the most of your visit to Virginia's Blue Ridge with a road trip on the Blue Ridge Parkway - America's Favorite Drive! This scenic route winds along the spine of the Blue Ridge Mountains and offers numerous overlooks and breathtaking vistas, including a couple that offer a view of nearby railroad tracks. From Mill Mountain at Milepost 120, you can take a couple hours for a leisurely afternoon ride to the Peaks of Otter at Milepost 86 before making your return to Roanoke for dinner.
Dining at The River & Rail is a treat. Tucked into the old Lipes Pharmacy, the location is a sentimental spot for locals and an unexpected delight for visitors. Chef Aaron Deal's weekly menu changes with regard to what is seasonally and locally available. His banana pudding has received acclaim from one publication after another. You won't want to pass on this gem at the base of Mill Mountain.
DECISIONS, DECISIONS...
Where next will you lay your head? Two unique destinations in Virginia's Blue Ridge are up for consideration for your rail themed adventure.
The Potts Valley Branch line of Norfolk & Western ended in Paint Bank, thus the depot's existence high up in the mountains west of Roanoke. 
Within the Depot Lodge, choose from four rooms with en suite and fireplaces or the master suite with the same plus a living room and deck overlooking Potts Creek. Adjacent to the lodge is the sweetly renovated Norfolk & Western Caboose situated along Potts Creek and the two-bedroom 1910 Foreman's Cottage. Across the road beside Paint Bank General Store and Swinging Bridge Restaurant is the three-bedroom Company House. It's a train lover's paradise of accommodation options!
This 1934 Hiawatha Dining Car is 85 feet long, of which 45 feet is relaxing living room space. The furnishings and accoutrements are reminiscent of a Gentleman's Club Car, a spacious, relaxing space afforded to first class passengers.
---
Map of Places of Interest
Ready to climb aboard your rail history tour of Virginia's Blue Ridge? We look forward to seeing your travels. 
Be sure to follow us on Instagram at @VisitVBR and include #BlueRidgeDay in your captions.