The Halloween events in Virginia's Blue Ridge are always spooky and spirited!
Whether you're making your way through a haunted house, taking in a Halloween themed concert, or checking out a family-friendly event, there are lots of fun ways to celebrate All Hallows' Eve in the mountains.
Special events are one of the many reasons this is a perfect time to plan a fall visit to Virginia's Blue Ridge.
The following is a guide to Halloween events happening throughout the region this year.
Our friends at Downtown Roanoke Inc. also put together a great list of Downtown Halloween Happenings with lots of info about Halloween events in Downtown Roanoke. 
---
NOTE: All info is subject to change. Please check event websites and social media pages for the most updated information.
---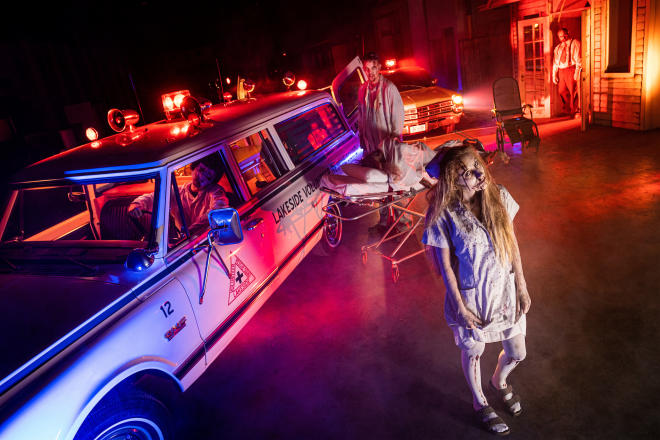 Center on 9th
Center in the Square presents Blue Ridge Nightmares, an haunted attraction where a massive warehouse space at the Roanoke Industrial Center is transformed into a city with its own characters and story that will excite and thrill audiences, while incorporating many unique elements of local history.
The experience has been planned and created by Anthony Giordano, a Hollywood designer who has worked on multiple Academy Award nominated projects and specializes in makeup, special effects, and costuming.
Blue Ridge Nightmares Website >
Downtown Roanoke
Terror Manor features 40+ rooms of pure terror and is Downtown Roanoke's first ADA commercial haunted house experience. This is a Rated R attraction and patrons under 18 will require an adult to purchase tickets. The haunted house is not recommended for guests 13 and under.
Multiple Locations
Jump Into Mystery will host multiple special Murder Mystery events in celebration of Halloween. Join the fun and use your detective skills to determine who committed the crime in an experience that will provide lots of fun, laughs, and challenges. The following are the locations and dates of the events:
Wicked Acres Fall Festival | Through October 30 (Saturday & Sunday)
Garrett Farms
This fall festival offers frightening fun for guests of all ages and features a family-friendly spooky corn maze. There will also be hay rides, water balloon slingshots, pumpkin painting, and more.
RDC Halloween Cornhole Tournament | October 22
A Few Old Goats Brewing
The Roanoke Diversity Center will host a special Halloween themed cornhole tournament at A Few Old Goats Brewing! The tournament will be emceed by drag queens Charlene DeFrance and Enya Salad and there will be free food available from Elote Alebrije. 
Team registration is open until October 19 - clever team names and Halloween costumes are strongly encouraged.
RDC Cornhole Tournament Registration >
Salem Red Sox Spooktacular | October 22
Salem Memorial Ballpark
The Salem Red Sox will host their annual trick-or-treating event on Saturday, October 22 at the Salem Memorial Ballpark. The event is to free-to-enter and vendors will be passing out candy around the field.
There will also be a costume contest, open concessions, and more.
Sox Spooktacular Facebook Event >
Bat Night | October 27
Mill Mountain Discovery Center
This high flying program at the Discovery Center in Mill Mountain Park will be all about bats! These incredible flying mammals can fly up to 100 miles per hour and eat 1,200 mosquitoes per hour. Learn more by hearing from a park naturalist while you also snack on s'mores.
Haunted Hike at Fishburn Park | October 27
Fishburn Park
PLAY Roanoke is hosting a special haunted group hike through Fishburn Park. It's a guided after-dark hike that will feature spooky stories about the Roanoke area. Be sure to bring your flashlight or headlamp!
Kazim Shriner's Trunk-or-Treat | October 27
Salem Civic Center
In advance of the Kazim Shrine Circus that opens October 28, the Kazim Shriners will be getting the fun started early with a Trunk or Treat event on October 27. The Kazim Clowns will be spilling out of their vehicles to give your little pumpkins some candy.
Come out in costume to gather your Halloween goodies and purchase your tickets to the circus. The event is free and open to the public.
Shriner's Trunk-or-Treat Facebook Event >
Cardinal Bicycle Halloween Fun Ride | October 27
Cardinal Bicycle - Grandin
Cardinal Bicycle will be hosting a Halloween-themed group bicycle ride from its Grandin Village location. Costumes are encouraged and it will be a sub-5 mile ride to admire local decorations and show off your costumes. There will also be candy inside the shop at the end of the ride.
Halloween Fun Ride Facebook Event >
Pumpkinfest | October 28
Salem Farmers Market
The 22nd annual Pumpkinfest will be held at the Salem Farmers Market in Downtown Salem on Friday, October 28 from 5:30 to 8:30 p.m. The popular annual festival will include live music, food trucks, kids activities & trick-or-treating, costume contests, and a pumpkin carving competition.
Hocus Pocus Movie Night | October 28
Salem Memorial Ballpark
The Sanderson Sisters are ready to put a spell on you, Salem! Okay, we know it's a different Salem, but this is still a great opportunity to enjoy a movie night in Salem with a special showing of Hocus Pocus at Salem Memorial Ballpark, hosted by the Salem Red Sox.
The film begins at 7:00 p.m. and it's free to attend, but you can also rent party suites or boxes on the club level.
Hocus Pocus Movie Night Facebook Event >
The Rocky Horror Picture Show | October 28
Grandin Theatre
The cult classic Rocky Horror Picture Show returns to the historic Grandin Theatre for two special Halloween showings. These shows will be shadowcast from the Tolls of Madness troupe from Virginia Tech and it's an exciting spectacle of audience participation and cosplay.
You're strongly encouraged to purchase tickets in advance as both showings will likely sell out.
Rocky Horror Picture Show Details & Tickets >
Hallowine Costume Dance Party | October 28
Beliveau Farm Winery
Put on your Halloween costume and do the Monster Mash at the annual Hallowine party at Beliveau Farm Winery. There will be music by DJ Baldman Pat and the best costumes will receive a coupon for Beliveau pizza.
Frankenstein: A Modern Adaptation | October 28-30
Hollins University Theatre
This theater production at Hollins University is based on the Frankenstein novel written by Mary Shelley and is directed by Wendy-Marie Martin. The adaptation of Shelley's classic novel explores monsters and the women who create them and asks the age old question - How far would you go to outrun your ghosts?
Historic Fincastle Ghost Walk | October 28-29
Historic Fincastle
Take a ghostly walk through the shadowy streets of Historic Fincastle in Botetourt County! These guided walking tours will feature spooky stories of local legends and lore as you're transported back to a time when the nights were darker and the mountains were wilder and more dangerous.
Historic Fincastle Ghost Walk Details & Tickets >
Spooktacular Saturday at Explore Park | October 29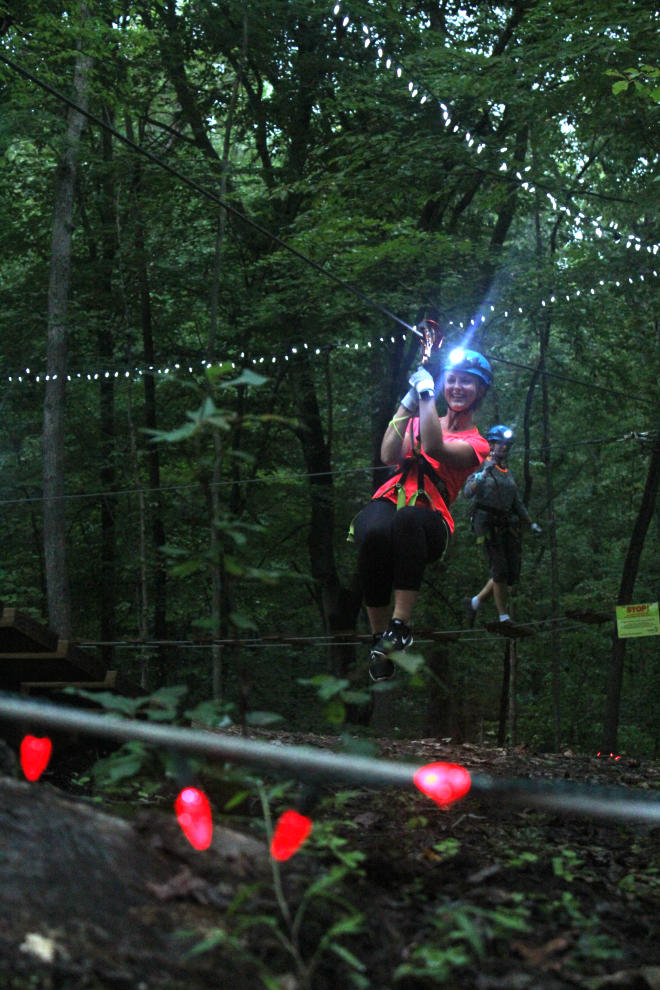 Explore Park
Roanoke County's Explore Park will host a Spooktacular Saturday event full of family-friendly, seasonal spooky activities. The schedule includes pumpkin carving, costume contests, face painting, crafts, marshmallow roasting, games, and much more.
There will also be twilight ziplining at Treetop Quest, access to all the park's great trails, and food & drink available from local food trucks and Twin Creeks Brewpub.
Spooktacular Saturday Details & Schedule >
Candy Corn Express and Trunk-or-Treat | October 29
Virginia Museum of Transportation
Bring the kids to the Virginia Museum of Transportation in Downtown Roanoke for the opportunity to hop aboard the Candy Corn Express. There will also be a special trunk or treat activity with lots of candy, face painting, vendors, and more.
Mill Mountain Zoo
Celebrate Halloween at Mill Mountain Zoo and take part in their fun, family-friendly Zoo Boo event. There will be trick-or-treating, costume contests, family-friendly performances, spooktacular art activities, and the opportunity to see all the amazing animals at the zoo.
Big Lick Brewing Co. Halloween Party | October 29
Big Lick Brewing Company
Come dressed in your spookiest attire and join the Halloween Party at Big Lick Brewing Company in Downtown Roanoke. The party will feature a costume contest, live music by Chad Nickell & The Loose Change, free candy while supplies last, and great witches brew on tap.
Big Lick Halloween Party Facebook Event >
Dead Reckoning Halloween | October 29
5 Points Music Sanctuary
Put on your best costume and party at 5 Points Music Sanctuary for its annual Halloween Costume Party, featuring live music by The Dead Reckoning - a Grateful Dead tribute band. There will also be prizes for the best and creepiest costumes.
Dead Reckoning Halloween Tickets >
Halloween Dance Party with Whitetop Mountain Band | October 29
The Floyd Country Store
The Floyd Country Store is one of Virginia's most iconic venues for live music and it's where you can celebrate this year's Halloween weekend with a dance party with the Whitetop Mountain Band. The Virginia based group is known for authentic mountain music, showcasing fiddling and banjo picking, and there will likely be flatfoot dancing.
Halloween Dance Party Details & Tickets > 
Salem Main Street Trick-or-Treating | October 29
Main Street Salem
Bring your littles to Downtown Salem and enjoy trick-or-treating along the city's historic Main Street. Participating businesses will have a pumpkin placed in their window to let you know they're open for trick-or-treaters.
Downtown Candy Crawl | October 29
Downtown Roanoke
In addition to Downtown Salem, Downtown Roanoke will also be hosting a trick-or-treating event with its 3rd annual Candy Crawl. You're encouraged to register for this free event and you'll be e-mailed a list of participating merchants.
Downtown Candy Crawl Registration >
Roanoke Ballet Theatre: Dracula | October 29
Jefferson Center
Roanoke Ballet Theatre will present a contemporary dance production that is a visual performing arts interpretation of Bram Stoker's classic Dracula novel, in what will be a powerful display of passion and ferocity.
Roanoke Ballet Theatre Website >
Spooky Sprint 5K & Wellness Fair | October 29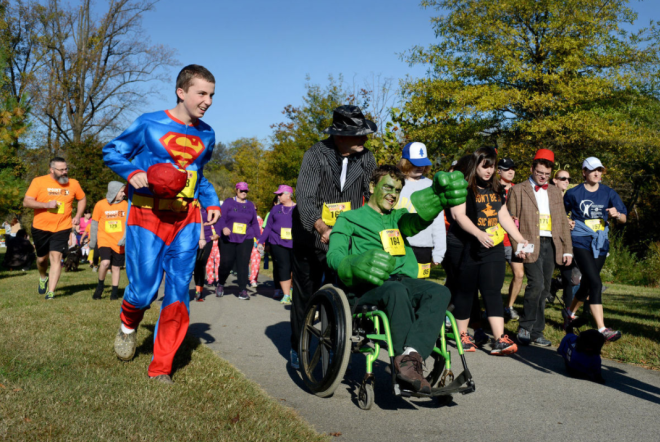 Wasena Park
Take part in a costumed run through Roanoke and sign up for the annual Spooky Sprint 5K! Costumes are highly encouraged and there will also be children's activities & a wellness fair.
Harvest Festival | October 29
Botetourt Farmers Market
The Botetourt Farmers Market will celebrate Customer Appreciation Day on Halloween weekend with a special Harvest Fest event. There will be lots of kid-friendly activities, including free face painting and trick-or-treating, and costumes are highly encouraged. Kids will also have the opportunity to paint and take home their own mini pumpkin.
Harvest Festival Facebook Event >
Martin's Halloween Street Party 2022 | October 29
Martin's Downtown Bar & Grill
Martin's is shutting down the block to celebrate Halloween this year with its awesome annual street party. The event will include live music by Kentucky Ruckus, Disco Risque, and Soul Patch, and a night of unlimited spookiness.
Martin's Halloween Party Facebook Event >
Scary Movie Monday: Haunted Mansion | October 31
Starr Hill Pilot Brewery & Side Stage
Starr Hill Pilot Brewery & Side Stage in Downtown Roanoke will wrap up its Scary Movie Monday series with a showing of Haunted Mansion on Halloween night! It's free to attend and the movie will be playing on the big screen while you can also enjoy delicious Starr Hill beer on tap, including some great fall brews.
Scary Movie Monday Facebook Event >
---
Related: Fall Festivals & Events in Virginia's Blue Ridge >
For a complete list of what's going on in Virginia's Blue Ridge, take a look at our Calendar of Events. We can also help you make some weekend plans with our page on Events this Weekend, which updates every week to showcase what's happening for the upcoming weekend.
Visit the Fall section of our website for information about seasonal activities and things to do.
To learn more about the region, give us a follow on social media and sign up to receive our free monthly e-newsletter.