The Halloween events in Virginia's Blue Ridge are always spooky and spirited!
Whether you're making your way through a haunted house, taking in a Halloween themed concert, or checking out a family-friendly event, there are lots of fun ways to celebrate All Hallows' Eve in the mountains.
Special events are one of the many reasons this is a perfect time to plan a fall visit to Virginia's Blue Ridge.
The following is a guide to Halloween events happening throughout the region this year.
---
NOTE: All info is subject to change. Please check event websites and social media pages for the most updated information.
---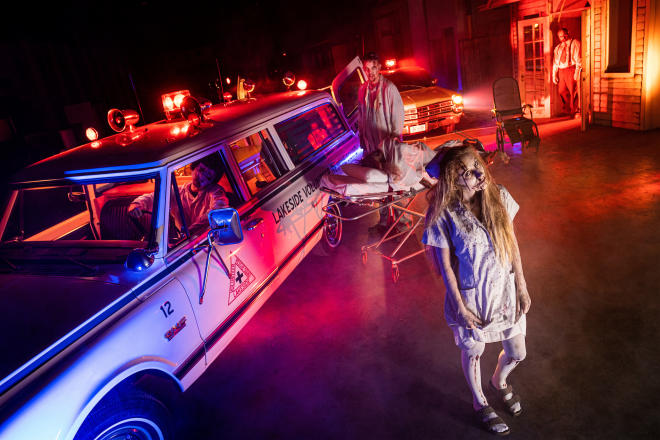 Roanoke Industrial Center
Center in the Square presents Blue Ridge Nightmares, an amazing new haunted attraction where a massive warehouse space at the Roanoke Industrial Center is transformed into a city with its own characters and story that will excite and thrill audiences.
The experience has been planned and created by Anthony Giordano, a Hollywood designer who has worked on multiple Academy Award nominated projects and specializes in makeup, special effects, and costuming.
Blue Ridge Nightmares Tickets >
Terror Manor - Downtown Roanoke
Terror Manor features 40 rooms of terror and is Downtown Roanoke's first ADA commercial haunted house experience. This is a Rated R attraction and patrons under 18 will require an adult to purchase tickets. The haunted house is not recommended for guests 13 and under.
Rocky Mount
Take a heart pounding 30 minute walk through the pitch black woods of Rocky Mount as you make your way along The Gates of Hell Haunted Trail. The trail is open every Friday & Saturday in October (plus Halloween night) from 7:00 to 11:00 p.m.
Halloween Murder Mystery Events - Jump Into Mystery
Jump Into Mystery will host multiple special Murder Mystery events in celebration of Halloween. Join the fun and use your detective skills to determine who committed the crime in an experience that will provide lots of fun, laughs, and challenges. The following are the locations and dates of the events:
Salem Red Sox - Haley Toyota Field
The Salem Red Sox will host their annual trick-or-treating event on Saturday, October 23 at the Haley Toyota Field at Salem Memorial Ballpark. The event is to free-to-enter and vendors will be passing out candy around the field.
There will also be a costume contest, bounce houses, and more.
Red Sox Spooktacular Facebook Event >
Towers Shopping Center
From 1:00 to 3:00 p.m. on Sunday, October 24, the Towers Shopping Center and its businesses will be hosting free trick or treating that is open to all ages. The event will include music, trick-or-treating, pumpkin decorating, hot cider, and more.
Trick or Treat at Towers Facebook Event >
Salem Red Sox - Haley Toyota Field
The Sanderson Sisters are ready to put a spell on you, Salem! Okay, we know it's a different Salem, but this is still a great opportunity to enjoy a movie night in Salem with a special showing of Hocus Pocus at Salem Memorial Ballpark, hosted by the Salem Red Sox.
The film begins at 7:00 p.m. and it's free to attend, but they will be accepting canned good donations to benefit the Salem Food Pantry.
Hocus Pocus Movie Night Facebook Event >
Mill Mountain Zoo
Celebrate Halloween at Mill Mountain Zoo and take part in their fun, family-friendly Zoo Boo event. There will be trick-or-treating, costume contests, family-friendly performances, spooktacular art activities, and the opportunity to see all the amazing animals at the zoo.
5 Points Music Sanctuary
Put on your best costume and party at 5 Points Music Sanctuary for its annual Halloween Costume Party, featuring live music by The Dead Reckoning - a Grateful Dead tribute band. There will also be prizes for the best and creepiest costumes.
Dead Reckoning Halloween Tickets >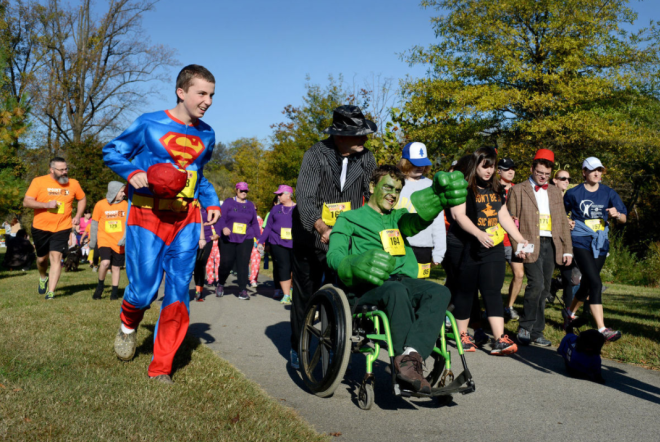 Wasena Park
Take part in a costumed run through Roanoke and sign up for the annual Spooky Sprint 5K! Costumes are highly encouraged and proceeds benefit the West End Center for Youth.
The Spot on Kirk
The Spot on Kirk's special Halloween Throwdown 2021 will feature live performances by Fractured Frames, Divisive, and Heirloom, as well as a costume contest and raffle giveaways.
Jefferson Center
Roanoke Ballet Theatre will present a contemporary dance production that is a visual performing arts interpretation of Bram Stoker's classic Dracula novel, in what will be a powerful display of passion and ferocity.
Roanoke Mountain Adventures
Join the crew from Downshift and enjoy a Halloween group bicycle ride as part of your Halloween weekend festivities. This will be a 5 mile ride that begins at 7:00 p.m. and pre-ride refreshments will be provided. There is a suggested donation of $10 per participant, which will go to benefit Hustle Haven.
Halloween Group Ride Details >
Science Museum of Western Virginia
The Science Museum of Western Virginia at Center in the Square will host its annual Spooktacular celebration, featuring trick-or-treating, a costume contest, snacks & drinks, and special exhibits from Virginia Tech.
Science Museum Event Details >
Virginia Museum of Transportation
Bring the kids to the Virginia Museum of Transportation in Downtown Roanoke for the opportunity to hop aboard the Candy Corn Express. There will also be a special trunk or treat activity in front of the museum that is free to enjoy.
5 Points Music Sanctuary
Enjoy an unforgettable Halloween experience at 5 Points Music Sanctuary with a special performance by Out of Body Burlesque. It'll be a Halloween themed performance that includes costume contests, raffles, tricks, treats, and more.
Halloween Burlesque Bash Tickets >
Beliveau Farm
Beliveau Farm Winery will be celebrating Halloween with its Hallowine Costume Contest. There will be food & drink specials, wine and beer sales, and a costume parade with prizes awarded to the best costumes.
The event is free to attend and is family and dog friendly.
Hallowine Costume Contest Facebook Event >
---
Related: Fall Festivals & Events in Virginia's Blue Ridge >
For a complete list of what's going on in Virginia's Blue Ridge, take a look at our Calendar of Events. We can also help you make some weekend plans with our page on Events this Weekend, which updates every week to showcase what's happening for the upcoming weekend.
To learn more about the region, give us a follow on social media and sign up to receive our free monthly e-newsletter.