The Blue Ridge Parkway is a beautiful route for many travelers and a destination for even more. Whether you're traveling all 469 miles or just the beautiful portion that weaves through Virginia's Blue Ridge, we have pin-pointed the easiest hikes to help you stretch your legs and maybe get a few memorable photos.
Check out this list of 10 easy hikes to take during your next adventure on the Blue Ridge Parkway.
1. Thunder Ridge Trail - Milepost 74
This little leg-stretcher is only one- or two-tenths of a mile, but the views from the stone observation platform are memorable with mountains all around, and the towns of Glasgow and Natural Bridge down below. The loop begins on one side of the parking lot and ends at the other. PS: This quick little jaunt counts as "hiking the A.T.," should you wish to brag to your friends.
2. Abbott Lake Trail - Milepost 86

An easy one-miler around shimmering Abbott Lake (pictured at the top of this post), this walk at Peaks of Otter offers opportunities to see wildlife, spread a blanket and picnic, or have your own mini photo shoot. It's truly beautiful! Start at the parking lot for the Peaks of Otter Lodge and follow the paved path around. The trail alternates between pavement and gravel, and is wheelchair accessible, though an assisting companion would be quite handy. [MAP]
3. Elk Run Trail - Milepost 86
From the Peaks of Otter Visitor Center you can hop onto Elk Run Trail. At less than a mile, you'll get a bit of rejuvenating fresh air and exercise before hitting the Parkway again. [MAP]
4. Johnson Farm Loop Trail - Milepost 86
Access the Johnson Farm Loop Trail from the Abbott Lake Trailhead at Peaks of Otter Lodge. As you make your way along the paved path, duck into the stone tunnel to go under the Blue Ridge Parkway. The Johnson Farm Loop Trail begins on the other side and is about 1.75 miles. This loop is a little more moderate than the Abbott Lake Trail, but traverses the 1800s Johnson Farm where interpreters are often available to give farmhouse tours. The antique equipment and spring house are points of interest as well. [MAP]
5. Roanoke River Trail - Milepost 114
This trail is a good one for upping your heart rate, birding, and plant exploration. At about a half-mile in length, you can easily extend this with a spur onto the Fisherman's Trail to get down to the river or another spur at the top to the Roanoke River Observation area. The trail is hilly, so wear sturdy shoes. [MAP]
There are 14 miles of trails at Explore Park, but for the purposes of this article, we'll focus on just a few. Additionally, a little more than half of those 14 miles are bike trails.
To walk along the Roanoke River and enjoy the wildlife and cooler water breezes, enjoy the 1.56-mile River Walk. Within the Historic Area, trails meander across one another for a total of 1.22 miles. Here, hikers have the chance to see a Settlers Cabin, Frontier Fort, the Hofauger Farmstead, Slone's Gristmill, a Blacksmith Shop, and quite a bit more. It would be very easy to spend the day at Explore Park. [MAP]
7. Roanoke Mountain Summit Trail - Milepost 120
NOTE - The Roanoke Mountain Loop Road is currently closed through 2019 due to maintenance and repairs.
The stunning summit view here is actually where you park to begin your hike, but this fourth-tenths of a mile trek does have interesting rock formations and plenty of canopy cover for summer strolling.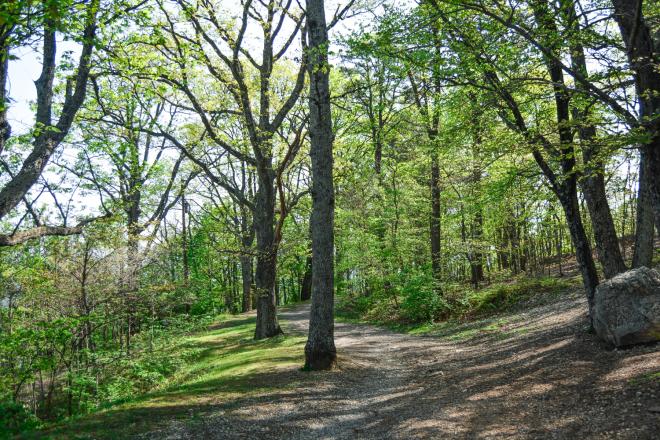 More than 16 miles of multi-use trails crisscross Mill Mountain. The easiest and shortest is the two-tenths of a mile Watchtower Trail for hikers only. It includes the Roanoke Star, the tallest freestanding illuminated star in the world. There is also a paved path to check out other areas of the park, including a playground, picnic area, and wildflower garden.  [MAP]
9. Rocky Knob Picnic Loop Trail - Milepost 169
If you're looking for a picnic area along the Blue Ridge Parkway, this is a great one! Choose a table in the pavilion and then walk it all off on the one-mile Picnic Loop Trail. It's a scenic spot with plenty of grassy area for the kids to play. [MAP]
10. Mountain Industry Trail at Mabry Mill - Milepost 176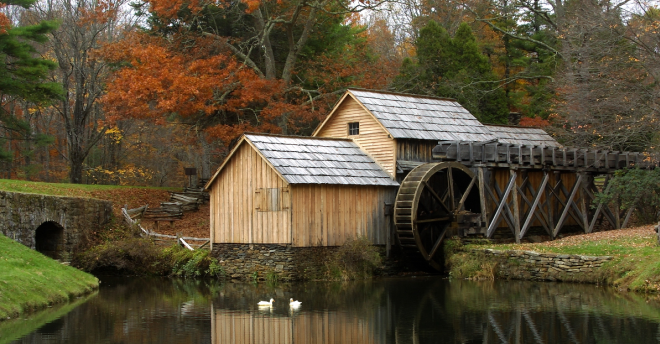 In less than a half-mile, the Mountain Industry Trail educates its visitors with items of Appalachia, including a whiskey still. Interpreters are often present to share the trades of the day, like blacksmithing, spinning, and milling. Buildings, equipment, and a pond are other points of interest. No day at Mabry Mill is complete without a meal. Don't skip the cornbread! [MAP]
---
If you're looking for more hikes off the Blue Ridge Parkway, we have a list. Why not try them all? Snap your moments and share socially with the hashtag #BlueRidgeDay. We'll be watching for you!
Additional Resources