One of our favorite things about Virginia's Blue Ridge is that we have so many choices for mountain bike rides. When it's time to get technical, North Mountain on the far edge of Roanoke County is one of the best. It's rocky. Big rocky. It has steep climbs and rippin' descents. And it's rocky.
Know Before You Go
North Mountain is advanced rider territory. It's not for the faint of heart. You need to be prepared for serious terrain and for any issues you might encounter. The only place with any cell coverage is up on the ridge so don't count on having it. You'll need to be ready to tackle trailside repair issues (did we mention the rocks?) and have plenty of food and water. This ride is 17 miles which on its own is a pretty serious ride but the terrain makes it a full-day adventure for most riders.   
If you have a choice of bikes...bring the full suspension. 
You'll be starting from the Dragon's Tooth parking lot. Dragons' Tooth is a spur hike on the Appalachian Trail and it is very, very popular. The lot may be full especially if it's on a nice weekend day. Not to fret: there's parking along Route 311 just across the street and right at the start of the ride. (Sometimes that fills, too so you may need to get creative.)  
There's a convenience store right at the parking area if you've forgotten anything and for a quick snack after the ride. If you're heading north out 311 from I81 there's also a bike shop just outside Salem called Just the Right Gear right on 311. They're great folks and can help you with any last minute ride supplies.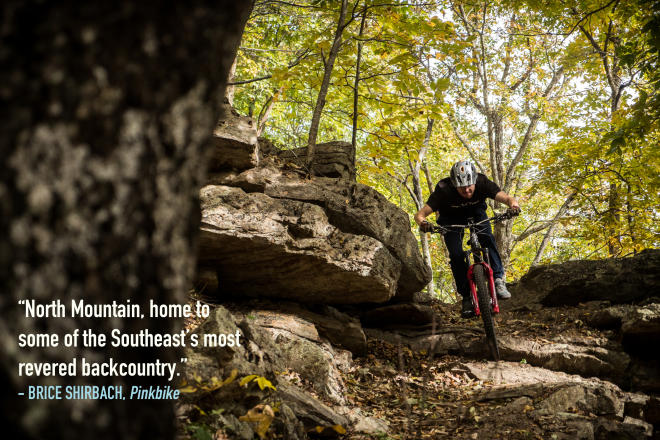 On the Route
The trailhead is almost directly across the road from the entrance to the Dragon's Tooth parking area. It's pretty easy to find.
You'll begin climbing immediately so don't count on a warmup: you'll gain about 1200 feet in a little over a mile and half. It gets technical pretty quickly as well so you'll know what you're in for pretty fast. 
Once you crest the ridge you'll know exactly why this is called the Dragon's Back: the rocks jut up from all kinds of angles and present a real challenge and lots of fun backcountry "gnar". You'll find some spots that may want to spend some time sessioning to dial in the right lines. It's a great place to practice skills.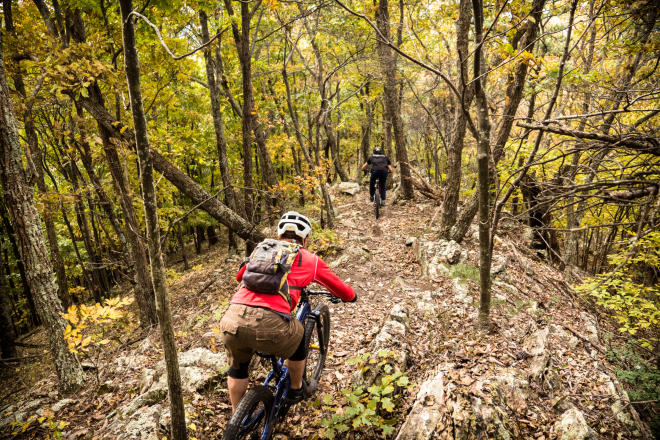 You'll be on the ridge for about 5 miles. It will feel much longer. It's slow going: don't count on any fast riding on this section!
You'll pass two left turns, first the Deer Trail not too long after you crest the ridge and then Grouse Trail about 3.5 miles in. You'll be coming up Grouse a little later in the ride. Keep an eye out about 6.5 miles in for the third left turn onto the Turkey Trail since that's the first of your well-earned descents. Sometimes it's hard to see because you're so focused on the terrain you're on. 
You may want take a pause before you head downhill. Eat a little something. Let your heart rate come down. Reminisce about what you've done so far. Breathe deeply and get centered:  Turkey is fast, technical, sketchy and with some switchbacks that are near-impossible to ride (at least for your writer!) and it's an absolute classic.  Enjoy every moment but keep your wits about you. By the bottom you'll likely be happy to see the fire road where you'll turn left and cruise for a while.
You'll encounter a little climbing on the fired road but mostly it's rolling and easy riding, certainly compared to the rest of this route! This road is closed to cars during the winter months but is otherwise open so be aware that youmay encounter some vehicles.  
Look for the left turn off the fire road onto the Grouse trail that you passed on the ridge. That's your climb back to the top. It's like a scaled-down version of the Turkey Trail you descended. It's not as nasty but it's still a real challenge. (It's WAY better than climbing Turkey. Your writer did that once and it's a mistake he won't make again!) You'll be on Grouse for about a mile and half before you hit the back of the dragon again where you'll take a right to complete you lollipop ride.
Around 2 miles of ridge riding will have you heading down the descent to the trailhead and back to you parking spot. We'll bet you'll have a big grin on your face even if it might have a little bit of a grimace to it.  
After Your Ride
We're gonna bet that you're pretty hungry at this point. We know we would be. Luckily you're only a few minutes (15-20) from lots of choices for refueling from great sit down restaurants to casual grab and go to great breweries.
Parkway Brewing on Kessler Mill Road in Salem is a popular place for post ride beers. They also have food trucks on hand and live music in the evenings. It's a great kid- and dog-friendly hangout.
Olde Salem Brewery in downtown Salem offers another choice for great beers and Frank's pizza is right across the street for grub.
Mac and Bob's is a Salem classic and has all the great casual fare you might want from burgers to calzones to cold beer and more.
Looking for something Mexican? El Jefe is also right on Main Street in downtown Salem. They offer other great choices, too like BBQ.
Macados has a selection of sandwiches that's hard to believe. Guess where it is...yep, downtown Salem on Main Street.
There are tons more choices right there so we'll not waste your time listing them all.  Check out Visit Salem VA for all the choices.  
Check out the route profile and download the GPX file on our Ride with GPS account. 
Be sure to tag us on Instagram @bikeVBR and @visitVBR if you head out to explore this ride!