Roanoke/Virginia's Blue Ridge Gravel Adventure Field Guide
Routes Under 25 Miles
These routes are featured in our printed copy of the Gravel Adventure Field Guide, available here online or in our local bike shops.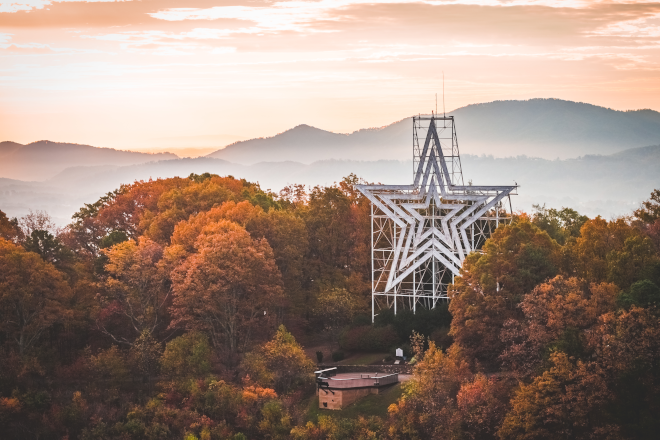 Star City Route
A go-to lunchtime ride for many Roanoke cyclists because of its close proximity to downtown. This is one to do for an iconic experience or when short on time.
The Mill Mountain Star is the world's largest man-made, freestanding illuminated star and an iconic symbol. It's why Roanoke is known as the "Star City" and a constant visual reminder that there's some great mixed terrain riding not far away. Portions of this route include segments of singletrack that will challenge anyone on drop bars. Mill Mountain is considered to be mountain bike centric, but it is included in this guide for those wanting to sharpen their off-road skills. You can use a paved bike lane on the last descent if opting out of the trail.
Gravelocity Route
Grassroots cycling born from the spirit of adventure best defines Gravelocity. The ride starts out in the town of Nace, which was first called Houston. It was later renamed in honorof George Washington Fayette Nace, (1822-1890), a well-known local farmer. Market gardens, or truck farms, where small scale production steadily supplied fresh produce were common here. A local tomato cannery owned by E.C. Firestone, called Firestone Canning Corporation, was even established. 
It is important to note that this route utilizes forest service roads that at times can be more like double track than gravel roads.