We don't think it's hyperbole to say Bent Mountain has some of the best riding you can find
Bent Mountain is a 2600 foot peak at the western edge of Roanoke County offering incredible views down into the valley below. This ride starts and ends in the community of Bent Mountain which is right on Route 221 about 13 miles outside the center of Roanoke.
This ride offers a great taste of what's available on top of the mountain but there's much, much more to be had. The Blue Ridge Parkway climbs to the top of Bent Mountain to the east and to the west roads descend off the plateau to Salem and Shawsville down below. To the south of Bent Mountain is Floyd County which you'll ride into on this route.
You're likely to see plenty of wildlife from deer to turkey to red-tailed hawks and if you're lucky you might get a glimpse of a black bear. 

Know Before You Go
The roads on top of Bent Mountain are largely lightly trafficked but they're also narrow and twisty. This ride also makes use of about a one mile section of Route 221, a 55mph road with very narrow shoulders. That stretch can have a lot of cars on it so avoid it during rush hour times.
The ride is about 70% paved and 30% dirt/gravel. The type of non-paved surface you'll encounter can vary based on how much rain there's been (there can be some washed out sections) and when the gravel sections were last graded. It's doable on road tires if you're a skilled rider and don't mind some sliding around...but we'd recommend something with a little more grip. 35mm tires and up with a little tread and pressures in the 40ish psi range are good. You'll still enjoy the pavement but you'll have the traction you need when you hit dirt. 
Cell phone service is spotty so don't plan on having it.
Getting There
You'll start and finish at Treehouse Tavern. They're right at the top of the mountain at 9607 Bent Mountain Road (Bent Mountain Road is the same as Route 221).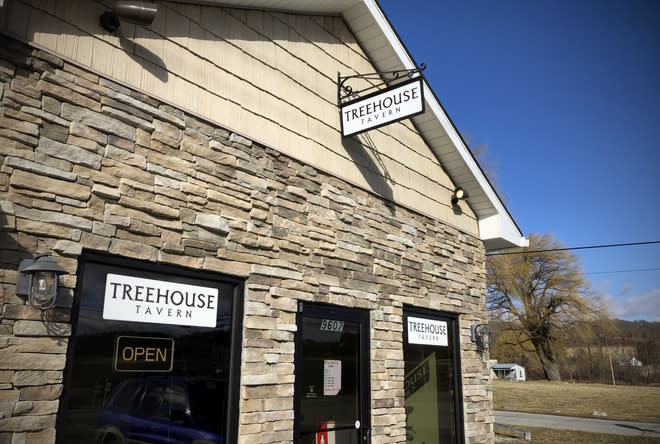 On The Route
This route is just under 21 miles. It starts off rolling right across the top of the plateau. You'll be paralleling Route 221 on Tinsley Lane for a while and the road is wide and flat. Enjoy the views: you'll see bucolic pastures to the east and to the west is Poor Mountain, another one of the areas landmark mountains (Poor Mountain is easy to spot from most places in the valley. There's a row of radio towers across the top making it stand out.) 
You'll soon be crossing over and then riding alongside Bottom Creek, one of the headwater streams of the South Fork of the Roanoke River. Bottom Creek eventually veers away from the road and heads into Bottom Creek Gorge where it forms a series of waterfalls know as The Kettles and forms the second highest waterfall in Virginia. It's worth checking out the Nature Conservancy's Bottom Creek Preserve while you're at the top of the mountain. If you have the legs for it after your ride it's a great place to hike.    
The picture below is from where King Brothers Road in Roanoke County turns into Sugar Run as it enters Floyd County. This is a very fun descent on dirt and gravel. If you're not smiling on this section...well, we're not sure what's wrong with you. The road passes through several dense stands of rhododendron you'll have views of the creek flowing beside it and the large rock faces around the creek.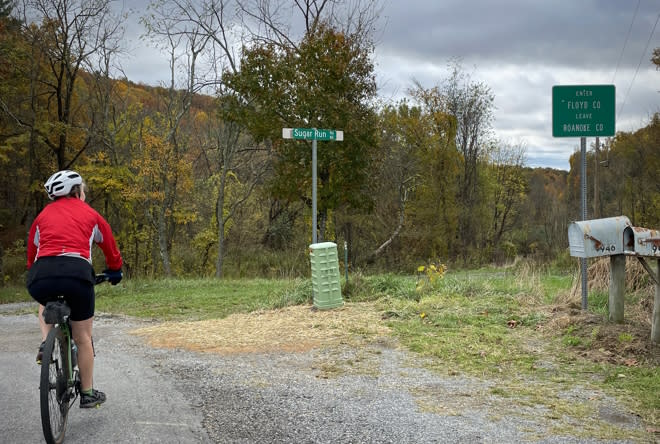 As good as the riding on Sugar Run is, it's equally as good when you turn onto Pine Forest. The surface is generally really good quality dirt/gravel through here as it runs beside Lick Fork Creek. Lick Fork, like Bottom Creek, also forms a large waterfall, and also like Bottom Creek it's unfortunately away from the road. It's nice to know it's there, though, right??
Pine Forest will turn onto Twin Falls Road which leads you to the section of the ride on Route 221. It's a busy road and it's not very fun to ride, BUT, you'll only be on it for a little under a mile. The payoff is Rocky Road which is a really nice stretch of gorgeous paved road taking you back to the "stick" of the lollipop. You'll then retrace your route and get to enjoy the scenic Bottom Creek Road from a different perspective. 
You'll roll back up to Treehouse Tavern where we highly recommend grabbing a bite and a beverage. On warm days you can enjoy the outside seating while you reminisce about how awesome this ride was.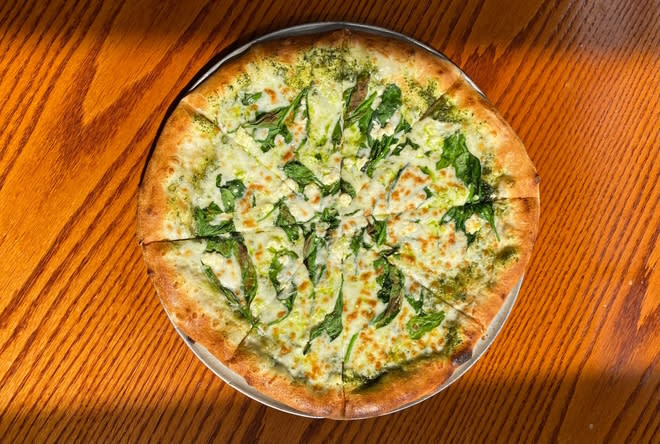 Check out the route profile and download the GPX file on our Ride with GPS account. 
Be sure to tag us on Instagram @bikeVBR and @visitVBR if you head out to explore this ride!