Merriam-Webster says that the word arcadia is used to "designate a place of rustic innocence and simple, quiet pleasure". In the case of Arcadia, Virginia- located  in Botetourt County -we'd say that it's very fitting.
There isn't much to Arcadia but it's the gateway to a section of the Jefferson National Forest and a jumping off point for all kinds of outdoor recreation including some truly great gravel riding and mountain biking. 
This ride takes in one of the shorter loop rides around Arcadia coming in at just over 10 miles. It's a good workout without being overwhelming and it has enough technical challenge to make it fun for intermediate and up riders.
Know Before You Go
Trails in this area can be overgrown at times especially in the late spring and summer. The upside to doing this ride when it's warm out is that your parking spot happens to be right at a great swimming hole along Jennings Creek!
This loop and many others in the area use sections of the Glenwood Horse Trail so you may run into some equine traffic but trail use overall is pretty low.
Hunting is allowed in the National Forest so be aware of hunting seasons and plan accordingly.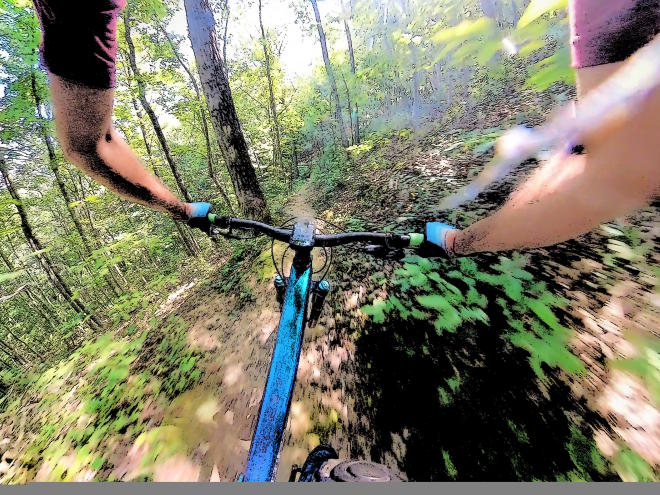 On the Route
 
After a very short warmup on the pavement of Jennings Creek Road you'll turn onto Chapel Road for about a tenth of a mile before you take a left turn onto Cove Mountain Fire Road and shortly after a right onto the blue-blazed Cove Mountain Trail. It's steep. Like have-I-made-a-mistake-in-doing-this-ride steep. Luckily it does ease up...and then it gets steep again...and then it eases up. It continues this madness for a little under a mile. You'll wonder if this is all worth it and you may consider just selling your bike. (Don't do it: the payoff is worth it.) 
You'll come to a gate on your right. Go around that and keep climbing til the intersection with the Glenwood Horse Trail on your left. Take the GHT and enjoy the sidehill singletrack as your first reward. You'll pop out in a grassy field which you'll ride through to the fire road continuation of the GHT. After around 3 miles you'll come to the intersection with Little Cove Mountain Trail. Take a left to begin your final payoff. 
Little Cove Mountain starts out rocky but quickly gets fast and loose. It's a rowdy good time and your bad memories of that first climb will fade away by the end. 
NOTE: There's a VERY sharp switchback towards the bottom and it can sneak up pretty fast. Once you roll through that you're just about at the bridge crossing Jennings Creek and the left turn onto the road back to your parking spot.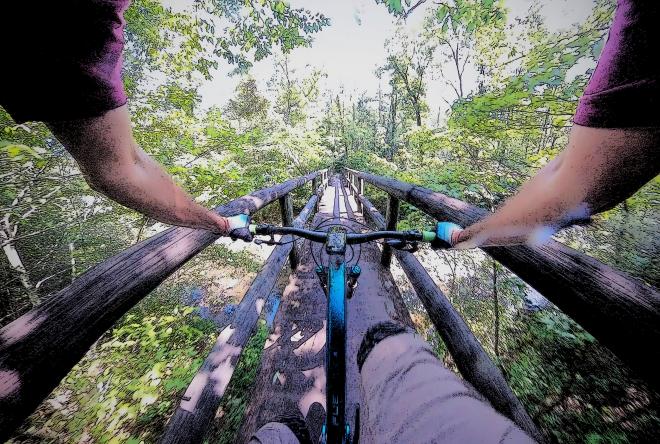 After Your Ride
If it's hot outside take a dip in one of the many swimming holes along the creek and then head to Foot of the Mountain Cafe at the intersection at I81. It's a great spot. We recommend the burgers: you can't go wrong. 
(If you eat a little too much and need to walk it off, take a short drive into Buchanan and enjoy the walk on the swinging bridge across the James River. The view is pretty great.)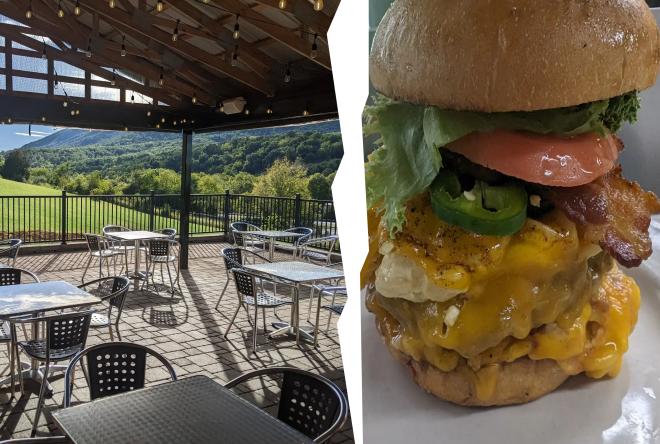 Check out the route profile and download the GPX file on our Ride with GPS account.
Be sure to tag us on Instagram @bikeVBR and @visitVBR if you head out to explore this ride!