2018 CIAA Football Championship Gridiron Showdown Returns to Salem Football Stadium November 10
Tickets On Sale October 1 at Ticketmaster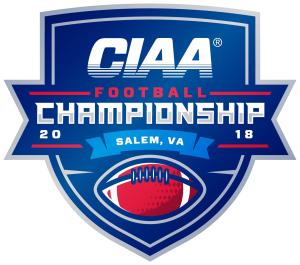 The Central Intercollegiate Athletic Association (CIAA), the nation's first African American athletic conference, will host its 2018 CIAA Football Championship on Saturday, Nov. 10 at Salem Stadium in Salem-Roanoke, VA. Kick-off is scheduled for 1:00 pm ET.
In addition to the exciting gridiron action between the Northern and Southern Division Champions, this year's championship finale will feature many family-friendly activities to engage attendees – a free Fan Zone including giveaways, interactive events, the Coca-Cola/Food Lion Tailgate Cook Off, and appearances from the always popular cheerleading squads and drumlines from rival schools.
Tickets for the annual competition between the best collegiate football teams go on sale Monday, October 1. Advance general admission tickets to the Football Championship are $15, advance reserved tickets are $25, both can be purchased at Ticketmaster.com when the site goes live. Special rates for students with school IDs and youth will be available the day of the event for $10. Admission for children ages 7 and under is free.
Parking is free, and fans are encouraged to begin their tailgating festivities at 9:00 am on Saturday, November 10.
For more information about the 2018 CIAA Football Championship please visit, TheCIAA.com
About the CIAA
Founded in 1912, the Central Intercollegiate Athletic Association (CIAA) is the first African American athletic conference and one of the most recognized conferences in Division II. The CIAA conducts 14 championships attended by more than 150,000 fans from around the country. Headquartered in Charlotte, North Carolina, the CIAA is governed by the Presidents and Chancellors of its 13 member-institutions: Bowie State University, Chowan University, Claflin University, Elizabeth City State University, Fayetteville State University, Johnson C. Smith University, Lincoln University of Pennsylania, Livingstone College, Saint Augustine's University, Shaw University, Virginia State University, Virginia Union University, and Winston-Salem State University. For more information on the CIAA, visit theciaa.com. For more information on the CIAA Basketball Tournament, visit CIAATournament.org, like us on Facebook and follow us on Twitter and Instagram.
Media Contacts:
Bri Funte
CIAA
704-910-2133
bfunte@theciaa.com
 
Sharon Liggins
LIQUID SOUL For CIAA
818-207-5027
sharon@goliquidsoul.com
 
Martine Charles
LIQUID SOUL For CIAA                               
206-295-9114                                                           
martine@goliquidsoul.com