It's time for a holiday feast in Virginia's Blue Ridge!
Enjoying delicious food is one of our favorite parts of the holiday season in the Roanoke Region and there are lots of tasty ways to experience Christmas in the mountains.
While many opt for a home-cooked meal for Christmas Eve and Christmas Day, there is also the option of enjoying a Christmas brunch, lunch, or dinner at a restaurant, or taking advantage of the local spots offering various takeout and to-go dining & catering packages.
It's a way to spend more of your time focused on the fun parts of the holiday with friends & family without worrying about the stress of planning, cooking, and cleaning up.
Show your support for these great restaurants in Virginia's Blue Ridge.
We'd also like to extend our gratitude and appreciation to the staff at these local businesses that work so hard to provide delicious holiday food and hospitality for their customers.
NOTE - Many restaurants operate special hours for the holiday and many require reservations or takeout orders to be placed in advance. Please call ahead to check for availability and hours of operation. 
Dine-In Service & Christmas Buffets
Takeout, To-Go, & Catering
Baked Goods & Desserts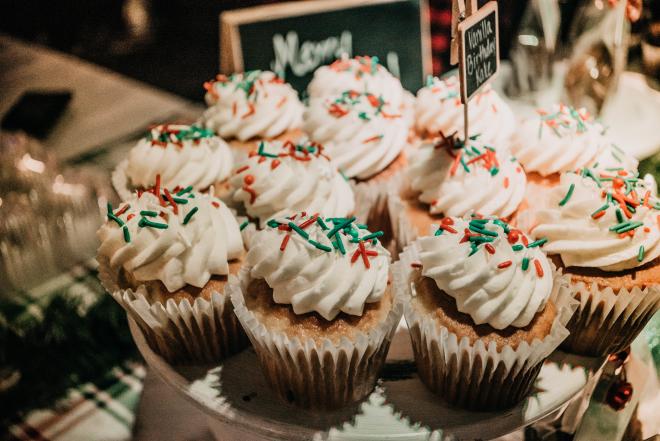 Boone's Country Store - Pies, Breads, Cinnamon Rolls, Assorted Baked Goods - Franklin County 
Blue Cow Ice Cream - Artisan Ice Cream - Roanoke | View Flavors >
Bread Craft Bakery - Baked Goods, Pastries, Gingerbread - Downtown Roanoke | Gingerbread House Kits >
Bryant Orchards Farm Market - Baked Goods, Pies, Rolls, Cakes - Daleville | Menu & Order Form >
Bubblecake Bake Shop - Cupcakes & Cakes - Towers Shopping Center (Roanoke)
Corbin's Confections (Gluten Free Bakery) - Bread, Cream Puffs, Baked Goods - Downtown Salem
Cupcakes & Canines - Holiday Cookies, Cupcakes - Daleville
Delish Sweets & Treats - Holiday Dessert Platters - Roanoke | | E-mail delishonjefferson@gmail.com for info
Evie's Bistro & Bakery - Cakes, Cookies, Baked Goods - Old Southwest Roanoke | Holiday Dessert Trays >
Homestead Creamery Farm Market - Ice Cream, Baked Goods - Franklin County
Ikenberry Orchards & Country Store - Pies, Breads, Baked Goods - Daleville
Kupkakery Bakery - Cupcakes, Cakes - Rocky Mount
On the Rise Bread Company - Cakes, Breads - Downtown Roanoke
Our Daily Bread Bakery & Bistro - Cakes, Pastries, Cookies, Breads - Roanoke | Salem | Vinton
The Pie Shoppe - Sweet & Savory Pies - Fincastle | Order by December 17 & pickup on December 23 | Order Online >
Rookie's - Cookies & Ice Cream - Downtown Roanoke | View Menu >
R.T. Smith's Deli - Cookies - Downtown Roanoke 
Smith Mountain Lake Coffee House - Cheesecakes, Cakes, Pies - Bridgewater Plaza at Smith Mountain Lake | Order by December 19 for pickup on December 22-23 - call (540) 346-2023 for orders | View Menu >
Sweets by Shaneice - Cakes, Cookies, Sweet Treats - Downtown Roanoke
---
Christmas Events & Things To Do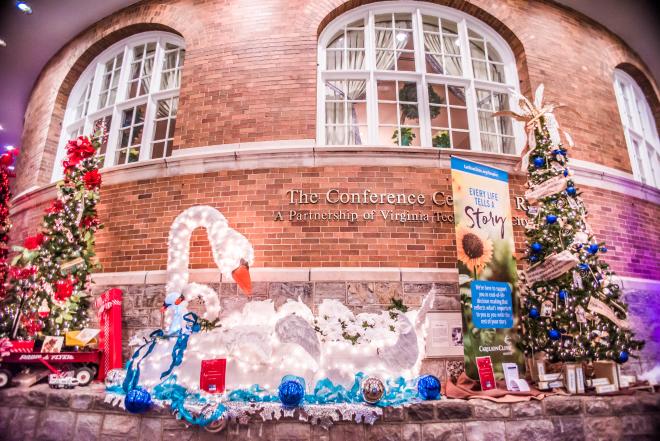 Make the most of the Christmas holiday in Virginia's Blue Ridge by checking out some fun local events and things to do.
Elmwood On Ice will be open for ice skating in Downtown Roanoke from 11:00 a.m. to 4:00 p.m. on Christmas Eve.
The Town of Buchanan will host its special Christmas Eve Luminaries event on the evening of December 24, a touching annual tradition that serves as a reminder and thanks to those who sent jugs of water to the town after the Flood of 1985.
You can also enjoy beautiful light and decorations on display at many local spots, including the Fashions for Evergreens event at The Hotel Roanoke, Land of Lights in Franklin County, and the Tinsel Trail in Historic Fincastle. 
---
Need more dining ideas for your next visit? Check out our Restaurants section for a complete guide on places to eat in the area.
Additional Resources