Reconnect with what you love this summer as you set a course for inspiring travels through Virginia's Blue Ridge. From town to peak and hidden gem to craft beverage, you'll be reminded to continue seeking meaningful moments with the ones dearest to your heart. 
That's WanderLOVE.
Here are some suggestions and activities to include in your next WanderLOVE road trip to Virginia's Blue Ridge.
Outdoor Recreation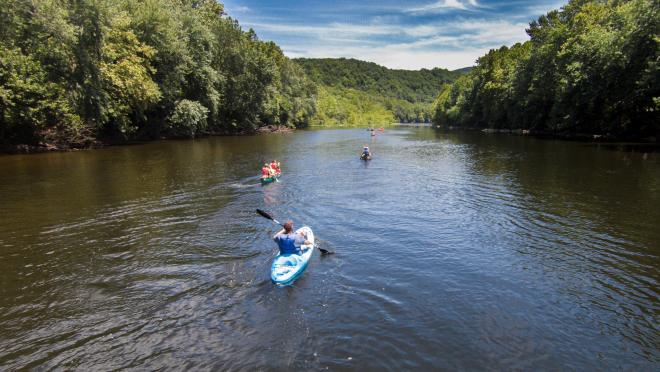 Virginia's Blue Ridge is an outdoor recreation destination, and unashamedly so. Our mountain biking trails are so wicked we've been dubbed America's East Coast Mountain Biking Capital, our streams are among Virginia's most scenic and boast some of the best fishing and paddling in the Commonwealth, and our hiking trails lead to some of the most photographed lookouts on the East Coast. 
Rent a bike from Roanoke Mountain Adventures and hit the 60 trails of Carvins Cove, a 12,000-acre paradise of loops, climbs, switchbacks, and incredible scenery. Hundreds of miles of mountain biking trails are at hand in Virginia's Blue Ridge giving you hundreds of reasons to come back again and again.
The Upper James River Water Trail (pictured above) is a Virginia Scenic River that includes fun class I and II rapids as well as great flat water for floating and easy paddling. The Roanoke River Blueway is 45 miles of great fishing and canoeing with numerous local parks as access points. Incorporate such river activities plus hiking, biking, camping, and even a bit of history with a visit to Explore Park along the Blueway.
Scenic Blueways of Virginia's Blue Ridge >
Before You Go: Familiarize yourself with The Leave No Trace 7 Principles. These guidelines are a great way recreate responsibly and help protect nature when you spend time outside.
Great Small Town Experiences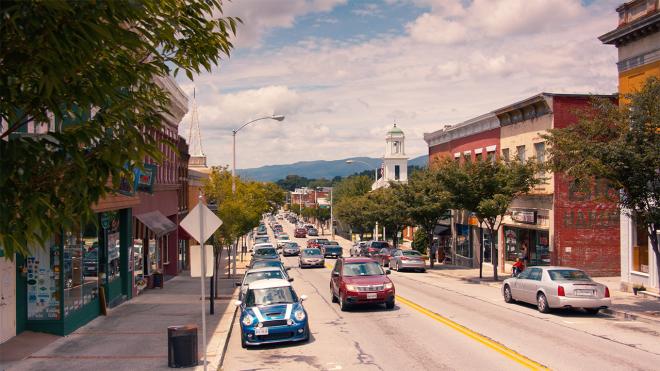 Small towns offer the best in southern hospitality, and ours shine especially bright with cool place to be, eat, and drink. Road trip right this way…
In Rocky Mount we love exploring the downtown area and local shops, and no visit to Franklin County is complete without a sip of moonshine. Visit Twin Creeks Distillery in downtown Rocky Mount for a swig inside their tasting room. You can also enjoy fantastic trails for hiking, mountain biking, and water access at nearby Waid Park.
Vinton is an outdoor lover's gateway to trails and streams. Tinker Creek canoe access point sets you on your way to a Roanoke River Blueway day or you can explore the parks along the Wolf Creek Greenway. Great burgers, pizza joints, and even authentic Thai are perfect fill-ups before a craft beer flight at Twin Creeks Brewing Company.
Situated alongside the James River and with the Great Valley Road slicing it in half, Buchanan was once a bustling town of westward homesteaders. The Buchanan Swinging Bridge is a prominent landmark positioned where a covered bridge once stood. Cross from the far side into downtown and climb Main Street for lunch at the Buchanan Fountain & Grille. It's an authentic soda fountain experience and real small town treat.
South of Roanoke is the oldest settlement in Virginia's Blue Ridge: Salem (pictured above). It's also the home of Roanoke College, a great local farmers market & antique stores, and the Salem Civic Center. Stroll through town with a walking tour map and an eye for history to learn about Salem before it was Salem, and a few surprises, too.
Great Small Towns in Virginia's Blue Ridge >
Scenic Drives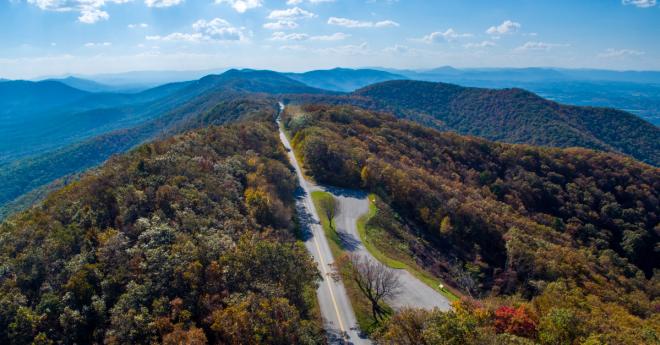 When scenery is all you crave, look no further than Virginia's Blue Ridge. Our mountains are the quintessential road trip backdrop with peaks and valleys, so many hues of foliage, and delightful stops along the way.
Route 311 to Craig County serves up a driver over Catawba Mountain, an access point for the Appalachian Trail and McAfee Knob. Pass through fields, past farms, and climb Potts Mountain toward Paint Bank. A great local dining option is making your way out to The Swinging Bridge in Paint Bank.
Route 11 to Botetourt County zips you into and out of Troutville while offering mountain, pasture, and Mill Creek and Beaverdam Creek views in some places. In late summer, Beaver Dam Farm's sunflower fields are a reason to stop and stretch your legs. Greenwood and North Star are down home restaurants to beat back your hunger.
Route 221 from Roanoke to Floyd is about 30 miles of farmland dotted with cows and round bales of hay. It's an ideal, laid-back, rural drive that becomes vibrant with autumn's colors in October. In Floyd there's always a hum of creativity on the air, whether it's from music, dance, or a potter's hands. Southern Living called it one of the South's Best Small Towns in 2016, and we believe it's only gotten better.
The Blue Ridge Parkway (pictured above) always rises to the top when discussing scenic drives. Meandering through the woods and atop grassy knolls, ever on the lookout for the next place to stop and soak in the views…those are the moments that make the BRP our go-to any given Sunday. Pull off and venture down a trail to see what turns up, or stick near the pavement with a stop at Mabry Mill or Peaks of Otter. The former is known for great dining and history while the latter is known for great dining and some of Virginia's best hiking. Neither stop will do you wrong.
Scenic Mountain Drives in Virginia's Blue Ridge >
Hidden Gems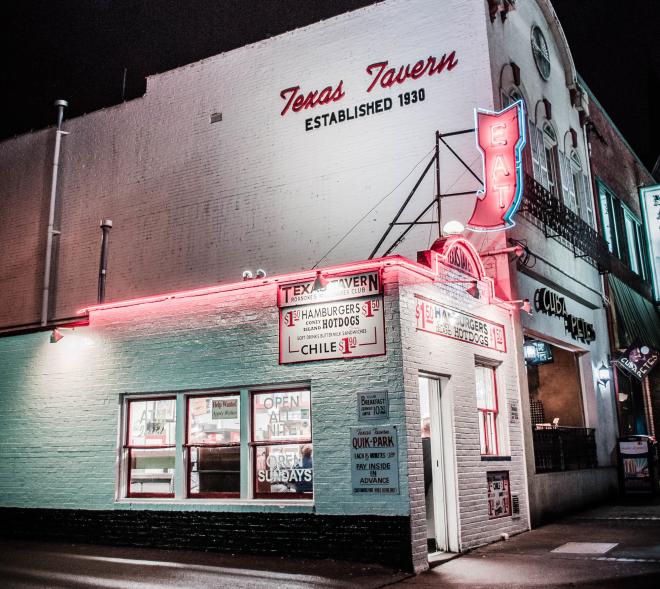 To find some of the best of what's around, you need to look closely and watch the locals. They'll lead you (and point you) to some of our claims to fame as well as our favorite shimmering treasures.
One of our most brilliant (but still rather hidden) gems is the Roanoke Star. It's hard to miss at night when its neon bulbs are abuzz atop Mill Mountain, but during the day it stands dark, watching over the Roanoke Valley below. Wind your way up the mountain to get the star's point of view or to explore the many hiking and biking trails.
Texas Tavern (pictured above) is larger than life in our hearts, but in reality, you'd easily miss it if you didn't know exactly where to find it. Like the Roanoke Star, its neon lights draw you in at night, but during the day you'll need a keen eye. Operated by the same family for four generations, Texas Tavern is an old school, 24-hour lunch counter within a narrow building that isn't much wider than the counter itself. Texas Tavern is a treasure that should be on any Roanoke road trip itinerary; their burgers are legend.
Waterfalls are long sought and much loved. If you're up for a hike, we have a couple of our very own worth your wandering. Perhaps the most popular in our area is Cascade Falls in Pembroke for its 69-foot drop and the wading pool below it. Roaring Run Falls in Eagle Rock is an easy trail for families and not only includes a smaller set of falls, but also has a bit of history along the way. Do seek out the 19th century iron ore furnace for a quick family history lesson.
Off the Blue Ridge Parkway is Apple Orchard Falls, accessed by a 7.5-mile moderately difficult loop trail. It's an impressive waterfall and one of Virginia's highest. Another fun option is Bottom Creek Gorge in Bent Mountain. Bottom Creek is the headwater of the South Fork of the Roanoke River, and it roars down 200 feet into the gorge below, creating Virginia's second highest waterfall.
Waterfall Hikes in Virginia's Blue Ridge >
Share the LOVE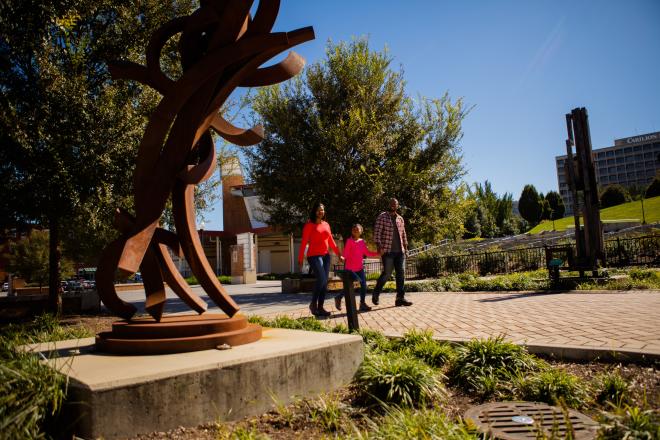 LOVEworks are the popular L-O-V-E letters that have popped up all over Virginia in the past 10 years. In Virginia's Blue Ridge alone you'll find more than 25 LOVE installations to photograph and enjoy. Virginia is for Lovers has a two-day LOVEwork itinerary ready for you as a suggested leap for love. Don't forget to share your photos on social media and include #LOVEVA.
LOVEworks Art Locations in Virginia's Blue Ridge >
Public art is just about everywhere in Roanoke. Murals under bridges and on the sides of downtown buildings, metal sculptures in parks, and even functional art – like bike racks – are all over. There are nearly 60 pieces to see on the Ride Solutions Roanoke Hidden Art Map, which you can navigate by car or on a bicycle with Art by Bike. It's one of many unique self-guided bicycle tours created by Ride Solutions.
No visit to or around Virginia is complete without a Virginia is for Lovers souvenir, and there are several places to pick up a key chain, snapbacks, bumper sticker, growler, or any number of other useful displays of your love and affection. The Smith Mountain Lake Visitor Center at Bridgewater Marina is a touristy spot to stop, but you'll also find Lovers gear in downtown Roanoke at chocolatepaper and The Gift Niche.
Virginia is for Lovers - Online Store >
Unique Lodging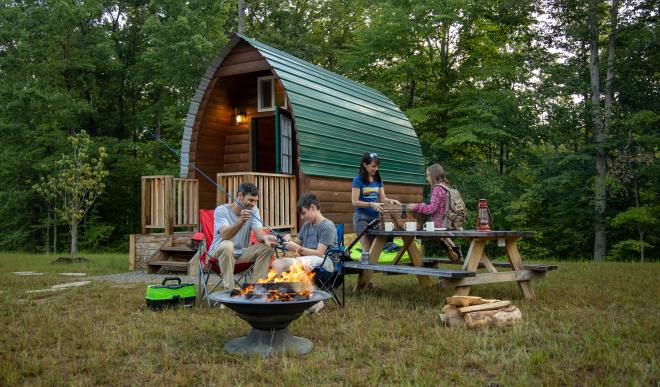 What's a road trip without some amazing places to stay along the way? Camping has a number of definitions these days. At Explore Park (pictured above) you can pull in your camper or stay in one of their swanky canvas tents, though camping, cabins and primitive sites for your own tent are also available. For the truly primitive camping experience, head to Deer Island at Philpott Lake. You'll boat to the island and give it your best Survivor attempt. We're hopeful you won't end up Naked and Afraid.
Upgrade your overnight with a cabin rental. For the ultimate cabin stay, a treehouse at Primland in Meadows of Dan is the way to go. For an iconic option, consider the cabins at Mountain Lake Lodge, home of Dirty Dancing. Some Virginia State Parks also offer cabins. In Virginia's Blue Ridge, you can book one at Claytor Lake, Douthat, Fairy Stone, or Smith Mountain Lake.
A bed and breakfast is a great overnight if you love a hot homestyle breakfast waiting for you downstairs when you wake up. It's like being home but with a chef. If that sounds like a road trip treat you can get into, there are more than 20 to choose from, including an 1800s Victorian, lodges, a mansion, and even a railcar. See a list of B&Bs > 
For a full-on resort experience, circle back to Mountain Lake Lodge or Primland to enjoy their main rooms, dining, and all of the activities you can work up the adrenaline to conquer. From golfing and zip lines to shooting sports and horseback riding, resort stays are pretty stellar splurges.
Book Your Stay in Virginia's Blue Ridge >
Craft Food & Beverage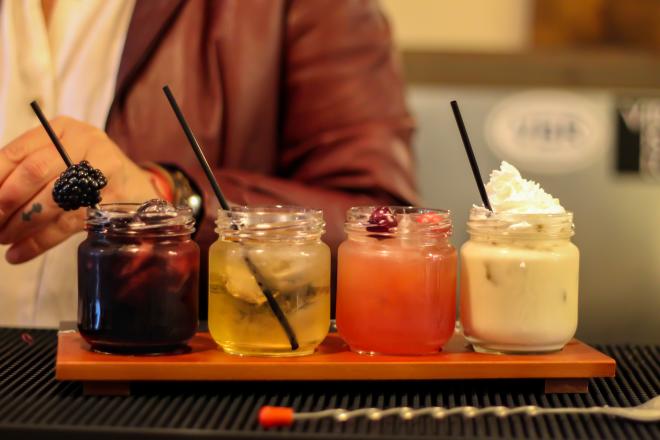 Toast your WanderLOVE wanderings with a pint of freshly brewed craft beer, a perfectly aged red wine, or a 90-proof rye. The Virginia's Blue Ridge Cheers Trail includes all of those and we even have a weekend sketched out for you, if it helps. Cheers Trail Weekend Itinerary > 
Patio dining has been a thing for a while now, but in the midst of a pandemic, it's all the rage. Fresh air and distance have taken priority and many local restaurants and craft beverages have adjusted to offer great patio space. Patio Options in VBR >
---

Wandering is a good thing, and when you wander with the one(s) you love, it's even better. Cheers to you and yours, with great expectation that the road leads you our way.