Your desire to be in a bar, restaurant, or entertainment venue is likely higher than ever, right? Why is it that we always want what we can't have?
Though you aren't able to share the same physical space as your favorite performer, you can recreate parts of the experience at home. 
Dress the part, lower the lights, pull a lawn chair into the yard, pour a beverage, and pull up one of these virtual entertainment experiences. Blast it through your home entertainment system, if you want.
MUSICAL EXPERIENCES - STREAMING MUSIC, CONCERTS, PLAYLISTS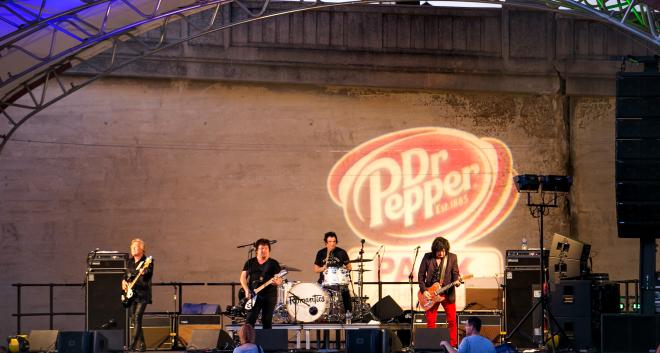 One of our favorite concert venues, Dr Pepper Park at The Bridges has stepped up to the plate to deliver entertainment even in the midst of COVD-19. They've partnered with Blue Ridge PBS and area artists to bring us the "Rock to the Rescue Streaming Concert Series," which benefits downtown Roanoke businesses. 
Viewers can tune in to Blue Ridge Streaming on YouTube for a mid-week premiere night and the concert will re-air nightly at 7 p.m. until the next premiere launches. The concerts are free but viewers are encouraged to donate. 
75% of the funds raised will directly benefit businesses. The remainder will cover costs associated with creating and providing the series, which is currently scheduled to air through May 19, 2020.
Dr Pepper Park's Rock to the Rescue Concerts >>
Get your Friday Night Jamboree fix via Facebook Live every Friday night! The same great pickin' you have come to love is coming to you live wherever you are, and that's a pretty awesome thing right about now. 
Usually folks are gathered into the Floyd Country Store or the party spills outside onto the porch, but right now? Well right now you can pick along on your own porch or flatfoot the night away in your living room, if you want to.
Floyd Country Store Facebook Videos >>
The Spot on Kirk (pictured at the top of this post) is actually a non-profit offering up a stage to every genre of music you can think of as well as other community experiences. It's an intimate place, and they're bringing that same intimacy to Facebook Live with periodic entertainment in real time. The Spot on Kirk describes its experience as feeling like "you're at a private concert in your living room," which is exactly what we're looking for, considering the circumstances.
Upcoming Live Streams at The Spot >>
The Harvester Performance Center is a hot spot in Virginia's Blue Ridge for national names most of us recognize immediately, like Amy Grant, The Beach Boys, Blue Oyster Cult, and Delbert McClinton…all upcoming concerts, by the way. Obviously, there aren't any performances before live audiences of music lovers right now, but the Harvester is still delivering entertainment in a grand way. 
Tune in to the Living Room Live Stream shows through their Facebook page each Friday and Saturday night to hear favorite regional artists.
Harvester Performance Center Facebook Videos >>
The largest performance venue in Virginia's Blue Ridge is the Berglund Center, and it's a popular stop for the biggest radio names of today. They, too, are bringing local and regional music to Facebook for your viewing pleasure. Watch their page for upcoming Play at Home Concerts.
Berglund Center Facebook Videos >>
The Side Stage is at Starr Hill Pilot Brewery in Roanoke is still hosting live music and concerts that are streamed on Facebook, and they're open for pick-up orders of your fave Starr Hill brew. In addition to supporting local musicians during this time, Starr Hill has an option to buy a pint for a healthcare hero. When things reopen, our frontline folks will able to show their badge and enjoy a beer on you. 
Pour It Forward Info >> | Starr Hill Roanoke Facebook Page >>
What is typically a two-day festival was turned into an online celebration of the artists who would've been present. If you click over to their website to binge watch the five-part "At-Home" Storytelling Festival, be sure to click the tip jar button.
Sounds of the Mountains Storytelling Festival Videos >
The Roanoke Symphony Orchestra is eager to perform for us again one day soon, but until then, they've created RSO Rest & Rejuvenation playlists on Spotify, and we're forever grateful. Give them a follow to keep up to date with future playlists for your listening pleasure.
The Symphony has also created a great collection of online resources and virtual lessons full of interesting information and musical activities.

RSO Virtual Lessons >> | RSO Spotify Channel >>
Typically known for hosting an eclectic mix of musical styles and performers, the Jefferson Center is awaiting the time to be able to resume its series of concerts. Until then, the Jefferson Center is providing virtual content and live music through its Facebook page, where they're sharing posts and videos from artists who are scheduled for future performances at the venue.
Jefferson Center Facebook Page >>
Like most universities, Virginia Tech hosts a variety of performers in their Moss Arts Center. Don't let COVID-19 keep you from relishing stage performances. The Moss Vault offers an archived performance that is only available for two days of viewing pleasure. Bookmark the page and revisit to see what pops up next. 
Additionally, you're invited to join a Virtual Chat hosted and moderated by Moss Arts Center Staff. Topics vary and registration is required for you to receive the Zoom meeting information.
Moss Vault Performances >> | Moss Arts Center Virtual Chats >>
Where are our opera lovers?! Our very own Opera Roanoke is taking your Burning Questions and answering them. It's your chance to ask an opera singer anything you want…vocal warmups, training, inspiration, favorite roles…ask away and then tune in for the responses on Fridays via YouTube or Facebook.
You never know what you'll learn, like, did you know a woman playing a male role is called a "pants role"? Check out Season 1 Episode 1 of "Burning Questions with Brooke" to hear from Toby Newman, mezzo-soprano for more on that new-to-us phrase.
Opera Roanoke Facebook Page >>
Need some tunes to help get you through that sleepy afternoon at home? We have an entire Visit VBR Spotify channel with lots of fun playlists, including a recently created playlist showcasing the music of local artists and bands from the region.
If you want a sound of some of the rich musical history & heritage of Virginia's Blue Ridge, give a listen to The Crooked Road playlist.
CINEMATIC EXPERIENCES - MOVIES & SHOWS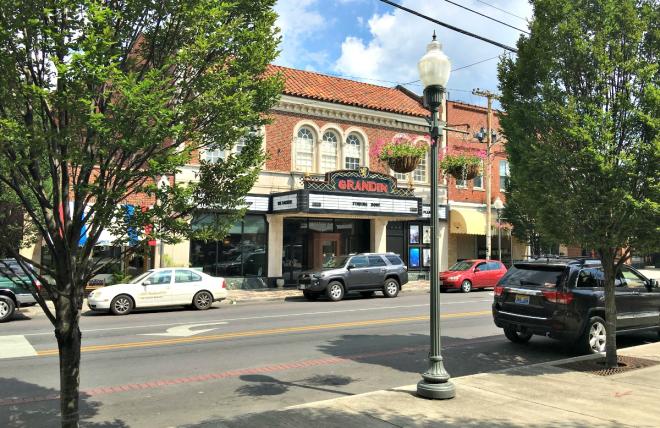 The Grandin Theatre is a 1930s gem with a rich history of showing movies, hosting concerts, and staging plays. It has closed, re-opened, offered the likes of Ray Charles and Bill Murray for special events over the years, and is part of the Grandin Road Commercial Historic District, which on the National Register of Historic Places.
Until you can experience this movie house in person, we encourage you to take advantage of their online offerings. Browse their Film Lab to review student projects and then head over to the Virtual Cinema Film Rentals to rent a movie. Titles rotate weekly, so keep an eye out for something you like.
Did you know that TVs popular Salvage Dawgs is centered around our very own Black Dog Salvage in Roanoke? Mike Whiteside and Robert Kulp operate an architectural salvaging operation that seeks to save details like mantles, windows, cornices, doors, and more that can either be upcycled and sold in their store or sold as-is to someone who can incorporate it into their own project. Stream past seasons of Salvage Dawgs on Amazon Prime Video >
One way to pass the time and get some DIY inspiration bubbling is to subscribe to and binge watch "Black Dog Builds," a web series that will suck you in so fast the day will be gone. It's the Pinterest of YouTube, really.
Shop Online with Black Dog Salvage >>
VBR-Related Movies
Virginia's Blue Ridge has been featured on the big screen numerous times in classic films that are due for a quarantine re-watch. You might recognize Mountain Lake Lodge as the Kellerman Mountain House from Dirty Dancing, or the scenic Lake Winnipesaukee in the comedy hit What About Bob?, which was actually filmed at Smith Mountain Lake!
You can also get a Hollywood twist on why Franklin County became known as The Moonshine Capital of the World by watching Lawless, starring Shia LaBeouf and Tom Hardy.
Watching a VBR flick is also one of our recommendations in a list of Virtual Date Night Ideas >>
---
Until we can gather together and belt out of our favorite songs with our favorite musicians or visit our favorite movie houses and famous DIYers, we can gather virtually and enjoy them online. Hang tight and know that we're in this with you. Virginia's Blue Ridge is Worth the Wait.