Kristen Kulchinsky wins the race of truth!
Photo above: team eSports Captain - Kristen Kulchinsky
Team owner and manager Nicola Cranmer's update on 10/4/2022
ROANOKE, VA - Greetings everyone! Autumn is here and my favorite season; anticipation is high to peep the leaves in Virginia's Blue Ridge in the coming weeks. Most people assume that I ride a lot, but I actually hike more than I ride. I've been exploring the beautiful Virginia's Blue Ridge trails including McAfee Knob – one of the most photographed spots on the Appalachian Trail – and Carvins Cove, known for its excellent mountain bike trails. The hikes were breathtaking and challenging. 
I've been busy this week packing and moving the service course from Idaho to Virginia! What is a service course, you ask? The service course is a team's operational base, where bikes and equipment are stored, mechanics work when not at races, and vehicles are serviced and restocked before heading out to the races.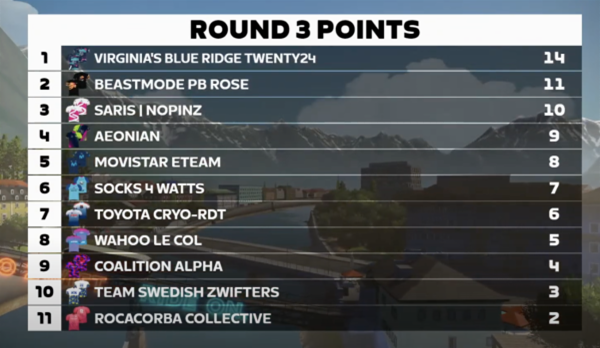 With outdoor racing winding down, it's Zwift Grand Prix season and we are stoked! 
Zwift racing is always an exhilarating reset and complement to our outdoor race season. Virginia's Blue Ridge TWENTY24 continues to focus on developing new Zwift racers. It's easy to pull the best and most experienced Zwift riders together to create a winning team, but historically, our program has been about developing some of the world's best IRL (in real life) athletes. We are fortunate and honored that Zwift eSports specialist Kristen Kulchinsky leads our team; she is a superb racer and has a keen eye for talent along with D.S Josh Lipka. Recruiting is fun, teaching is rewarding, and watching athletes excel and thrive is winning, even if they aren't quite winning actual races yet! 
The Zwift Grand Prix season kicked off with The Parcours Picker, matching athletes' strengths to specific courses. It's a long read as we covered five races in the first round! 
Race #1 Makuri Islands 
Neokyo Crit Course 7.2K
Points Race
Athlete: Marlies Mejias (CUB)
Marlies is from Cuba, a two-time Olympian, Pan American Time Trial Champion, and mother to a 3-year-old daughter. She is new to Zwift, reaching level 10 status just this week. She scored 11 wins and another 10 podiums this season on the professional IRL road circuit; her specialties are sprinting and time trialing.
Very few riders jump from IRL and immediately adapt to Zwift. It takes time and patience – a lot of patience. Marlies is learning English but comprehending and translating the language of Zwift racing is a next-level challenge with data uploads, weigh-ins, height videos, and dual recordings. Her life in Cuba is simple. For perspective, the people of Cuba are only allowed to use electricity for three hours a day for essential living, food is scarce, and there is little to no internet. So Zwift is not an option, but she is embracing the new challenges. 
The short race produced action right from the start. There were four sprints within the 2-lap race. Jessica Edqvist (Movistar), Sara Lundin (Team Swedish Zwifters), Ellexi Snover (Socks4Watts), and Polona Itkin (Aeonian) all got on the scoreboard, but it was Wahoo Le Col who dominated the race with Kathrin Fuhrer who took the first two sprints and a second place on the third sprint. Marlies featured in the points in two sprints but pushed hard for the others, just slightly mistiming, but the watts are there and the timing will come!  "Racing on Zwift is an incredibly challenging and humbling experience. I have so much to learn in a short time. I'm grateful to Kristen and Josh for helping me these past two weeks. The experienced Zwift riders are so strong and smart in their approach to these races. I must adjust my style of sprinting for Zwift racing, be more patient, and practice timing and how to use power-ups!" said Mejias.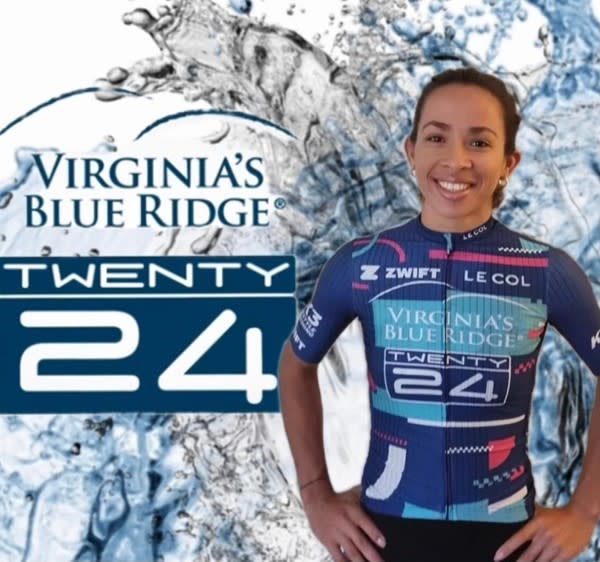 Photo above: New to Zwift, but top IRL sprinter Marlies Mejias 
Race #2 Makuri Islands 
Sea to Tree 3.9K
Hill Climb
Athlete: Elena Wu Yan (USA)
Elena is new to the eSports team this season, recruited by our team captain Kristen Kulchinsky who recognized her potential in community racing. She lives in New York City and is product manager for a Tech company. Elena's entry into endurance sports was in college as a walk-on to the lightweight crew team. After graduating, she discovered cycling during the pandemic and started racing Zwift and road this past year.
"The race was a fast and furious 5-minute hill climb up the Temple KOM! Having watched the men's race from last week, I knew ours would be intense as well – you know everyone is super strong when a climb ends in a bunch sprint! We didn't know our competitors until a couple of hours before the race, and even then, I hadn't raced against many before so didn't know most of the names. I just knew they'd be strong!" commented Wu Yan. "Our race started off relatively relaxed leading into the gravel for the climb. I didn't want to leave things to a sprint finish so decided to attack early and see if my 5-minute power could dwindle down the group. About .2 miles into the climb, I gained some speed from a slight downhill plus the draft of the pack and attacked when the road steepened. Sadly, my time off the front didn't last long, as the group was quick to react and most were able to chase back on."
"From there, the pace stayed high, and we were all climbing together at around 6W/kg. When the gradient kicked up one last time before the flat finish, Eva van Agt (Aeonian) made a calculated move, increasing the pressure while we were all fatigued, and created a slight gap to stay away for the win. The rest of us were also sprinting toward the line with whatever we had left. I didn't know whether I came across in third or seventh, as it was that close! Turns out I was sixth. While not the result I was hoping for, I'm happy with the effort I put in and glad I tried to attack even if it didn't stick (no risk no glory, right?). Also, I found out afterward how many Zwift and road legends were in the race, so it's even cooler to have represented Virginia's Blue Ridge TWENTY24 and been in the mix with such incredible women!"
The legend Mary Wilkinson (Coalition Alpha) was second and Morgan Uceny (Saris NoPinz) rounded out the podium spots in third.
Photos above (from left to right): Elana Wu Yan (USA), Naomi de Pennington (GB), Mairen Lawson (CAN)
Race #3 Yorkshire
Tour of Tewit Well 10.8K
Points Race
Athlete: Mairen Lawson (CAN)
Canadian Mairen Lawson is in her second eSports season with the team. She is currently looking at colleges in the U.S. for next year so she can continue to pursue academics and cycling. 
"The Tour of Tewit Well is a punchy, undulating course – one of the toughest. The finish and the Yorkshire KOM reverse at 4.1% grade average were the battlegrounds for points in this race. The race started off with Mika Söderström (Movistar) taking the first points after a vicious attack from former BMX Pro Arielle Verhaaren (Aeonian) and Lyndsey Cassie (Wahoo Le Col) followed her and took the points. We then descended for a while and there was another section of climbing before the Pot Bank climb," said Lawson. "Around halfway through the race, the road kicks up to 12% and this is where
Lyndsey Cassie threw down an incredible leg breaker of a move and splintered the group and we never saw her again." 
"The group thinned out at the top of the climb. I could not hang with the fast pace, but two riders behind joined me and we chased back to the lead group. There was one last climb, but I couldn't stick with the attacks. Lyndsey Cassie would stay away for the win followed by Arielle Verhaaren with an impressive second and Gokçe Paul (Socks4Watts) in third. It was a good experience but not my best day. I finished in eighth."
Race #4 Innsbruck
Innsbruckring 9.0K
Time Trial
Athlete: Kristen Kulchinsky
The time trial is also known as the race of truth and historically an IRL favorite for the athletes of Virginia's Blue Ridge TWENTY24. There is tangibility in time trialing. Yes, tactics are involved on a personal level like pacing strategies and fueling and knowing the course, but otherwise, it's a race against the clock, a true test of raw power, no drafting, and no power ups. 
Our selection for the time trial was Kristen Kulchinsky. KK is a goldsmith and jeweler by trade. Her stunning pieces are unique, and you can see her fabulous art on Instagram. She is our eSports specialist and a highly sought-after Zwift athlete. She is very loyal and a dedicated team captain that has a deep passion for helping others become better Zwift athletes. She is in her third year with the team. 
Eleven starters left the pen simultaneously, a new format for Zwift GP time trials. Kulchinsky hit the front immediately and was only challenged briefly by Morrison (Saris NoPinz). Vicki Whitelaw (Aeonian) stayed within striking distance in the opening kilometers. By the 4K mark, Kulchinsky had opened up a 6-second gap; she hit the Leg Snapper and was 15 seconds ahead when she crested the top. The battle for the remaining podium spots saw Morrison holding strong in second up the climb with a charging Merlee Brunee (Beastmode PB Rose) powering ahead of Whitelaw. Kulchinsky also took the 2-point bonus, posting the fastest segment time. Kulchinsky's performance was stunning and a testament to the hard work she put in this summer. Taking the maximum points solidified the top spot for Virginia's Blue Ridge TWENTY24. Brunee finished 16 seconds back, followed by Morrison, Whitelaw, and Simmonds (Movistar). 
"The Parcours Picker was one of the races I was looking forward to. The Innsbruck Time Trial seemed like a perfect choice for me and with the most points on the line for the team I was up for the challenge!" commented Kristen Kulchinsky. "My pre-race reconnaissance with my coach and the D.S. Josh determined a good pacing plan. I felt great throughout the race; I was in the zone and slightly possessed! I went for the 'fastest through segment' and was happy to pick up the additional two points for the team! Completely emptied my tank and left it all out there!"
We hope Zwift continues adding an individual time trial to its UCI eSports World Championship schedule in the future. 
Race #5 Crit City
Downtown Dolphin 9.6K
Points Race
Naomi de Pennington (GB)
Naomi resides in England and owns her own veterinary practice specializing in large animals and in particular, horses. It's been interesting at times on Discord when Naomi gets an emergency call to attend to a horse with colic. She has raced with the eSports team for three seasons when she can work it into her busy schedule.
"I was thrilled to be chosen to represent Virginia's Blue Ridge Twenty24 as part of the Zwift Grand Prix series last Friday with its exciting new format," said de Pennington. "The wait for race number five was a long and nervous one, although watching my teammates, in particular the incredible Kristen Kulchinsky on the Zoom feed, whilst listening to our DS Josh's team talk on Discord was highly motivating! The start list for race five was full of exceptional athletes, although I guess that goes for all of the ZGP races. Nevertheless, it was a little daunting to line up against the current eSports world champion and some of the top ranked female Zwifters. The race set off at moderate pace but when the short uphill segment to the sprint banner came into view some ferocious sprints were soon unleashed as expected. Despite a lot of practice on the course, I didn't quite time this first sprint right. The following lap, one of the riders used a ghost power up to go for a long sprint and I just managed to catch the wheel and hold on for fourth place across the line. In the third sprint I couldn't quite match the power of the strongest women to make it into the points and then it was a battle to get back into the draft. My attempt to get points by going early on the fourth sprint was unsuccessful and then it was pure suffering to try to keep up with the pack for the remainder of the race. Kudos to all the super strong women in the race for their fantastic sprinting and to Anna Svärdström (Team Swedish Zwifters) for powering through to cross the finish line in first place with Loes Adegeest (Aonian) in second and Sammie Stuart (Canyon) in third."
"We had a fun first race of the Grand Prix and we did as well as we could as a team on the day. It revealed several areas where we could improve, and we're looking forward to round two," said D.S. Josh Lipka. 
Congratulations to all the teams and athletes that participated. We know that just getting to the starting line of the big-league Zwift races is no easy feat. Huge KUDOS to Wahoo Le Col on the overall. 
"As a team I think we did amazing; there is always room for improvement and learning! I do love how we got to showcase each athlete's abilities on the different courses," said team eSports captain Kristen Kulchinsky. "Sprinters, climbers, punchy, and power! Overall, a great first race of this new fun format!"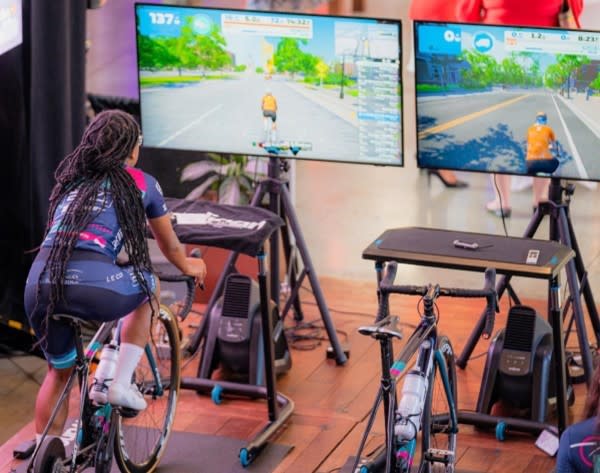 Join us this week on our Zwift Community Ride!
Virginia's Blue Ridge TWENTY24 is now in our 18th year of operation developing high-performance athletes and the next generation of competitive cyclists. Success in aligning student-athletes with college scholarships through cycling. Support of the multi-discipline athlete. Adaptive, dynamic, versatile, resilient, and committed to growing diversity in the landscape of women's cycling. Our weekly Zwift group ride is in its third year and is led by Ultra-cyclist Amanda Coker. 
Sign Up - 7:00am MDT / 9:00am EST / 2:00pm CET
We would love for you to join us on this good vibe, fun social ride!