Ask any kid and he or she will likely tell you that snow days are the best days. We kind of love them, too. With snow, our Blue Ridge Mountains receive an insulating blanket of white that helps to birth spring's flowers, and our communities take on a storybook feel. Indeed, wintry days make us a bit nostalgic for childhood.
If that sounds familiar, come along with us to explore the best ways to enjoy snow days in Virginia's Blue Ridge.
Family Sledding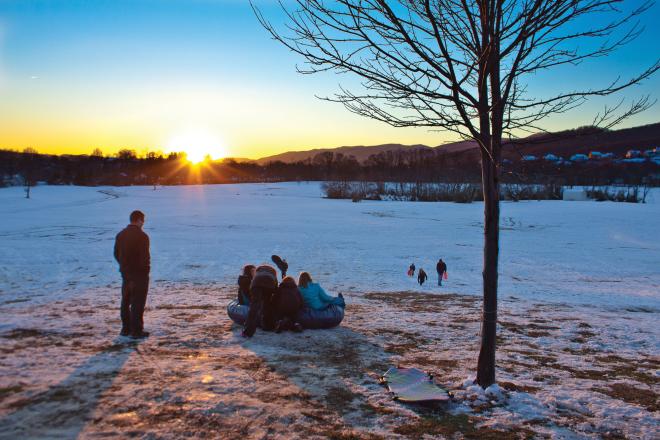 Our local big box stores keep a nice stock of sleds, saucers, and tubes in anticipation of winter weather. Choose something off the rack or bring your own to one of our 10 favorite public spaces for snow sledding. Some of our local parks have short, tame hills for little ones to enjoy their first slides while others deliver a little more gusto for older sledders. Greenfield Recreation Park in Troutville is an ideal first-time sledding spot for families, and Highland Park is a convenient location for downtown Roanoke sledders, while the municipal golf course (pictured above) is a great spot for some downhill runs in Salem.
Snow Sports sans Slopes
Just because there isn't a ski resort in Virginia's Blue Ridge doesn't mean we don't ski. Indeed, some of us strap on our cross-country skis and hit the Blue Ridge Parkway when snow closes it to vehicular traffic. It's one of the thrilling opportunities that many never have the chance to experience. Let your mind wander for a moment. Can you see it? Undisturbed powder on the road with the most incredible winter views to enjoy. It's definitely an "all is calm" moment. 
We also like Green Hill Park in Salem for cross-country skiing. As one of the larger parks in the area, it has plenty of space to get a rhythm going.
Have you ever heard of snow kayaking? It's sledding, but in a well waxed kayak. However, the most extreme athletes do it from incredible altitudes or even jumping from planes. Yikes! We're not quite that audacious. In fact, we're not even sure where to recommend one to snow kayak in Virginia's Blue Ridge, so for now, we'll keep our kayaks on the water.
Put your 'yak on the Roanoke River or James River, both serving up their usual challenges the same as any other season. Or go for a flatwater paddle with enormous mountain views at Carvins Cove Natural Reserve or Smith Mountain Lake. 
Warm Up with Indoor Entertainment
No judgement. We can agree that sometimes enough is enough. When you've reached your limit on wet feet and wet layers, check out the indoor fun of Virginia's Blue Ridge. 
A brilliant destination for the whole family, Launching Pad Trampoline Park & Family Center in Salem is a great place to shed sweaters and expend energy. Ten-year-old Jase can try to dunk on Uncle Todd while Aunt Tammy jousts with her sister, Brenda (she owes her one for that night in 1996). It's a win-win for everyone. Even Grandma Betty.
Kid-free adults (or those looking to escape their children for a hot minute) will likely skip the trampoline park and make a beeline for the Jefferson Center or the Harvester Performance Center for an evening performance. Consult our live music calendar and secure your tickets.
Experience a Winter Wonderland
There is one other thing we simply love and we're sometimes hesitant to share: our waterfalls. They're treasured places. Almost magical, really. And frozen during winter? "Wow" doesn't quite capture it.
For a special experience (maybe a proposal?), we would be happy for you to hike to one of our waterfalls this season. Use caution, of course, and be sure to bundle up. Our most accessible are Cascade Falls in Pembroke and Roaring Run in Eagle Rock. Please treasure them as we do and leave no trace of your presence.
Snuggle Up with Something (or Someone) Warm
Give me a fireplace, a hot cup of coffee, and a good book when it's cold outside. Empathetic? If so, you'll love our ideas on places to get cozy with whomever or whatever you want. For starters, consider Sweet Donkey Coffee in Roanoke, where comfort food in a comfortable place is both the expectation and the reality. For supreme overnight coziness, any of the accommodations at Primland in Meadows of Dan will do.
>> See Our Other Favorites 
>> 5 Cozy B&Bs
---
Are you feeling equipped for winter in Virginia's Blue Ridge? Good! Now check out the upcoming events, secure a place to stay, and be sure to tag #BlueRidgeDay in all of your social posts as you experience our neck of the woods. We know you're going to love it here!
Don't forget to sign up for our Sweepstakes to be entered to win a free trip to Virginia's Blue Ridge!