Spring Break is the perfect guilt-free excuse for a fun family trip. With the kids out of school and temperatures on the rise, you can spend an entire week exploring the Roanoke Valley in Virginia's Blue Ridge Mountains, and still not see it all!
The region is a mountain playground full of fantastic opportunities to enjoy the outdoors, including hundreds of miles of trails for hiking and biking, as well as waterways for paddling, fishing, and boating.
Virginia's Blue Ridge also features a unique history that has deep ties to its railroad heritage and surprising connections to various key figures and events in American history.
Looking for an exciting, out-of-the-ordinary spring break? Here are some of the best ways to spend time with the family in Virginia's Blue Ridge!
Walkable Downtown Roanoke
You won't believe all the different options for enjoying a Blue Ridge Day in Downtown Roanoke. From checking out classic cars and an amazing collection of over 50 pieces of rolling stock in The Railyard at the Virginia Museum of Transportation, to playing classic games at the Roanoke Pinball Museum, Spring Break memories are only a short walk away in Downtown Roanoke.
The Taubman Museum of Art features Art Venture, an exploratory gallery where kids can take part in the creative process, and parents will love checking out the museum's exhibitions and permanent collection.
When you're not in one of the fantastic museums or attractions, make some friends at the Historic Roanoke City Market, one of the oldest farmers markets in Virginia. Now that your stomach is growling, check out Roanoke's restaurant scene featuring creative, locally-sourced and locally-owned eateries.
Don't Miss: Center in the Square | Taubman Museum of Art | Virginia Museum of Transportation
Natural Bridge - A Natural Wonder
Discover why The Natural Bridge of Virginia was once considered one of the Seven Natural Wonders of the World. This incredible, 30-story tall natural bridge of solid rock is a National Historical Landmark that Thomas Jefferson purchased from King George III of England in 1774.
Today, visitors come to walk under this incredible structure and enjoy the trails and paths that surround the bridge, including the Cedar Creek Nature Trail. You can also step back in time by visiting the Monacan Indian Village and explore the underground at the Natural Bridge Caverns.
Learn More: Natural Bridge State Park Website >
Splash at Smith Mountain Lake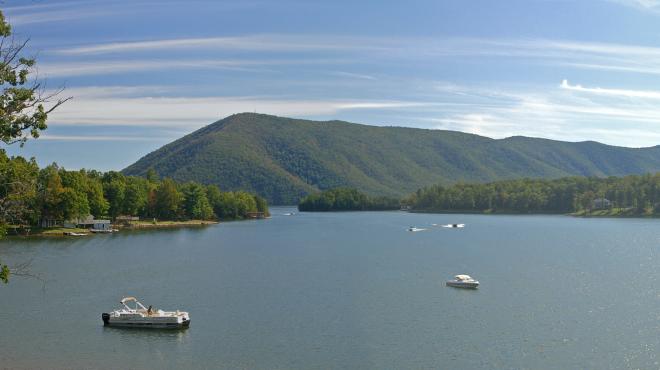 Over 500 miles of stunning shoreline await you at Smith Mountain Lake, which is well-deserving of its nickname as the "Jewel of the Blue Ridge."
Bridgewater Marina & Boat Rentals offers everything you need for a day on the water, including a great variety of watercraft and water toy rentals. The marina is also a popular spot for dining, shopping, and simply relaxing while taking in the gorgeous views of the lake.
Leave time to see our favorite furry friends at Smith Mountain Lake Farm Alpacas, where everyone will love getting a chance to feed, touch, hold, and hug the adorable alpacas.
Other Resources: SML Weekend Itinerary > | Easy Ways to Get on the Water > | Boat Rental Guide >
Historic Sites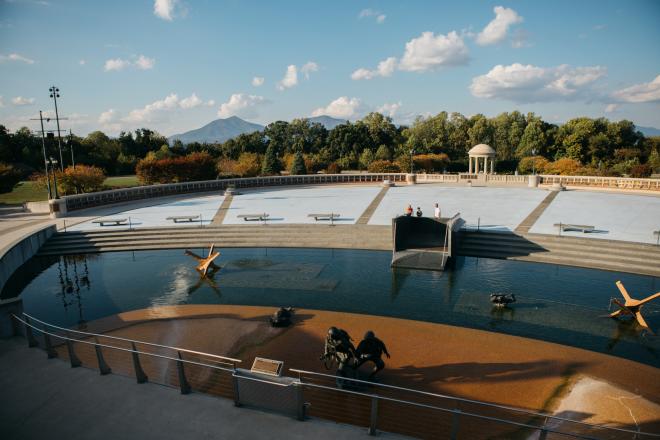 Who says there can't be a little learning during Spring Break? A visit to Virginia's Blue Ridge is not only fun, but it can also be educational as you re-trace the footsteps of the region's rich history!
Learn about the birthplace and early life of Booker T. Washington at the Booker T. Washington National Monument, or see where our nation's 3rd president used to take retreats at Thomas Jefferson's Poplar Forest estate.
You can also honor our nation's heroes by visiting the National D-Day Memorial in Bedford, a town that suffered the nation's most severe losses during the D-Day invasion of Normandy in World War II. Now, the memorial and town stand as powerful tributes and reminders of the freedom we enjoy in the United States.
Learn More: Best Spots for History Buffs in Virginia's Blue Ridge >
Outdoor Adventure Excursions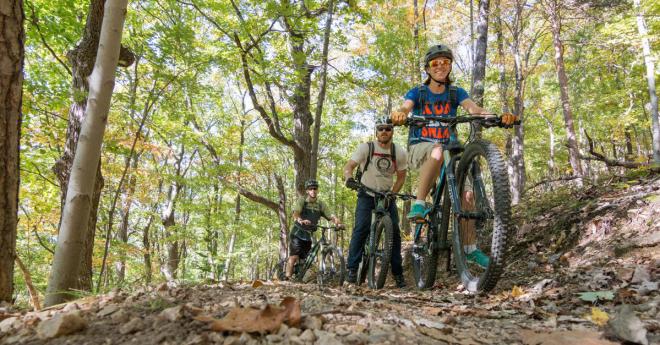 Sometimes all the options for outdoor adventure in Virginia's Blue Ridge can be a little overwhelming, but that's what makes outfitters like Roanoke Mountain Adventures and Twin River Outfitters so great.
Both companies feature a variety of outdoor excursions and guided trips, providing you and the family opportunities to experience the best of Virginia's Blue Ridge, while receiving the assistance of local experts. 
Whether it's a day of mountain biking at Carvins Cove with Roanoke Mountain Adventures or paddling along the James River with Twin River Outfitters, you're sure to make great memories in the Blue Ridge Mountains.
Book an Adventure: Roanoke Mountain Adventures > | Twin River Outfitters >
---
With so much to see and do, it'll be tough to experience it all in one spring break trip. It's a good thing the kids have the entire summer off!
Check out our Sample Itineraries for more ideas on things to do in Virginia's Blue Ridge and be sure to sign-up for our monthly e-newsletter to get more information about the region!