The people of Virginia's Blue Ridge are so easy to love. Among them are Mike Whiteside and Robert Kulp. Together they've helped to shine a tremendous spotlight on historic preservation…but not the type of preservation you're most likely thinking. 
Partners Mike Whiteside and Robert Kulp are the guys behind Black Dog Salvage, an architectural salvage company based in the Grandin Village neighborhood of Roanoke. Considering many structures are simply beyond repair or saving as a whole, Mike and Robert embrace their part of the preservation equation to work hard to save any and every thing that can be saved before these treasures disappear.
A Short History of Black Dog Salvage
A shared affection for an 1892 home scheduled for demolition sparked an idea with acquaintances Mike Whiteside and Robert Kulp. Why not salvage whatever architectural details they could from this gem and maybe more like it? With that, Black Dog Salvage was born. The year was 1999 and the home at 21 Highland Avenue in Roanoke was their first job. Their warehouse at Franklin Road opened soon after, and Black Dog Salvage was incorporated in 2000.
See the full timeline of Black Dog's history >
Black Dog Salvage Showroom & Marketplace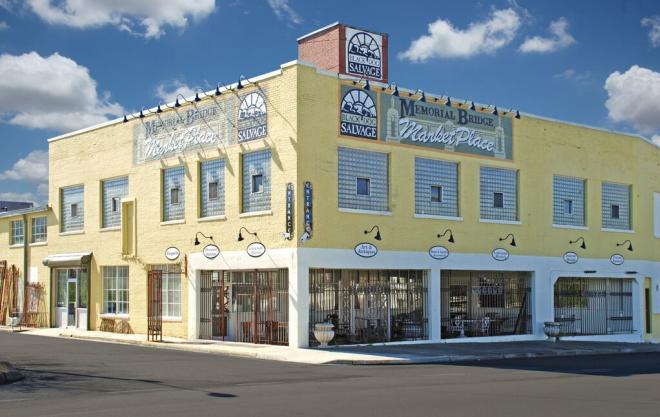 In short order, Black Dog outgrew their Franklin Road warehouse. In 2003, the 40,000 square foot Magic City Launderers and Cleaners was obtained. The space was a significant jump in size. Significant enough that Mike and Robert decided to create the Memorial Bridge Marketplace, a space within the warehouse for like-minded vendors to also share their wares.
In 2017, BDS2 opened to the public. This 20,000 square foot salvage and receiving warehouse is less than a mile away and is hard core salvage for those who don't mind shopping the dirt and grit that comes with the job. Customers can shop new arrivals, additional salvage and antique lumber.
Both the Showroom and Marketplace are open daily. BDS2 is open Thursday - Saturday (9:00 am to 5:00 pm) and by appointment.
NOTE - The store is closed on Sundays from January 12, 2020 through April 12, 2020.
Salvage Dawgs TV Show
Season 1 of Salvage Dawgs filmed in 2012. If you have never watched an episode on DIY Network, the gist is that Mike, Robert, and their team seek out (or now, are called out) to salvage architectural details from old homes, barns, banks, general stores, ships, and even an amusement park. From mouldings and hinges to mantles and window weights; anything that can be saved for repurposing or resale is saved and brought back to Black Dog Salvage. 
See the map to find previous film locations.
The Dogs: Molly, Sally, Molly May, Stella
Molly was the first black dog of the bunch and the inspiration for the name Black Dog Salvage. As she aged, she wasn't quite as interested in spending her days on the job as she was before. Sally, another black dog, came along as a "salvage dog in training" in 2004 while Molly lived the good life in retirement.
In what seemed like the blink of an eye, Sally became the senior dog. To continue the tradition of black dogs, two more sweet girls were brought in to the mix so Sally could enjoy a retirement of her own. Molly May and Stella were welcomed to the family in 2015. 
The Stone House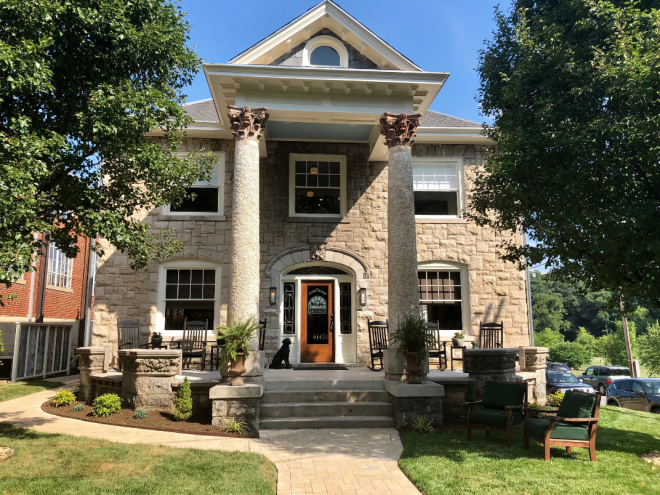 A showcase, of sorts, The Stone House is a vacation rental property adjacent to Black Dog Salvage. The 1911 stone house is lovingly renovated with picked pieces from Black Dog Salvage. There are several BDS handcrafted items in the home as well, and nearly everything is available for purchase.
The Stone House sleeps six and can be rented for private receptions. Immaculate, the home boasts stone fireplaces, incredible wood details, wonderful transoms and stained glass, and unexpected furnishings that create a warm, homey environment.
You can read more about the history of The Stone House at the Black Dog Salvage Blog.
---
Should you decide to visit Black Dog Salvage or rent The Stone House, there are great things nearby that are also "must see and do."
Header photo courtesy of Chris Militzer