Don't hog your getaway to Virginia's Blue Ridge to yourself. Bring your sweet pooch along for ear-flying, drool-dripping fun. 
There are many places welcoming your pup for a weekend, starting with great places to stay and including dining, shopping, outdoor adventures & trails, and attractions. 
Settle on the restful hub and spoke out for adventure; we're happy to lead the way…
Here's your guide to a pet-friendly weekend in Virginia's Blue Ridge!
---
Pet-Friendly Places to Stay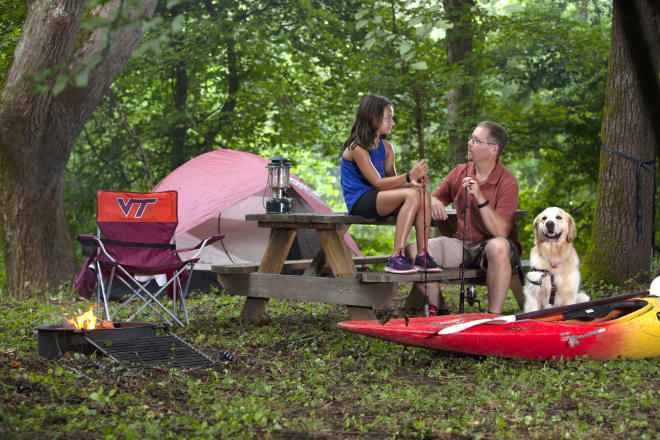 Travel in comfort and rest well when you know your pet is both welcome and enjoyed. Pet-friendly accommodations range from hotels and suites to campgrounds, vacation homes, and bed and breakfasts. 
The Home2 Suites is a great hotel option and your furry companion will certainly appreciate the hotel staff members who keep dog treats nearby for a special snack. For an outdoor-oriented spot, consider one of the many camping options at Explore Park, located just off the Blue Ridge Parkway in Roanoke County. Or perhaps relish a silver screen memory with a weekend at Mountain Lake Lodge in Pembroke, filming location of the 1980s classic Dirty Dancing.
Learn More: Pet-Friendly Hotels & Accommodations >>
Pet-Friendly Hiking Trails
Not all trails are created equal, and it's wise to ensure your leashed pup is welcome to trot along. Our favorite pet-friendly hiking trails are Read Mountain, Roaring Run, and Mill Mountain.
Access the 243-acre Read Mountain Preserve from Crumpacker Drive in Bonsack. More than five miles of trails set off from the parking area and you can mix and loop them as you wish. Buzzards Rock Trail leads to the second-highest point of interest within the preserve and offers one of the most popular lookouts in the area. [Trail Map]
Roaring Run is a top choice for those seeking an easier trail with plenty to appreciate. There are no grand lookouts here, but rather, hikers are rewarded with a series of waterfalls and a historic 19th-century iron ore furnace. 
Surprising to some, Mill Mountain is within Roanoke city limits, and it offers several trails to explore. Be mindful of mountain bikers, depending on which trail you choose. It's possible to hike up to the Roanoke Star from the base of the mountain by way of the aptly named 1.38-mile Star Trail. Start with the .24-mile Star-Woodthrush Connector Trail from Riverland Avenue and watch for the Star Trail to fork to the right.
NOTE: Please remember to recreate responsibly while hiking with your pet. Bring bags to pick up after your dog, pack out all trash, and stay on the designated trail areas.
Learn More: Best Trails to Bring Your Dog > 
Pet-Friendly Patios - Dining
After a nice hike you'll want to refuel and rest with a great meal. Bring your well-behaved pup along with you for an al fresco meal on the patio.
Near Mill Mountain are The Green Goat along the Roanoke River Greenway, Sweet Donkey Coffee a short drive away on Broadway Avenue, Fork in the Alley on Crystal Spring Avenue, or Village Grill on Memorial Avenue. In downtown Roanoke, head to the City Market Building to choose from Fork in the Market or Scrambled, both tasty choices with great patios.
Find a great meal near the Appalachian Trail with a visit to Town Center Tap House in Daleville. Their menu includes subs, burgers, and salads. 
If you're up for Smith Mountain Lake explorations and waterside dining, Mango's is an excellent choice. Perhaps your timing will coincide with a musician's performance.
Learn More: Pet-Friendly Restaurants > 
Pet-Friendly Patios - Drinking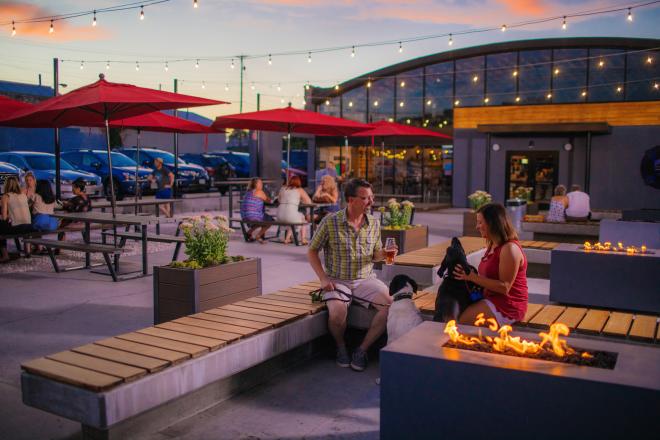 When it's not necessarily a meal you're after so much as an adult beverage, might we recommend our area breweries, distilleries, and wineries?
In downtown Roanoke, Big Lick Brewing is easy to access on Salem Avenue NW and within walking distance of several downtown accommodations. In Bedford, Beale's is known for not only great beer, but also excellent barbecue. Bring an appetite! Those venturing in and around Salem can tip back a Get Bent IPA at Parkway Brewing Company, conveniently located along the Roanoke Valley Greenway.
For a refreshing Virginia wine with a view, try Blue Ridge Vineyard in Eagle Rock, just 12 miles from Roaring Run, as well as Stoney Brook Vineyards & Winery in Troutville. 
Looking for spirits? Franklin County Distilleries located in "the wettest county in the world" welcomes you with your fur baby to their patio for a flight of the good stuff, specifically their White Label corn whiskey, a small batch, pot-stilled 100 proof spirit.
Learn More: Outdoor Patios in VBR >
Pet-Friendly Shopping
Where better to take your dog than a place called Unleashed Dog Bakery & Boutique? Located on Campbell Avenue in downtown Roanoke, Unleashed offers products for your pets that often benefit organizations relevant to dogs, such as rescue organizations or those that train and pair support dogs.
Nature's Emporium on Brambleton in Roanoke is a pet supply store offering everything from healthy foods, treats, and chewies to grooming supplies, basic medications, and even cones of shame.
Walkable Areas of Interest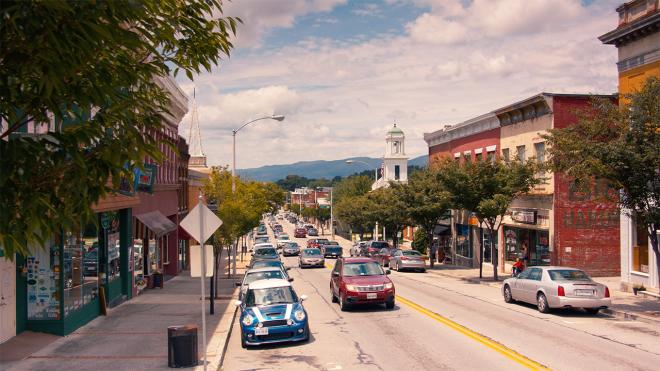 Strolling the downtowns of Virginia's Blue Ridge with your pooch on a leash is easy peasy. We're confident you'll love the vibe in downtown Roanoke's Market Square. The people-watching is great and the seasons are reflected by way of the wares offered at Historic Roanoke City Market, the oldest continuously operating open-air market in Virginia. 
Our Main Streets are welcoming with local shopkeepers and residents buzzing about. Visit downtown Salem and consider a self-guided walking tour to learn a bit about its significant contribution to the area as the oldest settlement in Virginia's Blue Ridge. 
In the town of Buchanan antiques, primitives, and country wares are fashionable. Be sure to stick your head in the Buchanan (soda fountain) for a float to go, then make your way down the street to check out the Buchanan Swinging Bridge over the James River.
The Grandin Village neighborhood in Roanoke is a walkable community with an eclectic vibe. The 1930s Grandin Theatre is lit with neon each night and people window shop quirky retailers like Urban Gypsy. A to-go scoop of ice cream from Pop's Ice Cream & Soda Bar is a must when in Grandin Village.
In downtown Rocky Mount performances from The Harvester ring out while legal moonshine flows at area distillers. If you're into antiquing, it's a fantastic stop!
Dog Parks & Public Parks
Pups need to run and play, yes? Yes, of course! Smell out some new friends at the one-acre fenced Highland Dog Park in Roanoke, or the Salem Rotary Dog Park in…you guessed it: Salem. There's plenty of room to run and stretch. A small dog park within Thrasher Park in Roanoke is another great option for letting your pal leave the leash for a bit.
Easy walks with your leashed dog include river views when you visit places like Explore Park along the Roanoke River and Blue Ridge Parkway. At 1,100 acres and with access to the river, there is natural beauty to appreciate, wildlife to observe, and reconstructed historic buildings to visit.
In Botetourt County, enjoy the beautiful views, trail network, and wide-open spaces to explore at the Greenfield Recreation Park. Your pup will also love an adventure at Waid Recreation Park and its many trails in Franklin County.
The Roanoke Valley Greenway is comprised of more than 30 miles of paved trails leading through neighborhoods, along waterways, and through parks. You'll observe both wooded areas as well as cityscapes, depending on your starting and ending points.
Pet-Friendly Attractions & Things to Do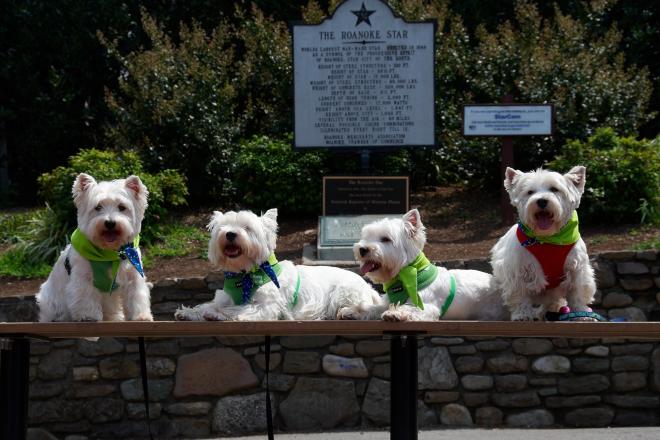 If there is anywhere safe to take your dog, it has to be a place with "dog" in the name, right? Black Dog Salvage in Roanoke is the home of the "Salvage Dawgs" team. If you have watched DIY Network, you may be familiar with their salvaging and repurposing projects. See their space and shop both their collection and their vendor space to find a treasure.
If you hiked the Star Trail on Mill Mountain, you're already familiar with the Roanoke Star & Mill Mountain Park. The view from the star is pretty rad, if we do say so ourselves. It's definitely #selfie worthy.
If it's an iconic stop you seek, Natural Bridge State Park is the checkmark you're looking for. Soaring higher than you expect, the natural limestone arch is a National Historic Landmark and was once called one of the natural wonders of the world. See it from both angles – coming and going along Cedar Creek – to appreciate its shape and the way the sunlight dances along the nooks and crannies.
History and the outdoors are hand-in-hand at the Booker T. Washington National Monument in Hardy. Spend time learning about the great orator Booker T. Washington at his birthplace – the place he was born as a slave. Appreciate his path to historical notoriety when you understand his most humble beginnings.
---
For more great resources on pet-friendly things to do and local businesses, be sure to check out the website BringMyDogs.com - full of helpful information for pet-friendly experiences in the region!
---
Have pet, will travel. You're welcome here in Virginia's Blue Ridge, and we hope your weekend escape leads to wonderful things, whether you take advantage of any of these opportunities or stumble across more.
Let us see your pet enjoying a #BlueRidgeDay as you become a #Trailsetter bound for #wanderlove.
The photo at the top of this post was taken along the Blue Ridge Parkway and is courtesy of Luna Akers.