While we all work together to get through the COVID-19 crisis, it's critical that we all do our part to support one another, which means staying at home as much as you can, and if you must go out, being sure to practice social distancing and staying at least 6 feet apart from other people.
Many trails and recreation areas are currently closed due to COVID-19, but the outdoor recreation opportunities in Virginia's Blue Ridge are Worth the Wait >
If you choose to go outside to get some exercise, remember to avoid crowds or group activities and minimize your touchpoints to avoid the spread of germs.
And when you plan any outdoor activity, be mindful that many public restrooms are currently closed and remember to pack out all trash yourself and avoid using public trash cans if possible, as many parks are operating with limited staff and this helps reduce the strain on them.
The following post from Roanoke Outside includes a few helpful tips to consider.
Based on our website data, we know people are still looking for opportunities to get outside in Virginia's Blue Ridge, and we want to offer some alternative options where you can still be active in the region in some lesser-known spots.
RELATED: Socially Distanced Outdoor "Events" in Virginia's Blue Ridge >
---
Creek Fishing in Botetourt County - North Creek
The George Washington & Jefferson National Forest is a great area you can find a remote location and be surrounded by nature. Pick a spot in Botetourt County and enjoy some fishing along North Creek, which is known to offer fantastic trout fishing.
More Info: North Creek >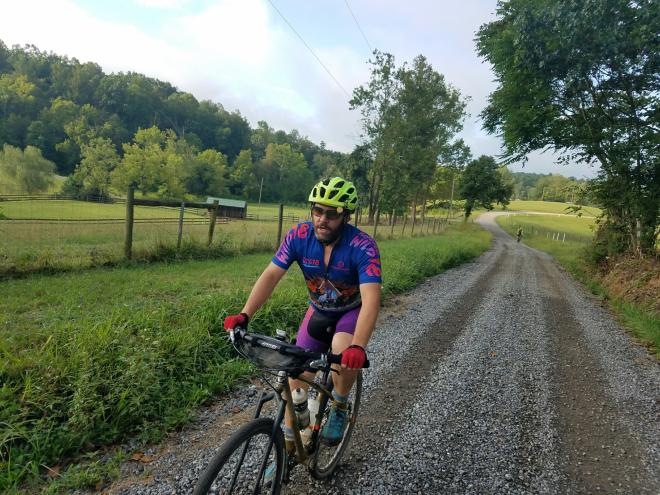 If you're up for some distance bike riding on gravel, the Franklin County Gravel Grinding Trinity is an epic challenge! Created by Franklin County Parks & Recreation, the series features three challenging rides ranging from 45 to 65 miles in length that showcase some of the best of Franklin County's beautiful back roads. If you register for free online and complete all three routes, you'll receive a free t-shirt.
Learn More: Gravel Grinding Trinity Routes >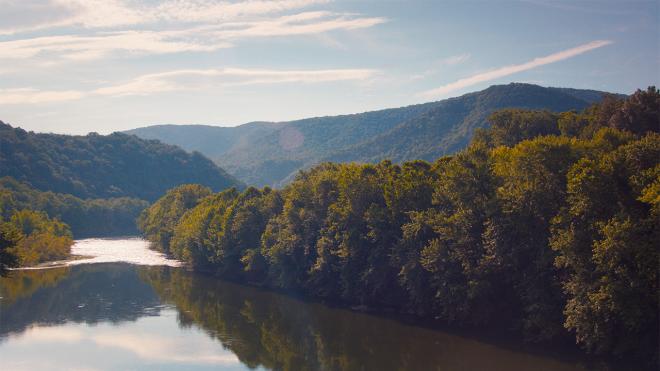 It's not hard to stay six feet away from other people when you're paddling down beautiful rivers in Virginia's Blue Ridge like the Upper James River Water Trail and Roanoke River Blueway. As spring enters full bloom, spending a couple hours on the water can make for a great way to de-stress. The Upper James River Water Trail website has some excellent recommendations for suggested itineraries, and the Roanoke River Blueway Map features helpful info on public access points.
Note: Twin River Outfitters on the James River in Botetourt County is open and taking full precautions against COVID-19 while continuing to offer paddling trips & service > 
Learn More: Upper James River Water Trail Itineraries > | Roanoke River Blueway Map >
Mountain Biking in the Jefferson National Forest: North Mountain Trail, Dody Ridge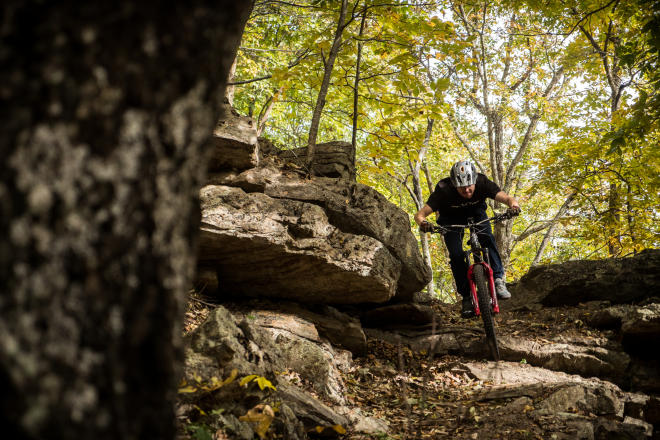 The Jefferson National Forest has already been mentioned as a good option for trout fishing, but it's also one of the best areas for riding in America's East Coast Mountain Biking Capital! The backcountry riding in a trail system like North Mountain is some of the most challenging mountain biking you'll find in the region, and a great spot for avoiding crowds. Another challenging option is this MTB Project - Blue Ridge Parkway Epic Loop, which combines multiple trails to create an amazing 40+ mile ride.
MTB Project Route Info: North Mountain > | Blue Ridge Parkway Epic >
Hike a Different Trail: Grassy Hill Nature Preserve, Happy Hollow Gardens, Smart View Recreation Area, Dogwood Glen Trail, Bottom Creek Gorge Preserve 
The Appalachian Trail Conservancy has asked people to stay off the Appalachian Trail, which means avoiding places like McAfee Knob, Dragon's Tooth, Tinker Cliffs, and Hay Rock. It's also not the best time to tackle popular hikes like Sharp Top Mountain at the Peaks of Otter or the Star Trail at Mill Mountain Park. Don't worry. They'll still be there when we get through this. We promise!
For some alternatives, head to Happy Hollow Gardens in Roanoke County to enjoy the trails and the beautiful azaleas. You could also make your way to the view of the waterfall at Bottom Creek Gorge Preserve (no dogs allowed) and take in the amazing views from the Smart View Recreation Area on the Blue Ridge Parkway. There are also great views of Philpott Lake along the Dogwood Glen Trail and views of Rocky Mount from the Grassy Hill Natural Area Preserve, both of which are in Franklin County.
More Information: Grassy Hill > | Happy Hollow Gardens > | Smart View Recreation Area > | Bottom Creek Gorge > | Dogwood Glen Trail >
Check out more hiking options in our list of Underrated Hiking Trails in Virginia's Blue Ridge >
Road Cycling - Springwood Loop (Botetourt), Three Peaks Loop (Roanoke  Co.), Salem Bike Route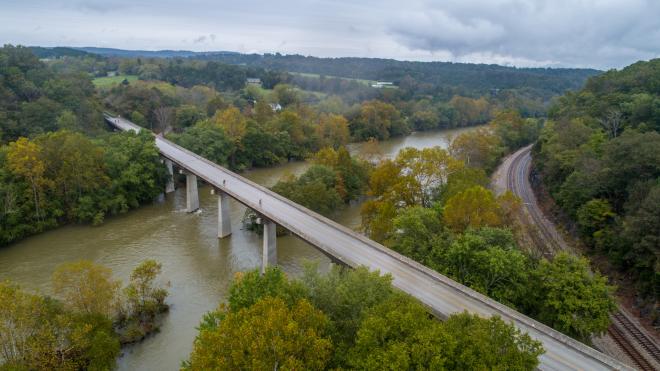 The state routes and country roads that wind through farmland and over mountains provide wonderful opportunities for road cycling in Virginia's Blue Ridge. For a relatively easy, flat ride suitable for various ages and skill levels, consider the Salem Bike Route, which winds through parts of Downtown Salem. The Springwood Loop is a 30+ mile ride through Botetourt County that passes through rolling farmland and offers views of the James River. And for a big challenge, conquer the Three Peaks Loop, which includes the peaks of Poor Mountain, Mount Chestnut, and Sugarloaf Mountain.
Route Info: Springwood Loop > | Salem Bike Route > | Three Peaks Loop >
Picnic in a Park - Green Hill Park, Highland Park, Waid Recreation Area, Greenfield Recreation Park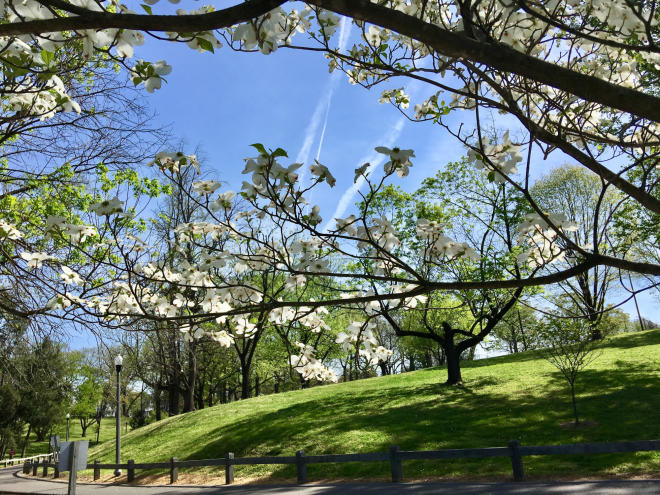 Ordering takeout from a local restaurant and then finding a local park with lots of open space in Virginia's Blue Ridge can make for a romantic date or a good outing for the entire family. A few public parks with large open areas include Green Hill Park in Roanoke County, Highland Park in Old Southwest Roanoke, Waid Park in Franklin County, and Greenfield Recreation Park in Botetourt County. Remember to pack out all your trash with you and leave no trace.
Park Info: Green Hill Park > | Highland Park > | Waid Park > | Greenfield Recreation Park >
Need ideas for takeout? Here's a list of restaurants in the region providing to-go service >
Go for a Run - Fleet Feet Facebook Group, RunAbout Sports Virtual Race Series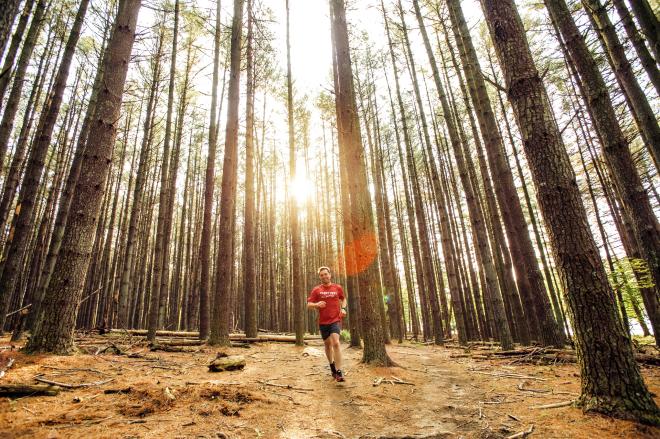 Although getting together with your running group isn't allowed right now, our friends at Fleet Feet Roanoke and RunAbout Sports have created some awesome virtual resources that can help you stay active! Fleet Feet Roanoke organized the Running is NOT Cancelled Facebook Group full of posts with recommended routes and encouragement, and RunAbout Sports is hosting a special Virtual Race Series of events that will run through May.
Learn More: Running is NOT Cancelled Facebook Group > | Virtual Race Series >
---
You Might Also Like: Socially Distanced Outdoor "Events" in Virginia's Blue Ridge >
For more information on resources and unique ways you can continue to experience Virginia's Blue Ridge, check out our special COVID-19 Landing Page. You can also reach out to us through our Contact form if you have specific questions or would like additional information.
Remember to take great care of yourselves and each other.