Who doesn't love a scenic drive for fall foliage? Everyone does, of course, but this is also one of the most excellent times of the year to get out on two wheels and be one with the foliage. Yes. You, your mountain bike, and the falling leaves of autumn in Virginia's Blue Ridge.
Choose one of our favorite trails to soak in the warm hues of the season. Let the leaves scatter as you barrel through, creating a wake of energy along the forest floor. The following routes offer a combination of forest canopies and beautiful ridgeline vistas.
Sounds exhilarating, huh? Let's roll on to our faves.
​Before You Ride: Familiarize yourself with the Leave No Trace Outdoor Ethics for Mountain Biking - a set of guidelines to help you enjoy the trails responsibly and minimize your impact on the natural environment.
Tearing up the trails at Mill Mountain Park is a unique opportunity for an outdoor lover who likes to stick close to civilization. Overlooking and within a stone's throw of downtown Roanoke is the iconic neon Roanoke Star. When you tackle the terrain by way of the MTB Project Full-Pull Loop, you'll encounter it, the largest star of its kind anywhere in the world. 
Capt. Insane-O calls the Full-Pull "a super-deluxe tour of every mountain bike trail on Mill Mountain," which concisely sums it up. It's 85% singletrack and 13.4 miles in length, and the most convenient mountain biking experience to downtown Roanoke. 
 
Traversing the George Washington & Jefferson National Forest by way of two popular trails and the Blue Ridge Parkway pretty much guarantees enormous fall foliage experiences. Climb from Bethel Road using the directions given via MTB Project. You'll ride the Parkway for short stints as you tackle each trail to make a loop. All said, it's about 24 miles – some grueling – and you'll want to be well prepared with water and food to replenish.
>> 10 Epic Mountain Biking Trails in Virginia's Blue Ridge
Carvins Cove is one of the best places to ride in Virginia's Blue Ridge. In fact, it has the reputation of being a premier ride destination, which contributes to Virginia's Blue Ridge being named a Silver-Level Ride Center™ by International Mountain Bicycling Association.
The Upper Left Loop is just a hair shy of 10 miles and ranges in grade from 3° to 14° with 75% of the trail being singletrack. MTBProject.com advises there are great views from the fire road and recommends a water break on that leg of the loop to enjoy it.
Carvins Cove Natural Reserve – Easy Loop | Roanoke
After you've conquered Upper Left Loop (or before, your choice), take a look at a few trails that when looped create a fairly easy and plenty fun Easy Loop. Tagging from Songbird to Enchanted Forest to Little Bell to Schoolhouse to Happy Valley limits the intense climbs and technical maneuvering. In the midst of it, on the Schoolhouse trail, there's a place to watch the colors reflect off the glistening water of the reservoir. It's a good idea to have a camera handy and make sure the Go Pro is charged.
Philpott Lake is the star of this show in Franklin County. Choose your own way to tackle the five miles of trails, looping as you wish along the shore or up above it. Check out MTB Project for specific elevation information and other suggestions.
Explore Park | Roanoke County - Blue Ridge Parkway 
Off Milepost 115 on the Blue Ridge Parkway is Explore Park, a favorite place to rustle the leaves and enjoy fall's glory. There are more than nine miles of bike trails coursing through the Park, including a stretch of Red Trail that takes in sights along the Roanoke River. The park also now features bike-friendly camping options.
>> Easy Mountain Biking Trails in Virginia's Blue Ridge
Arcadia Loop | George Washington & Jefferson National Forest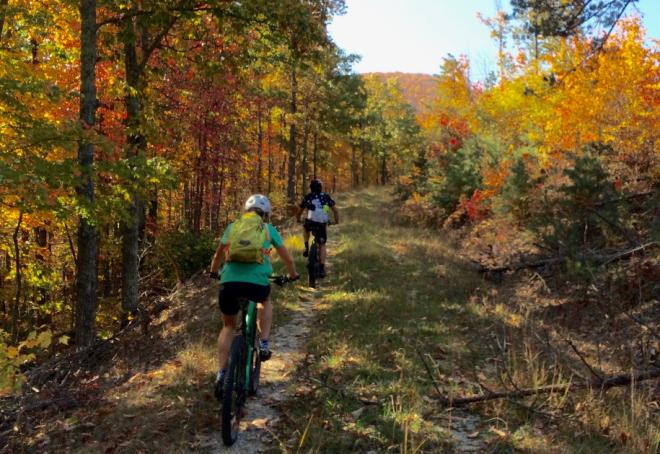 Here's more National Forest terrain for your excursions. The Arcadia Loop as laid out by MTB Project includes Pine Ridge, Cove, and Little Cove to create just about 22 miles of ups and downs. Only a quarter of the loop is singletrack, so you'll have more wiggle room here than on other trails in the area. Many sections of this ride are part of the Glenwood Horse Trail, and it's hunting season, so be cautious of other "traffic" in the woods. Anywhere along Jennings Creek will be a great place to break and soak in the scenery.
>> 8 Spots for Mountain Biking & Burgers
When it's wide open views you want, find a ridge line and ride it. That's what you'll get when you try the Longdale Furnace North Mountain Loop. Not far from Interstate 64, this trail is almost 12 miles long and offers a bit of mostly level riding, but don't let that fool you. This is a trail best suited for well experienced riders. The descent to the finish with up to 26% grade will undoubtedly get your attention and send your adrenaline through the roof. See what MTB Project has to say.
---
There's no time like the present to climb, glide, and work those technical muscles over our beautiful trails in Virginia's Blue Ridge. When you stop for a breath, a drink and a snack, consider a selfie mandatory. The scenery of fall is icing on the cake.